Abstract
There is an urgent need for expanding the number of brain banks serving psychiatric research. We describe here the Psychiatric Disorders arm of the Brain Bank of the Brazilian Aging Brain Study Group (Psy-BBBABSG), which is focused in bipolar disorder (BD) and obsessive compulsive disorder (OCD). Our protocol was designed to minimize limitations faced by previous initiatives, and to enable design-based neurostereological analyses. The Psy-BBBABSG first milestone is the collection of 10 brains each of BD and OCD patients, and matched controls. The brains are sourced from a population-based autopsy service. The clinical and psychiatric assessments were done by an expert team including psychiatrists, through an informant. One hemisphere was perfused-fixed to render an optimal fixation for conducting neurostereological studies. The other hemisphere was comprehensively dissected and frozen for molecular studies. In 20 months, we collected 36 brains. A final report was completed for 14 cases: 3 BDs, 4 major depressive disorders, 1 substance use disorder, 1 mood disorder NOS, 3 obsessive compulsive spectrum symptoms, 1 OCD and 1 schizophrenia. The majority were male (64%), and the average age at death was 67.2 ± 9.0 years. The average postmortem interval was 16 h. Three matched controls were collected. The pilot stage confirmed that the protocols are well fitted to reach our goals. Our unique autopsy source makes possible to collect a fairly number of high quality cases in a short time. Such a collection offers an additional to the international research community to advance the understanding on neuropsychiatric diseases.
Access options
Buy single article
Instant access to the full article PDF.
US$ 39.95
Tax calculation will be finalised during checkout.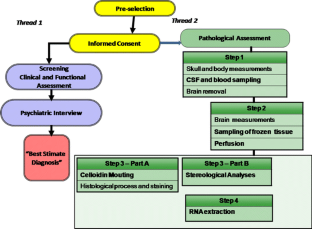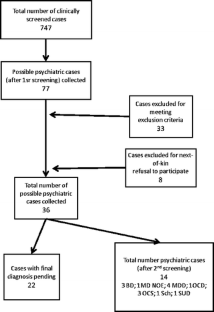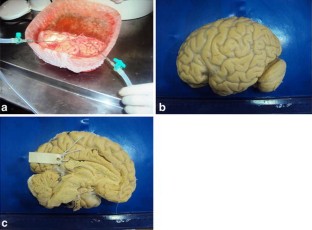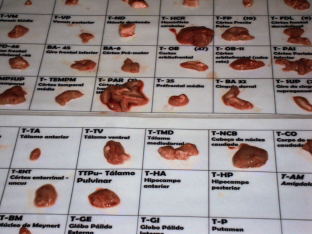 References
Almeida P, Wickerhauser H (1991) O critério ABA/ABIPEME–em busca de uma atualização: um estudo e uma proposta submetidos à ABA e à ABIPEME. ABIPEMA, São Paulo

Andrade L, Walters EE et al (2002) Prevalence of ICD-10 mental disorders in a catchment area in the city of Sao Paulo, Brazil. Soc Psychiatry Psychiatr Epidemiol 37(7):316–325

Atz M, Walsh D, Cartagena P, Li J, Evans S, Choudary P, Overman K, Stein R, Tomita H, Potkin S, Myers R, Watson SJ, Jones EG, Akil H Jr, Bunney WE, Vawter MP (2007) Methodological considerations for gene expression profiling of human brain. J Neurosci Methods 163:295–309

Azevedo FA, Carvalho LR, Grinberg LT, Farfel JM, Ferretti RE, Leite RE, Jacob Filho W, Lent R, Herculano-Houzel S (2009) Equal numbers of neuronal and nonneuronal cells make the human brain an isometrically scaled-up primate brain. J Comp Neurol 513:532–541

Benes FM, Vincent SL et al (2001) The density of pyramidal and nonpyramidal neurons in anterior cingulate cortex of schizophrenic and bipolar subjects. Biol Psychiatry 50(6):395–406

Beyer JL, Kuchibhatla M et al (2004) Hippocampal volume measurement in older adults with bipolar disorder. Am J Geriatr Psychiatry 12(6):613–620

Bielau H, Trübner K, Krell D, Agelik MW, Bernstein HG, Stauch R et al (2005) Volume deficits of subcortical nuclei in mood disorders- A postmortem study. Eur Arch Psychiatry Clin Neurosci 255:401–412

Blumberg HP, Leung HC et al (2003) A functional magnetic resonance imaging study of bipolar disorder - State- and trait-related dysfunction in ventral prefrontal cortices. Arch Gen Psychiatry 60(6):601–609

Casanova MF, Kreczmanski P et al (2008) Neuronal distribution in the neocortex of schizophrenic patients. Psychiatry Res 158(3):267–277

Cotter D, Mackay D et al (2002) Reduced neuronal size and glial cell density in area 9 of the dorsolateral prefrontal cortex in subjects with major depressive disorder. Cereb Cortex 12(4):386–394

Cummings JL, Mega M, Gray K et al (1994) The neuropsychiatric inventory: comprehensive assessment of psychopathology in dementia. Neurol 44:2308–2314

Deep-Soboslay A, Akil M, Martin CE, Bigelow LB, Herman MM, Hyde TM, Kleinman JE (2005) Reliability of psychiatric diagnosis in postmortem research. Biol Psychiatry 57(1):96–101

Deep-Soboslay A, Iglesias B et al (2008) Evaluation of tissue collection for postmortem studies of bipolar disorder. Bipolar Disord 10(7):822–828

Del-Ben CM, Rodrigues CR et al (1996) Reliability of the Portuguese version of the structured clinical interview for DSM-III-R (SCID) in a Brazilian sample of psychiatric outpatients. Braz J Med Biol Res 29(12):1675–1682

Doty TJ, Payne ME et al (2008) Age-dependent reduction of amygdala volume in bipolar disorder. Psychiatry Res 163(1):84–94

Ferrer I, Martinez A, Boluda S, Parchi P, Barrachina M (2008) Brain banks: benefits, limitations and cautions concerning the use of post-mortem brain tissue for molecular studies. Cell Tissue Bank 9(3):181–194

Ferretti REL, Damin AE, Brucki SMD et al (2010) Post-Mortem diagnosis of dementia by informant interview. Dement Neuropsychol 4(2):138–144

First MB, Donovan S, Frances A (1996) Nosology of chronic mood disorders. Psychiatr Clin North Am 19(1):29–39

Gigante AD, Young LT, Yatham LN, Andreazza AC, Nery FG, Grinberg LT, HeinsenH LaferB (2010) Morphometric post-mortem studies in bipolar disorder: possible association with oxidative stress and apoptosis. Int J Neuropsychopharmacol 23:1–15

Grinberg LT, Ferretti RE et al (2007a) Brain bank of the Brazilian aging brain study group - a milestone reached and more than 1, 600 collected brains. Cell Tissue Bank 8(2):151–162

Grinberg LT, Heinsen H (2007b) Computer-assisted 3D reconstruction of human basal forebrain complex. Dementia & Neuropsychologia 2:140–146

Grinberg LT, Amaro E Jr, Teipel S, Santos DD, Pasqualucci CA, Leite REP, Camargo CR, Gonçalves JA, Sanches AG, Santana M, Ferretti REL, Jacob-Filho W, Nitrini R, Heisen H. Brazilian Aging Brain Study Group (2008) Assessment of factors that confound MRI and neuropathological correlation of human postmortem brain tissue .Cell Tissue Bank (3):195–203

Grinberg LT, Rüb U, Ferretti RE, Nitrini R, Farfel JM, Polichiso L, Gierga K, Jacob-Filho W, Heinsen H, Brazilian Brain Bank Study Group (2009a) The dorsal raphe nucleus shows phospho-tau neurofibrillary changes before the transentorhinal region in Alzheimer's disease. A precocious onset? Neuropathol Appl Neurobiol 35(4):406–416

Grinberg LT Jr, Amaro E, da Silva AV, da Silva RE, Sato JR, dos Santos DD, de Paula Pacheco S, Ferretti REL, Leite PasqualucciCA (2009b) Improved detecion of incipient vascular changes by a biotechnological platform combining post mortem MRI in situ neuropathology. J Neurol Sci 283:2–8

Goodman WK, Price LH, Rasmussen SA et al (1989) The Yale-brown obsessive compulsive scale. I. Development, use, and reliability. Arch Gen Psychiatry 46(11):1006–1011

Harvard Tissue Repository Center (2010) (Accessed at http://national_databank.mclean.harvard.edu/brainbank/Browse?action=groups&cid=1005

Heinsen H, Arzberger T et al (2000) Celloidin mounting (embedding without infiltration) - a new, simple and reliable method for producing serial sections of high thickness through complete human brains and its application to stereological and immunohistochemical investigations. J Chem Neuroanat 20(1):49–59

Jorm AF (1996) Assessment of cognitive impairment and dementia using informant reports. Clin Psychol Rev 16(1):51–75

Kingsbury AE, Foster OJ, Nisbet AP et al (1995) Tissue pH as an indicator of mRNA preservation in human post-mortem brain. Brain Res Mol Brain 28(2):311–318

Kreczmanski P, Heinsen H et al (2007) Volume, neuron density and total neuron number in five subcortical regions in schizophrenia. Brain 130(Pt 3):678–692

Kretzschmar H (2009) Brain Bank: opportunities, challenges and meaning for future. Nat Rev Neurosci 10(1):70–78

Lawton MP, Brody EM (1969) Assessment of older people; self-maintaining and instrumental activities of daily living. Gerontol 9:179–186

Mathis MA, Diniz JB, do Rosario MC et al (2006) What is the optimal way to subdivide obsessive-compulsive disorder? CNS Spectr.11 (10):762–768 (771–764, 776–769)

Merikangas KR, Ames M, Cui L, Stang PE, Ustun TB, Von Korff M, Kessler RC (2007) The impact of comorbidity of mental and physical conditions on role disability in the US adult household population. Arch Gen Psychiatry 64(10):1180–1188

Miguel EC, Leckman JF, Rauch S et al (2005) Obsessive-compulsive disorder phenotypes: implications for genetic studies. Mol Psychiatry 10(3):258–275

Morris JC (1993) The Clinical Dementia Rating Scale (CDR): current version and scoring rules. Neurol 43:2412–2413

Murray CJ, Lopez AD (1996) Evidence-based health policy-lessons from the Global Burden of Disease Study. Science 274(5288):740–743

Rasmussen SA, Eisen JL (1992) The epidemiology and clinical features of obsessive compulsive disorder. Psychiatr Clin North Am 15(4):743–758

Regier DA, Farner ME et al (1993) One-month prevalence of mental disorders in the United States and sociodemographic characteristics: the Epidemiologic Catchment Area study. Acta Psychiatr Scand 88(1):35–47

Rosso IM, Killgore WD et al (2007) Reduced amygdala volumes in first-episode bipolar disorder and correlation with cerebral white matter. Biol Psychiatry 61(6):743–749

Rotge JV, Guehl D, Dilharreguy B, Cuny E, Tignol J, Bioulac B et al (2008) Provocation of obsessive compulsive symptoms: a quantitative voxel based meta-analysis of functional neuroimaging studies. J Psychiatry Neurosci 33(5):405–412

Saxena S, Rauch SL (2000) Functional neuroimaging and the neuroanatomy of obsessive-compulsive disorder. Psychiatr Clin North Am 23:563–586

Saxena S, Brody AL, Schwartz JM, Baxter LR (1998) Neuroimaging and frontalsubcortical circuitry in obsessive-compulsive disorder. Br J Psychiatry Suppl 173(35):26–37

Schmitt A, Parlapani E et al (2008) Is brain banking of psychiatric cases valuable for neurobiological research? Clinics 63(2):255–266

Schmitz C, Hof PR (2005) Design-based stereology in neuroscience. Neuroscience 130(4):813–831

Silva ARG, Grinberg LT, Carraro DM, Bentani H (2007) Avaliação da expressão gênica na doença de Alzheimer utilizando a técnica de cDNA microarray em amostras de cérebros humanos postmortem Dementia & Neuropsychologia 3(S1):26

Soares JC (2003) Contributions from brain imaging to the elucidation of pathophysiology of bipolar disorder. Int J Neuropsychopharmacol 6(2):171–180

Spitzer RL, Williams JB et al (1992) The structured clinical interview for DSM-III-R (SCID). I: history, rationale, and description. Arch Gen Psychiatry 49(8):624–629

Tanner C, Gilley D, Goetz C (1990) A brief screening questionnaire for Parkinsonism. Ann Neurol 28:267–268

Teipel SJ, Flatz WH, Heinsen H, Bokde AL, Schoenberg SO, Stöckel S, Dietrich O, Reiser MF, Möller HJ, Hampel H (2005) Measurement of basal forebrain atrophy in Alzheimer's disease using MRI. Brain 128(Pt 11):2626–2644

Teipel SJ, Meindl T, Grinberg L, Grothe M, Cantero JL, Reiser MF, Moller HJ, Heinsen H, Hampel H (2010) The cholinergic system in mild cognitive impairment and Alzheimer's disease: an in vivo MRI and DTI study. Hum Brain Mapp [Epub ahead of print]

Torrey EF, Webster M, Knable M et al (2000) The Stanley Foundation brain collection and Neuropathlogy Consortium. Schizophr Res 44:151–155

Uylings HBM, Rajkowska G et al (2005) Consequences of large interindividual variability for human brain atlases: converging macroscopical imaging and microscopical neuroanatomy. Anat Embryol 210(5–6):423–431

van Kooten IA, Palmen SJ et al (2008) Neurons in the fusiform gyrus are fewer and smaller in autism. Brain 131(Pt 4):987–999

Waldvogel HJ, Curtis MA, Baer K, Ress MI, Faull RL (2006) Immunihistochemical staining of post-mortem adult human brain sections. Nat Protoc 1:2719–2732
Acknowledgments
The Psy-BBBABSG has the support of the disciplines of Pathology, Psychiatry, Neurology and the Department of Geriatrics, University of Sao Paulo Medical School (FMUSP) and Autopsy Service-USP. We thank the funding agencies: Foundation of Support and Research of Sao Paulo State—FAPESP n. 2009/51482-0, CNPq, Albert Einstein Research and Education Institute for the financial support and building structure to the work of BBBABSG-USP, Coordenação de Aperfeiçoamento de Pessoal de Nìvel Superior-CAPES for student support (to KCO), FAPESP n. 4996-5 for student support (to CC, LLC). LTG is partially supported by the grant NIH P50 AG23501. We thank the neurosurgeons and PhD student Eduardo Joaquim Lopes Alho by practical lessons in neuroanatomy and dissection of deep brain areas and for psychiatrists by "best estimate diagnosis": E. Serap Monkul, MD, Ricardo Toniolo, MD, Alexandre Gigante, MD, Ana Gabriela Hounie, MD, PhD, Roseli G. Shavitt, MD, PhD, Antonio Carlos Lopes, MD, PhD, Juliana B. Diniz, MD, PhD.
About this article
Cite this article
de Oliveira, K.C., Nery, F.G., Ferreti, R.E.L. et al. Brazilian psychiatric brain bank: a new contribution tool to network studies. Cell Tissue Bank 13, 315–326 (2012). https://doi.org/10.1007/s10561-011-9258-0
Received:

Accepted:

Published:

Issue Date:
Keywords
Brain banking

Psychiatry

Bipolar disorder

Postmortem

Autopsy

Obsessive compulsive disorder

Stereology, neuropathology