Abstract
This study examined whether there were statistical associations between life sentence types, race, and profiles of persistent criminality among sentenced juvenile homicide offenders (JHOs). The Miller v. Alabama (2012) decision required judges to differentiate irreparably corrupt JHOs from non-irreparably corrupt offenders in its sentencing considerations. The study analyzed a sample of 101 JHOs drawn from a population of 109 JHOs serving life sentences in Arizona prior to the Montgomery v. Louisiana (2016) decision. The study employed a two-step clustering method to identify serious infraction profiles among Arizona juvenile lifers, focusing on major infractions committed in prison. The findings did not indicate any statistical associations between serious infraction profiles and the differentially sentenced groups of JHOs. Additionally, 61% of natural lifers belonged to the low and medium criminal persistence groups rather than the high criminal persistence group, deviating from the pronouncements in the Miller v. Alabama decision of reserving natural life sentences for irreparably corrupt JHOs. Furthermore, race demonstrated no significant association with criminal infraction profiles. The implications of these findings for future research, sentencing policies, and release decision-making processes have been discussed.
This is a preview of subscription content,
to check access.
Access this article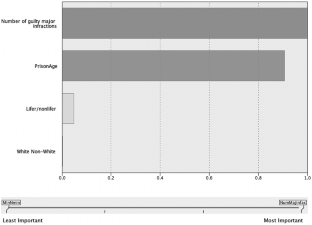 Similar content being viewed by others
References
American Law Institute (2017). Model Penal Code: Sentencing. American Law Institute.

Ashford, J. B., Puzauskas, K., & Dormady, R. J. (2022). Judicial response to age and other mitigating evidence: An exploratory cases study of juvenile life sentences in pre-Miller cases. The Journal of Criminal Law and Criminology, 112(3), 593–629.

Atiq, E. H., & Miller, E. L. (2018). The limits of law in the evaluation of mitigating evidence. Am. J. Crim. l., 45, 167.

Austin, R. (2001). Crime statistics, disparate impact analysis, and the economic disenfranchisement of minority ex-offenders. Race and Society, 4(2), 177–193. https://doi.org/10.1016/S1090-9524(03)00008-1

Benassi, M., Garofalo, S., Ambrosini, F., Sant' Angelo, R. P., Raggini, R., De Paoli, G., & Piraccini, G. (2020). Using two-step cluster analysis and latent class cluster analysis to classify the cognitive heterogeneity of cross-diagnostic psychiatric inpatients. Frontiers in Psychology, 11, 1085.

Britt, C. L. (2019). Age and Crime. In D. P. Farrington, L. Kazemian, & A. R. Piquero (Eds.), The Oxford handbook of developmental and life-course criminology (pp. 13–33). Oxford Handbooks.

Cárdenas, V., Kerby, S., & Wilf, R. (2012). Arizona's Demographic Changes: A Look at the State's Emerging Communities of Color. Center for American Progress, 28.

Darrell, S., Painter-Davis N. (2018). Focal Concerns Theory as a Conceptual Tool for Studying Intersectionality in Sentencing Disparities: Focus on Gender and Race along with Age. pp. 189–210 in Punishment Decisions: Locations of Disparity, the ASC Division on Corrections and Sentencing's Handbook on Corrections and Sentencing. Vol. 2, edited by Ulmer J. T., Bradley M. New York: Routledge.

DeLisi, M., Caudill, J. W., Trulson, C. R., Marquart, J. W., Vaughn, M. G., & Beaver, K. M. (2010). Angry inmates are violent inmates: A Poisson regression approach to youthful offenders. Journal of Forensic Psychology Practice, 10(5), 419–439.

Fix, R. L., Alexander, A. A., & Burkhart, B. R. (2018). From family violence exposure to violent offending: Examining effects of race and mental health in a moderated mediation model among confined male juveniles. International Journal of Offender Therapy and Comparative Criminology, 62(9), 2567–2585. https://doi.org/10.1177/0306624X17731101

Furman v. Georgia, 477 U.S. 399 (1972).

Grisso, T., & Kavanaugh, A. (2016). Prospects for developmental evidence in juvenile sentencing based on Miller v. Alabama. Psychology, Public Policy, and Law, 22(3), 235–249.

Hawkins, D. F., Laub, J. H., Lauritsen, J. L., & Cothern, L. (2000). Race, ethnicity, and serious and violent juvenile offending. Washington, DC: US Department of Justice, Office of Justice Programs, Office of Juvenile Justice and Delinquency Prevention. https://doi.org/10.1037/e306352003-001

Hawkins, D. F., McKean, J. B., & White, N. A. (2017). Roots of African American violence. In Roots of African American Violence. Lynne Rienner Publishers. https://www.bop.gov/about/agency/agency_pillars.jsp

Johnson, R., & Leigey, M. E. (2020). The life-course of Juvenile lifers: Understanding maturation and development as miller and its progeny guide juvenile life sentence release decisions. Journal of Criminal Justice and Law. https://doi.org/10.21428/b6e95092.fc4dc182

Jones v. Mississippi, 593 U.S. ___ (2021)

Kimonis, E. R., Frick, P. J., Munoz, L. C., & Aucoin, K. J. (2007). Can a laboratory measure of emotional processing enhance the statistical prediction of aggression and delinquency in detained adolescents with callous-unemotional traits? Journal of Abnormal Child Psychology, 35(5), 773–785. https://doi.org/10.1007/s10802-007-9136-1

Lewis, D. O., Shanok, S. S., Cohen, R. J., Kligfeld, M., & Frisone, G. (1980). Race bias in the diagnosis and disposition of violent adolescents. The American Journal of Psychiatry. https://doi.org/10.1176/ajp.137.10.1211

Montgomery v. Louisiana, 577 U.S. ___ (2016).

Miller v. Alabama, 567 U.S. 460 (2012)

Nellis, A. (2012). The lives of juvenile lifers: Findings from a national survey. The Sentencing Project.

Nellis, A. (2017). Still life: America's increasing use of life and long-term sentences. The Sentencing Project. https://www.sentencingproject.org/publications/still-life-americas-increasing-use-life-long-term-sentences/#VI.%20Race%20and%20Ethnicity

Nellis, A. (2021). No end in sight: America's enduring reliance on life imprisonment. The Sentencing Project. https://www.sentencingproject.org/wp-content/uploads/2021/02/No-End-in-Sight-Americas-Enduring-Reliance-on-Life-Imprisonment.pdf

Ogletree, C. J., & Sarat, A. (Eds.). (2012). Life without parole: America's new death penalty?. NYU Press.

Piquero, A. R., & Brame, R. W. (2008). Assessing the race–crime and ethnicity–crime relationship in a sample of serious adolescent delinquents. Crime & Delinquency, 54(3), 390–422. https://doi.org/10.1177/0011128707307219

Poole, E. D., & Regoli, R. M. (1983). Violence in juvenile institutions: A comparative study. Criminology, 21(2), 213–232. https://doi.org/10.1111/j.1745-9125.1983.tb00259.x

Sampson, R. J., & Wilson, W. J. (2020). Toward a theory of race, crime, and urban inequality. Crime, inequality and the state (pp. 312–325). Routledge. https://doi.org/10.4324/9781003060581-24

Spohn, C. (2020). Reforming sentencing policies and practices in Arizona. Ariz. St. LJ, 52, 1021.

State of Arizona v. Gregory Nidez Valencia Jr. (2016). Paper No. cr-16-0156-pr.

Sterling, R. W. (2013). Children are different: Implicit bias, rehabilitation, and the New Juvenile Jurisprudence. Loyola of Los Angeles Law Review, 46(3), 1019.

Syed, M., & Ajayi, A. A. (2018). Promises and pitfalls in the integration of intersectionality with development science. New Directions for Child and Adolescent Development, 2018(161), 109–117.

Tasca, M., Griffin, M. L., & Rodriguez, N. (2010). Youth violence and juvenile. Youth Violence and Juvenile Justice, 8(3), 234–249.

Trulson, C. R. (2007). Determinants of disruption: Institutional misconduct among state-committed delinquents. Youth Violence and Juvenile Justice, 5(1), 7–34. https://doi.org/10.1177/1541204006295162

Ulmer, J. T. (2019). Criminal courts as inhabited institutions: Making sense of difference and similarity in sentencing. In M. Tonry (Ed.), American Sentencing: What happens and why? (pp. 483–522). The University of Chicago Press.

Welner, M., DeLisi, M., Knous-Westfall, H. M., Salsberg, D., & Janusewski, T. (2023). Forensic assessment of criminal maturity in juvenile homicide offenders in the United States. Forensic Science International: Mind and Law, 4, 100112.

White, K., Stuart, F., & Morrissey, S. L. (2021). Whose lives matter? Race, space, and the devaluation of homicide victims in minority communities. Sociology of Race and Ethnicity, 7(3), 333–349.
Acknowledgements
We would like to thank the Arizona Justice Project at the Sandra Day O'Connor College of Law for the assistance provided by its student interns in creating the data set for this study.
Funding
The authors did not receive support from any organization for the submitted work.
Ethics declarations
Conflicts of interest
The authors have no relevant financial or non-financial interests to disclose.
Additional information
Publisher's Note
Springer Nature remains neutral with regard to jurisdictional claims in published maps and institutional affiliations.
Rights and permissions
Springer Nature or its licensor (e.g. a society or other partner) holds exclusive rights to this article under a publishing agreement with the author(s) or other rightsholder(s); author self-archiving of the accepted manuscript version of this article is solely governed by the terms of such publishing agreement and applicable law.
About this article
Cite this article
Lateef, H., Ashford, J.B. & Cornett, E. Sentenced Arizona Juvenile Lifers: A Case Study of the Intersectionality of Sentencing, Race, and Prison-Misconduct Profiles. Child Adolesc Soc Work J (2023). https://doi.org/10.1007/s10560-023-00934-z
Accepted:

Published:

DOI: https://doi.org/10.1007/s10560-023-00934-z
Keywords