Abstract
The goal of engaging high-risk youth in pro-social activities is to reduce involvement in the criminal justice system and create experiences that increase the youth's chance of success in education and employment in the future. However, the literature does not support this assumption. The current study looks at the Summer Youth Engagement Program in New York State (NYSYEP). NYSYEP attempts to engage youth in a variety of pro-social activities including employment; education programs; organized recreation programs; and, volunteer work or community service. The hypothesis for the study was that youth who were engaged in pro-social activities would be more likely to be rearrested than youth who were not engaged. The number of hours of youth engagement was found to reduce the odds of being rearrested, but by only 2 %.
This is a preview of subscription content, log in to check access.
Access options
Buy single article
Instant access to the full article PDF.
US$ 39.95
Price includes VAT for USA
Subscribe to journal
Immediate online access to all issues from 2019. Subscription will auto renew annually.
US$ 99
This is the net price. Taxes to be calculated in checkout.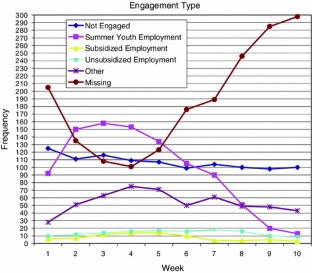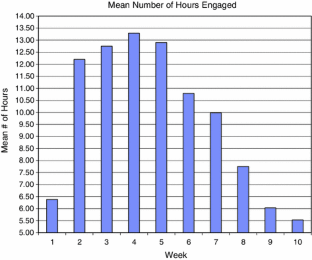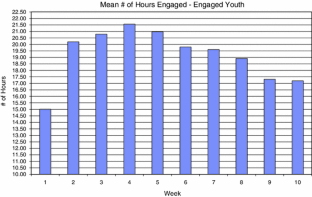 References
American Youth Policy Forum. (1997). Some things DO make a difference for youth: A compendium of evaluations of youth programs and practices. Washington, DC: American Youth Policy Forum.

Apel, R., Bushway, R., Brame, R., Haviland, A. M., Nagin, D. S., & Paternoster, R. (2007). Unpacking the relationship between adolescent employment and antisocial behavior: A matched samples comparison. Criminology, 45(1), 67–97.

Bachman, J. G., & Shulenberg, J. (1993). How part-time work intensity relates to drug use, problem behavior, time use, and satisfaction among high school seniors: Are these consequences or merely correlates? Developmental Psychology, 29(2), 220–235.

Brame, R., Bushway, R., Paternoster, R., & Apel, R. (2004). Assessing the effect of adolescent employment on involvement in criminal activity. Journal of Contemporary Criminal Justice, 20(3), 236–256.

Bullis, M., & Yovanoff, P. (2006). Idle hands: Community employment experiences of formerly incarcerated youth. Journal of Behavioral Disorders, 14(2), 71–85.

Cunningham, W. S., Duffee, D. E., Huang, Y., Steinke, C. M., & Naccarato, T. (2009). On the meaning and measurement of engagement in youth residential centers. Research on Social Work Practice, 19(1), 63–76.

Engelbrecht, C., Peterson, D., Scherer, A., & Naccarato, T. (2008). "It's not my fault:" Acceptance of responsibility as a component of engagement in juvenile residential treatment. Children and Youth Services Review, 30, 466–484.

Guttman, R. (1983). Job training partnership act: New help for the unemployed. Monthly Labor Review, 106(3), 3–10.

Hackler, J. C., & Hagan, J. L. (1975). Work and teaching machines as delinquency prevention tools: A four-year follow-up. Social Service Review, 45, 92–106.

Kellerman, A. L., Fuqua-Whitley, D. S., Rivara, F. P., & Mercy, J. (1998). Preventing youth violence: What works? Annual Review of Public Health, 19, 271–292.

Leiber, M. J., & Mawhorr, T. L. (1995). Evaluating the use of social skills training and employment with delinquent youth. Journal of Criminal Justice, 23(2), 127–141.

Littell, J. H., Alexander, L. B., & Reynolds, W. W. (2001). Client participation: Central and under investigated elements of intervention. Social Service Review, 75, 1–28.

Mc Donald, J. F., & Moffitt, R. A. (1980). The uses of Tobit analysis. The Review of Economics and Statistics, 62(2), 318–321.

Naccarato, T., Brophy, M., & Courtney, M. E. (2010). Employment outcomes of foster youth: The results from the Midwest Evaluation of the Adult Functioning of Foster Youth. Children and Youth Services Review, 32(4), 551–559.

New York Association of Training and Employment Professionals, Inc. (2009). The 2009 Summer Youth Employment Program in New York State: Expanding work opportunities for youth through the American Recovery and Reinvestment Act. Retrieved May 2, 2010 from http://www.recovery.ny.gov/assets/documents/The2009SummerYouthEmploymentProgram.pdf.

Ploeger, M. (1997). Youth employment and delinquency: Reconsidering a problematic relationship. Criminology, 35(4), 659–675.

U.S. Department of Labor. (1998). Workforce Investment Act of 1998. Retrieved June 1, 2010 from http://www.doleta.gov/usworkforce/wia/plaintext.pdf.

Yachmenoff, D. K. (2003). Measuring client engagement from the client's perspective in nonvoluntary child protective services. Research on Social Work Practice, 15(2), 84–96.
Acknowledgments
The author's would like to thank Jeffery Evans, Director of Information Technology for the Department of Juvenile Justice and Opportunities for Youth and Gagan Singh, Master in Computer Science. Without their help, support, expertise, and guidance this project would not have been possible.
About this article
Cite this article
Naccarato, T., Brophy, M. & LaClair, K. Summer Engagement for At-Risk Youth: Preliminary Outcomes from the New York State Workforce Development Study. Child Adolesc Soc Work J 30, 519–533 (2013). https://doi.org/10.1007/s10560-013-0302-8
Keywords
Summer youth employment

Youth engagement

Youth workforce development

Juvenile delinquency

Tobit and logistic regression models