Abstract
Background
Sacubitril/valsartan, vericiguat, and the sodium-glucose co-transporter-2 inhibitors (SGLT2i) dapagliflozin and empagliflozin proved effective in phase 3 trials on heart failure with reduced ejection fraction (HFrEF).
Methods
We compared the treatment arms (sacubitril/valsartan, vericiguat, and SGLT2i) with the respective control arms (standard-of-care [SOC]) through a network meta-analysis of the phase 3 trials (PARADIGM-HF, VICTORIA, DAPA-HF, EMPEROR-Reduced), a phase 2 trial on vericiguat and the HFrEF subgroup of DECLARE-TIMI 58.
Results
There was a trend towards decreased risk of cardiovascular (CV) death or HF hospitalization with SGLT2i than sacubitril/valsartan (HR 0.92, 95% CI 0.81 to 1.05) and vericiguat (HR 0.83, 95% CI 0.73 to 0.94). A non-significant effect of SGLT2i on CV mortality compared to sacubitril/valsartan (HR 1.04, 95% CI 0.88 to 1.24) and vericiguat (HR 0.88, 95% CI 0.63 to 1.22) was found. SGLT2i demonstrated the greatest effect on HF hospitalization (HR 0.69, 95% CI 0.62 to 0.77) over the SOC, as well as a significant benefit over vericiguat (HR 0.77, 95% CI 0.66 to 0.89), but not over sacubitril/valsartan (HR 0.87, 95% CI 0.75 to 1.02). SGLT2i were ranked as the most effective therapy, followed by sacubitril/valsartan and vericiguat.
Conclusions
Based on an indirect comparison, SGLT2i therapy is not associated with a significantly lower risk of CV death or HF hospitalization or CV death alone compared to sacubitril/valsartan or vericiguat. The risk of HF hospitalization does not differ significantly between patients on SGLT2i or sacubitril/valsartan, while dapagliflozin is superior to vericiguat.
Registration Number
PROSPERO ID 186351.
Access options
Buy single article
Instant access to the full article PDF.
US$ 39.95
Tax calculation will be finalised during checkout.
Subscribe to journal
Immediate online access to all issues from 2019. Subscription will auto renew annually.
US$ 79
Tax calculation will be finalised during checkout.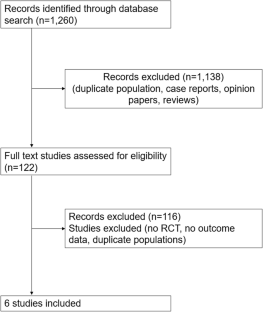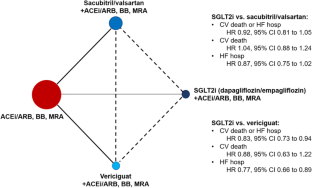 Abbreviations
ACEi/ARB:

Angiotensin-converting enzyme inhibitor/angiotensin receptor blocker

CI:

Confidence interval

CV:

Cardiovascular

HFrEF:

Heart failure with reduced ejection fraction

HR:

Hazard ratio

MRA:

Mineralocorticoid receptor antagonist

NMA:

Network meta-analysis

NP:

Natriuretic peptide

RCT:

Randomized controlled trial

SOC:

Standard-of-care
References
1.

Metra M, Teerlink JR. Heart failure. Lancet. 2017;390:1981–95.

2.

McMurray JJ, Packer M, Desai AS, Gong J, Lefkowitz MP, Rizkala AR, et al. PARADIGM-HF Investigators and Committees. Angiotensin-neprilysin inhibition versus enalapril in heart failure. N Engl J Med. 2014;371:993–1004.

3.

Ponikowski P, Voors AA, Anker SD, Bueno H, Cleland JGF, Coats AJS, et al. 2016 ESC guidelines for the diagnosis and treatment of acute and chronic heart failure: the task force for the diagnosis and treatment of acute and chronic heart failure of the European Society of Cardiology (ESC) developed with the special contribution of the Heart Failure Association (HFA) of the ESC. Eur Heart J. 2016;37:2129–200.

4.

Yancy CW, Jessup M, Bozkurt B, Butler J, Casey DE Jr, Colvin MM, et al. 2017 ACC/AHA/HFSA focused update of the 2013 ACCF/AHA guideline for the management of heart failure: a report of the American College of Cardiology/American Heart Association Task Force on Clinical Practice Guidelines and the Heart Failure Society of America. Circulation. 2017;136:e137–61.

5.

Armstrong PW, Pieske B, Anstrom KJ, Ezekowitz J, Hernandez AF, Butler J, et al. Vericiguat in patients with heart failure and reduced ejection fraction. N Engl J Med. 2020;382:1883–93.

6.

McMurray JJV, Solomon SD, Inzucchi SE, Køber L, Kosiborod MN, Martinez FA, et al. DAPA-HF Trial Committees and Investigators. Dapagliflozin in patients with heart failure and reduced ejection fraction. N Engl J Med. 2019;381:1995–2008.

7.

Packer M, Anker SD, Butler J, Filippatos G, Pocock SJ, Carson P, Januzzi J, Verma S, Tsutsui H, Brueckmann M, Jamal W, Kimura K, Schnee J, Zeller C, Cotton D, Bocchi E, Böhm M, Choi DJ, Chopra V, Chuquiure E, Giannetti N, Janssens S, Zhang J, Gonzalez Juanatey JR, Kaul S, Brunner-La Rocca HP, Merkely B, Nicholls SJ, Perrone S, Pina I, Ponikowski P, Sattar N, Senni M, Seronde MF, Spinar J, Squire I, Taddei S, Wanner C, Zannad F. EMPEROR-reduced trial investigators. Cardiovascular and renal outcomes with empagliflozin in heart failure. N Engl J Med. 2020;383(15):1413–1424. https://doi.org/10.1056/NEJMoa2022190.

8.

Volpe M, Carnovali M, Mastromarino V. The natriuretic peptides system in the pathophysiology of heart failure: from molecular basis to treatment. Clin Sci. 2016;130:57–77.

9.

Bertero E, Prates Roma L, Ameri P, Maack C. Cardiac effects of SGLT2 inhibitors: the sodium hypothesis. Cardiovasc Res. 2018;114:12–8.

10.

Verma S, Rawat S, Ho KL, Wagg CS, Zhang L, Teoh H, et al. Empagliflozin increases cardiac energy production in diabetes: novel translational insights into the heart failure benefits of SGLT2 inhibitors. JACC Basic Transl Sci. 2018;3:575–87.

11.

Zannad F, Ferreira JP, Pocock SJ, Anker SD, Butler J, Filippatos G, et al. SGLT2 inhibitors in patients with heart failure with reduced ejection fraction: a meta-analysis of the EMPEROR-Reduced and DAPA-HF trials. Lancet. 2020;396:819–29.

12.

Butler J, Anstrom KJ, Armstrong PW. Comparing the benefit of novel therapies across clinical trials: insights from the VICTORIA trial. Circulation. 2020;142(8):717–9. https://doi.org/10.1161/CIRCULATIONAHA.120.047086.

13.

Lumley T. Network meta-analysis for indirect treatment comparisons. Stat Med. 2002;21:2313–24.

14.

Caldwell DM, Ades AE, Higgins JP. Simultaneous comparison of multiple treatments: combining direct and indirect evidence. BMJ. 2005;331:897–900.

15.

Li T, Puhan MA, Vedula SS, Singh S, Dickersin K. Network meta-analysis-highly attractive but more methodological research is needed. BMC Med. 2011;9:79.

16.

Hutton B, Salanti G, Caldwell DM, Chaimani A, Schmid CH, Cameron C, et al. The PRISMA extension statement for reporting of systematic reviews incorporating network meta-analyses of health care interventions: checklist and explanations. Ann Intern Med. 2015;162:777–84.

17.

Sterne JAC, Savović J, Page MJ, Elbers RG, Blencowe NS, Boutron I, et al. RoB 2: a revised tool for assessing risk of bias in randomised trials. BMJ. 2019;366:l4898.

18.

Guyatt GH, Oxman AD, Schünemann HJ, Tugwell P, Knottnerus A. GRADE guidelines: a new series of articles in the Journal of Clinical Epidemiology. J Clin Epidemiol. 2011;64:380–2.

19.

Jackson D, White IR, Riley RD. A matrix-based method of moments for fitting the multivariate random effects model for meta-analysis and meta-regression. Biom J. 2013;55:231–45.

20.

Spineli LM, Kalyvas C, Pateras K. Participants' outcomes gone missing within a network of interventions: Bayesian modelling strategies. Stat Med. 2019;38:3861–79.

21.

Gheorghiade M, Greene SJ, Butler J, Filippatos G, Lam CS, Maggioni AP, et al. Effect of vericiguat, a soluble guanylate cyclase stimulator, on natriuretic peptide levels in patients with worsening chronic heart failure and reduced ejection fraction: the SOCRATES-REDUCED randomized trial. JAMA. 2015;314:2251–62.

22.

Wiviott SD, Raz I, Bonaca MP, Mosenzon O, Kato ET, Cahn A, et al. Dapagliflozin and cardiovascular outcomes in type 2 diabetes. N Engl J Med. 2019;380:347–57.

23.

White IR, Barrett JK, Jackson D, Higgins JPT. Consistency and inconsistency in network meta-analysis: model estimation using multivariate meta-regression. Res Synth Methods. 2012;3:111–25.

24.

Salanti G. Indirect and mixed-treatment comparison, network, or multiple-treatments meta-analysis: many names, many benefits, many concerns for the next generation evidence synthesis tool. Res Synth Methods. 2012;3:80–97.

25.

Chaimani A, Higgins JP, Mavridis D, Spyridonos P, Salanti G. Graphical tools for network meta-analysis in STATA. PLoS One. 2013;8:e76654.

26.

Cannon CP, Pratley R, Dagogo-Jack S, Mancuso J, Huyck S, Masiukiewicz U, Charbonnel B, Frederich R, Gallo S, Cosentino F, Shih WJ, Gantz I, Terra SG, Cherney DZI, McGuire DK; VERTIS CV Investigators. Cardiovascular outcomes with ertugliflozin in type 2 diabetes. N Engl J Med. 2020;383(15):1425–1435. https://doi.org/10.1056/NEJMoa2004967.

27.

Vardeny O, Miller R, Solomon SD. Combined neprilysin and renin-angiotensin system inhibition for the treatment of heart failure. JACC Heart Fail. 2014;2:663–70.

28.

D'Elia E, Iacovoni A, Vaduganathan M, Lorini FL, Perlini S, Senni M. Neprilysin inhibition in heart failure: mechanisms and substrates beyond modulating natriuretic peptides. Eur J Heart Fail. 2017;19:710–7.

29.

Tamargo J. Sodium-glucose cotransporter 2 inhibitors in heart failure: potential mechanisms of action, adverse effects and future developments. Eur Cardiol. 2019;14:23–32.

30.

Pieske B, Patel MJ, Westerhout CM, Anstrom KJ, Butler J, Ezekowitz J, et al. Baseline features of the VICTORIA (vericiguat global study in subjects with heart failure with reduced ejection fraction) trial. Eur J Heart Fail. 2019;21:1596–604.

31.

Dewan P, Jhund PS, McMurray JJV. VICTORIA in context. Eur J Heart Fail. 2020. https://doi.org/10.1002/ejhf.1833.
Ethics declarations
Conflict of Interest
M.E. is one of the 2 Italian national leaders of the VICTORIA trial; the other authors have no conflicts of interest to disclose.
Additional information
Publisher's Note
Springer Nature remains neutral with regard to jurisdictional claims in published maps and institutional affiliations.
Electronic supplementary material
About this article
Cite this article
Aimo, A., Pateras, K., Stamatelopoulos, K. et al. Relative Efficacy of Sacubitril-Valsartan, Vericiguat, and SGLT2 Inhibitors in Heart Failure with Reduced Ejection Fraction: a Systematic Review and Network Meta-Analysis. Cardiovasc Drugs Ther (2020). https://doi.org/10.1007/s10557-020-07099-2
Keywords
Heart failure

Sacubitril/valsartan

Vericiguat

SGLT2-inhibitors

Efficacy

Network meta-analysis