Abstract
Background
Sodium tanshinone IIA sulfonate (STS) has been widely used by Chinese medicine practitioners for chronic cardiovascular diseases. However, its direct clinical efficacy in patients with acute coronary syndrome following percutaneous coronary intervention (PCI) has not been reported yet. The present trial aimed to investigate potential cardioprotection of STS in patients undergoing PCI for non-ST elevation acute coronary syndrome (NSTE-ACS).
Methods
In a randomized, double-blind, placebo-controlled trial, 372 patients with NSTE-ACS were randomly assigned to receive STS (n = 192) or saline (n = 180) for 2 days before and 3 days after PCI along with standard therapy. The primary endpoint was the composite incidence of major adverse cardiac events (MACEs), including death, non-fatal myocardial infarction, repeated revascularization of the target vessel, and stent thrombosis, within 30 days after PCI.
Results
The 30-day MACEs occurred in 18.8% of the patients in the STS group and in 27.2% of the patients in the control group (P = 0.038); this difference was mostly driven by reduction of myocardial infarction incidence (17.2% vs. 26.7%, P = 0.027). Post-procedural elevation of troponin-I was also significantly lower in the STS group (26.56% vs. 47.78%, P < 0.001). Multivariable analysis identified STS as a predictor of decreased risk of MACE occurrence (odds ratio: 0.60, 95% confidence interval: 0.36 to 0.99; P = 0.045).
Conclusion
Addition of STS to the standard treatments recommended by the current practice guidelines in patients with NSTE-ACS undergoing PCI could reduce myocardial injury and the occurrence of short-term cardiovascular events, primarily driven by non-fatal myocardial infarction.
Trial Registration
ChiCTR-TRC-14005182
This is a preview of subscription content, log in to check access.
Access options
Buy single article
Instant access to the full article PDF.
US$ 39.95
Price includes VAT for USA
Subscribe to journal
Immediate online access to all issues from 2019. Subscription will auto renew annually.
US$ 99
This is the net price. Taxes to be calculated in checkout.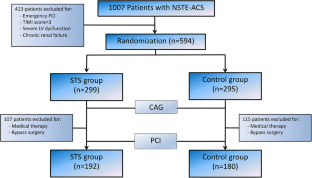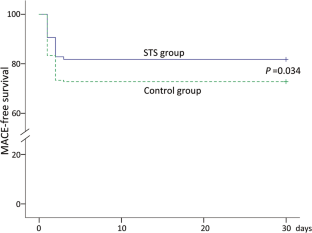 Abbreviations
ACS:

Acute coronary syndrome

AE:

Adverse event

DSMB:

Data and safety monitoring board

hs-CRP:

High-sensitive C-reactive protein

MACE:

Major adverse cardiovascular event

NSTE-ACS:

non-ST segment elevation acute coronary syndrome

NSTEMI:

Non-ST elevation myocardial infarction

MI:

Myocardial infarction

OR:

Odds ratios

PCI:

Percutaneous coronary intervention

PMI:

Periprocedural myocardial injury

STEMI:

ST-segment elevation acute coronary syndrome

STS:

sodium tanshinone IIA sulfonate group

TIMI:

Thrombolysis in myocardial infarction

URL:

Upper reference limit
References
1.

Sarma AA, Braunwald E, Cannon CP, Guo J, Im K, Antman EM, et al. Outcomes of women compared with men after non-ST-segment elevation acute coronary syndromes. J Am Coll Cardiol. 2019;74(24):3013–22.

2.

Li Y, Pei H, Bulluck H, Zhou C, Hausenloy DJ. Periprocedural elevated myocardial biomarkers and clinical outcomes following elective percutaneous coronary intervention: a comprehensive dose-response meta-analysis of 44,972 patients from 24 prospective studies. EuroIntervention. 2020;15(16):1444–50.

3.

Thygesen K, Alpert JS, Jaffe AS, Chaitman BR, Bax JJ, Morrow DA, et al. Fourth universal definition of myocardial infarction (2018). J Am Coll Cardiol. 2018;72(18):2231–64.

4.

Soud M, Hideo-Kajita A, Ho G, Yacob O, Alahdab F, King F, et al. Impact of periprocedural biomarker elevation on mortality in stable angina pectoris patients undergoing elective coronary intervention: a systematic review and meta-analysis including 24 666 patients. Coron Artery Dis. 2020;31(2):137–46.

5.

Li J, Li X, Wang Q, Hu S, Wang Y, Masoudi FA, et al. ST-segment elevation myocardial infarction in China from 2001 to 2011 (the China PEACE-Retrospective Acute Myocardial Infarction Study): a retrospective analysis of hospital data. Lancet. 2015;385(9966):441–51.

6.

Patti G, Pasceri V, Colonna G, Miglionico M, Fischetti D, Sardella G, et al. Atorvastatin pretreatment improves outcomes in patients with acute coronary syndromes undergoing early percutaneous coronary intervention: results of the ARMYDA-ACS randomized trial. J Am Coll Cardiol. 2007;49(12):1272–8.

7.

Patti G, Nusca A, Chello M, Pasceri V, D'Ambrosio A, Vetrovec GW, et al. Usefulness of statin pretreatment to prevent contrast-induced nephropathy and to improve long-term outcome in patients undergoing percutaneous coronary intervention. Am J Cardiol. 2008;101(3):279–85.

8.

Jang Y, Zhu J, Ge J, Kim YJ, Ji C, Lam W. Preloading with atorvastatin before percutaneous coronary intervention in statin-naive Asian patients with non-ST elevation acute coronary syndromes: a randomized study. J Cardiol. 2014;63(5):335–43.

9.

Collins R, Reith C, Emberson J, Armitage J, Baigent C, Blackwell L, et al. Interpretation of the evidence for the efficacy and safety of statin therapy. Lancet. 2016;388(10059):2532–61.

10.

Preiss D, Seshasai SR, Welsh P, Murphy SA, Ho JE, Waters DD, et al. Risk of incident diabetes with intensive-dose compared with moderate-dose statin therapy: a meta-analysis. Jama. 2011;305(24):2556–64.

11.

Kim DD, Sanchez FA, Duran RG, Kanetaka T, Duran WN. Endothelial nitric oxide synthase is a molecular vascular target for the Chinese herb Danshen in hypertension. Am J Physiol Heart Circ Physiol. 2007;292(5):H2131–7.

12.

Tang C, Wu AH, Xue HL, Wang YJ. Tanshinone IIA inhibits endothelin-1 production in TNF-alpha-induced brain microvascular endothelial cells through suppression of endothelin-converting enzyme-1 synthesis. Acta Pharmacol Sin. 2007;28(8):1116–22.

13.

Qiu X, Miles A, Jiang X, Sun X, Yang N. Sulfotanshinone sodium injection for unstable angina pectoris: a systematic review of randomized controlled trials. Evid Based Complement Alternat Med. 2012;2012:715790.

14.

Long R, You Y, Li W, Jin N, Huang S, Li T, et al. Sodium tanshinone IIA sulfonate ameliorates experimental coronary no-reflow phenomenon through down-regulation of FGL2. Life Sci. 2015;142:8–18.

15.

Mao S, Vincent M, Chen M, Zhang M, Hinek A. Exploration of multiple signaling pathways through which sodium tanshinone IIA sulfonate attenuates pathologic remodeling experimental infarction. Front Pharmacol. 2019;10:779.

16.

Mao S, Wang L, Zhao X, Shang H, Zhang M, Hinek A. Sodium tanshinone IIA sulfonate for reduction of periprocedural myocardial injury during percutaneous coronary intervention (STAMP trial): rationale and design. Int J Cardiol. 2015;182:329–33.

17.

Levine GN, Bates ER, Blankenship JC, Bailey SR, Bittl JA, Cercek B, et al. 2011 ACCF/AHA/SCAI guideline for percutaneous coronary intervention: a report of the American College of Cardiology Foundation/American Heart Association Task Force on Practice Guidelines and the Society for Cardiovascular Angiography and Interventions. Circulation. 2011;124(23):e574–651.

18.

Anderson JL, Adams CD, Antman EM, Bridges CR, Califf RM, Casey DE Jr, et al. 2012 ACCF/AHA focused update incorporated into the ACCF/AHA 2007 guidelines for the management of patients with unstable angina/non-ST-elevation myocardial infarction: a report of the American College of Cardiology Foundation/American Heart Association Task Force on Practice Guidelines. J Am Coll Cardiol. 2013;61(23):e179–347.

19.

Thygesen K, Alpert JS, Jaffe AS, Simoons ML, Chaitman BR, White HD, et al. Third universal definition of myocardial infarction. J Am Coll Cardiol. 2012;60(16):1581–98.

20.

Mehran R, Rao SV, Bhatt DL, Gibson CM, Caixeta A, Eikelboom J, et al. Standardized bleeding definitions for cardiovascular clinical trials: a consensus report from the Bleeding Academic Research Consortium. Circulation. 2011;123(23):2736–47.

21.

Porto I, Selvanayagam JB, Van Gaal WJ, Prati F, Cheng A, Channon K, et al. Plaque volume and occurrence and location of periprocedural myocardial necrosis after percutaneous coronary intervention: insights from delayed-enhancement magnetic resonance imaging, thrombolysis in myocardial infarction myocardial perfusion grade analysis, and intravascular ultrasound. Circulation. 2006;114(7):662–9.

22.

Mao S, Taylor S, Chen Q, Zhang M, Hinek A. Sodium tanshinone IIA sulfonate prevents the adverse left ventricular remodelling: focus on polymorphonuclear neutrophil-derived granule components. J Cell Mol Med. 2019;23(7):4592–600.

23.

Cheng Q, Zhao Y, Li J. Sodium tanshinone IIA sulfonate suppresses heat stress-induced endothelial cell apoptosis by promoting NO production through upregulating the PI3K/AKT/eNOS pathway. Mol Med Rep. 2017;16(2):1612–8.

24.

Zhang W, He H, Liu J, Wang J, Zhang S, Zhang S, et al. Pharmacokinetics and atherosclerotic lesions targeting effects of tanshinone IIA discoidal and spherical biomimetic high density lipoproteins. Biomaterials. 2013;34(1):306–19.

25.

Maione F, Cantone V, Chini MG, De Feo V, Mascolo N, Bifulco G. Molecular mechanism of tanshinone IIA and cryptotanshinone in platelet anti-aggregating effects: an integrated study of pharmacology and computational analysis. Fitoterapia. 2015;100:174–8.

26.

Maione F, De Feo V, Caiazzo E, De Martino L, Cicala C, Mascolo N. Tanshinone IIA, a major component of Salvia milthorriza Bunge, inhibits platelet activation via Erk-2 signaling pathway. J Ethnopharmacol. 2014;155(2):1236–42.

27.

Wu LC, Lin X, Sun H. Tanshinone IIA protects rabbits against LPS-induced disseminated intravascular coagulation (DIC). Acta Pharmacol Sin. 2012;33(10):1254–9.

28.

Hu Q, Wei B, Wei L, Hua K, Yu X, Li H, et al. Sodium tanshinone IIA sulfonate ameliorates ischemia-induced myocardial inflammation and lipid accumulation in Beagle dogs through NLRP3 inflammasome. Int J Cardiol. 2015;196:183–92.

29.

Zhang H, Long M, Wu Z, Han X, Yu Y. Sodium tanshinone IIA silate as an add-on therapy in patients with unstable angina pectoris. J Thorac Disease. 2014;6(12):1794–9.

30.

Chan TY. Interaction between warfarin and danshen (Salvia miltiorrhiza). Ann Pharmacother. 2001;35(4):501–4.
Acknowledgements
The authors gratefully acknowledge the contributions of all staff for their participation in the STAMP study.
Funding
This study was funded by the National Science Foundation (No. 81703877& 81703848), a Featured Innovative Project from Guangdong Provincial Universities (2019KTSCX029), Young Talents Support Project from the China Association of Chinese Medicine (2019-QNRC2-C06), the Youth Talent Development Program from Guangzhou University of Chinese Medicine (to Shuai MAO), and the Team for the prevention and treatment of acute myocardial infarction with Chinese medicine (2019KCXTD009). The sponsors had no role in project development, the collection of data, or the preparation of this manuscript, nor the decision to publish.
Ethics declarations
Conflict of Interest
The authors declare that they have no conflict of interest.
Ethical Approval
All procedures performed in studies involving human participants were in accordance with the ethical standards of the institutional and/or national research committee and with the 1964 Helsinki declaration and its later amendments or comparable ethical standards.
Informed Consent
Informed consent was obtained from all individual participants included in the study.
Additional information
Publisher's Note
Springer Nature remains neutral with regard to jurisdictional claims in published maps and institutional affiliations.
About this article
Cite this article
Mao, S., Wang, L., Zhao, X. et al. Efficacy of Sodium Tanshinone IIA Sulfonate in Patients with Non-ST Elevation Acute Coronary Syndrome Undergoing Percutaneous Coronary Intervention: Results from a Multicentre, Controlled, Randomized Trial. Cardiovasc Drugs Ther (2020). https://doi.org/10.1007/s10557-020-07077-8
Keywords
Sodium tanshinone IIA sulfonate

Periprocedural myocardial infarction

Non-ST segment elevation acute coronary syndrome

Percutaneous coronary intervention