Abstract
Purpose
The geko™ device is a small transcutaneous nerve stimulator that is applied non-invasively to the skin over the common peroneal nerve to stimulate peripheral blood flow. The purpose of this study was to investigate the effect of peripheral nerve stimulation on coronary flow dynamics and systemic endothelial function.
Methods
We enrolled 10 male patients, age 59 ± 11 years, with symptomatic obstructive coronary disease undergoing percutaneous coronary intervention (PCI). Coronary flow dynamics were assessed invasively using Doppler flow wire at baseline and with nerve stimulation for 4 min. Measurements were taken in the stenotic coronary artery and in a control vessel without obstructive disease. At a separate visit, peripheral blood flow at the popliteal artery (using duplex ultrasound assessment) and endothelial function assessed by peripheral artery tonometry (PAT) were measured at baseline and after one hour of nerve stimulation.
Results
Compared to baseline, there was a significant increase in coronary blood flow as measured by average peak velocity (APV) in the control vessel with nerve stimulation (20.3 ± 7.7 to 23.5 ± 10 cm/s; p = 0.03) and non-significant increase in the stenotic vessel (21.9 ± 12 to 23.9 ± 12.9 cm/s; p = 0.23). Coronary flow reserve did not change significantly. Reactive hyperemia-peripheral arterial tonometry (Rh-PAT) increased from 2.28 ± 0.39 to 2.67 ± 0.6, p = 0.045.
Conclusions
A few minutes of peripheral nerve stimulation may improve coronary blood flow. This effect is more prominent in non-stenotic vessels. Longer stimulation improved endothelial function.
This is a preview of subscription content, log in to check access.
Access options
Buy single article
Instant access to the full article PDF.
US$ 39.95
Price includes VAT for USA
Subscribe to journal
Immediate online access to all issues from 2019. Subscription will auto renew annually.
US$ 99
This is the net price. Taxes to be calculated in checkout.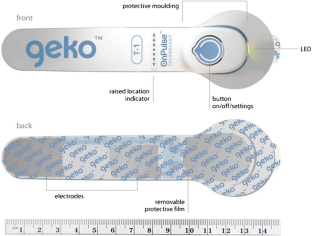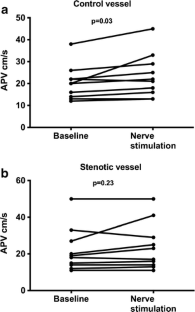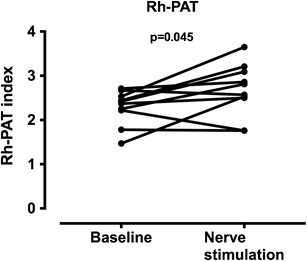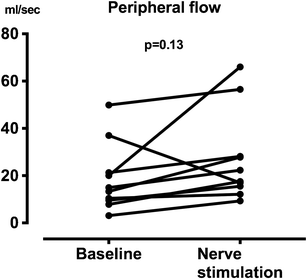 References
1.

Arora RR, Chou TM, Jain D, Fleishman B, Crawford L, McKiernan T, et al. The multicenter study of enhanced external counterpulsation (MUST-EECP): effect of EECP on exercise-induced myocardial ischemia and anginal episodes. J Am Coll Cardiol. 1999;33:1833–40.

2.

Masuda D, Nohara R, Hirai T, Kataoka K, Chen L, Hosokawa R, et al. Enhanced external counterpulsation improved myocardial perfusion and coronary flow reserve in patients with chronic stable angina. Evaluation by13N-ammonia positron emission tomography. Eur Heart J. 2001;22:1451–8.

3.

Akhtar M, Wu G-F, Du Z-M, Zheng Z-S, Michaels AD. Effect of external counterpulsation on plasma nitric oxide and endothelin-1 levels. Am J Cardiol. 2006;98:28–30.

4.

Bonetti PO, Barsness GW, Keelan PC, Schnell TI, Pumper GM, Kuvin JT, et al. Enhanced external counterpulsation improves endothelial function in patients with symptomatic coronary artery disease. J Am Coll Cardiol. 2003;41:1761–8.

5.

Yang DY, Wu GF. Vasculoprotective properties of enhanced external counterpulsation for coronary artery disease: beyond the hemodynamics. Int J Cardiol. 2013;166:38–43.

6.

Chauhan A, Mullins PA, Thuraisingham SI, Taylor G, Petch MC, Schofield PM. Effect of transcutaneous electrical nerve stimulation on coronary blood flow. Circulation. 1994;89:694–702.

7.

de Vries J, Anthonio RL, DeJongste MJ, Jessurun GA, Tan E-S, de Smet BJ, et al. The effect of electrical neurostimulation on collateral perfusion during acute coronary occlusion. BMC Cardiovasc Disord. 2007;7(1):18.

8.

Jessurun GA, Tio RA, De Jongste MJ, Hautvast RW, Den Heijer P, Crijns HJ. Coronary blood flow dynamics during transcutaneous electrical nerve stimulation for stable angina pectoris associated with severe narrowing of one major coronary artery. Am J Cardiol. 1998;82:921–6.

9.

Kaada B, Vik-Mo H, Rosland G, Woie L, Opstad P. Transcutaneous nerve stimulation in patients with coronary arterial disease: haemodynamic and biochemical effects. Eur Heart J. 1990;11:447–53.

10.

Sanderson JE, Woo KS, Chung HK, Chan WW, Lawrence K, White HD. The effect of transcutaneous electrical nerve stimulation on coronary and systemic haemodynamics in syndrome X. Cor Art Dis. 1996;7:547–52.

11.

Lavi S, Bae J-H, Rihal CS, Prasad A, Barsness GW, Lennon RJ, et al. Segmental coronary endothelial dysfunction in patients with minimal atherosclerosis is associated with necrotic core plaques. Heart. 2009;95:1525–30.

12.

Rubinshtein R, Kuvin JT, Soffler M, Lennon RJ, Lavi S, Nelson RE, et al. Assessment of endothelial function by non-invasive peripheral arterial tonometry predicts late cardiovascular adverse events. Eur Heart J. 2010;31:1142–8.

13.

Anderson TJ, Uehata A, Gerhard MD, Meredith IT, Knab S, Delagrange D, et al. Close relation of endothelial function in the human coronary and peripheral circulations. J Am Coll Cardiol. 1995;26:1235–41.

14.

Heitzer T, Schlinzig T, Krohn K, Meinertz T, Münzel T. Endothelial dysfunction, oxidative stress, and risk of cardiovascular events in patients with coronary artery disease. Circulation. 2001;104:2673–8.

15.

Flammer AJ, Anderson T, Celermajer DS, Creager MA, Deanfield J, Ganz P, et al. The assessment of endothelial function from research into clinical practice. Circulation. 2012;126:753–67.

16.

Lavi S, McConnell JP, Rihal CS, Prasad A, Mathew V, Lerman LO, et al. Local production of lipoprotein-associated phospholipase A2 and lysophosphatidylcholine in the coronary circulation association with early coronary atherosclerosis and endothelial dysfunction in humans. Circulation. 2007;115:2715–21.

17.

Lavi S, Prasad A, Yang EH, Mathew V, Simari RD, Rihal CS, et al. Smoking is associated with epicardial coronary endothelial dysfunction and elevated white blood cell count in patients with chest pain and early coronary artery disease. Circulation. 2007;115:2621–7.

18.

Chiu J-J, Chien S. Effects of disturbed flow on vascular endothelium: pathophysiological basis and clinical perspectives. Physiol Rev. 2011;91:327–87.

19.

Vita JA, Mitchell GF. Effects of shear stress and flow pulsatility on endothelial function: insights gleaned from external counterpulsation therapy. J Am Coll Cardiol. 2003;42:2096–8.

20.

Jawad H The effectiveness of a novel neuromuscular electrostimulation method versus intermittent pneumatic compression in enhancing lower limb blood flow. J Vasc Surg. 2012;2:160–5.

21.

Gould KL, Lipscomb K. Effects of coronary stenoses on coronary flow reserve and resistance. Am J Cardiol. 1974;34:48–55.

22.

Hoffman J Maximal coronary flow and the concept of coronary vascular reserve. Circulation. 1984;70:153–9.

23.

Collins P Coronary flow reserve. Brit Heart J. 1993;69:279.

24.

De Bruyne B, Baudhuin T, Melin J, Pijls N, Sys S, Bol A, et al. Coronary flow reserve calculated from pressure measurements in humans. Validation with positron emission tomography. Circulation. 1994;89:1013–22.

25.

Radico F, Cicchitti V, Zimarino M, De Caterina R. Angina pectoris and myocardial ischemia in the absence of obstructive coronary artery disease: practical considerations for diagnostic tests. JACC Cardiovasc Interv. 2014;7:453–63.

26.

Kuvin JT, Mammen A, Mooney P, Alsheikh-Ali AA, Karas RH. Assessment of peripheral vascular endothelial function in the ambulatory setting. Vasc Med. 2007;12:13–6.

27.

Loh PH, Cleland JG, Louis AA, Kennard ED, Cook JF, Caplin JL, et al. Enhanced external counterpulsation in the treatment of chronic refractory angina: a long-term follow-up outcome from the international enhanced external counterpulsation patient registry. Clin Cardiol. 2008;31:159–64.

28.

Michaels AD, Accad M, Ports TA, Grossman W. Left ventricular systolic unloading and augmentation of intracoronary pressure and Doppler flow during enhanced external counterpulsation. Circulation. 2002;106:1237–42.

29.

Tucker A, Maass A, Bain D, Chen L, Azzam M, Dawson H, et al. Augmentation of venous, arterial and microvascular blood supply in the leg by isometric neuromuscular stimulation via the peroneal nerve. Intern J Angiol. 2010;19:e31.

30.

Williams K, Moore H, Davies A. Haemodynamic changes with the use of neuromuscular electrical stimulation compared to intermittent pneumatic compression. Phlebol. 2015;30:365–72.

31.

Werner G, Emig U, Bahrmann P, Ferrari M, Figulla H. Recovery of impaired microvascular function in collateral dependent myocardium after recanalisation of a chronic total coronary occlusion. Heart. 2004;90:1303–9.
Ethics declarations
Conflict of Interest
The authors report no relationships that could be construed as a conflict of interest.
Funding Sources
The study was supported by an unrestricted grant from Firstkind Ltd. (United Kingdom).
About this article
Cite this article
Camuglia, A.C., Alemayehu, M., McLellan, A. et al. The Impact of Peripheral Nerve Stimulation on Coronary Blood Flow and Endothelial Function. Cardiovasc Drugs Ther 29, 527–533 (2015). https://doi.org/10.1007/s10557-015-6628-z
Keywords
Angina

Endothelium

Blood flow

Coronary artery disease

Electrical stimulation