Abstract
Purpose
Resveratrol has been shown to have vasoprotective effects by upregulating oxidative defense mechanisms in a variety of pathophysiological conditions. However, the effect of resveratrol on diabetic oxidative stress and vascular and metabolic abnormalities is not completely understood. Therefore, this study was designed to evaluate whether long-term resveratrol supplementation has a protective effect on vascular function and integrity in association with metabolic parameters and oxidative stress in insulin-dependent diabetes.
Methods
Diabetes was induced in rabbits with alloxan and maintained for 8 weeks. We used a resveratrol dose of 5 mg/L (10 weeks, starting 14 days before alloxan injection) and 50 mg/L (8 or 10 weeks, starting concomitantly or 14 days before alloxan injection) in the drinking water of rabbits.
Results
Relaxation to acetylcholine was impaired (control 75.6 ± 3.59%, versus diabetic 42.23 ± 2.53%) and contractions to phenylephrine increased (control 136.89 ± 2.27%, versus diabetic 159.37 ± 6.27%) in aortas from diabetic animals. These changes were associated with increased basal or NAD(P)H-induced superoxide production, as well as lipid peroxide and superoxide dismutase (SOD) levels in the aortic samples. The maximal relaxation to acetylcholine improved by 75.74 ± 9.04% in diabetic rabbits treated with resveratrol. The increased contractions to phenylephrine were not restored to control values after resveratrol treatments, but sensitivity to the contractions tended to decrease. Resveratrol increased nitrite/nitrate levels and suppressed basal or NAD(P)H-induced superoxide production and lipid peroxide levels in the aortas. Importantly, resveratrol increased serum insulin levels without affecting blood glucose and the lipid profile in diabetic rabbits. Using electron microscopic examinations, resveratrol was found to markedly protect the endothelial integrity from diabetes.
Conclusion
Overall, there was no noticeable difference between resveratrol treatment groups on the recovery from diabetes. Our results indicate that resveratrol alleviates type 1 diabetes-induced vasculopathy by decreasing vascular oxidative stress and thereby increasing the bioavailability of nitric oxide without changing metabolic abnormalities.
This is a preview of subscription content, log in to check access.
Access options
Buy single article
Instant access to the full article PDF.
US$ 39.95
Price includes VAT for USA
Subscribe to journal
Immediate online access to all issues from 2019. Subscription will auto renew annually.
US$ 99
This is the net price. Taxes to be calculated in checkout.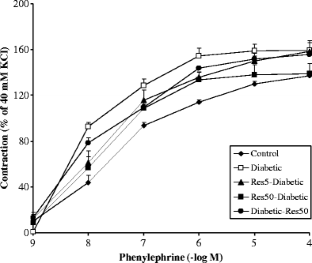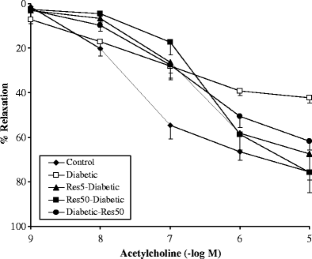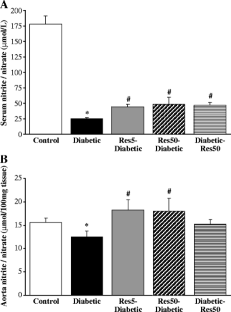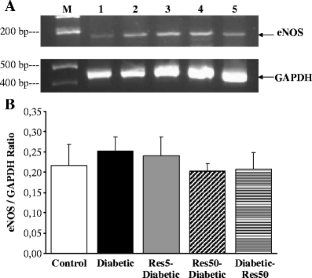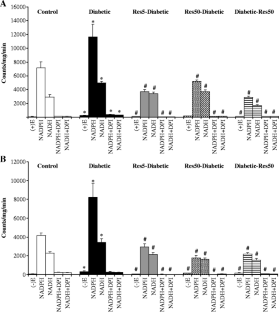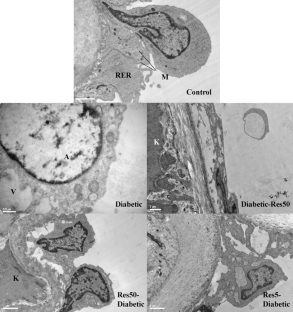 References
1.

De Vriese AS, Verbeuren TJ, Van de Voorde J, Lameire NH, Vanhoutte PM. Endothelial dysfunction in diabetes. Br J Pharmacol. 2000;130:963–74.

2.

Hink U, Li H, Mollnau H, et al. Mechanisms underlying endothelial dysfunction in diabetes mellitus. Circ Res. 2001;88:E14–22.

3.

Oak JH, Cai H. Attenuation of angiotensin II signaling recouples eNOS and inhibits nonendothelial NOX activity in diabetic mice. Diabetes. 2007;56:118–26.

4.

Gao L, Mann GE. Vascular NAD(P)H oxidase activation in diabetes: a double-edged sword in redox signaling. Cardiovasc Res. 2009;82:9–20.

5.

Orallo F, Alvarez E, Camina M, Leiro JM, Gomez E, Fernandez P. The possible implication of trans-resveratrol in the cardioprotective effects of long-term moderate wine consumption. Mol Pharmacol. 2002;61:294–302.

6.

Coskun B, Soylemez S, Parlar AI, Ulus AT, Katircioglu SF, Akar F. Effect of resveratrol on nitrate tolerance in isolated human internal mammary artery. J Cardiovas Pharmacol. 2006;47:437–45.

7.

Chow S-E, Hshu Y-C, Wang J-S, Chen J-K. Resveratrol attenuates oxLDL-stimulated NADPH oxidase activity and protects endothelial cells from oxidative functional damages. J Appl Physiol. 2007;102:1520–7.

8.

Soylemez S, Gurdal H, Sepici A, Akar F. The effect of long-term resveratrol treatment on relaxation to estrogen in aortae from male and female rats: role of nitric oxide and superoxide. Vasc Pharmacol. 2008;49:97–105.

9.

Pearson KJ, Baur JA, Lewis KN, et al. Resveratrol delays age-related deterioration and mimics transcriptional aspects of dietary restriction without extending lifespan. Cell Metab. 2008;8:157–68.

10.

Csiszar A, Labinskyy N, Podlutsky A, et al. Vasoprotective effects of resveratrol and SIRT1: attenuation of cigarette smoke-induced oxidative stress and proinflammatory phenotypic alterations. Am J Physiol Heart Circ Physiol. 2008;294:H2721–35.

11.

Soylemez S, Sepici A, Akar F. Resveratrol supplementation gender independently improves endothelial reactivity and suppresses superoxide production in healthy rats. Cardiovasc Drugs Ther. 2009;23:449–58.

12.

Zhang H, Zhang J, Ungvari Z, Zhang C. Resveratrol improves endothelial function. Role of TNF and vascular oxidative stress. Arterioscler Thromb Vasc Biol. 2009;29:1164–71.

13.

Baur JA, Pearson KJ, Price NL, et al. Resveratrol improves health and survival of mice on a high-calorie diet. Nature. 2006;444:337–42.

14.

Lagouge M, Argmann C, Gerhart-Hines Z, et al. Resveratrol improves mitochondrial function and protects against metabolic disease by activating SIRT1 and PGC-1alpha. Cell. 2006;127:1109–22.

15.

Su H-C, Hung L-M, Chen J-K. Resveratrol, a red wine antioxidant, possesses an insulin-like effect in streptozotocin-induced diabetic rats. Am J Physiol Endocrinol Metab. 2006;290:E1339–46.

16.

Chi TC, Chen WP, Chi TL, Kuo TF, Lee SS, Cheng JT, et al. Phosphatidylinositol-3-kinase is involved in the antihyperglycemic effect induced by resveratrol in streptozotocin-induced diabetic rats. Life Sci. 2007;80:1713–20.

17.

Schmatz R, Schetinger MR, Spanevello RM, et al. Effects of resveratrol on nucleotide degrading enzymes in streptozotocin-induced diabetic rats. Life Sci. 2009;84:345–50.

18.

Orimo M, Minamino T, Miyauchi H, et al. Protective role of SIRT1 in diabetic vascular dysfunction. Arterioscler Thromb Vasc Biol. 2009;29:889–94.

19.

Skatchkov MP, Sperling D, Hink U, Mulsch A, Harrison DG, Sindermann I. Validation of lucigenin as a chemiluminescent probe to monitor vascular superoxide as well as basal vascular nitric oxide production. Biochem Biophys Res Commun. 1999;254:319–24.

20.

Baur JA, Sinclair DA. Therapeutic potential of resveratrol: the in vivo evidence. Nat Rev Drug Discov. 2006;5:493–506.

21.

Tesfamariam B, Brown ML, Deykin D, Cohen RA. Elevated glucose promotes generation of endothelium-derived vasoconstrictor prostanoids in rabbit aorta. J Clin Invest. 1990;85:929–32.

22.

Tesfamariam B, Brown ML, Deykin D, Cohen RA. Elevated glucose impairs endothelium-dependent relaxations by activating protein kinase C. J Clin Invest. 1991;87:1643–8.

23.

Zanetti M, Sato J, Katusic ZS, O'Brien T. Gene transfer of superoxide dismutase isoforms reverses endothelial dysfunction in diabetic rabbit aorta. Am J Physiol Heart Circ Physiol. 2001;280:H2516–23.

24.

Shah DI, Singh M. Possible role of Akt to improve vascular endothelial dysfunction in diabetic and hyperhomocysteinemic rats. Mol Cell Biochem. 2007;295:65–74.

25.

Palsamy P, Subramanian S. Resveratrol, a natural phytoalexin, normalizes hyperglycemia in streptozotocin-nicotinamide induced experimental diabetic rats. Biomed Pharmacother. 2008;62:598–605.

26.

Chen W-P, Chi T-C, Chuang L-M, Su M-J. Resveratrol enhances insulin secretion by blocking KATP and KV channels of beta cells. Eur J Pharmacol. 2007;568:269–77.

27.

Silan C. The effects of chronic resveratrol treatment on vascular responsiveness of streptozotocin-induced diabetic rats. Biol Pharm Bull. 2008;31:897–902.

28.

Campos-Toimil M, Elíes J, Orallo F. Trans- and cis-resveratrol increase cytoplasmic calcium levels in A7r5 vascular smooth muscle cells. Mol Nutr Food Res. 2005;49:396–404.

29.

Campos-Toimil M, Elíes J, Alvarez E, Verde I, Orallo F. Effects of trans- and cis-resveratrol on Ca2+ handling in A7r5 vascular myocytes. Eur J Pharmacol. 2007;577:91–9.

30.

Jager U, Nguyen-Doung H. Relaxant effect of trans-resveratrol on isolated porcine coronary arteries. Arzneim Forsch Drug Res. 1999;49:207–11.

31.

Bolego C, Cignarella A, Zancan V, Pinna C, Zanardo R, Puglisi L. Diabetes abolishes the vascular protective effects of estrogen in female rats. Life Sci. 1999;64:741–9.

32.

Rush JWE, Quadrilatero J, Levy AS, Ford RJ. Chronic resveratrol enhances endothelium-dependent relaxation but does not alter eNOS levels in aorta of spontaneously hypertensive rats. Exp Biol Med. 2007;232:814–22.

33.

Miatello R, Vázquez M, Renna N, Cruzado M, Zumino AP, Risler N. Chronic administration of resveratrol prevents biochemical cardiovascular changes in fructose-fed rats. Am J Hypertens. 2005;18:864–70.

34.

Schiller NK, Timothy AM, Chen IL, et al. Endothelial cell regrowth and morphology after balloon catheter injury of alloxan-induced diabetic rabbits. Am J Physiol Heart Circ Physiol. 1999;277:H740–8.

35.

Csiszar A, Labinskyy N, Pinto JT, et al. Resveratrol induces mitochondrial biogenesis in endothelial cells. Am J Physiol Heart Circ Physiol. 2009;297:H13–20.

36.

Ungvari Z, Labinskyy N, Mukhopadhyay P, et al. Resveratrol attenuates mitochondrial oxidative stress in coronary arterial endothelial cells. Am J Physiol Heart Circ Physiol. 2009;297:H1876–81.

37.

Ungvari Z, Bagi Z, Feher A, et al. Resveratrol confers endothelial protection via activation of the antioxidant transcription factor Nrf2. Am J Physiol Heart Circ Physiol. 2010;299:H18–24.

38.

Ungvari Z, Orosz Z, Rivera A, et al. Resveratrol increases vascular oxidative stress resistance. Am J Physiol Heart Circ Physiol. 2007;292:H2417–24.

39.

Csiszar A, Labinskyy N, Jimenez R, et al. Anti-oxidative and anti-inflammatory vasoprotective effects of caloric restriction in aging: role of circulating factors and SIRT1. Mech Ageing Dev. 2009;130:518–27.

40.

Wang Y, Lee KW, Chan FL, Shiuan CS, Leung LK. The red wine polyphenol resveratrol displays bilevel inhibition on aromatase in breast cancer cells. Toxicol Sci. 2006;92:71–7.
Acknowledgements
This study was supported by a grant from TUBITAK 2008, Project No: 105 S431.
Conflict of interest
The authors state no conflict of interest.
About this article
Cite this article
Akar, F., Pektas, M.B., Tufan, C. et al. Resveratrol Shows Vasoprotective Effect Reducing Oxidative Stress Without Affecting Metabolic Disturbances in Insulin-dependent Diabetes of Rabbits. Cardiovasc Drugs Ther 25, 119–131 (2011). https://doi.org/10.1007/s10557-010-6255-7
Key words
Resveratrol

Endothelial and vascular function

Superoxide

Nitric oxide

Insulin

Alloxan

Diabetic rabbits