Abstract
Background
The Swiss national guidelines for the prevention of cardiovascular events have been published in 2005 by the Swiss Society of Cardiology (SGK) and the working group on lipids and atherosclerosis (AGLA). An agreement for global cardiovascular risk assessment and indications for cholesterol lowering among the international (IAS-AGLA) and the European (ESC score) guidelines is unknown.
Material and methods
Subjects aged ≥45 years were recruited using newspaper announcements for the participation in our free of charge cardiovascular prevention program of the Vascular Risk Foundation (Varifo). The data served to calculate cardiovascular 10 year risk and to compare IAS-AGLA und ESC score with respect to risk and lipid lowering indications.
Results
The primary prevention group included 713 subjects aged 55 ± 6 years of which 47% were women. The mean 10-year risk ± standard deviation was low (IAS-AGLA: 3.9% ± 4.4% for myocardial infarction; ESC score: 1.7% ± 1.8% for cardiovascular death). In those subjects qualifying for a lipid lowering intervention, according to the IAS-AGLA score or the ESC score, the percentage of agreement between both scores was only 18% (kappa value 0.31 [95%CI: 0.22–0.39], p < 0.0001).
Conclusions
Our study shows, that the agreement for the available Swiss guidelines (IAS-AGLA, ESC score) for initiation of a lipid lowering therapy is low in our primary prevention group of subjects aged 45–65 years. According to the PROCAM study, about 30% of myocardial infarctions occur in persons with an intermediate risk. Therefore an improved risk stratification strategy is necessary.
Access options
Buy single article
Instant access to the full article PDF.
US$ 39.95
Tax calculation will be finalised during checkout.
Subscribe to journal
Immediate online access to all issues from 2019. Subscription will auto renew annually.
US$ 79
Tax calculation will be finalised during checkout.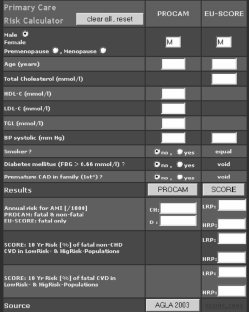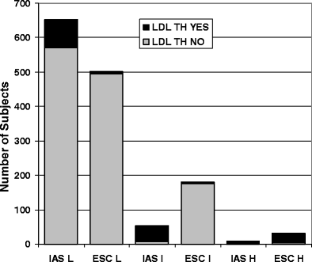 References
1.

Riesen W, Darioli R, Noseda G, Bertel O, Buser P. Empfehlungen zur Prävention der Atherosklerose. SAeZ 2005;22:1355–61.

2.

Assmann G, Cullen P, Schulte H. Simple scoring scheme for calculating the risk of acute coronary events based on the 10-year follow-up of the prospective cardiovascular Munster (PROCAM) study. Circulation 2002;105:310–5.

3.

Conroy R, Pyörälä K, Fitzgerald A, Score Project Group, et al. Estimation of ten-year risk of fatal cardiovascular disease in Europe: the SCORE project. Eur Heart J 2003;24:987–1003.

4.

Tunstall H, Kuulasmaa K, Mähönen M, et al. Contribution of trends in survival and coronary event rates to changes in coronary heart disease mortality: 10-year results from 37 WHO MONICA Project populations. Lancet 1999;353:1547–57.

5.

Silber S, Jarre F, Pittrow D, et al. Cardiovascular risk assessment by primary-care physicians in germany and its lack of agreement with the established risk scores (DETECT). Med Klin (Munch) 2008;103:638–45.

6.

Battegay E, Bertel O, Darioli R, et al. Empfehlungen 1999 zur Behandlungsindikation des Risikofaktors Cholesterin. Schweiz Arztezeitung 1999;80:549–52.

7.

Bayes ET. An assay toward solving a problem in the doctrin of chance. Philos Trans R Soc Lond B 1763;53:370–418.

8.

Fagan TJ. Nomogram for Bayes theorem. N Engl J Med 1975;293:257.

9.

Newcombe RG. Interval estimation for the difference between independent proportions: comparison of eleven methods. Stat Med 1998;17:873–90.
Acknowledgment
The Cordicare I study could be undertaken due to donations of the Unigamma Foundation, Aarau, the Vascular Risk Foundation (Varifo), Olten, and the Thalmann Foundation, Olten. We also thank our Head Study Nurse, Franziska M. Kaiser, for her excellent contribution in handling and acquiring of the subjects data.
Conflicts of interest
None
About this article
Cite this article
Romanens, M., Ackermann, F., Abay, M. et al. Agreement of Swiss-Adapted International and European Guidelines for the Assessment of Global Vascular Risk and for Lipid Lowering Interventions. Cardiovasc Drugs Ther 23, 249 (2009). https://doi.org/10.1007/s10557-009-6162-y
Received:

Accepted:

Published:
Key words
Primary prevention

Myocardial infarction

Guidelines