Abstract
Purpose
To evaluate the effect of adding tomato extract to the treatment regime of moderate hypertensives with uncontrolled blood pressure (BP) levels.
Methods
Fifty four subjects with moderate HT treated with one or two antihypertensive drugs were recruited and 50 entered two double blind cross-over treatment periods of 6 weeks each, with standardized tomato extract or identical placebo. Plasma concentrations of lycopene, nitrite and nitrate were measured and correlated with BP changes.
Results
There was a significant reduction of systolic BP after 6 weeks of tomato extract supplementation, from 145.8 ± 8.7 to 132.2 ± 8.6 mmHg (p < 0.001) and 140.4 ± 13.3 to 128.7 ± 10.4 mmHg (p < 0.001) in the two groups accordingly. Similarly, there was a decline in diastolic BP from 82.1 ± 7.2 to 77.9 ± 6.8 mmHg (p = 0.001) and from 80.1 ± 7.9 to 74.2 ± 8.5 mmHg (p = 0.001). There was no significant change in systolic and diastolic BP during the placebo period. Serum lycopene level increased from 0.11 ± 0.09 at baseline, to 0.30 ± 01.3 μmol/L after tomato extract therapy (p < 0.001). There was a significant correlation between systolic BP and lycopene levels (r = −0.49, p < 0.001).
Conclusions
Tomato extract when added to patients treated with low doses of ACE inhibition, calcium channel blockers or their combination with low dose diuretics, had a clinically significant effect—reduction of BP by more than 10 mmHg systolic and more than 5 mmHg diastolic pressure. No side-effects to treatment were recorded and the compliance with treatment was high. The significant correlation between systolic blood pressure values and level of lycopene suggest the possibility of cause–effect relationships.
This is a preview of subscription content, log in to check access.
Access options
Buy single article
Instant access to the full article PDF.
US$ 39.95
Price includes VAT for USA
Subscribe to journal
Immediate online access to all issues from 2019. Subscription will auto renew annually.
US$ 99
This is the net price. Taxes to be calculated in checkout.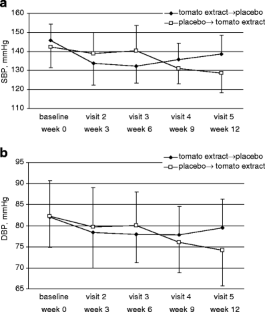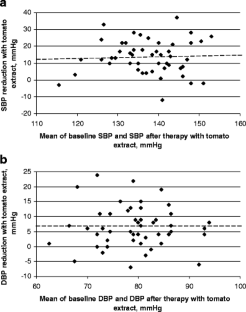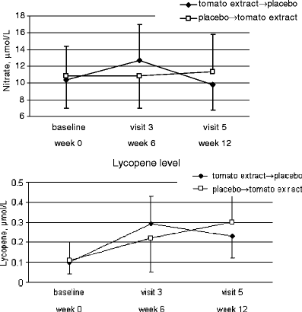 References
1.

Chobanian AV, Bakris GL, Black HR, Cushman WC, Green LA, Izzo JL Jr, et al. The Seventh Report of the Joint National Committee on Prevention, Detection, Evaluation, and Treatment of High Blood Pressure: the JNC 7 report. JAMA 2003;289:2560–72.

2.

Van Wijk BL, Klungel OH, Heerdink ER, de Boer A. Initial non-compliance with antihypertensive monotherapy is followed by complete discontinuation of antihypertensive therapy. Pharmacoepidemiol Drug Saf 2006;15:587–93.

3.

Garfield FB, Caro JJ. Compliance and hypertension. Curr Hypertens Rep 1999;1:502–6.

4.

Hassan NB, Hasanah CI, Foong K, Naing L, Awang R, Ismail SB, et al. Identification of psychosocial factors of noncompliance in hypertensive patients. J Hum Hypertens 2006;20:23–9.

5.

Benson S, Vance-Bryan K, Raddatz J. Time to patient discontinuation of antihypertensive drugs in different classes. Am J Health Syst Pharm 2000;57:51–4.

6.

John JH, Ziebland S, Yudkin P, Roe LS, Neil HA. Effects of fruit and vegetable consumption on plasma antioxidant concentrations and blood pressure: a randomised controlled trial. Lancet 2002;359:1969–74.

7.

Gerster H. The potential role of lycopene for human health. J Am Coll Nutr 1997;16:109–26.

8.

Upritchard JE, Sutherland WH, Mann JI. Effect of supplementation with tomato juice, vitamin E, and vitamin C on LDL oxidation and products of inflammatory activity in type 2 diabetes. Diabetes Care 2000;23:733–8.

9.

Engelhard YN, Gazer B, Paran E. Natural antioxidants from tomato extract reduce blood pressure in patients with grade-1 hypertension: a double-blind, placebo-controlled pilot study. Am Heart J 2006;151:100.

10.

Walfisch Y, Walfisch S, Agbaria R, Levy J, Sharoni Y. Lycopene in serum, skin and adipose tissues after tomato-oleoresin supplementation in patients undergoing haemorrhoidectomy or peri-anal fistulotomy. Br J Nutr 2003;90:759–66.

11.

Miranda KM, Espey MG, Wink DA. A rapid, simple spectrophotometric method for simultaneous detection of nitrate and nitrite. Nitric Oxide 2001;5:62–71.

12.

Gill JS, Zezulka AV, Beevers DG, Davies P. Relation between initial blood pressure and its fall with treatment. Lancet 1985;1:567–9.

13.

Oldham P. The interpretation of numerical data. Measurement in medicine. London: London English Universities Press; 1968. p. 148–52.

14.

Clinton SK. Lycopene: chemistry, biology, and implications for human health and disease. Nutr Rev 1998;56:35–51.

15.

Stahl W, Schwarz W, Sundquist AR, Sies H. Cis–trans isomers of lycopene and beta-carotene in human serum and tissues. Arch Biochem Biophys 1992;294:173–7.

16.

Rock CL, Swendseid ME, Jacob RA, McKee RW. Plasma carotenoid levels in human subjects fed a low carotenoid diet. J Nutr 1992;122:96–100.

17.

Willcox JK, Catignani GL, Lazarus S. Tomatoes and cardiovascular health. Crit Rev Food Sci Nutr 2003;43:1–18.

18.

Morris CD, Carson S. Routine vitamin supplementation to prevent cardiovascular disease: a summary of the evidence for the U.S. Preventive Services Task Force. Ann Intern Med 2003;139:56–70.

19.

Rissanen TH, Voutilainen S, Nyyssonen K, Salonen R, Kaplan GA, Salonen JT. Serum lycopene concentrations and carotid atherosclerosis: the Kuopio Ischaemic Heart Disease Risk Factor Study. Am J Clin Nutr 2003;77:133–8.

20.

Gianetti J, Pedrinelli R, Petrucci R, Lazzerini G, De Caterina M, Bellomo G, et al. Inverse association between carotid intima–media thickness and the antioxidant lycopene in atherosclerosis. Am Heart J 2002;143:467–74.

21.

Pickering TG. What should we advise our patients about taking antioxidants? J Clin Hypertens 2003;5:231–3.

22.

Griendling KK, Sorescu D, Lassegue B, Ushio-Fukai M. Modulation of protein kinase activity and gene expression by reactive oxygen species and their role in vascular physiology and pathophysiology. Arterioscler Thromb Vasc Biol 2000;20:2175–83.

23.

Heitzer T, Schlinzig T, Krohn K, Meinertz T, Munzel T. Endothelial dysfunction, oxidative stress, and risk of cardiovascular events in patients with coronary artery disease. Circulation 2001;104:2673–8.

24.

Conlin PR, Chow D, Miller ER 3rd, Svetkey LP, Lin PH, Harsha DW, et al. The effect of dietary patterns on blood pressure control in hypertensive patients: results from the Dietary Approaches to Stop Hypertension (DASH) trial. Am J Hypertens 2000;13:949–55.

25.

HOPE-TOO results: vitamin E supplements do not protect against cancer or cardiovascular disease. Nat Clin Pract Cardiovasc Med. 2005;2:233.

26.

Czernichow S, Bertrais S, Blacher J, Galan P, Briancon S, Favier A, et al. Effect of supplementation with antioxidants upon long-term risk of hypertension in the SU.VI.MAX study: association with plasma antioxidant levels. J Hypertens 2005;23:2013–8.
About this article
Cite this article
Paran, E., Novack, V., Engelhard, Y.N. et al. The Effects of Natural Antioxidants from Tomato Extract in Treated but Uncontrolled Hypertensive Patients. Cardiovasc Drugs Ther 23, 145–151 (2009). https://doi.org/10.1007/s10557-008-6155-2
Received:

Accepted:

Published:

Issue Date:
Key words
Treated hypertensives

Antioxidants

Tomato-extract

Lycopene