Abstract
The diffusion of smart-phones offers access to the best remote expertise in stress echo (SE). To evaluate the reliability of SE based on smart-phone filming and reading. A set of 20 SE video-clips were read in random sequence with a multiple choice six-answer test by ten readers from five different countries (Italy, Brazil, Serbia, Bulgaria, Russia) of the "SE2020" study network. The gold standard to assess accuracy was a core-lab expert reader in agreement with angiographic verification (0 = wrong, 1 = right). The same set of 20 SE studies were read, in random order and >2 months apart, on desktop Workstation and via smartphones by ten remote readers. Image quality was graded from 1 = poor but readable, to 3 = excellent. Kappa (k) statistics was used to assess intra- and inter-observer agreement. The image quality was comparable in desktop workstation vs. smartphone (2.0 ± 0.5 vs. 2.4 ± 0.7, p = NS). The average reading time per case was similar for desktop versus smartphone (90 ± 39 vs. 82 ± 54 s, p = NS). The overall diagnostic accuracy of the ten readers was similar for desktop workstation vs. smartphone (84 vs. 91%, p = NS). Intra-observer agreement (desktop vs. smartphone) was good (k = 0.81 ± 0.14). Inter-observer agreement was good and similar via desktop or smartphone (k = 0.69 vs. k = 0.72, p = NS). The diagnostic accuracy and consistency of SE reading among certified readers was high and similar via desktop workstation or via smartphone.
Access options
Buy single article
Instant access to the full article PDF.
US$ 39.95
Tax calculation will be finalised during checkout.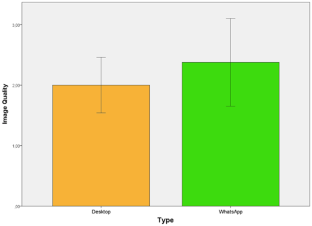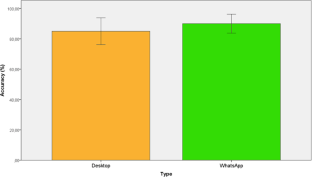 Abbreviations
SE:

Stress echocardiography
References
1.

Topol E (2016) Digital medicine: empowering both patients and physicians. Lancet 388:740–741

2.

Mars M, Scott RE (2016) WhatsApp in clinical practice: a literature review. Stud Health Technol Inform 231:82–90

3.

Montalescot G, Sechtem U, Achenbach S, Andreotti F, Arden C, Budaj A et al (2013) 2013 ESC guidelines on the management of stable coronary artery disease: the task force on the management of stable coronary artery disease of the European Society of Cardiology. Eur Heart J 34:2949–3003

4.

Wolk MJ, Bailey SR, Doherty JU, Douglas PS, Hendel RC, Kramer CM et al American College of Cardiology Foundation Appropriate Use Criteria Task Force (2014) ACCF/AHA/ASE/ASNC/HFSA/HRS/SCAI/SCCT/SCMR/STS 2013 multimodality appropriate use criteria for the detection and risk assessment of stable ischemic heart disease: a report of the American College of Cardiology Foundation Appropriate Use Criteria Task Force, American Heart Association, American Society of Echocardiography, American Society of Nuclear Cardiology, Heart Failure Society of America, Heart Rhythm Society, Society for Cardiovascular Angiography and Interventions, Society of Cardiovascular Computed Tomography, Society for Cardiovascular Magnetic Resonance, and Society of Thoracic Surgeons. J Am Coll Cardiol 63:380–406

5.

Picano E, Lattanzi F, Orlandini A, Marini C, L'Abbate A (1991) Stress echocardiography and the human factor: the importance of being expert. J Am Coll Cardiol 17:666–669

6.

Hoffmann R, Lethen H, Marwick T, Arnese M, Fioretti P, Pingitore A et al (1996) Analysis of interinstitutional observer agreement in interpretation of dobutamine stress echocardiograms. J Am Coll Cardiol 27:330–336

7.

Trippi JA, Lee KS, Kopp G, Nelson DR, Yee KG, Cordell WH (1997) Dobutamine stress tele-echocardiography for evaluation of emergency department patients with chest pain. J Am Coll Cardiol 30:627–632

8.

Bombardini T, Gherardi S, Arpesella G, Maccherini M, Serra W, Magnani G et al (2011) Favorable short-term outcome of transplanted hearts selected from marginal donors by pharmacological stress echocardiography. J Am Soc Echocardiogr 24:353–362

9.

Picano E, Ciampi Q, Citro R, D'Andrea A, Scali MC, Cortigiani L et al (2017) Stress echo 2020: the international stress echo study in ischemic and non-ischemic heart disease. Cardiovasc Ultrasound 15(1):3

10.

Pellikka PA, Nagueh SF, Elhendy AA, Kuehl CA, Sawada SG (2007) American Society of Echocardiography recommendations for performance, interpretation, and application of stress echocardiography. J Am Soc Echocardiogr 20:1021–1024

11.

Sicari R, Nihoyannopoulos P, Evangelista A, Kasprzak J, Lancellotti P, Poldermans D, Voigt JU, Zamorano JL (2008) on behalf of the European Association of Echocardiography. Stress echocardiography expert consensus statement. European Association of Echocardiography (EAE) (a registered branch of the ESC). Eur J Echocardiogr 9:415–437

12.

Lang RM, Badano LP, Mor-Avi V, Afilalo J, Armstrong A, Ernande L, Flachskampf FA, Foster E, Goldstein SA, Kuznetsova T, Lancellotti P, Muraru D (2015) Recommendations for cardiac chamber quantification by echocardiography in adults: an update from the American Society of Echocardiography and the european association of cardiovascular imaging. Eur Heart J Cardiovasc Imaging 16:233–270

13.

Ranschaert ER, van Ooijen PM, Lee S, Ratib O, Parizel PM (2015) Social media for radiologists: an introduction. Insights Imaging 6(6):741–752

14.

Giordano V, Koch HA, Mendes CH, Bergamin A, de Souza FS (2015) do Amaral NP WhatsApp Messenger is useful and reproducible in the assessment of tibial plateau fractures: inter- and intra-observer agreement study. Int J Med Inform 84(2):141–148

15.

Picano E (1992) Stress echocardiography. From pathophysiological toy to diagnostic tool. Circulation 85(4):1604–1612 (review)

16.

Picano E, Pellikka PA (2014) Stress echo applications beyond coronary artery disease. Eur Heart J 35:1033–1040

17.

Pellikka PA, Douglas PS, Miller JG, Abraham TP, Baumann R, Buxton DB, et al (2013) American Society of Echocardiography Cardiovascular technology and research summit: a roadmap for 2020. J Am Soc Echocardiogr 26:325–338
Acknowledgements
The study was supported by institutional funding of the Institute of Clinical Physiology of the Italian National Research Council.
Ethics declarations
Conflict of interest
The authors declare that they have no conflicts of interest.
About this article
Cite this article
Scali, M.C., de Azevedo Bellagamba, C.C., Ciampi, Q. et al. Stress echocardiography with smartphone: real-time remote reading for regional wall motion. Int J Cardiovasc Imaging 33, 1731–1736 (2017). https://doi.org/10.1007/s10554-017-1167-2
Received:

Accepted:

Published:

Issue Date:
Keywords
Echocardiography

Stress echocardiography

Wall motion