Abstract
Frequency-domain optical coherence tomography (FD-OCT) is a promising intracoronary imaging technique to study atherosclerosis. Indeed, its unprecedented spatial resolution allows the assessment of fibrous cap thickness, lipid pool and features of plaque vulnerability. Aim of this study was to determine the reproducibility of the in vivo FD-OCT measurements of lumen area and plaque components in serial studies. Twenty-six patients undergoing FD-OCT assessment of intermediate lesion during coronary angiography were included in this study. FD-OCT pullbacks were acquired twice from the same coronary segment at interval of 5 min without additional intervention and analyzed off-line at an independent imaging core laboratory. Lumen diameter (LD), lumen area (LA), fibrous cap (FC) thickness and lipid pool (LP) arc extension measurements were compared in 440 matched frames. Both the per-segment and per-frame analyses showed excellent correlation coefficients for the inter-pullback comparisons for all parameters explored (R > 0.95 and p < 0.001 in all cases). Accordingly, the Bland–Altman estimates of bias showed non-significant differences in the inter-pullback comparisons at all levels. Per-frame analysis showed a slightly variations of LA in 45.8 % of cases with changes greater than 2 % likely related to different phases of cardiac cycle. Nevertheless, nor FC thickness or circumferential arc of LP were affected by LA changes during serial FD-OCT acquisition. This study showed an excellent reproducibility of lumen and plaque component measurements obtained with FD-OCT in vivo. Thus, this intracoronary imaging technique could be used to assess atherosclerosis progression and describe accurate plaque evolution in repeated serial studies.
Access options
Buy single article
Instant access to the full article PDF.
US$ 39.95
Tax calculation will be finalised during checkout.
Subscribe to journal
Immediate online access to all issues from 2019. Subscription will auto renew annually.
US$ 79
Tax calculation will be finalised during checkout.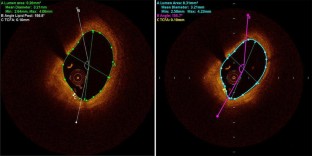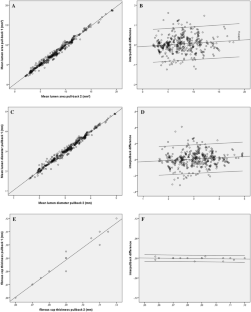 References
1.

Maseri A (1997) Inflammation, atherosclerosis, and ischemic events—exploring the hidden side of the moon. N Engl J Med 336:1014–1016

2.

Maseri A, Fuster V (2003) Is there a vulnerable plaque? Circulation 107:2068–2071

3.

Libby P, Ridker PM, Maseri A (2002) Inflammation and atherosclerosis. Circulation 105:1135–1143

4.

Kubo T, Imanishi T, Takarada S, Kuroi A, Ueno S, Yamano T, Tanimoto T, Matsuo Y, Masho T, Kitabata H, Tsuda K, Tomobuchi Y, Akasaka T (2007) Assessment of culprit lesion morphology in acute myocardial infarction: ability of optical coherence tomography compared with intravascular ultrasound and coronary angioscopy. J Am Coll Cardiol 50:933–939

5.

Prati F, Regar E, Mintz GS, Arbustini E, Di Mario C, Jang IK, Akasaka T, Costa M, Guagliumi G, Grube E, Ozaki Y, Pinto F, Serruys PW, Expert's OCT Review document (2010) Expert review document on methodology, terminology, and clinical applications of optical coherence tomography: physical principles, methodology of image acquisition, and clinical application for assessment of coronary arteries and atherosclerosis. Eur Heart J 31:401–415

6.

Prati F, Petronio S, Van Boven AJ, Tendera M, De Luca L, de Belder MA, Galassi AR, Imola F, Montalescot G, Peruga JZ, Barnathan ES, Ellis S, Savonitto S, FINESSE-ANGIO substudy Investigators (2010) Evaluation of infarct-related coronary artery patency and microcirculatory function after facilitated percutaneous primary coronary angioplasty: the FINESSE-ANGIO (Facilitated Intervention with Enhanced Reperfusion Speed to Stop Events-Angiographic) study. JACC Cardiovasc Interv 3:1284–1291

7.

Prati F, Guagliumi G, Mintz GS, Costa M, Regar E, Akasaka T, Barlis P, Tearney GJ, Jang IK, Arbustini E, Bezerra HG, Ozaki Y, Bruining N, Dudek D, Radu M, Erglis A, Motreff P, Alfonso F, Toutouzas K, Gonzalo N, Tamburino C, Adriaenssens T, Pinto F, Serruys PW, Di Mario C, Expert's OCT Review Document (2012) Expert review document part 2: methodology, terminology and clinical applications of optical coherence tomography for the assessment of interventional procedures. Eur Heart J 33:2513–2520

8.

Jang IK, Tearney GJ, MacNeill B, Takano M, Moselewski F, Iftima N, Shishkov M, Houser S, Aretz HT, Halpern EF, Bouma BE (2005) In vivo characterization of coronary atherosclerotic plaque by use of optical coherence tomography. Circulation 111:1551–1555

9.

Tearney GJ, Regar E, Akasaka T, Adriaenssens T, Barlis P, Bezerra HG, Bouma B, Bruining N, Cho JM, Chowdhary S, Costa MA, de Silva R, Dijkstra J, Di Mario C, Dudek D, Falk E, Feldman MD, Fitzgerald P, Garcia-Garcia HM, Gonzalo N, Granada JF, Guagliumi G, Holm NR, Honda Y, Ikeno F, Kawasaki M, Kochman J, Koltowski L, Kubo T, Kume T, Kyono H, Lam CC, Lamouche G, Lee DP, Leon MB, Maehara A, Manfrini O, Mintz GS, Mizuno K, Morel MA, Nadkarni S, Okura H, Otake H, Pietrasik A, Prati F, Räber L, Radu MD, Rieber J, Riga M, Rollins A, Rosenberg M, Sirbu V, Serruys PW, Shimada K, Shinke T, Shite J, Siegel E, Sonoda S, Suter M, Takarada S, Tanaka A, Terashima M, Thim T, Uemura S, Ughi GJ, van Beusekom HM, van der Steen AF, van Es GA, van Soest G, Virmani R, Waxman S, Weissman NJ, Weisz G, International Working Group for Intravascular Optical Coherence Tomography (IWG-IVOCT) (2012) Consensus standards for acquisition, measurement, and reporting of intravascular optical coherence tomography studies: a report from the International Working Group for Intravascular Optical Coherence Tomography Standardization and Validation. J Am Coll Cardiol 59:1058–1072

10.

Tanimoto S, Rodriguez-Granillo G, Barlis P, de Winter S, Bruining N, Hamers R, Knappen M, Verheye S, Serruys PW, Regar E (2008) A novel approach for quantitative analysis of intracoronary optical coherence tomography: high inter-observer agreement with computer-assisted contour detection. Catheter Cardiovasc Interv 72:228–235

11.

Gonzalo N, Garcia-Garcia HM, Serruys PW, Commissaris KH, Bezerra H, Gobbens P, Costa M, Regar E (2009) Reproducibility of quantitative optical coherence tomography for stent analysis. Euro Interven 5:224–232

12.

Fedele S, Biondi-Zoccai G, Kwiatkowski P, Di Vito L, Occhipinti M, Cremonesi A, Albertucci M, Materia L, Paoletti G, Prati F (2012) Reproducibility of coronary optical coherence tomography for lumen and length measurements in humans (The CLI-VAR [Centro per la Lotta contro l'Infarto-VARiability] study). Am J Cardiol 110:1106–1112

13.

Bruining N, von Birgelen C, de Feyter PJ, Ligthart J, Li W, Serruys PW, Roelandt JR (1998) ECG-gated versus nongated three-dimensional intracoronary ultrasound analysis: implications forvolumetric measurements. Cathet Cardiovasc Diagn 43:254–260

14.

Hartmann M, Mattern ES, Huisman J, van Houwelingen GK, de Man FH, Stoel MG, Danse PW, Louwerenburg HW, von Birgelen C (2009) Reproducibility of volumetric intravascular ultrasound radiofrequency-based analysis of coronary plaque composition in vivo. Int J Cardiovasc Imaging 25:13–23

15.

Tsutsui H, Schoenhagen P, Crowe TD, Klingensmith JD, Vince DG, Nissen SE, Tuzcu EM (2003) Influence of coronary pulsation on volumetric intravascular ultrasound measurements performed without ECG-gating. Validation in vessel segments with minimal disease. Int J Cardiovasc Imaging 19:51–57

16.

Prati F, Cera M, Ramazzotti V, Imola F, Giudice R, Albertucci M (2007) Safety and feasibility of a new non-occlusive technique for facilitated intracoronary optical coherence tomography (OCT) acquisition in various clinical and anatomical scenarios. Euro Interv 3:365–370

17.

Bezerra HG, Costa MA, Guagliumi G, Rollins AM, Simon DI (2009) Intracoronary optical coherence tomography: a comprehensive review clinical and research applications. JACC Cardiovasc Interv 2:1035–1046

18.

Di Vito L, Heung Yoon J, Kato K, Yonetsu T, Vergallo R, Costa M, Bezerra HG, Arbustini E, Narula J, Crea F, Prati F (2014) Comprehensive overview of definitions for optical coherence tomography-based plaque and stent analyses. Coron Artery Dis 25:172–185
Funding
Supported by a grant from the Centro per la Lotta contro l'Infarto - Fondazione Onlus, Rome, Italy
Ethics declarations
Conflict of interest
Dr. Prati has served as a consultant for St. Jude Medical. The other authors disclose no conflicts of interest.
About this article
Cite this article
Paoletti, G., Marco, V., Romagnoli, E. et al. Reproducibility of serial optical coherence tomography measurements for lumen area and plaque components in humans (The CLI-VAR [Centro per la Lotta Contro l'Infarto-variability] II study). Int J Cardiovasc Imaging 32, 381–387 (2016). https://doi.org/10.1007/s10554-015-0803-y
Received:

Accepted:

Published:

Issue Date:
Keywords
Optical coherence tomography

Measurements reproducibility

Atherosclerotic plaque