Abstract
The changes in left atrial (LA) size and function during normotensive and preeclamptic (PE) pregnancy have rarely been previously studied and the results have been inconsistent. The aim of this study was to assess the time changes in LA volume during normal pregnancy, to determine the impact of the increased afterload occurring in PE on maternal LA, and to compare differences in LA geometry and function between early-onset and late-onset PE. Using a real time three-dimensional echocardiograph, the body surface area-indexed LA volume and emptying function (EF) were compared between nonpregnant controls (n = 30), normotensive (n = 43), and PE (36 with early-onset PE and 34 with late-onset PE) pregnant women. During normotensive pregnancy, the indexed LA maximum, pre-contraction, and minimum volumes progressively increased, as well as total, passive, and active EF (P < 0.05, Trimester 3 vs. controls), as an adaption to risen cardiac preload. In the PE group, indexed LA volumes were significantly enlarged and the values of LA EF were markedly decreased (P < 0.05) resulting from elevated ventricular filling pressure and diastolic dysfunction. Compared with late-onset PE, smaller LA volume and greater atrial EF were shown in early-onset PE despite a higher afterload and more hypertrophied ventricle. In conclusion, LA size and function gradually improved to maintain adequate blood volume during normotensive pregnancy, while dilated chamber and reduced action of LA occurred in PE associated with increased afterload. Less LA volume and higher LA EF were shown in early-onset PE than in late-onset PE.
Access options
Buy single article
Instant access to the full article PDF.
USD 39.95
Price excludes VAT (USA)
Tax calculation will be finalised during checkout.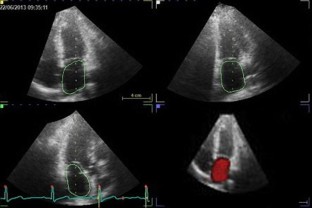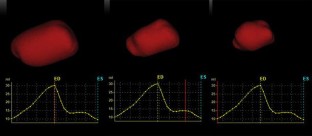 References
Walker JJ (2000) Pre-eclampsia. Lancet 356:1260–1265

Valensise H, Vasapollo B, Gagliardi G, Novelli GP (2008) Early and late preeclampsia: two different maternal hemodynamic states in the latent phase of the disease. Hypertension 52:873–880

von Dadelszen P, Magee LA, Roberts JM (2003) Subclassification of preeclampsia. Hypertens Pregnancy 22:143–148

Huppertz B (2008) Placental origins of preeclampsia: challenging the current hypothesis. Hypertension 51:970–975

Presbitero P, Boccuzzi GG, Groot CJ, Roos-Hesselink JW (2009) ESC textbook of cardiovascular medicine. Oxford University Press, Oxford

Roth A, Elkayam U (2008) Acute myocardial infarction associated with pregnancy. J Am Coll Cardiol 52:171–180

Kealey A (2010) Coronary artery disease and myocardial infarction in pregnancy: a review of epidemiology, diagnosis, and medical and surgical management. Can J Cardiol 26:185–189

Bauer TW, Moore GW, Hutchins GM (1982) Morphologic evidence for coronary artery spasm in eclampsia. Circulation 65:255–259

Melchiorre K, Thilaganathan B (2011) Maternal cardiac function in preeclampsia. Curr Opin Obstet Gynecol 23:440–447

Beinart R, Boyko V, Schwammenthal E, Kuperstein R, Sagie A, Hod H, Matetzky S, Behar S, Eldar M, Feinberg MS (2004) Long-term prognostic significance of left atrial volume in acute myocardial infarction. J Am Coll Cardiol 44:327–334

Tsang TS, Abhayaratna WP, Barnes ME, Miyasaka Y, Gersh BJ, Bailey KR, Cha SS, Seward JB (2006) Prediction of cardiovascular outcomes with left atrial size: Is volume superior to area or diameter? J Am Coll Cardiol 47:1018–1023

Ingec M, Yilmaz M, Gundogdu F (2005) Left atrial mechanical functions in pre-eclampsia. J Obstet Gynaecol Res 31:535–539

Melchiorre K, Sutherland GR, Baltabaeva A, Liberati M, Thilaganathan B (2011) Maternal cardiac dysfunction and remodeling in women with preeclampsia at term. Hypertension 57:85–93

Rafik Hamad R, Larsson A, Pernow J, Bremme K, Eriksson MJ (2009) Assessment of left ventricular structure and function in preeclampsia by echocardiography and cardiovascular biomarkers. J Hypertens 27:2257–2264

Nagaya M, Kawasaki M, Tanaka R, Onishi N, Sato N, Ono K, Watanabe T, Minatoguchi S, Miwa H, Goto Y, Hirose T, Arai M, Noda T, Watanabe S (2013) Quantitative validation of left atrial structure and function by two-dimensional and three-dimensional speckle tracking echocardiography: a comparative study with three-dimensional computed tomography. J Cardiol 62:188–194

Keller AM, Gopal AS, King DL (2000) Left and right atrial volume by freehand three-dimensional echocardiography: in vivo validation using magnetic resonance imaging. Eur J Echocardiogr 1:55–65

Brown MA, Lindheimer MD, de Swiet M, Van Assche A, Moutquin JM (2001) The classification and diagnosis of the hypertensive disorders of pregnancy: statement from the International Society for the Study of Hypertension in Pregnancy (ISSHP). Hypertens Pregnancy 20:IX–XIV

Savu O, Jurcut R, Giusca S, van Mieghem T, Gussi I, Popescu BA, Ginghina C, Rademakers F, Deprest J, Voigt JU (2012) Morphological and functional adaptation of the maternal heart during pregnancy. Circ Cardiovasc Imaging 5:289–297

Mor-Avi V, Lang RM (2009) The use of real-time three-dimensional echocardiography for the quantification of left ventricular volumes and function. Curr Opin Cardiol 24:402–409

Dewey FE, Rosenthal D, Murphy DJ Jr, Froelicher VF, Ashley EA (2008) Does size matter? Clinical applications of scaling cardiac size and function for body size. Circulation 117:2279–2287

Pritchett AM, Jacobsen SJ, Mahoney DW, Rodeheffer RJ, Bailey KR, Redfield MM (2003) Left atrial volume as an index of left atrial size: a population-based study. J Am Coll Cardiol 41:1036–1043

Nagueh SF, Middleton KJ, Kopelen HA, Zoghbi WA, Quinones MA (1997) Doppler tissue imaging: a noninvasive technique for evaluation of left ventricular relaxation and estimation of filling pressures. J Am Coll Cardiol 30:1527–1533

Yosefy C, Shenhav S, Feldman V, Sagi Y, Katz A, Anteby E (2012) Left atrial function during pregnancy: a three-dimensional echocardiographic study. Echocardiography 29:1096–1101

Abhayaratna WP, Fatema K, Barnes ME, Seward JB, Gersh BJ, Bailey KR, Casaclang-Verzosa G, Tsang TS (2008) Left atrial reservoir function as a potent marker for first atrial fibrillation or flutter in persons ≥65 years of age. Am J Cardiol 101:1626–1629

Hernandez-Diaz S, Toh S, Cnattingius S (2009) Risk of pre-eclampsia in first and subsequent pregnancies: prospective cohort study. BMJ (Clinical research ed) 338:b2255

Wikstrom AK, Larsson A, Eriksson UJ, Nash P, Norden-Lindeberg S, Olovsson M (2007) Placental growth factor and soluble FMS-like tyrosine kinase-1 in early-onset and late-onset preeclampsia. Obstet Gynecol 109:1368–1374

Stepan H, Unversucht A, Wessel N, Faber R (2007) Predictive value of maternal angiogenic factors in second trimester pregnancies with abnormal uterine perfusion. Hypertension 49:818–824
Acknowledgments
We thank Tianwei Zhao and Songyan Liu for skill training. This work was supported partially by the Henan Provincial Healthy Scientific and Technological Program (Grant ID_201203048) and partially by Henan Province Medical Academic Technology Leaders of Overseas Training Program (Grant ID_201201055).
Conflict of interest
None.
About this article
Cite this article
Cong, J., Yang, X., Zhang, N. et al. Quantitative analysis of left atrial volume and function during normotensive and preeclamptic pregnancy: a real-time three-dimensional echocardiography study. Int J Cardiovasc Imaging 31, 805–812 (2015). https://doi.org/10.1007/s10554-015-0628-8
Received:

Accepted:

Published:

Issue Date:

DOI: https://doi.org/10.1007/s10554-015-0628-8
Keywords
Left atrium

Pregnancy

Preeclampsia

Three-dimensional echocardiograph