Abstract
Consistent protocols for the assessment of diastolic and systolic cardiac function to assure the comparability of existing data on preclinical models are missing. Calcineurin transgene (CN) mice are a preclinical model for hypertrophic and failing hearts. We aimed at evaluating left and right ventricular structural and functional remodeling in CN hearts with an optimized phenotyping protocol. We developed a protocol using techniques and indices comparable to those from human diagnostics for comprehensive in vivo cardiac screening using high-frequency echocardiography, Doppler, electrocardiography and cardiac magnetic resonance (CMR) techniques. We measured left and right ventricular dimensions and function, pulmonary and mitral flow pattern and the hearts electrophysiology non-invasively in <1 h per mouse. We found severe biventricular dilation and a drastic decline in performance in accordance with a condition of heart failure (HF), diastolic dysfunction and defects in electrical conduction in 8-week-old calcineurin transgenic mice. Echocardiography of the left ventricle was performed with and without anesthesia. In all cases absolute values on echocardiography compared with CMR were smaller for LV dimension and wall thickness, resulting in higher fractional shorting and ejection fraction. The study protocol described here opens opportunities to assess the added value of combined echocardiography, Doppler, CMR and ECG recording techniques for the diagnosis of biventricular cardiac pathologies i.e. of HF and to study symptom occurrence and disease progression non-invasively in high-throughput. Phenotyping CN hearts revealed new symptom occurrence and allowed insights into the diverse phenotype of hypertrophic failing hearts.
Access options
Buy single article
Instant access to the full article PDF.
US$ 39.95
Tax calculation will be finalised during checkout.
Subscribe to journal
Immediate online access to all issues from 2019. Subscription will auto renew annually.
US$ 79
Tax calculation will be finalised during checkout.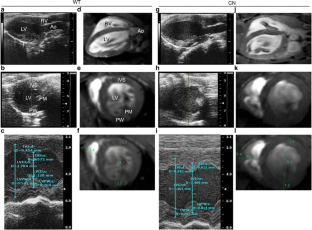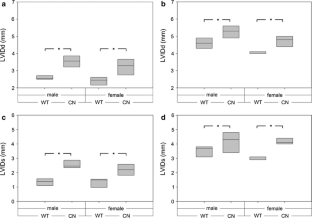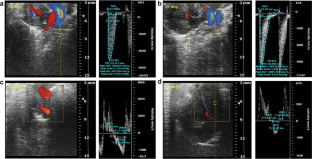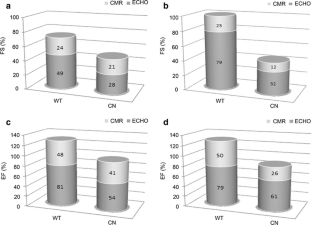 References
1.

van Nierop BJ, van Assen HC, van Deel ED, Niesen LB, Duncker DJ, Strijkers GJ, Nicolay K (2013) Phenotyping of left and right ventricular function in mouse models of compensated hypertrophy and heart failure with cardiac MRI. PLoS ONE 8(2):e55424. doi:10.1371/journal.pone.0055424

2.

Vinhas M, Araujo AC, Ribeiro S, Rosario LB, Belo JA (2013) Transthoracic echocardiography reference values in juvenile and adult 129/Sv mice. Cardiovasc Ultrasound 11:12. doi:10.1186/1476-7120-11-12

3.

Molkentin JD (2000) Calcineurin and beyond: cardiac hypertrophic signaling. Circ Res 87(9):731–738

4.

De Windt LJ, Lim HW, Taigen T, Wencker D, Condorelli G, Dorn GW 2nd, Kitsis RN, Molkentin JD (2000) Calcineurin-mediated hypertrophy protects cardiomyocytes from apoptosis in vitro and in vivo: an apoptosis-independent model of dilated heart failure. Circ Res 86(3):255–263

5.

Chu G, Carr AN, Young KB, Lester JW, Yatani A, Sanbe A, Colbert MC, Schwartz SM, Frank KF, Lampe PD, Robbins J, Molkentin JD, Kranias EG (2002) Enhanced myocyte contractility and Ca2+ handling in a calcineurin transgenic model of heart failure. Cardiovasc Res 54(1):105–116

6.

Kreusser MM, Lehmann LH, Keranov S, Hoting MO, Kohlhaas M, Reil JC, Neumann K, Schneider MD, Hill JA, Dobrev D, Maack C, Maier LS, Grone HJ, Katus HA, Olson EN, Backs J (2014) The cardiac CaMKII genes delta and gamma contribute redundantly to adverse remodeling but inhibit calcineurin-induced myocardial hypertrophy. Circulation. doi:10.1161/CIRCULATIONAHA.114.006185

7.

Ohno M, Cheng CP, Little WC (1994) Mechanism of altered patterns of left ventricular filling during the development of congestive heart failure. Circulation 89(5):2241–2250

8.

Reddy AK, Taffet GE, Li YH, Lim SW, Pham TT, Pocius JS, Entman ML, Michael LH, Hartley CJ (2005) Pulsed Doppler signal processing for use in mice: applications. IEEE Trans Bio Med Eng 52(10):1771–1783. doi:10.1109/TBME.2005.855709

9.

Guarise A, Faccioli N, Foti G, Da Pozzo S, Meneghetti P, Morana G (2011) Role of echocardiography and cardiac MRI in depicting morphological and functional imaging findings useful for diagnosing hypertrophic cardiomyopathy. Radiol Med (Torino) 116(2):197–210. doi:10.1007/s11547-010-0603-3

10.

Lerman I, Harrison BC, Freeman K, Hewett TE, Allen DL, Robbins J, Leinwand LA (2002) Genetic variability in forced and voluntary endurance exercise performance in seven inbred mouse strains. J Appl Physiol 92(6):2245–2255. doi:10.1152/japplphysiol.01045.2001

11.

Wiesmann F, Frydrychowicz A, Rautenberg J, Illinger R, Rommel E, Haase A, Neubauer S (2002) Analysis of right ventricular function in healthy mice and a murine model of heart failure by in vivo MRI. Am J Physiol Heart Circ Physiol 283(3):H1065–H1071. doi:10.1152/ajpheart.00802.2001

12.

Rottman JN, Ni G, Brown M (2007) Echocardiographic evaluation of ventricular function in mice. Echocardiography 24(1):83–89. doi:10.1111/j.1540-8175.2006.00356.x

13.

Bell A, Rawlins D, Bellsham-Revell H, Miller O, Razavi R, Simpson J (2014) Assessment of right ventricular volumes in hypoplastic left heart syndrome by real-time three-dimensional echocardiography: comparison with cardiac magnetic resonance imaging. Eur Heart J Cardiovasc Imaging 15(3):257–266. doi:10.1093/ehjci/jet145

14.

Ruff J, Wiesmann F, Hiller KH, Voll S, von Kienlin M, Bauer WR, Rommel E, Neubauer S, Haase A (1998) Magnetic resonance microimaging for noninvasive quantification of myocardial function and mass in the mouse. Magnetic Reson Med 40(1):43–48

15.

Losi MA, Nistri S, Galderisi M, Betocchi S, Cecchi F, Olivotto I, Agricola E, Ballo P, Buralli S, D'Andrea A, D'Errico A, Mele D, Sciomer S, Mondillo S, Working Group of Echocardiography of the Italian Society of C (2010) Echocardiography in patients with hypertrophic cardiomyopathy: usefulness of old and new techniques in the diagnosis and pathophysiological assessment. Cardiovasc Ultrasound 8:7. doi:10.1186/1476-7120-8-7

16.

Molkentin JD, Lu JR, Antos CL, Markham B, Richardson J, Robbins J, Grant SR, Olson EN (1998) A calcineurin-dependent transcriptional pathway for cardiac hypertrophy. Cell 93(2):215–228

17.

Roth DM, Swaney JS, Dalton ND, Gilpin EA, Ross J Jr (2002) Impact of anesthesia on cardiac function during echocardiography in mice. Am J Physiol Heart Circ Physiol 282(6):H2134–H2140. doi:10.1152/ajpheart.00845.2001

18.

Moreth K, Fischer R, Fuchs H, Gailus-Durner V, Wurst W, Katus HA, Bekeredjian R, de Angelis MH (2014) High-throughput phenotypic assessment of cardiac physiology in four commonly used inbred mouse strains. J Comp Physiol B 184(6):763–775. doi:10.1007/s00360-014-0830-3

19.

Basu R, Oudit GY, Wang X, Zhang L, Ussher JR, Lopaschuk GD, Kassiri Z (2009) Type 1 diabetic cardiomyopathy in the Akita (Ins2WT/C96Y) mouse model is characterized by lipotoxicity and diastolic dysfunction with preserved systolic function. Am J Physiol Heart Circ Physiol 297(6):H2096–H2108. doi:10.1152/ajpheart.00452.2009

20.

Semeniuk LM, Kryski AJ, Severson DL (2002) Echocardiographic assessment of cardiac function in diabetic db/db and transgenic db/db-hGLUT4 mice. Am J Physiol Heart Circ Physiol 283(3):H976–H982. doi:10.1152/ajpheart.00088.2002

21.

Schoensiegel F, Ivandic B, Geis NA, Schrewe A, Katus HA, Bekeredjian R (2011) High throughput echocardiography in conscious mice: training and primary screens. Ultraschall Med 32(Suppl 1):S124–S129. doi:10.1055/s-0028-1110021

22.

Amundsen BH, Ericsson M, Seland JG, Pavlin T, Ellingsen O, Brekken C (2011) A comparison of retrospectively self-gated magnetic resonance imaging and high-frequency echocardiography for characterization of left ventricular function in mice. Lab Anim 45(1):31–37. doi:10.1258/la.2010.010094

23.

Zhou YQ, Foster FS, Nieman BJ, Davidson L, Chen XJ, Henkelman RM (2004) Comprehensive transthoracic cardiac imaging in mice using ultrasound biomicroscopy with anatomical confirmation by magnetic resonance imaging. Physiol Genomics 18(2):232–244. doi:10.1152/physiolgenomics.00026.2004

24.

Prakken NH, Teske AJ, Cramer MJ, Mosterd A, Bosker AC, Mali WP, Doevendans PA, Velthuis BK (2012) Head-to-head comparison between echocardiography and cardiac MRI in the evaluation of the athlete's heart. Br J Sports Med 46(5):348–354. doi:10.1136/bjsm.2010.077669

25.

Berry JM, Le V, Rotter D, Battiprolu PK, Grinsfelder B, Tannous P, Burchfield JS, Czubryt M, Backs J, Olson EN, Rothermel BA, Hill JA (2011) Reversibility of adverse, calcineurin-dependent cardiac remodeling. Circ Res 109(4):407–417. doi:10.1161/CIRCRESAHA.110.228452

26.

Dong D, Duan Y, Guo J, Roach DE, Swirp SL, Wang L, Lees-Miller JP, Sheldon RS, Molkentin JD, Duff HJ (2003) Overexpression of calcineurin in mouse causes sudden cardiac death associated with decreased density of K+ channels. Cardiovasc Res 57(2):320–332

27.

Chen G, Li Y, Tian J, Zhang L, Jean-Charles P, Gobara N, Nan C, Jin JP, Huang XP (2012) Application of echocardiography on transgenic mice with cardiomyopathies. Biochem Res Int 2012:715197. doi:10.1155/2012/715197

28.

Nagueh SF, Appleton CP, Gillebert TC, Marino PN, Oh JK, Smiseth OA, Waggoner AD, Flachskampf FA, Pellikka PA, Evangelista A (2009) Recommendations for the evaluation of left ventricular diastolic function by echocardiography. J Am Soc Echocardiogr 22(2):107–133. doi:10.1016/j.echo.2008.11.023

29.

Thibault HB, Kurtz B, Raher MJ, Shaik RS, Waxman A, Derumeaux G, Halpern EF, Bloch KD, Scherrer-Crosbie M (2010) Noninvasive assessment of murine pulmonary arterial pressure: validation and application to models of pulmonary hypertension. Circ Cardiovasc Imaging 3(2):157–163. doi:10.1161/CIRCIMAGING.109.887109

30.

Stypmann J, Engelen MA, Troatz C, Rothenburger M, Eckardt L, Tiemann K (2009) Echocardiographic assessment of global left ventricular function in mice. Lab Anim 43(2):127–137. doi:10.1258/la.2007.06001e

31.

Benavides-Vallve C, Corbacho D, Iglesias-Garcia O, Pelacho B, Albiasu E, Castano S, Munoz-Barrutia A, Prosper F, Ortiz-de-Solorzano C (2012) New strategies for echocardiographic evaluation of left ventricular function in a mouse model of long-term myocardial infarction. PLoS ONE 7(7):e41691. doi:10.1371/journal.pone.0041691

32.

Freeman K, Colon-Rivera C, Olsson MC, Moore RL, Weinberger HD, Grupp IL, Vikstrom KL, Iaccarino G, Koch WJ, Leinwand LA (2001) Progression from hypertrophic to dilated cardiomyopathy in mice that express a mutant myosin transgene. Am J Physiol Heart Circ Physiol 280(1):H151–H159

33.

Wang Z, Kutschke W, Richardson KE, Karimi M, Hill JA (2001) Electrical remodeling in pressure-overload cardiac hypertrophy: role of calcineurin. Circulation 104(14):1657–1663

34.

Malik M, Batchvarov VN (2000) Measurement, interpretation and clinical potential of QT dispersion. J Am Coll Cardiol 36(6):1749–1766

35.

Ho D, Zhao X, Gao S, Hong C, Vatner DE, Vatner SF (2011) Heart rate and electrocardiography monitoring in mice. Curr Protoc Mouse Biol 1:123–139. doi:10.1002/9780470942390.mo100159

36.

Camm AJ, Bigger JT Jr, Breithardt G, Cerutti S, Cohen RJ, Coumel P, Fallen EL, Kennedy HL, Kleige RE, Lombardi F, Malliani A, Moss AJ, Rottman N, Schmidt G, Schwartz PJ, Singer DH, Malik M (1996) Heart rate variability. Standards of measurement, physiological interpretation, and clinical use. Task Force of the European Society of Cardiology and the North American Society of Pacing and Electrophysiology. Eur Heart J 17(3):354–381

37.

Breidthardt T, Christ M, Matti M, Schrafl D, Laule K, Noveanu M, Boldanova T, Klima T, Hochholzer W, Perruchoud AP, Mueller C (2007) QRS and QTc interval prolongation in the prediction of long-term mortality of patients with acute destabilised heart failure. Heart 93(9):1093–1097. doi:10.1136/hrt.2006.102319

38.

Guo L, Nakamura K, Lynch J, Opas M, Olson EN, Agellon LB, Michalak M (2002) Cardiac-specific expression of calcineurin reverses embryonic lethality in calreticulin-deficient mouse. J Biol Chem 277(52):50776–50779. doi:10.1074/jbc.M209900200
Acknowledgments
We thank Ralf Fischer and Anna Nießer for data collection. The authors are grateful to the reviewers whose comments and suggestions significantly improved both clarity and precision of the paper. This study was supported by Grants from 01KX1012 Infrafrontier BMBF and Z56010017400 DZHK (Deutsches Zentrum für Herz-Kreislauf-Forschung).
Conflict of interest
The authors declare that they have no conflict of interest.
Ethical standard
All tests performed were approved by the responsible authority of the district government of Upper Bavaria, Germany.
Electronic supplementary material
Below is the link to the electronic supplementary material.
About this article
Cite this article
Moreth, K., Afonso, L.C., Fuchs, H. et al. High throughput phenotyping of left and right ventricular cardiomyopathy in calcineurin transgene mice. Int J Cardiovasc Imaging 31, 669–679 (2015). https://doi.org/10.1007/s10554-015-0596-z
Received:

Accepted:

Published:

Issue Date:
Keywords
Echocardiography

Magnetic resonance imaging

Electrocardiography

Doppler

Cardiac disease

Heart failure