Abstract
We sought to determine the anatomic characteristics of coronary arteries arising from an anomalous location (CAAL) detected on coronary computed tomography angiography (CTA) and assess the impact of high-risk anatomic characteristics on patient management and outcomes. We reviewed 9,774 consecutive CTA studies performed in adults between 2008–2013 and identified 114 with CAAL. CTA examinations were analysed to determine CAAL type, CAAL course (pre-pulmonary, interarterial, septal or retroaortic) and whether additional high-risk anatomic characteristics were present (luminal compression, intramural course, slit-like ostium and acute takeoff angle). Patients were contacted at mean 27.1-months to determine safety outcomes. The prevalence of CAAL was 1.14 % (114 of 9,974), with 36 (32 %) having anomalous right coronary artery from left coronary sinus, 71 (62 %) having anomalous left coronary artery from right coronary sinus and 7 (6 %) having a coronary artery arising outside coronary sinuses. Fifty-six patients (49 %) had ≥1 high-risk anatomic characteristic on CTA. Ten patients (9 %) underwent surgical intervention. Patients with high-risk anatomic features more frequently underwent functional testing (46 vs. 12 %, P = 0.01) and surgical intervention (14 vs. 3 %; P = 0.04) compared to patients without high-risk features. Patients undergoing surgery were more likely to have obstructive coronary disease on CTA than patients managed conservatively (50 vs. 13 %, P = 0.01). There was no cardiac death or ACS at follow-up (100 % complete). High-risk anatomic features on CTA in patients with CAAL more frequently lead to surgical management. Regardless of CAAL type, presence of high-risk anatomic characteristics or management strategy, the medium-term outcome of adults with CAAL is excellent.
This is a preview of subscription content,
to check access.
Access this article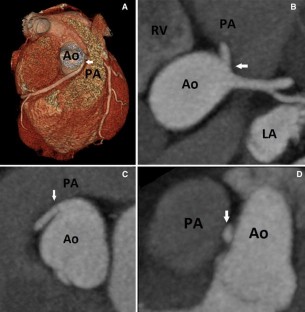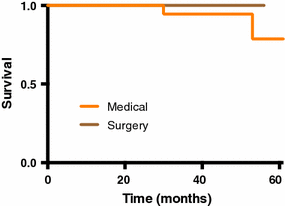 Similar content being viewed by others
Abbreviations
CTA:

Coronary computed tomography angiography

CAAL:

Coronary artery arising from anomalous location

RCA:

Right coronary artery

LAD:

Left anterior descending coronary artery

LCx:

Left circumflex coronary artery

LMCA:

Left main coronary artery
References
Shi H, Aschoff AJ, Brambs HJ, Hoffmann MH (2004) Multislice CT imaging of anomalous coronary arteries. Eur Radiol 14:2172–2181

Schmitt R, Froehner S, Brunn J et al (2005) Congenital anomalies of the coronary arteries: imaging with contrast- enhanced, multidetector computed tomography. Eur Radiol 15:1110–1121

Xu H, Zhu Y, Zhu X, Tang L, Xu Y (2012) Anomalous coronary arteries: depiction at dual-source computed tomographic coronary angiography. J Thorac Cardiovasc Surg 143:1286–1291

Lee HJ, Hong YJ, Kim HY et al (2011) Prevalence and anomalous origin of the right coronary artery from the left coronary sinus with an interarterial course: subtypes and clinical importance. Radiology 262:101–108

Opolski MP, Pregowski J, Kruk M et al (2013) Prevalence and characteristics of coronary anomalies originating from the opposite sinus of valsalva in 8,522 patients referred for coronary computed tomography angiography. Am J Cardiol 111:1361–1367

Eckart RE, Scoville SL, Campbell CL et al (2004) Sudden death in young adults: a 25-year review of autopsies in military recruits. Ann Intern Med 141:829–834

Maron BJ, Doerer JJ, Haas TS, Tierney DM, Mueller FO (2009) Sudden deaths in young competitive athletes: analysis of 1866 deaths in the United States, 1980–2006. Circulation 119:1085–1092

Krasuski RA, Magyar D, Hart S et al (2011) Long-term outcome and impact of surgery on adults with coronary arteries originating from the opposite coronary cusp. Circulation 123:154–162

Angelini P (2007) Coronary artery anomalies: an entity in search of an identity. Circulation 115:1296–1305

Warnes CA, Williams RG, Bashore TM et al (2008) ACC/AHA 2008 guidelines for the management of adults with congenital heart disease: a report of the American College of Cardiology/American Heart Association Task Force on Practice Guidelines. Circulation 118:e714–e833

Shrimpton P, Hillier M, Lewis M, Dunn M (2006) National survey of doses from CT in the UK: 2003. Br J Radiol 79:968–980

Angelini P, Villason S, Chan AV, Diez JG (1999) Normal and anomalous coronary arteries in humans. In: Angelini P (ed) Coronary artery anomalies: a comprehensive approach. Lippincott Williams & Wilkins, Philadelphia, pp 27–150

Kimbiris D, Iskandrian AS, Segal BL, Bemis CE (1978) Anomalous aortic origin of coronary arteries. Circulation 58:606–615

Yamanaka O, Hobbs RE (1990) Coronary artery anomalies in 126,595 patients undergoing coronary arteriography. Cathet Cardiovasc Diagn 21:28–40

Roberts WC, Siegel RJ, Zipes DP (1982) Origin of the right coronary artery from the sinus of Valsalva and its functional consequences: analysis of 10 necropsy patients. Am J Cardiol 49:863–868

Taylor AJ, Byers JP, Cheitlin MD, Virmani R (1997) Anomalous right or left coronary artery from the contralateral coronary sinus: "high-risk" abnormalities in the initial coronary artery course and heterogeneous clinical outcomes. Am Heart J 133:428–435

Virmani R, Chun PK, Goldstein RE, Robinowitz M, McAllister HA (1984) Acute takeoffs of the coronary arteries along the aortic wall and congenital coronary ostial valve-like ridges: association with sudden death. J Am Coll Cardiol 3:766–771

Cheitlin MD (1980) The intramural coronary artery: another cause for sudden death with exercise? Circulation 62:238–239

Angelini P, Walmsley RP, Libreros A, Ott DA (2006) Symptomatic anomalous origination of the left coronary artery from the opposite sinus of Valsalva. Clinical presentations, diagnosis, and surgical repair. Tex Heart Inst J 33:171–179

Kaushal S, Backer CL, Popescu AR et al (2011) Intramural coronary length correlated with symptoms in patients with anomalous aortic origin of the coronary artery. Ann Thorac Surg 92:986–992

Basso C, Maron BJ, Corrado D, Thiene G (2000) Clinical profile of congenital coronary artery anomalies with origin from the wrong aortic sinus leading to sudden death in young competitive athletes. J Am Coll Cardiol 35:1493–1501

Jo Y, Uranaka Y, Iwaki H, Matsumoto J, Koura T, Negishi K (2011) Sudden cardiac arrest associated with anomalous origin of the right coronary artery from the left main coronary artery. Tex Heart Inst J 38:539–543

Gersony WM (2007) Management of anomalous coronary artery from the contralateral coronary sinus. J Am Coll Cardiol 50:2083–2084

Lopushinsky SR, Mullen JC, Bentley MJ (2001) Anomalous right coronary artery originating from the left main coronary artery. Ann Thorac Surg 71:357–358

Roberts WC (1986) Major anomalies of coronary arterial origin seen in adulthood. Am Heart J 111:941–963

Erez E, Tam VK, Doublin NA, Stakes J (2006) Anomalous coronary artery with aortic origin and course between the great arteries: improved diagnosis, anatomic findings, and surgical treatment. Ann Thorac Surg 82:973–977

Fernandes ED, Kadivar H, Hallman GL, Reul GJ, Ott DA, Cooley DA (1992) Congenital malformations of the coronary arteries: the Texas Heart Institute experience. Ann Thorac Surg 54:732–740
Acknowledgments
Dr Arthur Nasis currently holds research scholarships from the National Health and Medical Research Council (NHMRC), the National Heart Foundation of Australia and the Monash Health Senior Medical Staff Association.
Conflict of interest
None.
About this article
Cite this article
Nasis, A., Machado, C., Cameron, J.D. et al. Anatomic characteristics and outcome of adults with coronary arteries arising from an anomalous location detected with coronary computed tomography angiography. Int J Cardiovasc Imaging 31, 181–191 (2015). https://doi.org/10.1007/s10554-014-0535-4
Received:

Accepted:

Published:

Issue Date:

DOI: https://doi.org/10.1007/s10554-014-0535-4
Keywords