Abstract
To describe a coronary computed tomography angiography (CCTA)-adapted Leaman score (CT-LeSc) as a tool to quantify total coronary atherosclerotic burden with information regarding localization, type of plaque and degree of stenosis and to identify clinical predictors of a high coronary atherosclerotic burden as assessed by the CT-LeSc. Single center prospective registry including a total of 772 consecutive patients undergoing CCTA (Dual-source CT) from April 2011 to March 2012. For the purpose of this study, 581 stable patients referred for suspected coronary artery disease (CAD) without previous myocardial infarction or revascularization procedures were included. Pre-test CAD probability was determined using both the Diamond–Forrester extended CAD consortium method (DF-CAD consortium model) and the Morise score. Cardiovascular risk was assessed with the HeartScore. The cut-off for the 3rd tercile (CT-LeSc ≥8.3) was used to define a population with a high coronary atherosclerotic burden. The median CT-LeSc in this population (n = 581, 8,136 coronary segments evaluated; mean age 57.6 ± 11.1; 55.8 % males; 14.6 % with diabetes) was 2.2 (IQR 0–6.8). In patients with CAD (n = 341), the median CT-LeSc was 5.8 (IQR 3.2–9.6). Among patients with nonobstructive CAD, most were classified in the lowest terciles (T1, 43.0 %; T2, 36.1 %), but 20.9 % were in the highest tercile (T3). The majority of the patients with obstructive CAD were classified in T3 (78.2 %), but 21.8 % had a CT-LeSc in lower terciles (T1 or T2). The independent predictors of a high CT-LeSc were: Male sex (OR 1.73; 95 % CI 1.04–2.90) diabetes (OR 2.91; 95 % CI 1.61–5.23), hypertension (OR 2.54; 95 % CI 1.40–4.63), Morise score ≥16 (OR 1.97; 95 % CI 1.06–3.67) and HeartScore ≥5 (OR 2.42; 95 % CI 1.41–4.14). We described a cardiac CT adapted Leaman score as a tool to quantify total (obstructive and nonobstructive) coronary atherosclerotic burden, reflecting the comprehensive information about localization, degree of stenosis and type of plaque provided by CCTA. Male sex, hypertension, diabetes, a HeartScore ≥5 % and a Morise score ≥16 were associated with a high coronary atherosclerotic burden, as assessed by the CT-LeSc. About one fifth of the patients with nonobstructive CAD had a CT-LeSc in the highest tercile, and this could potentially lead to a reclassification of the risk profile of this subset of patients identified by CCTA, once the prognostic value of the CT-LeSc is validated.
Access options
Buy single article
Instant access to the full article PDF.
USD 39.95
Price excludes VAT (USA)
Tax calculation will be finalised during checkout.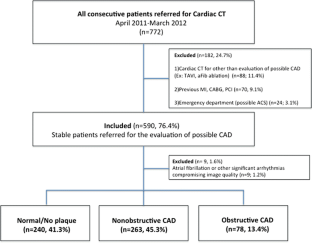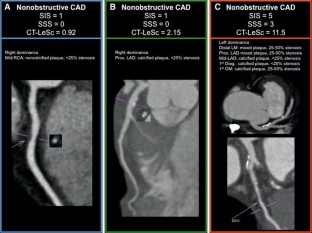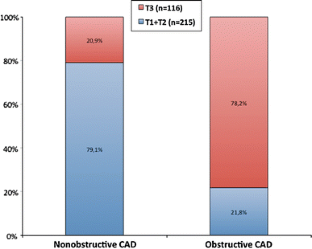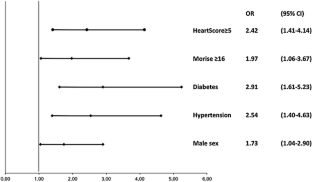 References
Lloyd-Jones D, Adams R, Carnethon M, De Simone G, Ferguson TB, Flegal K et al (2009) Heart disease and stroke statistics—2009 update: a report from the American Heart Association Statistics Committee and Stroke Statistics Subcommittee. Circulation 119(3):480–486

Braunwald E (2006) Epilogue: what do clinicians expect from imagers? J Am Coll Cardiol 47(8 Suppl):C101–C103

Meijboom WB, van Mieghem CA, Mollet NR, Pugliese F, Weustink AC, van Pelt N et al (2007) 64-slice computed tomography coronary angiography in patients with high, intermediate, or low pretest probability of significant coronary artery disease. J Am Coll Cardiol 50(15):1469–1475

Weustink AC, Mollet NR, Neefjes LA, van Straten M, Neoh E, Kyrzopoulos S et al (2009) Preserved diagnostic performance of dual-source CT coronary angiography with reduced radiation exposure and cancer risk. Radiology 252(1):53–60

Chow BJ, Small G, Yam Y, Chen L, Achenbach S, Al-Mallah M et al (2011) Incremental prognostic value of cardiac computed tomography in coronary artery disease using CONFIRM: COroNary computed tomography angiography evaluation for clinical outcomes: an InteRnational Multicenter registry. Circ Cardiovasc Imaging 4(5):463–472

Min JK, Shaw LJ, Devereux RB, Okin PM, Weinsaft JW, Russo DJ et al (2007) Prognostic value of multidetector coronary computed tomographic angiography for prediction of all-cause mortality. J Am Coll Cardiol 50(12):1161–1170

Perk J, De Backer G, Gohlke H, Graham I, Reiner Z, Verschuren M et al (2012) European Guidelines on cardiovascular disease prevention in clinical practice (version 2012): the Fifth Joint Task Force of the European Society of Cardiology and Other Societies on Cardiovascular Disease Prevention in Clinical Practice (constituted by representatives of nine societies and by invited experts) * Developed with the special contribution of the European Association for Cardiovascular Prevention & Rehabilitation (EACPR). Eur Heart J 33(13):1635–1701

Report of the Expert Committee on the Diagnosis and Classification of Diabetes Mellitus (1997) Diabetes Care 20(7):1183–1197

Expert Panel on Detection E, Treatment of High Blood Cholesterol in A (2001) Executive summary of the third report of the National Cholesterol Education Program (NCEP) expert panel on detection, evaluation, and treatment of high blood cholesterol in adults (adult treatment panel III). JAMA 285(19):2486–2497

European Society of Hypertension-European Society of Cardiology Guidelines C (2003) 2003 European Society of Hypertension-European Society of Cardiology guidelines for the management of arterial hypertension. J Hypertens 21(6):1011–1053

Taylor AJ, Bindeman J, Feuerstein I, Cao F, Brazaitis M, O'Malley PG (2005) Coronary calcium independently predicts incident premature coronary heart disease over measured cardiovascular risk factors: mean three-year outcomes in the Prospective Army Coronary Calcium (PACC) project. J Am Coll Cardiol 46(5):807–814

Genders TS, Steyerberg EW, Alkadhi H, Leschka S, Desbiolles L, Nieman K et al (2011) A clinical prediction rule for the diagnosis of coronary artery disease: validation, updating, and extension. Eur Heart J 32(11):1316–1330

Morise AP, Haddad WJ, Beckner D (1997) Development and validation of a clinical score to estimate the probability of coronary artery disease in men and women presenting with suspected coronary disease. Am J Med 102(4):350–356

Raff GL, Abidov A, Achenbach S, Berman DS, Boxt LM, Budoff MJ et al (2009) SCCT guidelines for the interpretation and reporting of coronary computed tomographic angiography. J Cardiovasc Comput Tomogr 3(2):122–136

Leaman DM, Brower RW, Meester GT, Serruys P, van den Brand M (1981) Coronary artery atherosclerosis: severity of the disease, severity of angina pectoris and compromised left ventricular function. Circulation 63(2):285–299

Maurovich-Horvat P, Schlett CL, Alkadhi H, Nakano M, Otsuka F, Stolzmann P et al (2012) The napkin-ring sign indicates advanced atherosclerotic lesions in coronary CT angiography. JACC Cardiovasc Imaging 5(12):1243–1252

Andreini D, Pontone G, Mushtaq S, Bartorelli AL, Bertella E, Antonioli L et al (2012) A long-term prognostic value of coronary CT angiography in suspected coronary artery disease. JACC Cardiovasc Imaging 5(7):690–701

Little WC, Downes TR, Applegate RJ (1991) The underlying coronary lesion in myocardial infarction: implications for coronary angiography. Clin Cardiol 14(11):868–874

Falk E, Shah PK, Fuster V (1995) Coronary plaque disruption. Circulation 92(3):657–671

Libby P, Theroux P (2005) Pathophysiology of coronary artery disease. Circulation 111(25):3481–3488

Naghavi M, Libby P, Falk E, Casscells SW, Litovsky S, Rumberger J et al (2003) From vulnerable plaque to vulnerable patient: a call for new definitions and risk assessment strategies: part I. Circulation 108(14):1664–1672

Stone GW, Maehara A, Lansky AJ, de Bruyne B, Cristea E, Mintz GS et al (2011) A prospective natural-history study of coronary atherosclerosis. N Engl J Med 364(3):226–235

Bamberg F, Sommer WH, Hoffmann V, Achenbach S, Nikolaou K, Conen D et al (2011) Meta-analysis and systematic review of the long-term predictive value of assessment of coronary atherosclerosis by contrast-enhanced coronary computed tomography angiography. J Am Coll Cardiol 57(24):2426–2436

Sianos G, Morel MA, Kappetein AP, Morice MC, Colombo A, Dawkins K et al (2005) The SYNTAX score: an angiographic tool grading the complexity of coronary artery disease. EuroIntervention 1(2):219–227

Serruys PW, Morice MC, Kappetein AP, Colombo A, Holmes DR, Mack MJ et al (2009) Percutaneous coronary intervention versus coronary-artery bypass grafting for severe coronary artery disease. N Engl J Med 360(10):961–972

Brito J, Teles R, Almeida M, de Araujo Goncalves P, Raposo L, Sousa P et al (2011) Predictive value of SYNTAX score in risk stratification of patients undergoing unprotected left main coronary artery angioplasty. J Invasive Cardiol 23(12):494–499

Virmani R, Kolodgie FD, Burke AP, Farb A, Schwartz SM (2000) Lessons from sudden coronary death: a comprehensive morphological classification scheme for atherosclerotic lesions. Arterioscler Thromb Vasc Biol 20(5):1262–1275

Pundziute G, Schuijf JD, Jukema JW, Decramer I, Sarno G, Vanhoenacker PK et al (2008) Head-to-head comparison of coronary plaque evaluation between multislice computed tomography and intravascular ultrasound radiofrequency data analysis. JACC Cardiovasc Interv 1(2):176–182

Morise AP, Jalisi F (2003) Evaluation of pretest and exercise test scores to assess all-cause mortality in unselected patients presenting for exercise testing with symptoms of suspected coronary artery disease. J Am Coll Cardiol 42(5):842–850

Taylor AJ, Cerqueira M, Hodgson JM, Mark D, Min J, O'Gara P et al (2010) ACCF/SCCT/ACR/AHA/ASE/ASNC/NASCI/SCAI/SCMR 2010 appropriate use criteria for cardiac computed tomography. A report of the American College of Cardiology Foundation Appropriate Use Criteria Task Force, the Society of Cardiovascular Computed Tomography, the American College of Radiology, the American Heart Association, the American Society of Echocardiography, the American Society of Nuclear Cardiology, the North American Society for Cardiovascular Imaging, the Society for Cardiovascular Angiography and Interventions, and the Society for Cardiovascular Magnetic Resonance. J Am Coll Cardiol 56(22):1864–1894
Conflict of interest
There were no sources of funding and the authors have no conflicts of interest related to this manuscript.
About this article
Cite this article
de Araújo Gonçalves, P., Garcia-Garcia, H.M., Dores, H. et al. Coronary computed tomography angiography-adapted Leaman score as a tool to noninvasively quantify total coronary atherosclerotic burden. Int J Cardiovasc Imaging 29, 1575–1584 (2013). https://doi.org/10.1007/s10554-013-0232-8
Received:

Accepted:

Published:

Issue Date:

DOI: https://doi.org/10.1007/s10554-013-0232-8
Keywords