Abstract
An alternative approach to extract 3D myocardial strain based on elastic registration of the ultrasound images (3DSE) was developed by our lab. The aim of the present study was to test its clinical performance by comparing strain values obtained by 3DSE with the ones obtained with 2D speckle tracking (2DST). Standard 2D B-mode and volumetric datasets were acquired in 12 patients with coronary heart disease (CHD) and in 12 control subjects. Longitudinal (εLL), circumferential (εCC) and radial (εRR) strain values were obtained from 2D datasets using commercially available 2DST software and from volumetric datasets using the 3DSE approach. 3DSE provided lower strain values than 2DST. With both approaches global εLL and εCC were significantly lower in patients with CHD than in controls. Global εLL and εCC correlated well between both methods (R = 0.83, R = 0.86, respectively), while segmental correlations were moderate [R = 0.63 (εLL), R = 0.41 (εCC)]. The highest differences in εLL values obtained by the two methods and the highest number of erroneous εLL with 3DSE were observed in the basal LV segments. This study shows that in real-life datasets our 3DSE method provides global and regional εLL and εCC values that are comparable with the ones obtained from 2DST, even though they are not interchangeable with each other. As only a single acquisition is required, 3D methods may offer advantages over the current 2D techniques. However, the accuracy of the 3DSE can still be improved by solving the problems that appear with deformation estimation in the basal segments.
Access options
Buy single article
Instant access to the full article PDF.
US$ 39.95
Tax calculation will be finalised during checkout.
Subscribe to journal
Immediate online access to all issues from 2019. Subscription will auto renew annually.
US$ 79
Tax calculation will be finalised during checkout.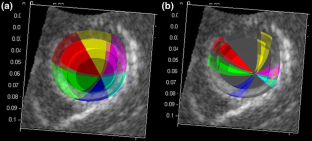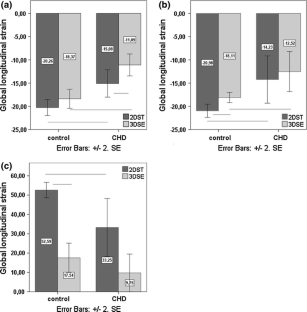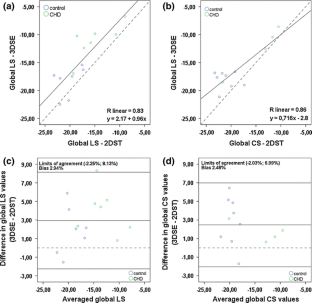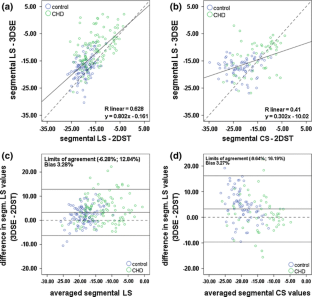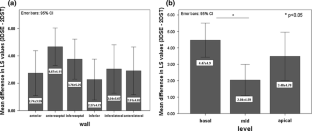 References
1.

Lee R, Hanekom L, Marwick TH, Leano R, Wahi S (2004) Prediction of subclinical left ventricular dysfunction with strain rate imaging in patients with asymptomatic severe mitral regurgitation. Am J Cardiol 94:1333–1337

2.

Mertens L, Ganame J, Claus P, Goemans N, Thijs D, Eyskens B, Van Laere D, Bijnens B, D'hooge J, Sutherland GR, Buyse G (2008) Early regional myocardial dysfunction in young patients with Duchenne muscular dystrophy. J Am Soc Echocardiogr 21(9):1049–1054

3.

Weidemann F, Eyskens B, Mertens L, Di Salvo G, Strotmann J, Buyse G, Claus P, D'hooge J, Bijnens B, Gewillig M, Sutherland GR (2003) Quantification of regional right and left ventricular function by ultrasonic strain and strain rate indexes in Friedreich's ataxia. Am J Cardiol 91:622–626

4.

Ganame J, Claus P, Eyskens B, Uyttebroeck A, Renard M, D'hooge J, Gewillig M, Bijnens B, Sutherland GR, Mertens L (2007) Acute cardiac functional and morphological changes after Anthracycline infusions in children. Am J Cardiol 99(7):974–977

5.

Jurcut R, Wildiers H, Ganame J, D'hooge J, De Backer J, Denys H, Paridaens R, Rademakers F, Voigt JU (2008) Strain rate imaging detects early cardiac effects of pegylated liposomal Doxorubicin as adjuvant therapy in elderly patients with breast cancer. J Am Soc Echocardiogr 21(12):1283–1289

6.

D'hooge J, Heimdal A, Jamal F, Kukulski T, Bijnens B, Rademakers F, Hatle L, Suetens P, Sutherland GR et al (2000) Regional strain and strain rate measurements by cardiac ultrasound: principles, implementation and limitations. Eur J Echocardiogr 1:154–170

7.

Sutherland GR, Hatle L, Claus P, D'hooge J, Bijnens BH (2006) Doppler myocardial imaging—a textbook. BSWK, Hasselt

8.

Leitman M, Lysyanski P, Sidenko S, Shir V, Peleg E, Binenbaum M, Kaluski E, Krakover R, Vered Z (2004) Two-dimensional strain–a novel software for real time quantitative echocardiographic assessment of myocardial function. J Am Soc Echocardiogr 17(10):1021–1029

9.

Perk G, Tunick PA, Kronzon I (2007) Non Doppler two dimensional strain imaging by echocardiography–from technical considerations to clinical applications. J Am Soc Echocardiogr 20:234–243

10.

Sengupta PP, Krishnamoorthy V, Korinek J, Narula J, Vannan MA, Lester SJ, Tajik JA, Seward JB, Khandheria BK, Belohlavek M (2007) Left ventricular form and function revisited: applied translational science to cardiovascular ultrasound imaging. J Am Soc Echocardiogr 20:539–551

11.

Crosby J, Amundsen BH, Hergum T, Remme EW, Langeland S, Torp H (2009) 3-D speckle tracking for assessment of regional left ventricular function. Ultrasound Med Biol 35(3):458–471

12.

Elen A, Choi HF, Loeckx D, Gao H, Claus P, Suetens P, Maes F, D'hooge J (2008) 3D cardiac strain estimation using spatio-temporal elastic registration of ultrasound images: a feasibility study. IEEE Trans Med Imaging 27(11):1580–1591

13.

Papademetris X, Sinusas AJ, Dione DP, Duncan JS (2001) Estimation of 3D left ventricular deformation from echocardiography. Med Image Anal 5(1):17–28

14.

Perez de Isla L, Balcones DV, Fernández-Golfín C, Marcos-Alberca P, Almería C, Rodrigo JL, Macaya C, Zamorano J (2009) Three-dimensional-wall motion tracking: a new and faster tool for myocardial strain assessment: comparison with two-dimensional-wall motion tracking. J Am Soc Echocardiogr 22(4):325–330

15.

Saito K, Okura H, Watanabe N, Hayashida A, Obase K, Imai K, Maehama T, Kawamoto T, Neishi Y, Yoshida K (2009) Comprehensive evaluation of left ventricular strain using speckle tracking echocardiography in normal adults: comparison of three-dimensional and two-dimensional approaches. J Am Soc Echocardiogr 22(9):1025–1030

16.

Heyde B, Cygan S, Choi HF, Lesniak-Plewinska B, Barbosa D, Elen A, Claus P, Loeckx D, Kaluzynski K, D'hooge J (2010). Three-dimensional cardiac motion and strain estimation: a validation study in thick walled univentricular phantoms. In: Proceedings of the IEEE international ultrasonics symposium, Sam Diego (in press)

17.

Herbots L (ed) (2006) Description of deformation values in healthy volunteers and the influence of BMI, age and gender. In: Quantification of regional myocardial deformation: normal characteristics and clinical use in ischaemic heart disease. Leuven University Press, Leuven, pp 45–72

18.

Hurlburt HM, Aurigemma GP, Hill JC, Narayanan A, Gaasch WH, Vinch CS, Meyer TE, Tighe DA (2007) Direct ultrasound measurement of longitudinal, circumferential, and radial strain using 2-dimensional strain imaging in normal adults. Echocardiography 24(7):723–731

19.

Kuznetsova T, Herbots L, Richart T, D'hooge J, Thijs L, Fagard RH, Herregods MC, Staessen JA (2008) Left ventricular strain and strain rate in a general population. Eur Heart J 29:2014–2023

20.

Marwick TH, Leano RL, Brown J, Sun JP, Hoffmann R, Lysyansky P, Becker M, Thomas JD (2009) Myocardial strain measurement with 2-dimensional speckle-tracking echocardiography: definition of normal range. JACC Cardiovasc Imaging 2(1):80–84

21.

McGowan JH, Cleland JGF (2003) Reliability of reporting left ventricular systolic function by echocardiography: a systematic review of 3 methods. Am Heart J 146:388–397

22.

Galema TW, Geleijnse ML, Yap SC, van Domburg RT, Biagini E, Vletter WB, Ten Cate FJ (2008) Assessment of left ventricular ejection fraction after myocardial infarction using contrast echocardiography. Eur J Echocardiogr 9:250–254

23.

Cho GY, Marwick TH, Kim HS, Kim MK, Hong KS, Oh DJ (2009) Global 2-dimensional strain as a new prognosticator in patients with heart failure. J Am Coll Cardiol 54(7):618–624

24.

Stanton T, Leano R, Marwick TH (2009) Prediction of all-cause mortality from global longitudinal speckle strain: comparison with ejection fraction and wall motion scoring. Circ Cardiovasc Imaging 2:356–364

25.

Barbosa D, Kiss G, Claus P, Hristova K, Amundsen B, Loeckx D, Orderud F, Torp H, D'hooge J (2009) A comparison between the methods for automatic quantification of global left ventricular function. In: Proceedings of the IEEE international ultrasonics symposium, Rome, pp 313–316

26.

Amundsen BH, Crosby J, Steen PA, Torp H, Slordhal SA, Stoylen A (2009) Regional myocardial long-axis strain and strain rate measured by different tissue doppler and speckle tracking echocardiography methods: a comparison with tagged magnetic resonance imaging. Eur J Echocardiogr 10:229–237

27.

Cho GY, Chan J, Leano R, Strudwick M, Marwick TH (2006) Comparison of two-dimensional speckle and tissue velocity based strain and validation with harmonic phase resonance imaging. Am J Cardiol 97:1661–1666

28.

Bogaert J, Rademakers FE (2001) Regional nonuniformity of normal adult human ventricle. Am J Physiol Heart Circ Physiol 280:H610–H620

29.

Langeland S, Wouters PF, Claus P, Leather A, Bijnens B, Sutherland GR, Rademakers FE, D'hooge J (2006) Experimental assessment of a new research tool for the estimation of two-dimensional myocardial strain. Ultrasound Med Biol 10(32):1509–1513
Acknowledgments
This work was funded—in part—by grant G.0693.09 of the Research Foundation—Flanders (Belgium, FWO—Vlaanderen).
Conflict of interest
None.
About this article
Cite this article
Jasaityte, R., Heyde, B., Ferferieva, V. et al. Comparison of a new methodology for the assessment of 3D myocardial strain from volumetric ultrasound with 2D speckle tracking. Int J Cardiovasc Imaging 28, 1049–1060 (2012). https://doi.org/10.1007/s10554-011-9934-y
Received:

Accepted:

Published:

Issue Date:
Keywords
3D strain estimation

2D speckle tracking

Elastic registration