Abstract
Myocardial infarction is frequently developed in canine and porcine models but exceptionally in non-human primates. The aim of this study was to develop a minimally invasive myocardial ischemic/reperfusion model in the monkey intended to be combined with imaging techniques, in particular myocardial contrast echocardiography (MCE). A balloon-tipped catheter was advanced via the femoral artery into the left anterior descending artery (LAD) under fluoroscopic guidance in ten anaesthetized male rhesus monkeys (Macaca mulatta). The balloon was inflated to completely occlude the vessel. Coronary angiography (CA) was performed to control the reality of the LAD occlusion/reperfusion. The ischemia period was followed by 3–6 h of reperfusion. Myocardial perfusion was evaluated during ischemia and at reperfusion by MCE using a novel ultrasound contrast agent (BR38). Occlusion was successfully induced during 18–50 min in nine out of the ten evaluated monkeys. ST segment elevation indicated myocardial ischemia. MCE showed complete transmural arrest of myocardial blood flow during the ischemia period and no persistent microvascular perfusion defects during reperfusion. A minimally invasive closed-chest model was successfully developed for creating myocardial ischemia in the rhesus monkey (Macaca mulatta). This technique could have an important role in mimicking acute coronary syndrome under physiologically and ethically-acceptable conditions. MCE provides non-invasively information on myocardial perfusion status, information not available from CA.
Access options
Buy single article
Instant access to the full article PDF.
US$ 39.95
Tax calculation will be finalised during checkout.
Subscribe to journal
Immediate online access to all issues from 2019. Subscription will auto renew annually.
US$ 79
Tax calculation will be finalised during checkout.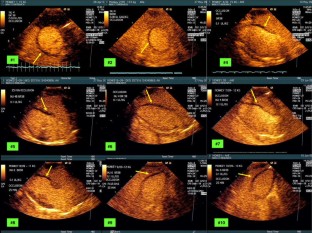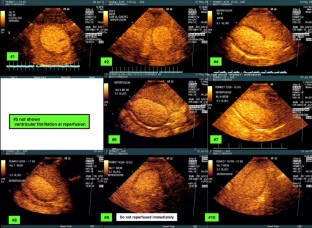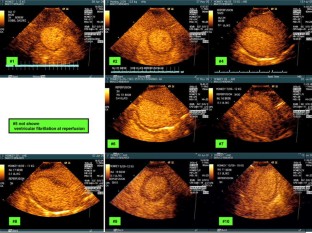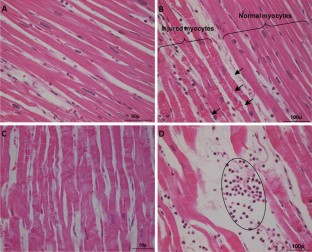 References
1.

Y-T Shen et al. (1996) Innate protection of baboon myocardium: effect of coronary artery occlusion and reperfusion. Am J Physiol 270 (Heart Circ Physiol) 39:H812–H818

2.

Flameng W, Lesaffre E, Vanhaecke J (1990) Determinants of infarct size in non-human primate. Basic Res Cardiol 85:392–403

3.

Buss DD, Hyde DM, Steffey EP (1983) Coronary collateral development in the rhesus monkey (Macaca mulatta). Basic Res Cardiol 78:510–517

4.

Hill JD, Malinow MR, McNulty WP, Ochsner AJ (1972) Experimental myocardial infarction in unanesthetized monkeys. Am Heart J 84(1):82–94

5.

Hill JD, Lees MH, Malinow MR, Ochner J, Thomas C (1973) Regional blood flows in unaesthetised rhesus monkeys during myocardial infarction. Cardiovasc Res 7:375–382

6.

Lavallee M, Vatner SF (1984) Regional myocardial blood flow and necrosis in primates following coronary occlusion. Am J Physiol 246 (Heart Circ Physiol) 15:H635–H639

7.

Porter TR, Xie F (2010) Myocardial perfusion imaging with contrast ultrasound. JACC Cardiovasc imaging 3(2):176–187

8.

Chahal NS, Senior R (2010) Clinical applications of left ventricular opacification. J Am Coll Cardiol Img 3:188–196

9.

Yellon DM, Hausenloy DJ (2007) Mechanism of diseases: myocardial reperfusion injury. N Engl J Med 357:1121–1135

10.

Niccoli G, Burzutta F, Galiuto L, Crea F (2009) Myocardial no- reflow in humans. J Am Coll Cardiol 54:281–292

11.

Verdouw PD, van den Doel MA, de Zeeuw S, Duncker DJ (1998) Animal models in the study of myocardial ischaemia and ischemic syndromes. Cardiovasc Res 39:121–135

12.

Gibbons RJ, Araoz PA, Williamson EE (2009) The year in cardiac imaging. J Am Coll Cardiol 53:54–70

13.

Rakhit DJ, Becher H, Monaghan M, Nihoyannopoulis P, Senior R (2007) The clinical applications of myocardial contrast echocardiography. Eur J Echocardiogr 8:S24–S29

14.

de Jong N, Emmer M, van Wamel A, Versluis M (2009) Ultrasonic characterization of ultrasound contrast agents. Med Biol Eng Comput 47:861–873

15.

Hunt IJ, Day JRS (2007) Cardiac surgery and inflammation: the inflammatory response and strategies to reduce the systemic inflammatory response syndrome. Curr Cardiol Rev 3:91–98

16.

Staat P, Rioufol G et al (2005) Postconditioning the human heart. Circulation 112(14):2143–2148

17.

Heyndrickx GR, Amado J, Patrick TA, Manders WT, Rogers GG, Rosendorff C, Vatner SF (1985) Effects of coronary reperfusion on regional myocardial blood flow and function in conscious baboons. Circulation 71(5):1029–1037

18.

Barker B, Rosario MD, Grant V, McNamara JJ, Suehiro G (1980) Infarct distribution in subhuman primates after acute coronary occlusion. Cardiovasc Res 14:671–674

19.

Yang XM, Liu Y, Liu Y, Tandon N, Kambayashi J, Downey JM, Cohen MV (2010) Attenuation of infarction in cynomolgus monkeys: preconditioning and postconditioning. Basic Res Cardiol 105:119–128

20.

Issa Z, Rosenberger J, Groh W et al (2005) Ischemic ventricular arrhythmias during heart failure: a canine model to replicate clinical events. Heart Rhythm 9:979–983

21.

Krombach GA, Kinzel S, Mahnken AH, Günther RW, Buecker A (2005) Minimally invasive closed-chest method for creating reperfused or occlusive myocardial infarction in swine. Invest Radiol 40:14–18

22.

Schneider M, Anantharam B, Arditi M, Bokor D, Broillet A, Bussat P, Fouillet X, Frinking P, Tardy I, Terrettaz J, Senior R, Tranquart F (2011) BR38, a new ultrasound blood pool agent. Invest Radiol (Accepted for publication)

23.

Grauer S et al (1996) MRX115, an echocardiographic contrast agent produces myocardial opacification after intravenous injection in primates: studies before and after occlusion of left anterior descending coronary artery. Acad Radiol 3:S405–S406

24.

Kessler D et al (1995) Contrast echocardiography in monkeys: dose response and reproducibility of blood pool and myocardial enhancement following intravenous administration of Echogen® 2% emulsion. J Am Soc Echocardiogr 8(3):363

25.

Yoshioka T, Ageyama N, Shibata H, Yasu T, Misawa Y, Takeuchi K, Matsui K, Tera K, Shimada K, Ikeda U, Ozawa K, Hanazono Y (2005) Repairs of infracted myocardium mediated by transplanted bone marrow-derived CD34 + stem cells in a nonhuman primate model. Stem Cells 23:355–364

26.

Wasmeier GH, Asmussen S, Voigt JU, Flachskampf FA, Daniel WG, Nixdorff U (2008) Real-time myocardial contrast stress echocardiography using bolus application Ultrasound. Med Biol 34(11):1724–1731

27.

Williams JK, Honoré EK, Adams MR (1997) Contrasting effects of conjugated estrogens and tamoxifen on dilator responses of atherosclerotic epicardial coronary arteries in nonhuman primates. Circulation 96:1970–1975

28.

Chase RE (1938) The coronary arteries in 266 hearts of rhesus monkey. Am J Physic Anthropol 23(3):299–320
Acknowledgments
The authors would like to acknowledge Marianne Depecker, Anais Michon (VetAgro Sup, Veterinary Campus of Lyon, Equine department, Anesthesiology, 69280- Marcy l'Etoile, France) and Fabrice Taborik (Cynbiose, 69280- Marcy l'Etoile, France) for their valuable technical assistance.
Conflict of interest statement
Hugues Contamin, Gilles Rioufol, Karine G Portier, Olivier M Lepage declare that they have no conflict of interest. Thierry Bettinger, Alexandre Helbert, Anne Broillet, Michel Schneider, François Tranquart, Regi Thomas* are employees of Bracco Suisse SA and Bracco Research USA (*).
About this article
Cite this article
Contamin, H., Rioufol, G., Bettinger, T. et al. A minimally-invasive closed chest myocardial occlusion-reperfusion model in rhesus monkeys (Macaca mulatta): monitoring by contrast-enhanced ultrasound imaging. Int J Cardiovasc Imaging 28, 531–542 (2012). https://doi.org/10.1007/s10554-011-9859-5
Received:

Accepted:

Published:

Issue Date:
Keywords
BR38

Myocardial contrast echocardiography

Macaca mulatta

Myocardial ischemic/reperfusion

Primate