Abstract
Coronary CT angiography (CCTA) is emerging as a powerful tool for the diagnosis and characterization of coronary artery disease. In the emergency department (ED) setting, the high negative predictive value of CCTA has been shown to reduce the length of stay and the cost of care in the evaluation of patients at low and intermediate risk for an acute coronary syndrome (ACS). In addition, CCTA and triple-rule-out protocol CT examinations which simultaneously evaluate the coronary arteries, aorta and pulmonary arteries, have the potential to diagnose not only significant atherosclerotic coronary artery disease (CAD) and coronary artery anomalies, but noncoronary etiologies of chest pain, including pulmonary embolism, aortic dissection, infection, pleural and pericardial disease. Caution has been raised about the widespread use of CCTA in this setting, particularly given the prevalence of repeat ED visits for chest pain, due to the radiation exposure associated with retrospectively-gated CCTA. However, the recent development of prospectively-triggered coronary artery CTA makes the ED evaluation possible with a substantially lower radiation exposure to the patient. Although most studies of CCTA to date are performed with retrospective ECG gating, early reports on prospectively triggered CCTA demonstrate equivalent image quality and accuracy when compared to studies acquired with retrospective ECG gating.
Access options
Buy single article
Instant access to the full article PDF.
US$ 39.95
Tax calculation will be finalised during checkout.
Subscribe to journal
Immediate online access to all issues from 2019. Subscription will auto renew annually.
US$ 79
Tax calculation will be finalised during checkout.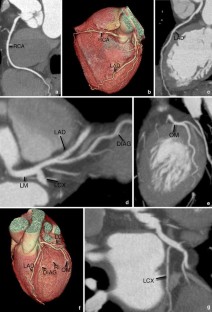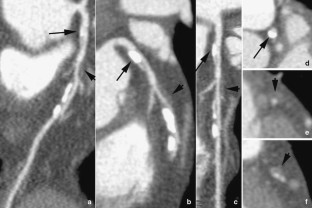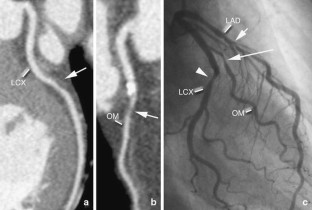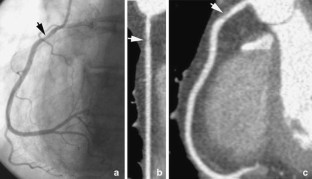 References
1.

Nawar EW, Niska RW, Xu J (2007) National hospital ambulatory medical care survey: 2005 Emergency department summary. Advance data from vital and health statistics, No. 386. National center for health statistics, Hyattsville

2.

Chughtai A, Kazerooni EA (2006) Chest pain in the emergency room: evaluation and triage with coronary CT angiography. Consultations in computed tomography. www.mhsource.com/mru

3.

Christenson J, Innes G, McKnight D et al (2004) Safety and efficiency of emergency department assessment of chest discomfort. Can Med Assoc J 170(12):1803–1807. doi:10.1503/cmaj.1031315

4.

Kohn MA, Kwan E, Gupta M et al (2005) Prevalence of acute myocardial infarction and other serious diagnoses in patients presenting to an urban emergency department with chest pain. J Emerg Med 29(4):383–390. doi:10.1016/j.jemermed.2005.04.010

5.

Pope JH, Aufderheide TP, Ruthazer R et al (2000) Missed diagnosis of acute cardiac ischemia in the emergency department. N Engl J Med 342(16):1163–1170. doi:10.1056/NEJM200004203421603

6.

Gibler WB, Armstrong PW, Ohman EM et al (2002) Persistence of delays in presentation and treatment for patients with acute myocardial infarction: the GUSTO-I and GUSTO-III experience. Ann Emerg Med 39(2):123–130. doi:10.1067/mem.2002.121402

7.

Raff GL, Gallagher MJ, O'Neill WW et al (2006) Immediate coronary artery computed tomographic angiography rapidly and definitively excludes coronary artery disease in low-risk acute chest pain (abstr). J Am Coll Cardiol 47(Suppl A):114A

8.

Ghersin E, Litmanovich D, Dragu R et al (2006) 16-MDCT coronary angiography versus invasive coronary angiography in acute chest pain syndrome: a blinded prospective study. Am J Radiol 186:177–184

9.

Rubinshtein R, Halon DA, Gaspar T et al (2007) Usefulness of 64-slice cardiac computed tomographic angiography for diagnosing acute coronary syndromes and predicting clinical outcome in emergency department patients with chest pain of uncertain origin. Circulation 115:1762–1768. doi:10.1161/CIRCULATIONAHA.106.618389

10.

Goldstein JA, Gallagher MJ, O'Neill WW et al (2007) A randomized controlled trial of multi-slice coronary computed tomography for evaluation of acute chest pain. J Am Coll Cardiol 49(8):863–871. doi:10.1016/j.jacc.2006.08.064

11.

Patel S, Woodrow A, Bogot N, et al. (2005) Non-coronary findings on 16-row multidetector CT coronary angiography. American roentgen ray society 105th annual meeting. Abstract book 3(suppl):184

12.

White CS, Kuo D, Kelemen M et al (2005) Chest pain evaluation in the emergency department: can MDCT provide a comprehensive evaluation? AJR Am J Roentgenol 185(2):533–540

13.

Stillman AE, Oudkerk M, Ackerman M et al (2007) North American society of cardiac imaging European society of cardiac radiology use of multidetector computed tomography for the assessment of acute chest pain: a consensus statement of the North American society of cardiac imaging and the European society of cardiac radiology. Int J Cardiovasc Imaging 23(4):415–427. doi:10.1007/s10554-007-9226-8

14.

Hamon M, Morello R, Riddell W (2007) Coronary arteries: diagnostic performance of 16- versus 64-section spiral CT compared with invasive coronary angiography meta-analysis. Radiology 245(3):720–731. doi:10.1148/radiol.2453061899

15.

Hoffman U, Nagurney JT, Moselewski F et al (2006) Coronary multidetector computed tomography in the assessment of patients with acute chest pain. Circulation 114:2251–2260. doi:10.1161/CIRCULATIONAHA.106.634808

16.

Vanhoenacker PK, Heijenbrok-Kal MH, Van Heste R et al (2007) Diagnostic performance of multidetector CT angiography for assessment of coronary artery disease: meta-analysis. Radiology 244(2):419–428. doi:10.1148/radiol.2442061218

17.

Onuma Y, Tanabe K, Nakazawa G et al (2006) Noncardiac findings in cardiac imaging with multidetector computed tomography. J Am Coll Cardiol 48:402–406. doi:10.1016/j.jacc.2006.04.071

18.

Gallagher MJ, Raff GL (2008) Use of multislice CT for the evaluation of emergency room patients with chest pain: the so-called "Triple rule-out". Catheter Cardiovasc Interv 71(1):92–99. doi:10.1002/ccd.21398

19.

Vrachliotis TG, Bis KG, Haidary A et al (2007) Atypical chest pain: coronary, aortic, and pulmonary vasculature enhancement at biphasic single-injection 64-section CT angiography. Radiology 243(2):368–376. doi:10.1148/radiol.2432060447

20.

Takakuwa KM, Halpern EJ (2008) Evaluation of a "Triple Rule-Out" coronary CT angiography protocol: use of 64-section CT in low-to-moderate risk emergency department patients suspected of having acute coronary syndrome. Radiology 248(2):438–446. doi:10.1148/radiol.2482072169

21.

Jones CM, Athanasiou T, Dunne N et al (2007) Multi-detector computed tomography in coronary artery bypass graft assessment: a meta-analysis. Ann Thorac Surg 83(1):341–348. doi:10.1016/j.athoracsur.2006.08.018

22.

Hurwitz LM, Reiman RE, Yoshizumi TT et al (2007) Radiation dose from contemporary cardiothoracic multidetector CT protocols with an anthropomorphic female phantom: implications for cancer induction. Radiology 245(3):742–750. doi:10.1148/radiol.2453062046

23.

Mettler FA, Huda W, Yoshizumi TT et al (2008) Effective doses in radiology and diagnostic nuclear medicine: a catalog. Radiology 248(1):254–263. doi:10.1148/radiol.2481071451

24.

Kinahan PE, Kohlmyer S, Kanal K et al (2006) Emergency and general radiology. 64 slice "triple rule-out" cardiac CT: impact of ECG-based current modulation and lowered heart rate on patient radiation dose. Am J Roentgenol 186(4_Supplement):A75–A78

25.

Einstein AJ, Henzlova MJ, Rajagopalan S (2007) Estimating risk of cancer associated with radiation exposure from 64-slice computed tomography coronary angiography. JAMA 298(3):317–323. doi:10.1001/jama.298.3.317

26.

Remy-Jardin M, Pistolesi M, Goodman LR et al (2007) Management of suspected acute pulmonary embolism in the era of CT angiography: a statement from the Fleischner society. Radiology 245(2):315–329. doi:10.1148/radiol.2452070397

27.

Heyer CM, Mohr PS, Lemburg SP et al (2007) Image quality and radiation exposure at pulmonary CT angiography with 100- or 120-kVp protocol: prospective randomized study. Radiology 245(2):577–583. doi:10.1148/radiol.2452061919

28.

Marten K, Engelke C, Funke M et al (2003) ECG-gated multislice spiral CT for diagnosis of acute pulmonary embolism. Clin Radiol 58(11):862–868. doi:10.1016/S0009-9260(03)00348-9

29.

Johnson TRC, Nikolaou K, Wintersperger BJ et al (2007) ECG-gated 64-MDCT angiography in the differential diagnosis of acute chest pain. AJR Am J Roentgenol 188(1):76–82. doi:10.2214/AJR.05.1153

30.

O'Neill J, Murchison JT, Wright L et al (2005) Effect of the introduction of helical CT on radiation dose in the investigation of pulmonary embolism. Br J Radiol 78(925):46–50. doi:10.1259/bjr/53924376

31.

Delichas GM, Psarrakos K, Molyvda-Athanassopoulou E et al (2003) Radiation doses to patients undergoing coronary angiography and percutaneous tranluminal coronary angioplasty. Radiat Prot Dosimetry 103(2):149–154

32.

Einstein AJ, Moser KW, Thompson RC et al (2007) Radiation dose to patients from cardiac diagnostic imaging. Circulation 116(11):1290–1305. doi:10.1161/CIRCULATIONAHA.107.688101

33.

McCollough CH, Liu HH (1995) Breast dose during electron-beam CT: measurement with film dosimetry. Radiology 196(1):153–157

34.

Husmann L, Valenta I, Gaemperli O et al (2008) Feasibility of low-dose coronary CT angiography: first experience with prospective ECG-gating. Eur Heart J 29(2):191–197. doi:10.1093/eurheartj/ehm613

35.

Hirai N, Horiguchi J, Fujioka C et al (2008) Prospective versus retrospective ECG-gated 64-detector coronary CT angiography: assessment of image quality, stenosis, and radiation dose. Radiology 248(2):424–430. doi:10.1148/radiol.2482071804

36.

Earls JP, Berman EL, Urban BA et al (2008) Prospectively gated transverse coronary CT angiography versus retrospectively gated helical technique: improved image quality and reduced radiation dose. Radiology 246(3):742–753. doi:10.1148/radiol.2463070989

37.

Shuman WP, Branch KR, May JM et al (2008) Prospective versus retrospective ECG gating for 64-detector CT of the coronary arteries: comparison of image quality and patient radiation dose. Radiology 248(2):431–437. doi:10.1148/radiol.2482072192

38.

Szuks-Farkas Z, Kurmann L, Strautz T et al (2008) Patient exposure and image quality of low-dose pulmonary computed tomagraphy angiography: comparison of 100- and 80-kVp protocols. Invest Radiol 43(12):871–876

39.

Scheffel H, Alkadhi H, Leschka S et al (2008) Low-dose CT coronary angiography in the step-and-shoot mode: diagnostic performance. Heart 94(9):1132–1137. doi:10.1136/hrt.2008.149971

40.

Steigner ML, Otero HJ, Cai T et al (2009) Narrowing the phase window width in prospectively ECG-gated single heart beat 320-detector row coronary CT angiography. Int J Cardiovasc Imaging 25:85–90. doi:10.1007/s10554-008-9347-8
About this article
Cite this article
Knowles, N.G., Patel, S. & Kazerooni, E.A. Cardiac CT for acute chest pain in the emergency department: advantages of prospective triggering. Int J Cardiovasc Imaging 25, 255–265 (2009). https://doi.org/10.1007/s10554-008-9419-9
Received:

Accepted:

Published:

Issue Date:
Keywords
Prospectively-triggered

Coronary CTA

Radiation exposure

Emergency department

Chest pain