Abstract
Purpose
Research suggests better survival among Hispanics with diffuse large B-cell lymphoma (DLBCL) compared to non-Hispanic Whites (NHW); however, less is known about racial/ethnic survival differences in follicular lymphoma (FL) and chronic lymphocytic leukemia (CLL).
Methods
We identified incident FL and CLL cases diagnosed between 2005 and 2016 at Montefiore Medical Center in the Bronx, NY. Cox proportional hazards regression assessed the association between race/ethnicity and all-cause mortality among FL and CLL separately.
Results
Of the 201 FL patients, 39.3% were NHW, 19.4% non-Hispanic Black (NHB), and 41.3% Hispanic, with a similar distribution among CLL patients. After adjusting for International Prognostic Index factors, sex, and chemotherapy, Hispanics with FL had lower all-cause mortality compared to NHWs (HR = 0.22; 95% CI 0.08–0.63), similar to prior DLBCL findings. All-cause mortality did not differ between NHBs and NHWs for FL or by any race/ethnicity for CLL.
Conclusion
In our diverse, urban population, we found that Hispanic diagnosed with FL had lower all-cause mortality compared to NHWs. We found no significant difference in all-cause mortality between Hispanics and NHWs diagnosed with CLL. Our study adds to the growing literature on racial and ethnic differences in survival among Hispanics with hematologic malignancies.
Access options
Buy single article
Instant access to the full article PDF.
USD 39.95
Price includes VAT (USA)
Tax calculation will be finalised during checkout.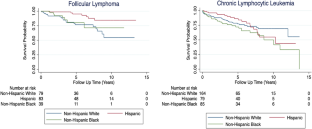 Data availability
Available upon reasonable request.
References
1.

American Cancer Society (2021) Cancer facts & figures 2021. American Cancer Society, Atlanta

2.

Swerdlow SH, Campo E, Pileri SA, Harris NL, Stein H, Siebert R, Advani R, Ghielmini M, Salles GA, Zelenetz AD, Jaffe ES (2016) The 2016 revision of the World Health Organization classification of lymphoid neoplasms. Blood 127(20):2375–2390. https://doi.org/10.1182/blood-2016-01-643569

3.

Freedman A, Jacobsen E (2020) Follicular lymphoma: 2020 update on diagnosis and management. Am J Hematol 95(3):316–327. https://doi.org/10.1002/ajh.25696

4.

Hallek M (2019) Chronic lymphocytic leukemia: 2020 update on diagnosis, risk stratification and treatment. Am J Hematol 94(11):1266–1287. https://doi.org/10.1002/ajh.25595

5.

Li Y, Wang Y, Wang Z, Yi D, Ma S (2015) Racial differences in three major NHL subtypes: descriptive epidemiology. Cancer Epidemiol 39(1):8–13. https://doi.org/10.1016/j.canep.2014.12.001

6.

Blansky D, Fazzari M, Mantzaris I, Rohan T, Hosgood HD (2020) Racial and ethnic differences in diffuse large B-cell lymphoma survival among an underserved, urban population. Leuk Lymphoma. https://doi.org/10.1080/10428194.2020.1839656

7.

Campo E, Swerdlow SH, Harris NL, Pileri S, Stein H, Jaffe ES (2011) The 2008 WHO classification of lymphoid neoplasms and beyond: evolving concepts and practical applications. Blood 117(19):5019–5032. https://doi.org/10.1182/blood-2011-01-293050

8.

Jaffe ES (2009) The 2008 WHO classification of lymphomas: implications for clinical practice and translational research. Hematol Am Soc Hematol Educ Progr. https://doi.org/10.1182/asheducation-2009.1.523

9.

Diez Roux AV, Merkin SS, Arnett D, Chambless L, Massing M, Nieto FJ, Sorlie P, Szklo M, Tyroler HA, Watson RL (2001) Neighborhood of residence and incidence of coronary heart disease. N Engl J Med 345(2):99–106. https://doi.org/10.1056/NEJM200107123450205

10.

Solal-Celigny P, Roy P, Colombat P, White J, Armitage JO, Arranz-Saez R, Au WY, Bellei M, Brice P, Caballero D, Coiffier B, Conde-Garcia E, Doyen C, Federico M, Fisher RI, Garcia-Conde JF, Guglielmi C, Hagenbeek A, Haioun C, LeBlanc M, Lister AT, Lopez-Guillermo A, McLaughlin P, Milpied N, Morel P, Mounier N, Proctor SJ, Rohatiner A, Smith P, Soubeyran P, Tilly H, Vitolo U, Zinzani PL, Zucca E, Montserrat E (2004) Follicular lymphoma international prognostic index. Blood 104(5):1258–1265. https://doi.org/10.1182/blood-2003-12-4434

11.

Rai KR, Sawitsky A, Cronkite EP, Chanana AD, Levy RN, Pasternack BS (1975) Clinical staging of chronic lymphocytic leukemia. Blood 46(2):219–234

12.

International CLLIPIwg (2016) An international prognostic index for patients with chronic lymphocytic leukaemia (CLL-IPI): a meta-analysis of individual patient data. Lancet Oncol 17(6):779–790. https://doi.org/10.1016/S1470-2045(16)30029-8

13.

Altman DG, Royston P (2006) The cost of dichotomising continuous variables. BMJ 332(7549):1080. https://doi.org/10.1136/bmj.332.7549.1080

14.

U.S. Census Bureau (2019) Quickfacts Bronx county Bronx Burough New York. U.S. Census Bureau, Suitland

15.

Nabhan C, Byrtek M, Taylor MD, Friedberg JW, Cerhan JR, Hainsworth JD, Miller TP, Hirata J, Link BK, Flowers CR (2012) Racial differences in presentation and management of follicular non-Hodgkin lymphoma in the United States: report from the national lymphocare study. Cancer 118(19):4842–4850. https://doi.org/10.1002/cncr.27513

16.

Shenoy PJ, Malik N, Sinha R, Nooka A, Nastoupil LJ, Smith M, Flowers CR (2011) Racial differences in the presentation and outcomes of chronic lymphocytic leukemia and variants in the United States. Clin Lymphoma Myeloma Leuk 11(6):498–506. https://doi.org/10.1016/j.clml.2011.07.002

17.

Tao L, Foran JM, Clarke CA, Gomez SL, Keegan TH (2014) Socioeconomic disparities in mortality after diffuse large B-cell lymphoma in the modern treatment era. Blood 123(23):3553–3562. https://doi.org/10.1182/blood-2013-07-517110

18.

Skibola CF, Bracci PM, Nieters A, Brooks-Wilson A, de Sanjose S, Hughes AM, Cerhan JR, Skibola DR, Purdue M, Kane E, Lan Q, Foretova L, Schenk M, Spinelli JJ, Slager SL, De Roos AJ, Smith MT, Roman E, Cozen W, Boffetta P, Kricker A, Zheng T, Lightfoot T, Cocco P, Benavente Y, Zhang Y, Hartge P, Linet MS, Becker N, Brennan P, Zhang L, Armstrong B, Smith A, Shiao R, Novak AJ, Maynadie M, Chanock SJ, Staines A, Holford TR, Holly EA, Rothman N, Wang SS (2010) Tumor necrosis factor (TNF) and lymphotoxin-alpha (LTA) polymorphisms and risk of non-Hodgkin lymphoma in the interlymph consortium. Am J Epidemiol 171(3):267–276. https://doi.org/10.1093/aje/kwp383

19.

Skibola CF, Bracci PM, Halperin E, Conde L, Craig DW, Agana L, Iyadurai K, Becker N, Brooks-Wilson A, Curry JD, Spinelli JJ, Holly EA, Riby J, Zhang L, Nieters A, Smith MT, Brown KM (2009) Genetic variants at 6p21.33 are associated with susceptibility to follicular lymphoma. Nat Genet 41(8):873–875. https://doi.org/10.1038/ng.419

20.

Pasqualucci L, Khiabanian H, Fangazio M, Vasishtha M, Messina M, Holmes AB, Ouillette P, Trifonov V, Rossi D, Tabbo F, Ponzoni M, Chadburn A, Murty VV, Bhagat G, Gaidano G, Inghirami G, Malek SN, Rabadan R, Dalla-Favera R (2014) Genetics of follicular lymphoma transformation. Cell Rep 6(1):130–140. https://doi.org/10.1016/j.celrep.2013.12.027

21.

Salles G, Seymour JF, Offner F, Lopez-Guillermo A, Belada D, Xerri L, Feugier P, Bouabdallah R, Catalano JV, Brice P, Caballero D, Haioun C, Pedersen LM, Delmer A, Simpson D, Leppa S, Soubeyran P, Hagenbeek A, Casasnovas O, Intragumtornchai T, Ferme C, da Silva MG, Sebban C, Lister A, Estell JA, Milone G, Sonet A, Mendila M, Coiffier B, Tilly H (2011) Rituximab maintenance for 2 years in patients with high tumour burden follicular lymphoma responding to rituximab plus chemotherapy (PRIMA): a phase 3, randomised controlled trial. Lancet 377(9759):42–51. https://doi.org/10.1016/S0140-6736(10)62175-7

22.

Morschhauser F, Fowler NH, Feugier P, Bouabdallah R, Tilly H, Palomba ML, Fruchart C, Libby EN, Casasnovas RO, Flinn IW, Haioun C, Maisonneuve H, Ysebaert L, Bartlett NL, Bouabdallah K, Brice P, Ribrag V, Daguindau N, Le Gouill S, Pica GM, Martin Garcia-Sancho A, Lopez-Guillermo A, Larouche JF, Ando K, Gomes da Silva M, Andre M, Zachee P, Sehn LH, Tobinai K, Cartron G, Liu D, Wang J, Xerri L, Salles GA, Investigators RT (2018) Rituximab plus lenalidomide in advanced untreated follicular lymphoma. N Engl J Med 379(10):934–947. https://doi.org/10.1056/NEJMoa1805104

23.

Kent EE, Breen N, Lewis DR, de Moor JS, Smith AW, Seibel NL (2015) US trends in survival disparities among adolescents and young adults with non-Hodgkin lymphoma. Cancer Causes Control 26(8):1153–1162. https://doi.org/10.1007/s10552-015-0609-1

24.

Cerhan JR (2020) Epidemiology of follicular lymphoma. Hematol Oncol Clin North Am 34(4):631–646. https://doi.org/10.1016/j.hoc.2020.02.001

25.

Slager SL, Benavente Y, Blair A, Vermeulen R, Cerhan JR, Costantini AS, Monnereau A, Nieters A, Clavel J, Call TG, Maynadie M, Lan Q, Clarke CA, Lightfoot T, Norman AD, Sampson JN, Casabonne D, Cocco P, Sanjose S (2014) Medical history, lifestyle, family history, and occupational risk factors for chronic lymphocytic leukemia/small lymphocytic lymphoma: the interlymph non-Hodgkin lymphoma subtypes project. J Natl Cancer Inst Monogr 48:41–51. https://doi.org/10.1093/jncimonographs/lgu001

26.

Attina TM, Malits J, Naidu M, Trasande L (2019) Racial/ethnic disparities in disease burden and costs related to exposure to endocrine-disrupting chemicals in the United States: an exploratory analysis. J Clin Epidemiol 108:34–43. https://doi.org/10.1016/j.jclinepi.2018.11.024

27.

Boberg E, Lessner L, Carpenter DO (2011) The role of residence near hazardous waste sites containing benzene in the development of hematologic cancers in upstate New York. Int J Occup Med Environ Health 24(4):327–338. https://doi.org/10.2478/s13382-011-0037-8

28.

Kachuri L, Beane Freeman LE, Spinelli JJ, Blair A, Pahwa M, Koutros S, Hoar Zahm S, Cantor KP, Weisenburger DD, Pahwa P, Dosman JA, McLaughlin JR, Demers PA, Harris SA (2020) Insecticide use and risk of non-Hodgkin lymphoma subtypes: a subset meta-analysis of the North American pooled project. Int J Cancer 147(12):3370–3383. https://doi.org/10.1002/ijc.33164

29.

Ollberding NJ, Evens AM, Aschebrook-Kilfoy B, Caces DB, Weisenburger DD, Smith SM, Chiu BC (2013) Pre-diagnosis cigarette smoking and overall survival in non-Hodgkin lymphoma. Br J Haematol 163(3):352–356. https://doi.org/10.1111/bjh.12512

30.

Devoe JE, Gold R, McIntire P, Puro J, Chauvie S, Gallia CA (2011) Electronic health records vs medicaid claims: completeness of diabetes preventive care data in community health centers. Ann Fam Med 9(4):351–358. https://doi.org/10.1370/afm.1279

31.

Klugman M, Xue X, Ginsberg M, Cheng H, Rohan T, Hosgood HD 3rd (2020) Hispanics/Latinos in the Bronx have improved survival in non-small cell lung cancer compared with non-Hispanic Whites. J Racial Ethn Health Dispar 7(2):316–326. https://doi.org/10.1007/s40615-019-00660-2
Funding
This work was supported by a grant from the National Institutes of Health/National Center for Advancing Translational Science (NCATS) Einstein-Montefiore CTSA (Grant Number UL1TR001073).
Ethics declarations
Conflict of interest
The authors declare no conflicts of interest.
Consent to participate
N/A
Consent for publication
N/A
Ethical approval
All procedures performed in studies involving human participants were in accordance with the ethical standards of the institutional and/or national research committee and with the 1964 Helsinki Declaration and its later amendments or comparable ethical standards. This study was approved by the Institutional Review Board at Albert Einstein College of Medicine (Number 2018-9853).
Additional information
Publisher's Note
Springer Nature remains neutral with regard to jurisdictional claims in published maps and institutional affiliations.
Supplementary Information
Below is the link to the electronic supplementary material.
About this article
Cite this article
Blansky, D., Fazzari, M., Mantzaris, I. et al. Racial and ethnic differences in all-cause mortality among Hispanics diagnosed with follicular lymphoma and chronic lymphocytic leukemia in the Bronx, NY. Cancer Causes Control (2021). https://doi.org/10.1007/s10552-021-01507-0
Received:

Accepted:

Published:
Keywords
Follicular lymphoma

Chronic lymphocytic leukemia

Non-Hodgkin lymphoma

Race/ethnicity

Clinical research