Abstract
Purpose
Hormonal changes related to pregnancy and lactation among women treated for cancer might influence the risk of second primary cancer. We investigated whether pregnancy near the time of breast cancer, Hodgkin lymphoma or other cancer diagnoses is associated with increased risk of developing a new primary cancer.
Methods
Women born after 1 April 1935 diagnosed with cancer at ages 15–44 years during 1968–2006 were identified in the Danish Cancer Registry. Information about pregnancies from various nationwide registers was used to identify women with a pregnancy-associated cancer defined as a cancer diagnosed 6 or fewer months before the pregnancy, during the pregnancy or up to 1 year after the pregnancy. Second primary cancers were ascertained through 2013, and hazard ratios (HRs) were calculated using Cox regression models adjusted for age, calendar-period and number of pregnancies with the reference defined as cancer not associated with a pregnancy.
Results
We identified 2,974 women with pregnancy-associated cancer and 31,970 women who were not pregnant near the time of their cancer diagnosis. There was no association between pregnancy-associated cancer and a second cancer (HR 0.91; 95% CI 0.79–1.05). Among 680 women with either breast cancer or Hodgkin lymphoma associated with pregnancy, a HR of 1.16 (95% CI 0.87–1.56) for second breast cancer was observed based on 48 cases.
Conclusion
While hormonal changes might stimulate development of specific cancers, in particular breast cancer, it is reassuring that risk of breast and other second cancers was not related to pregnancy near the time of a first primary cancer diagnosis.
Access options
Buy single article
Instant access to the full article PDF.
USD 39.95
Price includes VAT (USA)
Tax calculation will be finalised during checkout.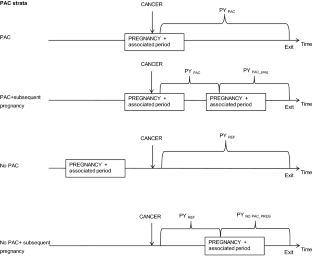 Data availability
The datasets generated and analyzed for the current study are not publicly available, since the authors do not have permission to share the data.
References
1.

Danmarks Statistik (2017) Befolkningens udvikling 2017. Available at: https://www.dst.dk/Site/Dst/Udgivelser/GetPubFile.aspx?id=29442&sid=befudv2017

2.

Organization for Economic Co-operation and Development SF2.3 (2019) Age of mothers and childbirth and age-specific fertility. OECD Family Database.

3.

Mathews TJ, Hamilton BE (2016) Mean age of mothers is on the rise: United States, 2000–2014. NCHS Data Brief 232:1–8

4.

Eibye S, Kjaer SK, Mellemkjaer L (2013) Incidence of pregnancy-associated cancer in Denmark, 1977–2006. Obstet Gynecol 122:608–617

5.

Lee YY, Roberts CL, Dobbins T, Stavrou E, Black K, Morris J, Young J (2012) Incidence and outcomes of pregnancy-associated cancer in Australia, 1994–2008: a population-based linkage study. BJOG 119:1572–1582

6.

Smith LH, Danielsen B, Allen ME, Cress R (2003) Cancer associated with obstetric delivery: results of linkage with the California cancer registry. Am J Obstet Gynecol 189:1128–1135

7.

Parazzini F, Franchi M, Tavani A, Negri E, Peccatori FA (2017) Frequency of pregnancy related cancer: a population based linkage study in Lombardy, Italy. Int J Gynecol Cancer 27:613–619

8.

Hepner A, Negrini D, Hase EA, Exman P, Testa L, Trinconi AF, Filassi JR, Francisco RPV, Zugaib M, O'Connor TL et al (2019) Cancer during pregnancy: the oncologist overview. World J Oncol 10:28–34

9.

Maggen C, Van Gerwen M, Van Calsteren K, Vandenbroucke T, Amant F (2019) Management of cancer during pregnancy and current evidence of obstetric, neonatal and pediatric outcome: a review article. Int J Gynecol Cancer 29:404–416

10.

Alfasi A, Ben-Aharon I (2019) Breast cancer during pregnancy-current paradigms, paths to explore. Cancers (Basel) 11:1669

11.

Ronckers CM, Erdmann CA, Land CE (2005) Radiation and breast cancer: a review of current evidence. Breast Cancer Res 7:21–32

12.

Preston DL, Mattsson A, Holmberg E, Shore R, Hildreth NG, Boice JD Jr (2002) Radiation effects on breast cancer risk: a pooled analysis of eight cohorts. Radiat Res 158:220–235

13.

Cooke R, Jones ME, Cunningham D, Falk SJ, Gilson D, Hancock BW, Harris SJ, Horwich A, Hoskin PJ, Illidge T et al (2013) Breast cancer risk following Hodgkin lymphoma radiotherapy in relation to menstrual and reproductive factors. Br J Cancer 108:2399–2406

14.

Brenner AV, Preston DL, Sakata R, Sugiyama H, de Gonzalez AB, French B, Utada M, Cahoon EK, Sadakane A, Ozasa K et al (2018) Incidence of breast cancer in the life span study of atomic bomb survivors: 1958–2009. Radiat Res 190:433–444

15.

Chen J, Lee RJ, Tsodikov A, Smith L, Gaffney DK (2004) Does radiotherapy around the time of pregnancy for Hodgkin's disease modify the risk of breast cancer? Int J Radiat Oncol Biol Phys 58:1474–1479

16.

Brooks JD, Boice JD Jr, Shore RE, Reiner AS, Smith SA, Bernstein L, Knight JA, Lynch CF, John EM, Malone KE et al (2020) A case–control study of the joint effect of reproductive factors and radiation treatment for first breast cancer and risk of contralateral breast cancer in the WECARE study. Breast 54:62–69

17.

Gjerstorff ML (2011) The Danish Cancer Registry. Scand J Public Health 39(7 Suppl):42–45

18.

Pedersen CB (2011) The Danish Civil Registration System. Scand J Public Health 39(7 Suppl):22–25

19.

Knudsen LB, Olsen J (1998) The Danish Medical Birth Registry. Dan Med Bull 45:320–323

20.

Blenstrup LT, Knudsen LB (2011) Danish registers on aspects of reproduction. Scand J Public Health 39(7 Suppl):79–82

21.

Lynge E, Sandegaard JL, Rebolj M (2011) The Danish National Patient Register. Scand J Public Health 39(7 Suppl):30–33

22.

Korn EL, Graubard BI, Midthune D (1997) Time-to-event analysis of longitudinal follow-up of a survey: choice of the time-scale. Am J Epidemiol 145:72–80

23.

Mellemkjaer L, Steding-Jessen M, Frederiksen K, Andersson M, Ejlertsen B, Jensen MB, Olsen JH (2014) Risk of contralateral breast cancer after tamoxifen use among Danish women. Ann Epidemiol 24:843–848

24.

R Core Team (2013) R: Language and Environment for Statistical Computing. R Foundation for Statistical Computing, Vienna, Austria.

25.

Fraumeni JF Jr, Curtis RE, Edwards BK, Tucker MA (2006) Introduction. In: Curtis RE, Freedman DM, Ron E, Ries LAG, Hacker DG, Edwards BK, Tucker MA, Fraumeni JF Jr (eds) New malignancies among cancer survivors: SEER Cancer Registries, 1973–2000. National Cancer Institute, Bethesda, pp 1–7

26.

Ibrahim EM, Abouelkhair KM, Kazkaz GA, Elmasri OA, Al-Foheidi M (2012) Risk of second breast cancer in female Hodgkin's lymphoma survivors: a meta-analysis. BMC Cancer 12:197

27.

Stovall M, Smith SA, Langholz BM, Boice JD Jr, Shore RE, Andersson M, Buchholz TA, Capanu M, Bernstein L, Lynch CF et al (2008) Dose to the contralateral breast from radiotherapy and risk of second primary breast cancer in the WECARE study. Int J Radiat Oncol Biol Phys 72:1021–1030

28.

Boice JD Jr, Harvey EB, Blettner M, Stovall M, Flannery JT (1992) Cancer in the contralateral breast after radiotherapy for breast cancer. N Engl J Med 326:781–785

29.

Need EF, Atashgaran V, Ingman WV, Dasari P (2014) Hormonal regulation of the immune microenvironment in the mammary gland. J Mammary Gland Biol Neoplasia 19:229–239

30.

Suzuki K, Ishii-Ohba H, Yamanouchi H, Wakabayashi K, Takahashi M, Inano H (1994) Susceptibility of lactating rat mammary glands to gamma-ray-irradiation-induced tumorigenesis. Int J Cancer 56:413–417

31.

Inano H, Suzuki K, Onoda M, Yamanouchi H (1996) Susceptibility of fetal, virgin, pregnant and lactating rats for the induction of mammary tumors by gamma rays. Radiat Res 145:708–713

32.

Danish Breast Cancer Group (DBCG) (2011) Udredning og behandling af brystkræft i forbindelse med graviditet. Available at: https://www.dbcg.dk/PDF%20Filer/Retningslinier%202011%20Kap%2016%20%20010111.pdf

33.

Brenner B, Avivi I, Lishner M (2012) Haematological cancers in pregnancy. Lancet 379:580–587

34.

Hill DA, Gilbert E, Dores GM, Gospodarowicz M, Van Leeuwen FE, Holowaty E, Glimelius B, Andersson M, Wiklund T, Lynch CF et al (2005) Breast cancer risk following radiotherapy for Hodgkin lymphoma: modification by other risk factors. Blood 106:3358–3365

35.

Pettersson BF, Andersson S, Hellman K, Hellstrom AC (2010) Invasive carcinoma of the uterine cervix associated with pregnancy: 90 years of experience. Cancer 116:2343–2349

36.

Sisti JS, Bernstein JL, Lynch CF, Reiner AS, Mellemkjaer L, Brooks JD, Knight JA, Bernstein L, Malone KE, Woods M et al (2015) Reproductive factors, tumor estrogen receptor status and contralateral breast cancer risk: results from the WECARE study. Springerplus 4:825

37.

Liu Q, Wuu J, Lambe M, Hsieh SF, Ekbom A, Hsieh CC (2002) Transient increase in breast cancer risk after giving birth: postpartum period with the highest risk (Sweden). Cancer Causes Control 13:299–305

38.

Albrektsen G, Heuch I, Hansen S, Kvale G (2005) Breast cancer risk by age at birth, time since birth and time intervals between births: exploring interaction effects. Br J Cancer 92:167–175
Funding
The work was supported by the Danish Cancer Society and the Novo Nordisk Foundation Grant No. NFF18OC0052571.
Ethics declarations
Conflict of interest
The authors have no conflicts of interest to declare that are relevant to the content of this article.
Ethical approval and informed consent
In Denmark, written consents and approval from the Ethical Committee System are not required for studies that are entirely register-based.
Additional information
Publisher's Note
Springer Nature remains neutral with regard to jurisdictional claims in published maps and institutional affiliations.
Supplementary Information
Below is the link to the electronic supplementary material.
About this article
Cite this article
Mellemkjær, L., Eibye, S., Albieri, V. et al. Pregnancy-associated cancer and the risk of second primary cancer. Cancer Causes Control (2021). https://doi.org/10.1007/s10552-021-01500-7
Received:

Accepted:

Published:
Keywords
Pregnancy-associated cancer

Second cancer

Breast cancer

Hodgkin lymphoma