Abstract
Purpose
Numerous treatment breakthroughs for patients with metastatic castration-resistant prostate cancer (mCRPC) have been demonstrated in clinical trials in the past 15 years. However, real-world evidence on the changing epidemiology and longevity of this population has not been demonstrated. This study assessed prevalence trends for mCRPC over eight years in a large managed care population.
Methods
In a claims database, adult male patients were included with ≥ 1 claim for prostate cancer, pharmacologic/surgical castration, and metastatic disease during the identification period. The index mCRPC date was the first metastatic claim; six months of continuous enrollment before and after was required. Patients with metastatic disease at baseline were excluded. Patients were followed until death, end of study, or disenrollment, whichever was earliest. Total, mCRPC per-prostate cancer, and age-specific prevalence rates were calculated cross-sectionally for each year under study (2010–2017).
Results
Of 343,089 patients identified with a claim for prostate cancer, 3690 mCRPC cases (1.1%) were identified. Incidence (new cases per year) remained relatively constant over the study period while prevalence of mCRPC (total cases per year) increased. mCRPC prevalence increased with increasing age. Total and mCRPC per-prostate cancer prevalence rates increased in monotonic, year-over-year trends from 2010 to 2017, while incidence (new cases per year) of mCRPC remained relatively stable.
Conclusion
This study found increasing prevalence of mCRPC in an insured patient population during the 8-year period, coupled with stable incidence, validating that patients with the disease are living longer. With the addition of androgen receptor–directed therapies and poly(ADP-ribose) polymerase inhibitors in recent years, this trend will likely continue.
This is a preview of subscription content,
to check access.
Access this article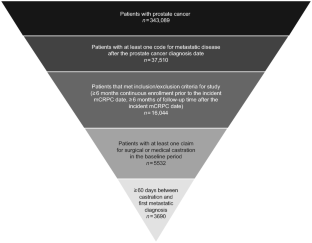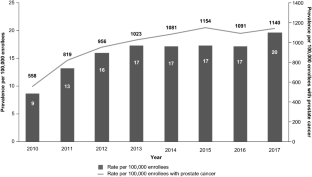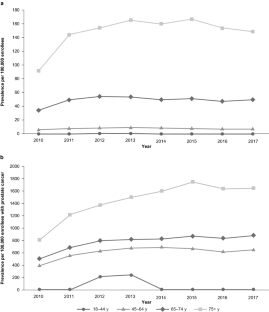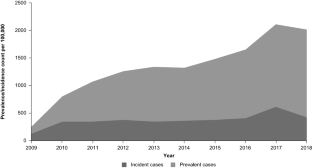 Similar content being viewed by others
Data availability
This study utilized the Optum Research Database (ORD), a proprietary insurance claims database belonging to United Health Care Corporation. The database includes enrollment information and medical and pharmacy claims for > 73 million enrollees with commercial coverage and 8.3 million enrollees with Medicare Advantage medical and Part D pharmacy coverage. The dataset used for this research study was extracted from the ORD using a patient-finding algorithm. Clovis Oncology contracted OPTUM/UHC for the final aggregate data reports but did not license the dataset with individual patient-level data. Requests to access these datasets should be directed to Nicole Engel-Nitz, Nicole.Engel-Nitz@optum.com.
Acknowledgments
Editorial assistance funded by Clovis Oncology, Inc., was provided by Nathan Yardley and Frederique H. Evans of Ashfield MedComms, an Ashfield Health company (Middletown, CT, USA).
Funding
This study was sponsored by Clovis Oncology, Inc.
Ethics declarations
Conflict of interest
KLW is an employee of Clovis Oncology, Inc., and may own stock or have stock options in that company. AL was an employee of OPTUM at the time of the study. SHB and NME-N are employees of OPTUM, which received consulting fees from Clovis Oncology. SHB and NME-N own stock in UnitedHealth Group. ANL has nothing to disclose.
Additional information
Publisher's Note
Springer Nature remains neutral with regard to jurisdictional claims in published maps and institutional affiliations.
Supplementary Information
Below is the link to the electronic supplementary material.
About this article
Cite this article
Wallace, K.L., Landsteiner, A., Bunner, S.H. et al. Increasing prevalence of metastatic castration-resistant prostate cancer in a managed care population in the United States. Cancer Causes Control 32, 1365–1374 (2021). https://doi.org/10.1007/s10552-021-01484-4
Received:

Accepted:

Published:

Issue Date:

DOI: https://doi.org/10.1007/s10552-021-01484-4
Keywords