Abstract
Purpose
Hepatitis B (HBV), the leading cause of hepatocellular carcinoma (HCC), disproportionately affects minorities. Compared to other races, Blacks more often present with advanced HCC and have decreased survival. We observed higher HBV-associated HCC rates among Blacks than reported nationally. In our center, Haitian Blacks had the highest rates of HBV-associated HCC and shorter survival compared to other Blacks. We investigated knowledge and perceptions regarding HBV and HCC among Blacks born in the United States or Haiti.
Methods
Using community partnerships, participants were recruited via word of mouth, email, social media or from Hepatology clinic. Focus groups were conducted in Haitian Creole or English and stratified by birthplace, gender and infection status. Discussions were audio-recorded and transcribed verbatim. A constant comparative method was used for data analysis; themes are based on conversational details.
Results
There were 55 participants; 49% were male and 27% had chronic HBV. Only 42% of Haitian Blacks knew about HBV prior to participation vs. 78% of African Americans, p 0.03. Both groups expressed that fear, mistrust of the medical establishment, denial and stigma might compel persons to avoid seeking care. Both groups attributed higher rates of late stage HCC diagnosis in Blacks to inadequate financial resources and education. Those with HBV reported confusion regarding their infection and suboptimal communication with healthcare providers.
Conclusions
In two communities disproportionately affected by HBV, misconceptions about disease transmission, stigma, low health literacy and decreased access to care may limit detection for HBV. Culturally relevant community-based interventions are needed to increase HBV detection.
Access options
Buy single article
Instant access to the full article PDF.
USD 39.95
Price excludes VAT (USA)
Tax calculation will be finalised during checkout.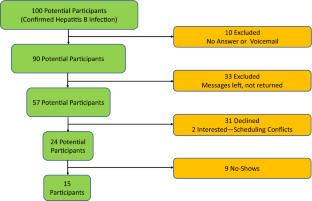 Abbreviations
AA:

African American

AIDS:

Acquired immunodeficiency syndrome

BCSR:

Behavioral Community Shared Resource Core

CDC:

Centers for Disease Control and Prevention

HBV:

Hepatitis B virus

HCV:

Hepatitis C virus

HHS:

Department of Health and Human Services

HIV:

Human immunodeficiency virus

HCC:

Hepatocellular carcinoma

SAHL:

Short Assessment of Health Literacy

US:

United States
Acknowledgments
The authors acknowledge members of the Behavioral and Community-Based Research Shared Resource for assisting with study recruitment and moderation of focus groups.
Funding
The salary of the corresponding author is partially supported by a Diversity Supplement awarded by the National Institutes of Health (NIH) National Institute on Minority Health and Health Disparities (U01MD010614-01S1). The NIH was not involved in study design or in the collection, analysis or interpretation of data. Further, the NIH did not contribute to the writing of this manuscript or decision to submit for publication. Study procedures and patient incentives were made possible by the Sylvester Catchment Center Grant awarded to the corresponding author in 2016.
Additional information
Publisher's Note
Springer Nature remains neutral with regard to jurisdictional claims in published maps and institutional affiliations.
Electronic supplementary material
Below is the link to the electronic supplementary material.
About this article
Cite this article
Jones, P., Soler, J., Solle, N.S. et al. A mixed-methods approach to understanding perceptions of hepatitis B and hepatocellular carcinoma among ethnically diverse Black communities in South Florida. Cancer Causes Control 31, 1079–1091 (2020). https://doi.org/10.1007/s10552-020-01345-6
Received:

Accepted:

Published:

Issue Date:

DOI: https://doi.org/10.1007/s10552-020-01345-6
Keywords