Abstract
Purpose
Air pollution and smoking are associated with various types of mortality, including cancer. The current study utilizes a publicly accessible, nationally representative cohort to explore relationships between fine particulate matter (PM2.5) exposure, smoking, and cancer mortality.
Methods
National Health Interview Survey and mortality follow-up data were combined to create a study population of 635,539 individuals surveyed from 1987 to 2014. A sub-cohort of 341,665 never-smokers from the full cohort was also created. Individuals were assigned modeled PM2.5 exposure based on average exposure from 1999 to 2015 at residential census tract. Cox Proportional Hazard models were utilized to estimate hazard ratios for cancer-specific mortality controlling for age, sex, race, smoking status, body mass, income, education, marital status, rural versus urban, region, and survey year.
Results
The risk of all cancer mortality was adversely associated with PM2.5 (per 10 µg/m3 increase) in the full cohort (hazard ratio [HR] 1.15, 95% confidence interval [CI] 1.08–1.22) and the never-smokers' cohort (HR 1.19, 95% CI 1.06–1.33). PM2.5-morality associations were observed specifically for lung, stomach, colorectal, liver, breast, cervix, and bladder, as well as Hodgkin lymphoma, non-Hodgkin lymphoma, and leukemia. The PM2.5-morality association with lung cancer in never-smokers was statistically significant adjusting for multiple comparisons. Cigarette smoking was statistically associated with mortality for many cancer types.
Conclusions
Exposure to PM2.5 air pollution contributes to lung cancer mortality and may be a risk factor for other cancer types. Cigarette smoking has a larger impact on cancer mortality than PM2.5 , but is associated with similar cancer types.
This is a preview of subscription content, log in to check access.
Access options
Buy single article
Instant access to the full article PDF.
US$ 39.95
Price includes VAT for USA
Subscribe to journal
Immediate online access to all issues from 2019. Subscription will auto renew annually.
US$ 199
This is the net price. Taxes to be calculated in checkout.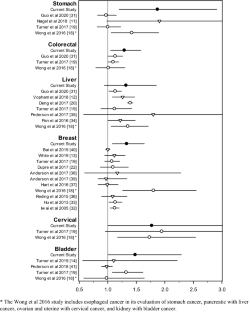 References
1.

U.S. Department of Health and Human Services (2014) The health consequences of smoking: 50 years of progress. a report of the Surgeon General. Atlanta, GA: U.S. Department of Health and Human Services, Centers for Disease Control and Prevention, National Center for Chronic Disease Prevention and Health Promotion, Office on Smoking and Health, 2014. Printed with corrections, January 2014

2.

Loomis D, Grosse Y, Lauby-Secretan B (2013) The carcinogenicity of outdoor air pollution. Lancet Oncol 14(13):1262–1263

3.

Risom L, Møller P, Loft S (2005) Oxidative stress-induced DNA damage by particulate air pollution. Mutat Res 592(1):119–137

4.

Newby DE, Mannucci PM, Tell GS et al (2014) Expert position paper on air pollution and cardiovascular disease. Eur Heart J 36(2):83–93

5.

Pope CA III, Lefler JS, Ezzati M et al (2019) Mortality risk and fine particulate air pollution in a large, representative cohort of US adults. Environ Health Persp 127(7):077007

6.

IARC (2013) Outdoor air pollution. IARC Monogr Eval Carcinog Risk Hum 109: 1. https://monographs.iarc.fr/ENG/Monographs/vol109/mono109-F01.pdf. Accessed 19 Mar 2016

7.

Cui P, Huang Y, Han J, Song F, Chen K (2014) Ambient particulate matter and lung cancer incidence and mortality: a meta-analysis of prospective studies. Eur J Public Health 25(2):324–329

8.

Turner MC, Krewski D, Pope CA III, Chen Y, Gapstur SM, Thun MJ (2011) Long-term ambient fine particulate matter air pollution and lung cancer in a large cohort of never-smokers. Am J Resp Crit Care 184(12):1374–1381

9.

Hamra GB, Guha N, Cohen A et al (2014) Outdoor particulate matter exposure and lung cancer: a systematic review and meta-analysis. Environ Health Persp. https://doi.org/10.1289/ehp/1408092

10.

Chu YH, Kao SW, Tantoh DM, Ko PC, Lan SJ, Liaw YP (2019) Association between fine particulate matter and oral cancer among Taiwanese men. J Invest Med 67(1):34–38

11.

Nagel G, Stafoggia M, Pedersen M et al (2018) Air pollution and incidence of cancers of the stomach and the upper aerodigestive tract in the European Study of Cohorts for Air Pollution Effects (ESCAPE). Int J Cancer. https://doi.org/10.1002/ijc.31564

12.

VoPham T, Bertrand KA, Tamimi RM, Laden F, Hart JE (2018) Ambient PM 2.5 air pollution exposure and hepatocellular carcinoma incidence in the United States. Cancer Causes Control 29(6):563–572

13.

White AJ, Keller JP, Zhao S, Carroll R, Kaufman JD, Sandler DP (2019) Air pollution, clustering of particulate matter components, and breast cancer in the sister study: a US-wide cohort. Environ Health Persp 127(10):107002

14.

Turner MC, Gracia-Lavedan E, Cirac M et al (2019) Ambient air pollution and incident bladder cancer risk: updated analysis of the Spanish bladder cancer study. Int J Cancer 145(4):894–900

15.

Raaschou-Nielsen O, Pedersen M, Stafoggia M et al (2017) Outdoor air pollution and risk for kidney parenchyma cancer in 14 European cohorts. Int J Cancer 140(7):1528–1537

16.

Wang H, Gao Z, Ren J et al (2019) An urban-rural and sex differences in cancer incidence and mortality and the relationship with PM2.5 exposure: an ecological study in the southeastern side of Hu line. Chemosphere 216:766–773

17.

Ethan CJ, Mokoena KK, Yu Y et al (2020) Association between PM2.5 and mortality of stomach and colorectal cancer in Xi'an: a time-series study. Environ Sci 1:1–11

18.

Wong CM, Tsang H, Lai HK et al (2016) Cancer mortality risks from long-term exposure to ambient fine particle. Cancer Epidem Biomark 25(5):839–845

19.

Turner MC, Krewski D, Diver WR et al (2017) Ambient air pollution and cancer mortality in the Cancer Prevention Study II. Environ Health Persp. https://doi.org/10.1007/s11356-020-08628-0

20.

Deng H, Eckel SP, Liu L, Lurmann FW, Cockburn MG, Gilliland FD (2017) Particulate matter air pollution and liver cancer survival. Int J Cancer 141(4):744–749

21.

Wang Y, Li M, Wan X et al (2018) Spatiotemporal analysis of PM2.5 and pancreatic cancer mortality in China. Environ Res 164:132–139

22.

DuPre N, Poole EM, Holmes MD et al (2019) Particulate matter and traffic-related exposures in relation to breast cancer survival. Cancer Epidem Biomark 28(4):751–759

23.

Yeh HL, Hsu SW, Chang YC, Chan TC, Tsou HC, Chang YC, Chiang PH (2017) Spatial analysis of ambient PM2.5 exposure and bladder cancer mortality in Taiwan. Int J Environ Res Public Health 14(5):508

24.

Kim SY, Bechle M, Hankey S, Sheppard L, Szpiro AA, Marshall JD (2020) Concentrations of criteria pollutants in the contiguous US, 1979–2015: role of prediction model parsimony in integrated empirical geographic regression. PLoS ONE 15(2):e0228535

25.

National Center for Health Statistics (2015) 2014 Survey description, National Health Interview Survey (NHIS). Division of Health Interview Statistics. ftp://ftp.cdc.gov/pub/Health_Statistics/NCHS/Dataset_Documentation/NHIS/2014/srvydesc.pdf. Accessed 31 Apr 2018

26.

Hochberg Y, Benjamini Y (1990) More powerful procedures for multiple significance testing. Stat Med 9:811–818

27.

National Center for Health Statistics (2018) Underlying and multiple cause of death codes. National Center for Health Statistics. https://www.cdc.gov/nchs/data/datalinkage/underlying_and_multiple_cause_of_death_codes.pdf. Accessed 7 May 2020

28.

Pun VC, Kazemiparkouhi F, Manjourides J, Suh HH (2017) Long-term PM25 exposure and respiratory, cancer, and cardiovascular mortality in older US adults. Am J Epidemiol 186(8):961–969

29.

Krewski D, Burnett R, Goldberg M et al (2003) Overview of the reanalysis of the Harvard six cities study and American Cancer Society study of particulate air pollution and mortality. J Toxicol 66(16–19):1507–1552

30.

Pope CA III, Coleman NC, Pond ZA, Burnett RT (2019) Fine particulate air pollution and human mortality: 25+ years of cohort studies. Environ Res. https://doi.org/10.1016/j.envres.2019.108924

31.

Guo C, Chan TC, Teng YC et al (2020) Long-term exposure to ambient fine particles and gastrointestinal cancer mortality in Taiwan: a cohort study. Environ Int 138:105640

32.

Iwai K, Mizuno S, Miyasaka Y, Mori T (2005) Correlation between suspended particles in the environmental air and causes of disease among inhabitants: cross-sectional studies using the vital statistics and air pollution data in Japan. Environ Res 99(1):106–117

33.

Hu H, Dailey AB, Kan H, Xu X (2013) The effect of atmospheric particulate matter on survival of breast cancer among US females. Breast Cancer Res Treatm 139(1):217–226

34.

Pan WC, Wu CD, Chen MJ, Huang YT, Chen CJ, Su HJ, Yang HI (2016) Fine particle pollution, alanine transaminase, and liver cancer: a Taiwanese prospective cohort study (REVEAL-HBV). J Natl Cancer Inst. https://doi.org/10.1093/jnci/djv341

35.

Pedersen M, Andersen ZJ, Stafoggia M et al (2017) Ambient air pollution and primary liver cancer incidence in four European cohorts within the ESCAPE project. Environ Res 154:226–233

36.

Reding KW, Young MT, Szpiro AA et al (2015) Breast cancer risk in relation to ambient air pollution exposure at residences in the Sister Study Cohort. Cancer Epidem Biomark Prev 24:1907–1909

37.

Hart JE, Bertrand KA, DuPre N et al (2016) Long-term particulate matter exposures during adulthood and risk of breast cancer incidence in the Nurses' Health Study II Prospective Cohort. Cancer Epidem Biomark Prev 25:1274–1276

38.

Andersen ZJ, Stafoggia M, Weinmayear G et al (2017) Long-term exposure to ambient air pollution and incidence of postmenopausal breast cancer in 15 European cohorts within the ESCAPE project. Environ Health Perspect 125(10):107005

39.

Andersen ZJ, Ravnskjær L, Andersen KK et al (2017) Long-term exposure to fine particulate matter and breast cancer incidence in the Danish Nurse Cohort Study. Cancer Epidem Biomark Prev 26(3):428–430

40.

Bai L, Shin S, Burnett RT et al (2019) Exposure to ambient air pollution and the incidence of lung cancer and breast cancer in the Ontario Population Health and Environment Cohort (ONPHEC). Int J Cancer 146(9):2450–2459

41.

Pedersen M, Stafoggia M, Weinmayear G et al (2018) Is there an association between ambient air pollution and bladder cancer incidence? Analysis of 15 European Cohorts. Eur Urol Focus 4(1):113–120

42.

Carter BD, Abnet CC, Feskanich D et al (2015) Smoking and mortality—beyond established causes. N Engl J Med 372(7):631–640

43.

Raaschou-Nielsen O, Andersen ZJ, Hvidberg M et al (2011) Air pollution from traffic and cancer incidence: a Danish cohort study. Environ Health 10(1):67

44.

Ancona C, Badaloni C, Mataloni F et al (2015) Mortality and morbidity in a population exposed to multiple sources of air pollution: a retrospective cohort study using air dispersion models. Environ Res 137:467–474
Acknowledgments
M.E. reports a charitable grant from AstraZeneca Young Health Programme, and personal fees from Prudential, Scor and Third Bridge, all outside the submitted work.
Funding
This publication was developed as part of the Center for Air, Climate, and Energy Solutions (CACES), which was supported under Assistance Agreement No. R835873 awarded by the US Environmental Protection Agency. It has not been formally reviewed by EPA. The views expressed in this document are solely those of authors and do not necessarily reflect those of the Agency. EPA does not endorse any products or commercial services mentioned in this publication.
Ethics declarations
Conflict of interest
The authors declare no potential conflicts of interest.
Additional information
Publisher's Note
Springer Nature remains neutral with regard to jurisdictional claims in published maps and institutional affiliations.
About this article
Cite this article
Coleman, N.C., Burnett, R.T., Higbee, J.D. et al. Cancer mortality risk, fine particulate air pollution, and smoking in a large, representative cohort of US adults. Cancer Causes Control 31, 767–776 (2020). https://doi.org/10.1007/s10552-020-01317-w
Received:

Accepted:

Published:

Issue Date:
Keywords
PM2.5

Cancer

Mortality

Air pollution

Smoking