Abstract
Purpose
African Americans, especially men, have a higher incidence of lung cancer compared with all other racial and ethnic groups in the US. Self-reported race is frequently used in genomic research studies to capture an individual's race or ethnicity. However, it is clear from studies of genetic admixture that human genetic variation does not segregate into the same biologically discrete categories as socially defined categories of race. Previous studies have suggested that the degree of West African ancestry among African Americans can contribute to cancer risk in this population, though few studies have addressed this question in lung cancer.
Methods
Using a genetic ancestry panel of 100 SNPs, we estimated West African, European, and Native American ancestry in 1,407 self-described African Americans and 2,413 European Americans.
Results
We found that increasing West African ancestry was associated with increased risk of lung cancer among African American men (ORQ5 vs Q1 = 2.55 (1.45–4.48), p = 0.001), while no association was observed in African American women (ORQ5 vs Q1 = 0.90 (0.51–1.59), p = 0.56). This relationship diminished following adjustment for income and education.
Conclusions
Genetic ancestry is not a major contributor to lung cancer risk or survival disparities.
We're sorry, something doesn't seem to be working properly.
Please try refreshing the page. If that doesn't work, please contact support so we can address the problem.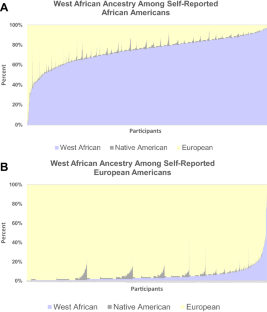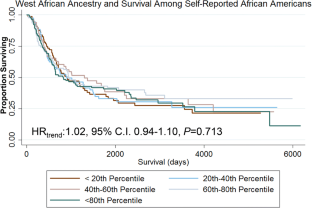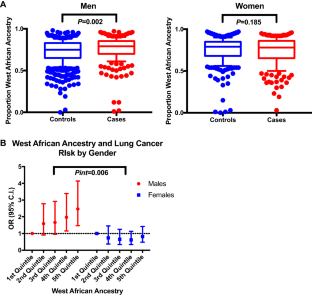 Abbreviations
OR:

Odds ratio

CI:

Confidence interval

AIMS:

Ancestry-informative markers

SNP:

Single-nucleotide polymorphism

HR:

Hazard ratio
References
Siegel RL, Miller KD, Jemal A (2016) Cancer statistics, 2016. CA Cancer J Clin 66:7–30

Burbank F, Fraumeni JF (1972) U.S. cancer mortality: nonwhite predominance. J Natl Cancer Inst 49:649–659

DeSantis CE, Siegel RL, Sauer AG et al (2016) Cancer statistics for African Americans, 2016: progress and opportunities in reducing racial disparities. CA Cancer J Clin 66:290–308

Lathan CS, Neville BA, Earle CC (2006) The effect of race on invasive staging and surgery in non-small-cell lung cancer. J Clin Oncol 24:413–418

Bach PB, Cramer LD, Warren JL, Begg CB (1999) Racial differences in the treatment of early-stage lung cancer. N Engl J Med 341:1198–1205

Bach PB, Schrag D, Brawley OW, Galaznik A, Yakren S, Begg CB (2002) Survival of blacks and whites after a cancer diagnosis. JAMA 287:2106–2113

Haiman CA, Stram DO, Wilkens LR et al (2006) Ethnic and racial differences in the smoking-related risk of lung cancer. N Engl J Med 354:333–342

Blot WJ, Cohen SS, Aldrich M, McLaughlin JK, Hargreaves MK, Signorello LB (2011) Lung cancer risk among smokers of menthol cigarettes. J Natl Cancer Inst 103:810–816

Lathan CS (2015) Lung cancer care: the impact of facilities and area measures. Transl Lung Cancer Res 4:385–391

Tishkoff SA, Reed FA, Friedlaender FR et al (2009) The genetic structure and history of Africans and African Americans. Science 324:1035–1044

Bryc K, Durand EY, Macpherson JM, Reich D, Mountain JL (2015) The genetic ancestry of African Americans, Latinos, and European Americans across the United States. Am J Hum Genet 96:37–53

Mersha TB, Abebe T (2015) Self-reported race/ethnicity in the age of genomic research: its potential impact on understanding health disparities. Hum Genomics 9:1

Yang JJ, Cheng C, Devidas M et al (2011) Ancestry and pharmacogenomics of relapse in acute lymphoblastic leukemia. Nat Genet 43:237–241

Fejerman L, Hu D, Huntsman S et al (2013) Genetic ancestry and risk of mortality among U.S Latinas with breast cancer. Cancer Res 73:7243–7253

Bress A, Kittles R, Wing C, Hooker SE, King A (2015) Genetic ancestry as an effect modifier of naltrexone in smoking cessation among African Americans: an analysis of a randomized controlled trial. Pharmacogenet Genomics. 25:305–312

Ruiz-Narvaez EA, Sucheston-Campbell L, Bensen JT et al (2016) Admixture mapping of African-American women in the AMBER consortium identifies new loci for breast cancer and estrogen-receptor subtypes. Front Genet 7:170

Ricks-Santi LJ, Apprey V, Mason T et al (2012) Identification of genetic risk associated with prostate cancer using ancestry informative markers. Prostate Cancer Prostatic Dis 15:359–364

Zheng YL, Loffredo CA, Yu Z et al (2003) Bleomycin-induced chromosome breaks as a risk marker for lung cancer: a case–control study with population and hospital controls. Carcinogenesis 24:269–274

Al-Alem U, Rauscher G, Shah E et al (2014) Association of genetic ancestry with breast cancer in ethnically diverse women from Chicago. PLoS ONE 9:e112916

Kosoy R, Nassir R, Tian C et al (2009) Ancestry informative marker sets for determining continental origin and admixture proportions in common populations in America. Hum Mutat 30:69–78

Nassir R, Kosoy R, Tian C et al (2009) An ancestry informative marker set for determining continental origin: validation and extension using human genome diversity panels. BMC Genet 10:39

Collins-Schramm HE, Kittles RA, Operario DJ et al (2002) Markers that discriminate between European and African ancestry show limited variation within Africa. Hum Genet 111:566–569

Yang N, Li H, Criswell LA et al (2005) Examination of ancestry and ethnic affiliation using highly informative diallelic DNA markers: application to diverse and admixed populations and implications for clinical epidemiology and forensic medicine. Hum Genet 118:382–392

Tian C, Hinds DA, Shigeta R, Kittles R, Ballinger DG, Seldin MF (2006) A genomewide single-nucleotide-polymorphism panel with high ancestry information for African American admixture mapping. Am J Hum Genet 79:640–649

Aldrich MC, Selvin S, Hansen HM et al (2008) Comparison of statistical methods for estimating genetic admixture in a lung cancer study of African Americans and Latinos. Am J Epidemiol 168:1035–1046

Falush D, Stephens M, Pritchard JK (2003) Inference of population structure using multilocus genotype data: linked loci and correlated allele frequencies. Genetics 164:1567–1587

Zanetti KA, Wang Z, Aldrich M et al (2016) Genome-wide association study confirms lung cancer susceptibility loci on chromosomes 5p15 and 15q25 in an African-American population. Lung Cancer 98:33–42

Machiela MJ, Chanock SJ (2015) LDlink: a web-based application for exploring population-specific haplotype structure and linking correlated alleles of possible functional variants. Bioinformatics 31:3555–3557

Holford TR, Levy DT, Meza R (2016) Comparison of smoking history patterns Among African American and white cohorts in the United States born 1890 to 1990. Nicotine Tob Res 18(Suppl 1):S16–29

Schwartz AG, Wenzlaff AS, Bock CH et al (2011) Admixture mapping of lung cancer in 1812 African-Americans. Carcinogenesis 32:312–317

Coté ML, Kardia SL, Wenzlaff AS, Ruckdeschel JC, Schwartz AG (2005) Risk of lung cancer among white and black relatives of individuals with early-onset lung cancer. JAMA 293:3036–3042

Jones CC, Mercaldo SF, Blume JD et al (2018) Racial disparities in lung cancer survival: the contribution of stage, treatment, and ancestry. J Thorac Oncol. 13:1464–1473

Zheng L, Enewold L, Zahm SH et al (2012) Lung cancer survival among black and white patients in an equal access health system. Cancer Epidemiol Biomark 21:1841–1847

Rocconi RP, Lankes HA, Brady WE et al (2016) The role of racial genetic admixture with endometrial cancer outcomes: an NRG Oncology/Gynecologic Oncology Group study. Gynecol Oncol 140:264–269

Kosoy R, Qi L, Nassir R et al (2012) Relationship between hypertension and admixture in post-menopausal African American and Hispanic American women. J Hum Hypertens 26:365–373

Ruiz-Narváez EA, Bare L, Arellano A, Catanese J, Campos H (2010) West African and Amerindian ancestry and risk of myocardial infarction and metabolic syndrome in the Central Valley population of Costa Rica. Hum Genet 127:629–638

Slattery ML, Lundgreen A, Stern MC et al (2014) The influence of genetic ancestry and ethnicity on breast cancer survival associated with genetic variation in the TGF-β-signaling pathway: the Breast Cancer Health Disparities Study. Cancer Causes Control 25:293–307

Lorenzo Bermejo J, Boekstegers F, Gonzalez Silos R et al (2017) Subtypes of Native American ancestry and leading causes of death: Mapuche ancestry-specific associations with gallbladder cancer risk in Chile. PLoS Genet 13:e1006756

Wu C, Hu Z, He Z et al (2011) Genome-wide association study identifies three new susceptibility loci for esophageal squamous-cell carcinoma in Chinese populations. Nat Genet 43:679–684

Kennedy RB, Ovsyannikova IG, Pankratz VS, Haralambieva IH, Vierkant RA, Poland GA (2012) Genome-wide analysis of polymorphisms associated with cytokine responses in smallpox vaccine recipients. Hum Genet 131:1403–1421

Low SK, Chung S, Takahashi A et al (2013) Genome-wide association study of chemotherapeutic agent-induced severe neutropenia/leucopenia for patients in Biobank Japan. Cancer Sci 104:1074–1082

Lutz SM, Cho MH, Young K et al (2015) A genome-wide association study identifies risk loci for spirometric measures among smokers of European and African ancestry. BMC Genet 16:138

de Jong K, Vonk JM, Timens W et al (2015) Genome-wide interaction study of gene-by-occupational exposure and effects on FEV1 levels. J Allergy Clin Immunol 136:1664–1672.e14.

Himes BE, Hunninghake GM, Baurley JW et al (2009) Genome-wide association analysis identifies PDE4D as an asthma-susceptibility gene. Am J Hum Genet 84:581–593

Michailidou K, Hall P, Gonzalez-Neira A et al (2013) Large-scale genotyping identifies 41 new loci associated with breast cancer risk. Nat Genet 45:353–361, 361e1–36e1-2

Wu C, Wang Z, Song X et al (2014) Joint analysis of three genome-wide association studies of esophageal squamous cell carcinoma in Chinese populations. Nat Genet 46:1001–1006

Robles AI, Ryan BM (2016) KRT81 miR-SNP rs3660 is associated with risk and survival of NSCLC. Ann Oncol 27:360–361

Dorak MT, Karpuzoglu E (2012) Gender differences in cancer susceptibility: an inadequately addressed issue. Front Genet 3:268

Liu LY, Schaub MA, Sirota M, Butte AJ (2012) Sex differences in disease risk from reported genome-wide association study findings. Hum Genet 131:353–364

Klimentidis YC, Arora A, Zhou J, Kittles R, Allison DB (2016) The Genetic contribution of West-African Ancestry to protection against central obesity in African-American men but not women: Results from the ARIC and MESA studies. Front Genet 7:89

Rajan P, Dalgliesh C, Carling PJ et al (2011) Identification of novel androgen-regulated pathways and mRNA isoforms through genome-wide exon-specific profiling of the LNCaP transcriptome. PLoS ONE 6:e29088

Zhao J, Leung JY, Lin SL, Schooling CM (2016) Cigarette smoking and testosterone in men and women: a systematic review and meta-analysis of observational studies. Prev Med 85:1–10

Zuo H, Han B, Poppinga WJ et al (2018) Cigarette smoke up-regulates PDE3 and PDE4 to decrease cAMP in airway cells. Br J Pharmacol 175:2988–3006

Yang JJ, Cheng C, Meenakshi D et al (2012) Genome-wide association study identifies germline polymorphisms associated with relapse of childhood acute lymphoblastic leukemia. Blood 120(20):4197–4204
Funding
This work was supported by the intramural program of the National Cancer Institute and does not have an intramural grant number.
Ethics declarations
Conflict of interest
There are no conflicts of interest from any author.
Additional information
Publisher's Note
Springer Nature remains neutral with regard to jurisdictional claims in published maps and institutional affiliations.
Electronic supplementary material
Below is the link to the electronic supplementary material.
About this article
Cite this article
Mitchell, K.A., Shah, E., Bowman, E.D. et al. Relationship between West African ancestry with lung cancer risk and survival in African Americans. Cancer Causes Control 30, 1259–1268 (2019). https://doi.org/10.1007/s10552-019-01212-z
Received:

Accepted:

Published:

Issue Date:

DOI: https://doi.org/10.1007/s10552-019-01212-z
Keywords
Lung cancer

Cancer disparities

Risk

Survival

Genetic ancestry

African American