Abstract
Purpose
Lung cancer early detection screening has been demonstrated to decrease lung cancer mortality among high-risk smokers. This study aimed to examine whether current screening guidelines may disproportionately exclude African American smokers who are at higher overall risk for lung cancer.
Methods
Data from the 2014 Health and Retirement Study were analyzed. Older African Americans and Whites with a history of smoking were included in the analyses (n = 7,348). Eligibility criteria established by the U.S. Preventive Services Task Force (USPSTF) for LDCT lung cancer screening were used. Multivariate logistic regression analyses were conducted to examine racial differences in eligibility for LDCT lung cancer screening.
Results
Overall, 21.1% of current and 10.5% of former smokers met USPSTF's eligibility criteria for LDCT screening. In multivariate logistic regression analyses, African American smokers were less likely to be eligible for LDCT lung cancer screening compared to Whites (odds ratio = 0.5; p < 0.001).
Conclusion
African American smokers were less likely to meet established lung cancer screening eligibility criteria compared to Whites. Current lung cancer screening criteria may not adequately capture African Americans at risk and may widen the health disparities in African Americans. Further longitudinal studies are needed to evaluate the efficacy of current lung cancer screening guideline.
Access options
Buy single article
Instant access to the full article PDF.
USD 39.95
Price excludes VAT (USA)
Tax calculation will be finalised during checkout.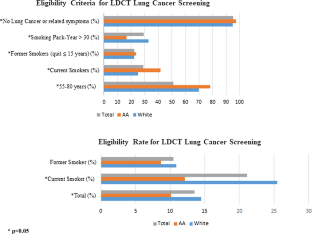 References
American Cancer Society (2016) Cancer facts & figs. American Cancer Society, Atlanta

US Department of Health Human Services (2014) The health consequences of smoking—50 years of progress. A report of the Surgeon General

Centers for Disease Control and Prevention (2016) Cigarette smoking among adults—United States, 2005–2015. Morb Mortal Wkly Rep 65(44):1205–1211

Howlader N, Krapcho M, Miller D et al (2016) SEER cancer statistics review, 1975–2013. National Cancer Institute, Bethesda

American Lung Association (2015) Too many cases, too many deaths: lung cancer in African Americans. American Lung Association, Washington

Mulligan CR, Meram AD, Proctor CD, Wu H, Zhu K, Marrogi AJ (2006) Unlimited access to care: effect on racial disparity and prognostic factors in lung cancer. Cancer Epidemiol Prev Biomark 15:25–31

Morello-Frosch R, Jesdale BM (2006) Separate and unequal: residential segregation and estimated cancer risks associated with ambient air toxics in US metropolitan areas. Environ Health Perspect 114:386

Ford JG, Howerton MW, Lai GY et al (2008) Barriers to recruiting underrepresented populations to cancer clinical trials: a systematic review. Cancer 112:228–242

Association AL (2016) Providing guidance on lung cancer screening to patients and physicians. An update from the American Lung Association Screening Committee. 30 April 2015

National Lung Screening Trial Research Team (2011) Reduced lung-cancer mortality with low-dose computed tomographic screening. N Engl J Med 365:395

Tanner NT, Gebregziabher M, Hughes Halbert C, Payne E, Egede LE, Silvestri GA (2015) Racial differences in outcomes within The National Lung Screening Trial. Implications for widespread implementation. Am J Respir Critical Care Med 192:200–208

Moyer VA (2014) Screening for lung cancer: US Preventive Services Task Force recommendation statement. Ann Internal Med 160:330–338

Medicare Cf, Services M (2015) Decision memo for screening for lung cancer with low dose computed tomography (LDCT)(CAG-00439N)

Holford TR, Levy DT, Meza R (2016) Comparison of smoking history patterns among African American and White Cohorts in the United States born 1890 to 1990. Nicotine Tob Res 18:S16–S29

Roberts ME, Colby SM, Lu B, Ferketich AK (2016) Understanding tobacco use onset among African Americans. Nicotine Tob Res 18:S49–S56

Ryan BM (2016) Differential eligibility of African American and European American lung cancer cases using LDCT screening guidelines. BMJ 3:e000166

Heeringa SG, Connor JH (1995) Technical description of the Health and Retirement Survey sample design. University of Michigan, Ann Arbor

RAND Center for the Study of Aging (2011) RAND HRS Data Documentation, Version K. Santa Monica, CA

Pinsky PF, Kramer BS (2015) Lung cancer risk and demographic characteristics of current 20–29 pack-year smokers: implications for screening. J Natl Cancer Inst 107:djv226

Nemesure B, Plank A, Reagan L, Albano D, Reiter M, Bilfinger TV (2017) Evaluating efficacy of current lung cancer screening guidelines. J Med Screen 24:208–213

Control CFD, Prevention (2011) Quitting smoking among adults–United States, 2001–2010. MMWR 60:1513

Haiman CA, Stram DO, Wilkens LR et al (2006) Ethnic and racial differences in the smoking-related risk of lung cancer. N Engl J Med 354:333–342

Robbins HA, Engels EA, Pfeiffer RM, Shiels MS (2015) Age at cancer diagnosis for blacks compared with whites in the United States. JNCI 107(3):dju489

Schwartz AG, Swanson GM (1997) Lung carcinoma in African Americans and whites: a population-based study in metropolitan Detroit, Michigan. Cancer 79:45–52

Fiscella K, Winters P, Farah S, Sanders M, Mohile SG (2015) Do lung cancer eligibility criteria align with risk among blacks and hispanics? PLoS ONE 10: e0143789

Tammemägi MC (2015) Application of risk prediction models to lung cancer screening: a review. J. Thorac. Imaging 30:88–100

Tammemägi MC, Katki HA, Hocking WG et al (2013) Selection criteria for lung-cancer screening. N Engl J Med 368:728–736

Katki HA, Kovalchik SA, Berg CD, Cheung LC, Chaturvedi AK (2016) Development and validation of risk models to select ever-smokers for CT lung cancer screening. Jama 315:2300–2311

Etzel CJ, Kachroo S, Liu M et al (2008) Development and validation of a lung cancer risk prediction model for African-Americans. Cancer Prev Res 1:255–265
Acknowledgments
The Health and Retirement Study analyzed in the study is sponsored by the National Institute on Aging (NIA U01AG009740) and is conducted by the University of Michigan.
Ethics declarations
Conflict of interest
The authors declare that they have no conflict of interest.
About this article
Cite this article
Li, CC., Matthews, A.K., Rywant, M.M. et al. Racial disparities in eligibility for low-dose computed tomography lung cancer screening among older adults with a history of smoking. Cancer Causes Control 30, 235–240 (2019). https://doi.org/10.1007/s10552-018-1092-2
Received:

Accepted:

Published:

Issue Date:

DOI: https://doi.org/10.1007/s10552-018-1092-2
Keywords
Lung cancer screening

Racial disparities

Low-dose computed tomography

African American

Smoking