Abstract
Purpose
Few large-scale studies have investigated sex differences in cancer survival and little is known about their temporal and age-related patterns.
Methods
We used cancer registry data for first primary cancers diagnosed between 1982 and 2015 in Victoria, Australia. Cases were followed until the end of 2015 through linkage to death registries. Differences in survival were assessed for 25 cancers using the Pohar-Perme estimator of net survival and the excess mortality rate ratio (EMRR) adjusting for age and year of diagnosis.
Results
Five-year net survival for all cancers combined was lower for men (47.1%; 95% CI 46.9–47.4) than women (52.0%; 95% CI 51.7–52.3); EMRR 1.13 (95% CI 1.12–1.14; p < 0.001). A survival disadvantage for men was observed for 11 cancers: head and neck, esophagus, colorectum, pancreas, lung, bone, melanoma, mesothelioma, kidney, thyroid, and non-Hodgkin lymphoma. In contrast, women had lower survival from cancers of the bladder, renal pelvis, and ureter. For the majority of cancers with survival differences, the EMRR decreased with increasing age at diagnosis; for colorectal, esophageal, and kidney cancer, the EMRR increased with time since diagnosis.
Conclusion
Identifying the underlying reasons behind sex differences in cancer survival is necessary to address inequalities, which may improve outcomes for men and women.
Access options
Buy single article
Instant access to the full article PDF.
US$ 39.95
Tax calculation will be finalised during checkout.
Subscribe to journal
Immediate online access to all issues from 2019. Subscription will auto renew annually.
US$ 119
Tax calculation will be finalised during checkout.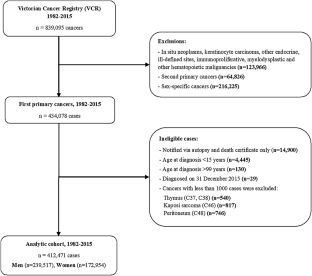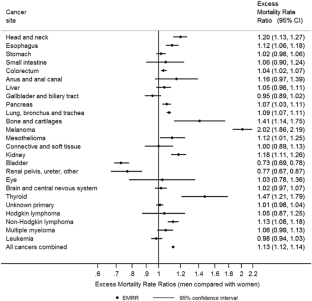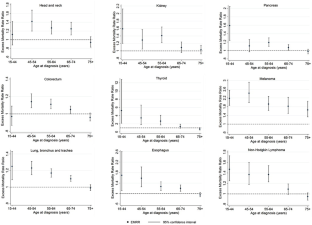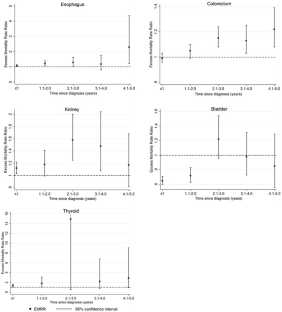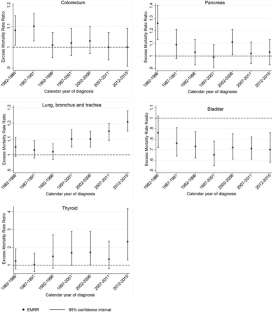 References
1.

Pardue ML (2001) Exploring the biological contributions to human health: does sex matter? J Women's Health Gend Based Med 10(5):433–439

2.

Legato MJ, Johnson PA, Manson JE (2016) Consideration of sex differences in medicine to improve health care and patient outcomes. JAMA 316(18):1865–1866. https://doi.org/10.1001/jama.2016.13995

3.

Dorak MT, Karpuzoglu E (2012) Gender differences in cancer susceptibility: an inadequately addressed issue. Front Genet 3:268. https://doi.org/10.3389/fgene.2012.00268

4.

Kinoshita FL, Ito Y, Morishima T, Miyashiro I, Nakayama T (2017) Sex differences in lung cancer survival: long-term trends using population-based cancer registry data in Osaka, Japan. Jpn J Clin Oncol 47(9):863–869. https://doi.org/10.1093/jjco/hyx094

5.

Sagerup CM, Småstuen M, Johannesen TB, Helland Å, Brustugun OT (2011) Sex-specific trends in lung cancer incidence and survival: a population study of 40,118 cases. Thorax 66(4):301–307

6.

Ulas A, Tokluoglu S, Kos M, Silay K, Akinci S, Oksuzoglu B, Alkis N (2015) Lung cancer in women, a different disease: survival differences by sex in Turkey. Asian Pac J Cancer Prev 16(2):815–822

7.

Salmerón D, Chirlaque MD, Isabel Izarzugaza M, Sánchez MJ, Marcos-Gragera R, Ardanaz E, Galceran J, Mateos A, Navarro C (2012) Lung cancer prognosis in Spain: the role of histology, age and sex. Respir Med 106:1301–1308. https://doi.org/10.1016/j.rmed.2012.06.006

8.

Wisnivesky JP, Halm EA (2007) Sex differences in lung cancer survival: do tumors behave differently in elderly women? J Clin Oncol 25(13):1705–1712

9.

Kotake K, Asano M, Ozawa H, Kobayashi H, Sugihara K (2016) Gender differences in colorectal cancer survival in Japan. Int J Clin Oncol 21(1):194–203. https://doi.org/10.1007/s10147-015-0868-6

10.

Majek O, Gondos A, Jansen L, Emrich K, Holleczek B, Katalinic A, Nennecke A, Eberle A, Brenner H (2013) Sex differences in colorectal cancer survival: population-based analysis of 164,996 colorectal cancer patients in Germany. PLoS ONE 8(7):e68077–e68077. https://doi.org/10.1371/journal.pone.0068077

11.

Hendifar A, Yang D, Lenz F, Lurje G, Pohl A, Lenz C, Ning Y, Zhang W, Lenz H-J (2009) Gender disparities in metastatic colorectal cancer survival. Clin Cancer Res 15(20):6391–6397. https://doi.org/10.1158/1078-0432.ccr-09-0877

12.

Joosse A, Collette S, Suciu S, Nijsten T, Lejeune F, Kleeberg UR, Coebergh JWW, Eggermont AM, de Vries E (2012) Superior outcome of women with stage I/II cutaneous melanoma: pooled analysis of four European Organisation for Research and Treatment of Cancer phase III trials. J Clin Oncol 30(18):2240–2247

13.

de Vries E, Nijsten TEC, Visser O, Bastiaannet E, van Hattem S, Janssen-Heijnen ML, Coebergh JWW (2008) Superior survival of females among 10,538 Dutch melanoma patients is independent of Breslow thickness, histologic type and tumor site. AnnOncol 19(3):583–589

14.

Scoggins CR, Ross MI, Reintgen DS, Noyes RD, Goydos JS, Beitsch PD, Urist MM, Ariyan S, Sussman JJ, Edwards MJ (2006) Gender-related differences in outcome for melanoma patients. Ann Surg 243(5):693

15.

Patel MI, Bang A, Gillett D, Cheluvappa R, Smith DP (2015) Poor survival of females with bladder cancer is limited to those aged 70 years or over: a population-wide linkage study, New South Wales, Australia. Cancer Med 4:1145–1152. https://doi.org/10.1002/cam4.452

16.

Tracey E, Watt H, Currow D, Young J, Armstrong B (2014) Investigation of poorer bladder cancer survival in women in NSW, Australia: a data linkage study. BJU Int 113(3):437–448

17.

Mungan NA, Aben KK, Schoenberg MP, Visser O, Coebergh JW, Witjes JA, Kiemeney LA (2000) Gender differences in stage-adjusted bladder cancer survival. Urology 55(6):876–880

18.

Waldhoer T, Berger I, Haidinger G, Zielonke N, Madersbacher S (2015) Sex Differences of ≥ pT1 Bladder Cancer Survival in Austria: A descriptive, long-term, nation-wide analysis based on 27,773 Patients. Urol Int 94(4):383–389

19.

Radkiewicz C, Johansson ALV, Dickman PW, Lambe M, Edgren G (2017) Sex differences in cancer risk and survival: A Swedish cohort study. Eur J Cancer 84:130–140. https://doi.org/10.1016/j.ejca.2017.07.013

20.

Ellison LF (2016) Differences in cancer survival in Canada by sex. Health Rep 27(4):19

21.

Innos K, Padrik P, Valvere V, Aareleid T (2015) Sex differences in cancer survival in Estonia: a population-based study. BMC Cancer 15:72–72. https://doi.org/10.1186/s12885-015-1080-9

22.

Kyu-Won J, Sohee P, Aesun S, Chang-Mo O, Hyun-Joo K, Jae Kwan J, Young-Joo W (2012) Do female cancer patients display better survival rates compared with males? Analysis of the Korean National Registry Data, 2005–2009. PLoS ONE 7(12):1–6. https://doi.org/10.1371/journal.pone.0052457

23.

Oberaigner W, Siebert U (2011) Do women with cancer have better survival as compared to men after adjusting for staging distribution? Eur J Pub Health 21(3):387–391

24.

Cook MB, McGlynn KA, Devesa SS, Freedman ND, Anderson WF (2011) Sex disparities in cancer mortality and survival. Cancer Epidemiol Biomarkers Prev 20(8):1629–1637

25.

Micheli A, Ciampichini R, Oberaigner W, Ciccolallo L, de Vries E, Izarzugaza I, Zambon P, Gatta G, De Angelis R (2009) The advantage of women in cancer survival: an analysis of EUROCARE-4 data. Eur J Cancer 45(6):1017–1027. https://doi.org/10.1016/j.ejca.2008.11.008

26.

Micheli A, Mariotto A, Giorgi Rossi A, Gatta G, Muti P (1998) The prognostic role of gender in survival of adult cancer patients. EUROCARE Working Group. Eur J Cancer 34(14 Spec No):2271–2278

27.

Ellison L, Gibbons L (2001) Five-year relative survival from prostate, breast, colorectal and lung cancer. Health Rep 13(1):23–34

28.

Australian Consortium for Classification Development. International Statistical Classification of Diseases and Related Health Problems, Tenth Revision, Australian Modification (ICD-10-AM/ACHI/ACS) Independent Hospital Pricing Authority, Darlinghurst, NSW

29.

Harris NL, Jaffe ES, Diebold J, Flandrin G, Muller-Hermelink HK, Vardiman J, Lister TA, Bloomfield CD (1999) World Health Organization classification of neoplastic diseases of the hematopoietic and lymphoid tissues: report of the Clinical Advisory Committee meeting—Airlie House, Virginia, November 1997. J Clin Oncol 17(12):3835–3849

30.

Australian Blood Cancer Registry (2008) Report of the third annual stakeholder meeting, Stamford Plaza Sydney Airport, October 2007. Sydney: ABCR

31.

Egevad L, Heanue M, Berney D, Fleming K, Ferlay J (2007) Histological groups. In: Curado MP, Edwards B, Shin HR, Storm H, Ferlay J, Heanue M, Byle P (eds) Cancer incidence in five continents. IARC Scientific Publications, Lyon pp 61–66

32.

Perme MP, Stare J, Estève J (2012) On estimation in relative survival. Biometrics 68(1):113–120. https://doi.org/10.1111/j.1541-0420.2011.01640.x

33.

Coviello E, Dickman PW, Seppå K, Pokhrel A (2015) Estimating net survival using a life-table approach. The Stata Journal 15:173–185

34.

Ederer F, Heise H (1959) Instructions to IBM 650 programmers in processing survival computations. Methodol Note. https://doi.org/10.1371/journal.pone.0070680

35.

Dickman PW, Coviello E (2015) Estimating and modeling relative survival. Stat J 15(1):186–215

36.

Brenner H, Hakulinen T (2007) Patients with previous cancer should not be excluded in international comparative cancer survival studies. Int J Cancer 121(10):2274–2278

37.

Blakely T, Soeberg M, Carter K, Costilla R, Atkinson J, Sarfati D (2012) Bias in relative survival methods when using incorrect life-tables: lung and bladder cancer by smoking status and ethnicity in New Zealand. Int J Cancer 131(6):E974–E982. https://doi.org/10.1002/ijc.27531

38.

eDorak MT, Ebru e (2012) Gender differences in cancer susceptibility: an inadequately addressed issue. Front Genet. https://doi.org/10.3389/fgene.2012.00268/full

39.

Klein SL, Flanagan KL (2016) Sex differences in immune responses. Nat Rev Immunol 16(10):626. https://doi.org/10.1038/nri.2016.90

40.

Yingying W, Nick F, Irwin N, Kate H (2014) Gender differences in survival and the use of primary care prior to diagnosis of three cancers: an analysis of routinely collected UK general practice data. PLoS ONE 9(7):e101562. https://doi.org/10.1371/journal.pone.0101562

41.

Zaitsu M, Toyokawa S, Tonooka A, Nakamura F, Takeuchi T, Homma Y, Kobayashi Y (2015) Sex differences in bladder cancer pathology and survival: analysis of a population-based cancer registry. Cancer Med 4(3):363. https://doi.org/10.1002/cam4.379

42.

Tracey E, Roder D, Luke C, Bishop J (2009) Bladder cancer survivals in New South Wales, Australia: why do women have poorer survival than men? BJU Int 104(4):498–504. https://doi.org/10.1111/j.1464-410X.2009.08527.x

43.

Lucca I, Klatte T, Fajkovic H, de Martino M, Shariat SF (2015) Gender differences in incidence and outcomes of urothelial and kidney cancer. Nat Rev Urol 12(10):585. https://doi.org/10.1038/nrurol.2015.232

44.

Marks P, Soave A, Shariat SF, Fajkovic H, Fisch M, Rink M (2016) Female with bladder cancer: what and why is there a difference? Trans Androl Urol 5(5):668–682

45.

Lyratzopoulos G, Abel GA, McPhail S, Neal RD, Rubin GP (2013) Gender inequalities in the promptness of diagnosis of bladder and renal cancer after symptomatic presentation: evidence from secondary analysis of an English primary care audit survey. BMJ Open 3(6):1

46.

Henning A, Wehrberger M, Madersbacher S, Pycha A, Martini T, Comploj E, Jeschke K, Tripolt C, Rauchenwald M (2013) Do differences in clinical symptoms and referral patterns contribute to the gender gap in bladder cancer? BJU Int 112(1):68–73. https://doi.org/10.1111/j.1464-410X.2012.11661.x

47.

Burge F, Kockelbergh R (2016) Closing the gender gap: can we improve bladder cancer survival in women? A systematic review of diagnosis, treatment and outcomes. Urol Int 97(4):373–379. https://doi.org/10.1159/000449256

48.

Shahabi S, He S, Kopf M, Mariani M, Petrini J, Scambia G, Ferlini C (2013) Free testosterone drives cancer aggressiveness: evidence from US population studies. PLoS ONE 8(4):e61955

49.

Vaccarella S, Franceschi S, Bray F, Wild CP, Plummer M, Dal Maso L (2016) Worldwide thyroid-cancer epidemic? The increasing impact of overdiagnosis. N Engl J Med 375(7):614–617

50.

Dal Maso L, Tavilla A, Pacini F, Serraino D, van Dijk B, Chirlaque M, Capocaccia R, Larrañaga N, Colonna M, Agius D (2017) Survival of 86,690 patients with thyroid cancer: a population-based study in 29 European countries from EUROCARE-5. Eur J Cancer 77:140–152

51.

Pandeya N, Wilson LF, Bain CJ, Martin KL, Webb PM, Whiteman DC (2015) Cancers in Australia in 2010 attributable to tobacco smoke. Aust N Z J Public Health 39(5):464–470
Acknowledgments
Nina Afshar is the recipient of an Australian Government Research Training Program Scholarship.
Funding
This research did not receive any specific grant from funding agencies in the public, commercial, or not-for-profit sectors.
Ethics declarations
Conflict of interest
The authors declare no conflict of interest.
Ethics approval
Ethical approval to conduct the analyses of these data was granted by the Cancer Council Victoria Human Research Ethics Committee. All procedures performed in studies involving human participants were in accordance with the ethical standards of the institutional and/or national research committee and with the 1964 Helsinki Declaration and its later amendments or comparable ethical standards.
Informed consent
For this type of study formal consent is not required.
Electronic supplementary material
Below is the link to the electronic supplementary material.
About this article
Cite this article
Afshar, N., English, D.R., Thursfield, V. et al. Differences in cancer survival by sex: a population-based study using cancer registry data. Cancer Causes Control 29, 1059–1069 (2018). https://doi.org/10.1007/s10552-018-1079-z
Received:

Accepted:

Published:

Issue Date:
Keywords
Sex differences

Inequalities

Cancer registries

Survival analysis

Cancer survival

Excess mortality