Abstract
Purpose
Many studies suggest a role for cholesterol in cancer development. Serum cholesterol levels have been observed to be low in newly diagnosed lymphoma cases. The objective of these analyses was to examine the time-varying relationship of cholesterol with lymphomagenesis in the 10 years prior to diagnosis by lymphoma subtype.
Methods
Participants were selected from the combined membership of six National Cancer Institute-funded Cancer Research Network health plans from 1998 to 2008, excluding members with human immunodeficiency virus, cancer (except lymphoma), or organ transplants. Incident lymphoma cases within this population were ascertained and matched with up to five controls. Total serum cholesterol, high-density lipoprotein, and low-density lipoprotein were collected from plan databases. Multilevel, multivariable longitudinal models were fit after choosing the best polynomial order by deviance statistics for selected lymphoma histotypes to examine pre-diagnosis cholesterol trajectories: Hodgkin lymphoma (n = 519) and all non-Hodgkin lymphomas combined (n = 12,635) as well as six subtypes of the latter.
Results
For all categories, lymphoma cases had statistically significantly lower estimated total serum cholesterol, high-density lipoprotein, and low-density lipoprotein levels than controls in the years prior to diagnosis/index date. Between-group differences were most pronounced 3–4 years prior to diagnosis, when cases' cholesterol levels declined steeply.
Conclusions
This analysis is the first to examine changes in serum cholesterol for a decade prior to lymphoma diagnosis. A drop in cholesterol levels was evident several years before diagnosis. Our results suggest that cholesterol-related pathways have an important relationship with lymphomagenesis and low cholesterol could be a preclinical lymphoma marker.
Access options
Buy single article
Instant access to the full article PDF.
US$ 39.95
Tax calculation will be finalised during checkout.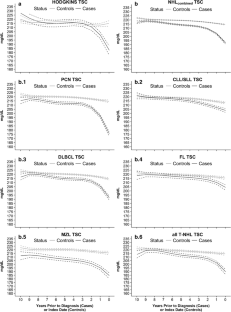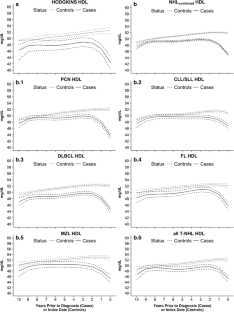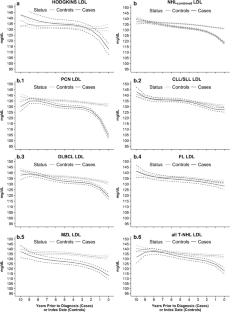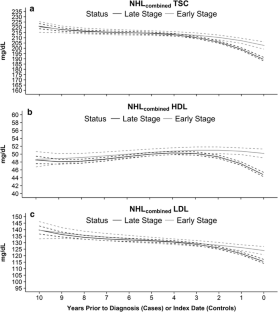 References
1.

Siegel RL, Miller KD, Jemal A (2017) Cancer statistics, 2017. CA Cancer J Clin 67(1):7–30. https://doi.org/10.3322/caac.21387

2.

Garg A, Hosfield EM, Brickner L (2011) Disseminated intravascular large B cell lymphoma with slowly decreasing high-density lipoprotein cholesterol. South Med J 104(1):53–56. https://doi.org/10.1097/SMJ.0b013e3181fcd4b9

3.

Spiegel RJ, Schaefer EJ, Magrath IT, Edwards BK (1982) Plasma lipid alterations in leukemia and lymphoma. Am J Med 72(5):775–782

4.

Chao FC, Efron B, Wolf P (1975) The possible prognostic usefulness of assessing serum proteins and cholesterol in malignancy. Cancer 35(4):1223–1229

5.

Blackman JD, Cabana VG, Mazzone T (1993) The acute-phase response and associated lipoprotein abnormalities accompanying lymphoma. J Intern Med 233(2):201–204

6.

Kuzu OF, Noory MA, Robertson G (2016) The role of cholesterol in cancer. Can Res 76(8):2063–2070

7.

Singer JD, Willett JB (2003) Applied longitudinal analysis: modeling change and event occurrence. Oxford University Press, Oxford

8.

Kritchevsky SB, Wilcosky TC, Morris DL, Truong KN, Tyroler HA (1991) Changes in plasma lipid and lipoprotein cholesterol and weight prior to the diagnosis of cancer. Cancer Res 51(12):3198–3203

9.

Strohmaier S, Edlinger M, Manjer J, Stocks T, Bjørge T, Borena W, Häggström C, Engeland A, Nagel G, Almquist M, Selmer R, Tretli S, Concin H, Hallmans G, Jonsson H, Stattin P, Ulmer H (2013) Total serum cholesterol and cancer incidence in the metabolic syndrome and cancer project (Me-Can). PLoS ONE 8(1):e54242. https://doi.org/10.1371/journal.pone.0054242

10.

Strasak AM, Pfeiffer RM, Brant LJ, Rapp K, Hilbe W, Oberaigner W, Lang S, Borena W, Concin H, Diem G, Ruttmann E, Glodny B, Pfeiffer KP, Ulmer H, Group VPS (2009) Time-dependent association of total serum cholesterol and cancer incidence in a cohort of 172,210 men and women: a prospective 19-year follow-up study. Ann Oncol 20(6):1113–1120. https://doi.org/10.1093/annonc/mdn736

11.

Nagel G, Stocks T, Späth D, Hjartåker A, Lindkvist B, Hallmans G, Jonsson H, Bjørge T, Manjer J, Häggström C, Engeland A, Ulmer H, Selmer R, Concin H, Stattin P, Schlenk RF (2012) Metabolic factors and blood cancers among 578,000 adults in the metabolic syndrome and cancer project (Me-Can). Ann Hematol 91(10):1519–1531. https://doi.org/10.1007/s00277-012-1489-z

12.

Hiatt RA, Fireman BH (1986) Serum cholesterol and the incidence of cancer in a large cohort. J Chronic Dis 39(11):861–870

13.

Lim U, Gayles T, Katki HA, Stolzenberg-Solomon R, Weinstein SJ, Pietinen P, Taylor PR, Virtamo J, Albanes D (2007) Serum high-density lipoprotein cholesterol and risk of non-hodgkin lymphoma. Cancer Res 67(11):5569–5574. https://doi.org/10.1158/0008-5472.CAN-07-0212

14.

Ahn J, Lim U, Weinstein SJ, Schatzkin A, Hayes RB, Virtamo J, Albanes D (2009) Prediagnostic total and high-density lipoprotein cholesterol and risk of cancer. Cancer Epidemiol Biomarkers Prev 18(11):2814–2821. https://doi.org/10.1158/1055-9965.EPI-08-1248

15.

Morimoto Y, Conroy SM, Ollberding NJ, Henning SM, Franke AA, Wilkens LR, Goodman MT, Hernandez BY, Le Marchand L, Henderson BE, Kolonel LN, Maskarinec G (2012) Erythrocyte membrane fatty acid composition, serum lipids, and non-Hodgkin's lymphoma risk in a nested case–control study: the multiethnic cohort. Cancer Causes Control 23(10):1693–1703. https://doi.org/10.1007/s10552-012-0048-1

16.

Navab M, Ananthramaiah GM, Reddy ST, Van Lenten BJ, Ansell BJ, Hama S, Hough G, Bachini E, Grijalva VR, Wagner AC, Shaposhnik Z, Fogelman AM (2005) The double jeopardy of HDL. Ann Med 37(3):173–178. https://doi.org/10.1080/07853890510007322

17.

Tietge UJ, Maugeais C, Cain W, Rader DJ (2003) Acute inflammation increases selective uptake of HDL cholesteryl esters into adrenals of mice overexpressing human sPLA2. Am J Physiol Endocrinol Metab 285(2):E403–E411. https://doi.org/10.1152/ajpendo.00576.2002

18.

Kontush A, Chapman MJ (2012) Structure, metabolism, function, and therapeutics. Wiley, Hoboken, NJ

19.

Spieker LE, Ruschitzka F, Lüscher TF, Noll G (2004) HDL and inflammation in atherosclerosis. Curr Drug Targets Immune Endocr Metabol Disord 4(1):51–57

20.

Cockerill GW, Huehns TY, Weerasinghe A, Stocker C, Lerch PG, Miller NE, Haskard DO (2001) Elevation of plasma high-density lipoprotein concentration reduces interleukin-1-induced expression of E-selectin in an in vivo model of acute inflammation. Circulation 103(1):108–112

21.

Ansell BJ, Watson KE, Fogelman AM, Navab M, Fonarow GC (2005) High-density lipoprotein function recent advances. J Am Coll Cardiol 46(10):1792–1798. https://doi.org/10.1016/j.jacc.2005.06.080

22.

Lewis GF, Rader DJ (2005) New insights into the regulation of HDL metabolism and reverse cholesterol transport. Circ Res 96(12):1221–1232. https://doi.org/10.1161/01.RES.0000170946.56981.5c

23.

Mathews CK, Van Holde KE, Appling DR, Anthony-Cahill SJ (2013) Biochemistry, 4th edn. Prentice Hall, Toronto

24.

Wang Y, Rogers PM, Su C, Varga G, Stayrook KR, Burris TP (2008) Regulation of cholesterologenesis by the oxysterol receptor, LXRalpha. J Biol Chem 283(39):26332–26339. https://doi.org/10.1074/jbc.M804808200

25.

Brown MS, Goldstein JL (1986) A receptor-mediated pathway for cholesterol homeostasis. Science 232(4746):34–47

26.

Kuliszkiewicz-Janus M, Małecki R, Mohamed AS (2008) Lipid changes occuring in the course of hematological cancers. Cell Mol Biol Lett 13(3):465–474. https://doi.org/10.2478/s11658-008-0014-9

27.

Naik PP, Ghadge MS, Raste AS (2006) Lipid profile in leukemia and Hodgkin's disease. Indian J Clin Biochem 21(2):100–102. https://doi.org/10.1007/BF02912921

28.

Morton LM, Hartge P, Holford TR, Holly EA, Chiu BC, Vineis P, Stagnaro E, Willett EV, Franceschi S, La Vecchia C, Hughes AM, Cozen W, Davis S, Severson RK, Bernstein L, Mayne ST, Dee FR, Cerhan JR, Zheng T (2005) Cigarette smoking and risk of non-Hodgkin lymphoma: a pooled analysis from the International lymphoma epidemiology consortium (interlymph). Cancer Epidemiol Biomarkers Prev 14(4):925–933. https://doi.org/10.1158/1055-9965.EPI-04-0693

29.

Morton LM, Wang SS, Devesa SS, Hartge P, Weisenburger DD, Linet MS (2006) Lymphoma incidence patterns by WHO subtype in the United States, 1992–2001. Blood 107(1):265–276. https://doi.org/10.1182/blood-2005-06-2508

30.

Alexander DD, Mink PJ, Adami HO, Cole P, Mandel JS, Oken MM, Trichopoulos D (2007) Multiple myeloma: a review of the epidemiologic literature. Int J Cancer 120(Suppl 12):40–61. https://doi.org/10.1002/ijc.22718

31.

Willett EV, Morton LM, Hartge P, Becker N, Bernstein L, Boffetta P, Bracci P, Cerhan J, Chiu BC, Cocco P, Dal Maso L, Davis S, De Sanjose S, Smedby KE, Ennas MG, Foretova L, Holly EA, La Vecchia C, Matsuo K, Maynadie M, Melbye M, Negri E, Nieters A, Severson R, Slager SL, Spinelli JJ, Staines A, Talamini R, Vornanen M, Weisenburger DD, Roman E, Consortium I (2008) Non-Hodgkin lymphoma and obesity: a pooled analysis from the InterLymph Consortium. Int J Cancer 122(9):2062–2070. https://doi.org/10.1002/ijc.23344

32.

Britton JA, Khan AE, Rohrmann S, Becker N, Linseisen J, Nieters A, Kaaks R, Tjønneland A, Halkjaer J, Severinsen MT, Overvad K, Pischon T, Boeing H, Trichopoulou A, Kalapothaki V, Trichopoulos D, Mattiello A, Tagliabue G, Sacerdote C, Peeters PH, Bueno-de-Mesquita HB, Ardanaz E, Navarro C, Jakszyn P, Altzibar JM, Hallmans G, Malmer B, Berglund G, Manjer J, Allen N, Key T, Bingham S, Besson H, Ferrari P, Jenab M, Boffetta P, Vineis P, Riboli E (2008) Anthropometric characteristics and non-Hodgkin's lymphoma and multiple myeloma risk in the European Prospective Investigation into Cancer and Nutrition (EPIC). Haematologica 93(11):1666–1677. https://doi.org/10.3324/haematol.13078
Acknowledgments
This work was funded by the USA NIH National Cancer Institute, R01 CA140754. Additional Members of the Cancer Research Network Lymphoma Study Group: Ninah Achacoso, Denise Boudreau, Lie Chen, Melody Eide, James Fraser, Gene Hart, Jill Koshiol, Melissa Preciado, Junling Ren, Zaineb Sharafali, Leslie Spangler, David Tabano, Noah Weston, Kimberley Woodcroft, and Michelle Wrenn.
Ethics declarations
Conflict of interest
The authors of this manuscript have no conflicts of interest to report.
Ethical approval
All procedures performed in studies involving human participants were in accordance with the ethical standards of the institutional and/or national research committee and with the 1964 Helsinki Declaration and its later amendments or comparable ethical standards.
Additional information
Joan Fortuny and Christine Cole Johnson are the co-senior authors.
A list of the additional members of the Cancer Research Network Lymphoma Study Group appears in the Acknowledgements.
Electronic supplementary material
Below is the link to the electronic supplementary material.
About this article
Cite this article
Alford, S.H., Divine, G., Chao, C. et al. Serum cholesterol trajectories in the 10 years prior to lymphoma diagnosis. Cancer Causes Control 29, 143–156 (2018). https://doi.org/10.1007/s10552-017-0987-7
Received:

Accepted:

Published:

Issue Date:
Keywords
Cholesterol

Lymphoma

Hodgkin lymphoma

Non-Hodgkin lymphomas