Abstract
Purpose
This large, population-based U.S. study of lymphoma patients followed for up to four decades enables detailed analysis of second primary mesothelioma risk after radiotherapy.
Methods
U.S. Surveillance, Epidemiology, and End Results data were used to identify second primary mesothelioma among patients diagnosed with Hodgkin lymphoma (HL) or non-Hodgkin lymphoma (NHL) between 1973 and 2014. Standardized incidence ratios (SIRs) were calculated by radiotherapy. Multivariate adjusted associations were examined using competing risks survival analysis.
Results
Among 47,219 HL patients (19,538 irradiated) and 252,090 NHL patients (52,454 irradiated), second primary mesothelioma developed among 28 lymphoma patients who received radiotherapy and 59 who did not. Mesothelioma risk was increased among HL and NHL patients treated with radiotherapy [SIR = 1.78, 95% confidence interval (CI) 1.18–2.58], but not without radiotherapy. After multivariate adjustment, radiotherapy was associated with increased mesothelioma risk (relative risk = 1.64, 95% CI 1.05–2.57), especially in lymphoma patients diagnosed before 1995 and after a latency of at least 10 years, and apparently with younger age at diagnosis.
Conclusions
The increase in second primary mesothelioma risk following radiotherapy for lymphoma is independent of several patient and disease characteristics, and is higher with earlier treatment era and longer latency.
This is a preview of subscription content, log in to check access.
Access options
Buy single article
Instant access to the full article PDF.
US$ 39.95
Price includes VAT for USA
Subscribe to journal
Immediate online access to all issues from 2019. Subscription will auto renew annually.
US$ 199
This is the net price. Taxes to be calculated in checkout.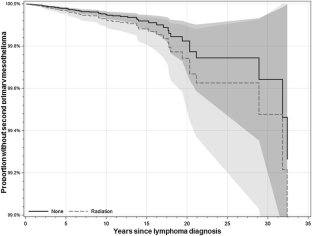 References
1.

Ng AK, van Leeuwen FE (2016) Hodgkin lymphoma: late effects of treatment and guidelines for surveillance. Semin Hematol 53:209–215

2.

Travis LB, Curtis RE, Boice JD Jr, Hankey BF, Fraumeni JF Jr (1991) Second cancers following non-Hodgkin's lymphoma. Cancer 67:2002–2009

3.

Tward JD, Wendland MM, Shrieve DC, Szabo A, Gaffney DK (2006) The risk of secondary malignancies over 30 years after the treatment of non-Hodgkin lymphoma. Cancer 107:108–115

4.

De Bruin ML, Burgers JA, Baas P et al (2009) Malignant mesothelioma after radiation treatment for Hodgkin lymphoma. Blood 113:3679–3681

5.

Hodgson DC, Gilbert ES, Dores GM et al (2007) Long-term solid cancer risk among 5-year survivors of Hodgkin's lymphoma. J Clin Oncol 25:1489–1497

6.

Teta MJ, Lau E, Sceurman BK, Wagner ME (2007) Therapeutic radiation for lymphoma: risk of malignant mesothelioma. Cancer 109:1432–1438

7.

Berrington de Gonzalez A, Curtis RE, Gilbert E et al (2010) Second solid cancers after radiotherapy for breast cancer in SEER cancer registries. Br J Cancer 102:220–226

8.

Brown LM, Chen BE, Pfeiffer RM et al (2007) Risk of second non-hematological malignancies among 376,825 breast cancer survivors. Breast Cancer Res Treat 106:439–451

9.

Deutsch M, Land SR, Begovic M, Cecchini R, Wolmark N (2007) An association between postoperative radiotherapy for primary breast cancer in 11 National Surgical Adjuvant Breast and Bowel Project (NSABP) studies and the subsequent appearance of pleural mesothelioma. Am J Clin Oncol 30:294–296

10.

Travis LB, Fossa SD, Schonfeld SJ et al (2005) Second cancers among 40,576 testicular cancer patients: focus on long-term survivors. J Natl Cancer Inst 97:1354–1365

11.

Farioli A, Violante FS, Mattioli S, Curti S, Kriebel D (2013) Risk of mesothelioma following external beam radiotherapy for prostate cancer: a cohort analysis of SEER database. Cancer Causes Control 24:1535–1545

12.

Cavazza A, Travis LB, Travis WD et al (1996) Post-irradiation malignant mesothelioma. Cancer 77:1379–1385

13.

Farioli A, Ottone M, Morganti AG et al (2016) Radiation-induced mesothelioma among long-term solid cancer survivors: a longitudinal analysis of SEER database. Cancer Med 5:950–959

14.

Diallo I, Lamon A, Shamsaldin A, Grimaud E, de Vathaire F, Chavaudra J (1996) Estimation of the radiation dose delivered to any point outside the target volume per patient treated with external beam radiotherapy. Radiother Oncol 38:269–271

15.

Hall EJ (2006) Intensity-modulated radiation therapy, protons, and the risk of second cancers. Int J Radiat Oncol Biol Phys 65:1–7

16.

Purdy JA (2008) Dose to normal tissues outside the radiation therapy patient's treated volume: a review of different radiation therapy techniques. Health Phys 95:666–676

17.

Taylor ML, Kron T (2011) Consideration of the radiation dose delivered away from the treatment field to patients in radiotherapy. J Med Phys 36:59–71

18.

Neugut AI, Ahsan H, Antman KH (1997) Incidence of malignant pleural mesothelioma after thoracic radiotherapy. Cancer 80:948–950

19.

Schaapveld M, Aleman BM, van Eggermond AM et al (2015) Second cancer risk up to 40 years after treatment for hodgkin's lymphoma. N Engl J Med 373:2499–2511

20.

Andersson M, Wallin H, Jonsson M et al (1995) Lung carcinoma and malignant mesothelioma in patients exposed to thorotrast: incidence, histology and p53 status. Int J Cancer 63:330–336

21.

Travis LB, Hauptmann M, Gaul LK et al (2003) Site-specific cancer incidence and mortality after cerebral angiography with radioactive thorotrast. Radiat Res 160:691–706

22.

Fine JP, Gray RJ (1999) A proportional hazards model for the subdistribution of a competing risk. J Am Stat Assoc 94:496–509

23.

Ng AK, Kenney LB, Gilbert ES, Travis LB (2010) Secondary malignancies across the age spectrum. Semin Radiat Oncol 20:67–78

24.

Hodgson DC (2011) Late effects in the era of modern therapy for Hodgkin lymphoma. Am Soc Hematol 2011:323–329

25.

Illidge T, Specht L, Yahalom J et al (2014) Modern radiation therapy for nodal non-Hodgkin lymphoma-target definition and dose guidelines from the International Lymphoma Radiation Oncology Group. Int J Radiat Oncol Biol Phys 89:49–58

26.

Specht L, Yahalom J, Illidge T et al (2014) Modern radiation therapy for Hodgkin lymphoma: field and dose guidelines from the international lymphoma radiation oncology group (ILROG). Int J Radiat Oncol Biol Phys 89:854–862

27.

Yahalom J, Illidge T, Specht L et al (2015) Modern radiation therapy for extranodal lymphomas: field and dose guidelines from the International Lymphoma Radiation Oncology Group. Int J Radiat Oncol Biol Phys 92:11–31

28.

Johnson PW (2013) Management of early-stage Hodgkin lymphoma: is there still a role for radiation? Hematology. Am Soc Hematol 2013:400–405

29.

Hoppe RT, Advani RH, Ai WZ et al (2015) Hodgkin lymphoma, version 2.2015. J Natl Compr Cancer Netw 13:554–586

30.

Wong DS, Fuller LM, Butler JJ, Shullenberger CC (1975) Extranodal non-Hodgkin's lymphomas of the head and neck. Am J Roentgenol Radium Ther Nucl Med 123:471–481

31.

Lanphear BP, Buncher CR (1992) Latent period for malignant mesothelioma of occupational origin. J Occup Med 34:718–721

32.

Kovalchik SA, Pfeiffer RM (2012) Re: assessment of impact of outmigration on incidence of second primary neoplasms in childhood cancer survivors estimated from SEER data. J Natl Cancer Inst 104:1517–1518
Acknowledgments
We thank Dr. Karin Ekström Smedby (Karolinska University Hospital) for her expert guidance on clinical issues. M. Jane Teta and Fionna Mowat have served as expert witnesses and consultants, and Ellen Chang has provided litigation support, involving potential health hazards associated with asbestos in various consumer products. Partial funding for the analyses performed was provided by counsel for CenturyLink, who are involved with asbestos-related litigation and retained M. Jane Teta. This manuscript is exclusively the work product of the authors, and the results and the manuscript were not reviewed or discussed by the study sponsors prior to journal submission.
About this article
Cite this article
Chang, E.T., Lau, E.C., Mowat, F.S. et al. Therapeutic radiation for lymphoma and risk of second primary malignant mesothelioma. Cancer Causes Control 28, 971–979 (2017). https://doi.org/10.1007/s10552-017-0929-4
Received:

Accepted:

Published:

Issue Date:
Keywords
Hodgkin lymphoma

Non-Hodgkin lymphoma

Mesothelioma

Radiotherapy

Epidemiology

SEER Program