Abstract
Purpose
To review the epidemiologic literature examining pesticide exposure and liver cancer incidence.
Methods
A search of the MEDLINE and Embase databases was conducted in October 2015. Eligibility criteria included examining hepatocellular carcinoma (HCC) or primary liver cancer, pesticides as an exposure of interest, and individual-level incidence. The review was performed according to Preferred Reporting Items for Systematic Reviews and Meta-Analyses (PRISMA) guidelines.
Results
Forty-eight papers were assessed for eligibility and 15 studies were included in the review. The majority of studies were conducted in China and Egypt (n = 8), used a case–control design (n = 14), and examined HCC (n = 14). Most studies showed no association between self-reported and/or occupational exposure to pesticides and liver cancer risk. Six studies demonstrated statistically significant positive associations, including three biomarker-based studies (two using pre-diagnostic sera) that reported higher serum levels of dichlorodiphenyltrichloroethane (DDT) were associated with increased HCC risk. Studies indirectly measuring pesticide exposure using self-reported exposure, occupation, job-exposure matrices, or geographic residence demonstrated inconsistent results. These studies were limited by exposure assessment methods, lack of confounder information, minimal case confirmation, selection bias, and/or over-adjustment.
Conclusions
There is mixed evidence suggesting a possible association between specific pesticides and HCC risk, with the strongest evidence observed in biomarker-based studies. In particular, organochlorine pesticides, including DDT, may increase HCC risk. Future research should focus on improved pesticide exposure assessment methods, potentially incorporating multiple approaches including biomonitoring while considering the chemicals of interest, historical exposure to address latency periods, and examining specific chemicals and exposure pathways.
Access options
Buy single article
Instant access to the full article PDF.
US$ 39.95
Tax calculation will be finalised during checkout.
Subscribe to journal
Immediate online access to all issues from 2019. Subscription will auto renew annually.
US$ 119
Tax calculation will be finalised during checkout.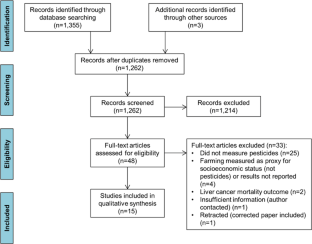 References
1.

Ferlay J, Soerjomataram I, Ervik M, Dikshit R, Eser S, Mathers C, Rebelo M, Parkin D, Forman D, Bray F (2013) GLOBOCAN 2012 v1.0, Cancer Incidence and Mortality Worldwide: IARC CancerBase No. 11 [Internet]. International Agency for Research on Cancer. http://globocan.iarc.fr. Accessed 11 Aug 2015

2.

Jemal A, Bray F, Center MM, Ferlay J, Ward E, Forman D (2011) Global cancer statistics. CA Cancer J Clin 61(2):69–90. doi:10.3322/caac.20107

3.

McGlynn KA, Petrick JL, London WT (2015) Global epidemiology of hepatocellular carcinoma: an emphasis on demographic and regional variability. Clin Liver Dis 19(2):223–238. doi:10.1016/j.cld.2015.01.001

4.

Carr BI (2010) Hepatocellular carcinoma: diagnosis and treatment, 2nd edn. Humana Press, Philadelphia

5.

El-Serag HB (2007) Epidemiology of hepatocellular carcinoma in USA. Hepatology Res 37(Suppl 2):S88–S94. doi:10.1111/j.1872-034X.2007.00168.x

6.

Surveillance, Epidemiology, End Results (SEER) Program, (http://www.seer.cancer.gov) SEER*Stat Database: Incidence—SEER 18 Regs Research Data + Hurricane Katrina Impacted Louisiana Cases, Nov 2014 Sub (2000–2012) <Katrina/Rita Population Adjustment>—Linked To County Attributes - Total U.S., 1969–2013 Counties, National Cancer Institute, DCCPS, Surveillance Research Program, Surveillance Systems Branch, released April 2015, based on the November 2014 submission.

7.

El-Serag HB, Kanwal F (2014) Epidemiology of hepatocellular carcinoma in the United States: where are we? Where do we go? Hepatology 60(5):1767–1775. doi:10.1002/hep.27222

8.

Yu MC, Yuan JM (2004) Environmental factors and risk for hepatocellular carcinoma. Gastroenterology 127(5 Suppl 1):S72–S78. doi:10.1016/j.gastro.2004.09.018

9.

Turati F, Galeone C, Rota M, Pelucchi C, Negri E, Bagnardi V, Corrao G, Boffetta P, La Vecchia C (2014) Alcohol and liver cancer: a systematic review and meta-analysis of prospective studies. Annu Oncol 25(8):1526–1535. doi:10.1093/annonc/mdu020

10.

Jinjuvadia R, Patel S, Liangpunsakul S (2014) The association between metabolic syndrome and hepatocellular carcinoma: systemic review and meta-analysis. J Clin Gastroenterol 48(2):172–177. doi:10.1097/MCG.0b013e3182a030c4

11.

Bravi F, Bosetti C, Tavani A, Gallus S, La Vecchia C (2013) Coffee reduces risk for hepatocellular carcinoma: an updated meta-analysis. Clin Gastroenterol Hepatol 11(11):1413–1421. doi:10.1016/j.cgh.2013.04.039 (e1411)

12.

Duan XY, Zhang L, Fan JG, Qiao L (2014) NAFLD leads to liver cancer: do we have sufficient evidence? Cancer Lett 345(2):230–234. doi:10.1016/j.canlet.2013.07.033

13.

FonSing M, Yang WS, Gao S, Gao J, Xiang YB (2011) Epidemiological studies of the association between tea drinking and primary liver cancer: a meta-analysis. Eur J Cancer Prev 20(3):157–165. doi:10.1097/CEJ.0b013e3283447497

14.

Larsson S, Wolk A (2007) Overweight, obesity and risk of liver cancer: a meta-analysis of cohort studies. Br J Cancer 97(7):1005–1008. doi:10.1038/sj.bjc.6603932

15.

Lee YC, Cohet C, Yang YC, Stayner L, Hashibe M, Straif K (2009) Meta-analysis of epidemiologic studies on cigarette smoking and liver cancer. Int J Epidemiol 38(6):1497–1511. doi:10.1093/ije/dyp280

16.

Wang C, Wang X, Gong G, Ben Q, Qiu W, Chen Y, Li G, Wang L (2012) Increased risk of hepatocellular carcinoma in patients with diabetes mellitus: a systematic review and meta-analysis of cohort studies. Int J Cancer 130(7):1639–1648. doi:10.1002/ijc.26165

17.

Alavanja MC, Hoppin JA, Kamel F (2004) Health effects of chronic pesticide exposure: cancer and neurotoxicity. Annu Rev Public Health 25:155–197. doi:10.1146/annurev.publhealth.25.101802.123020

18.

Centers for Disease Control and Prevention (2009) Fourth National Report on Human Exposure to Environmental Chemicals. http://www.cdc.gov/exposurereport/pdf/fourthreport.pdf. Accessed 01 Oct 14

19.

Franklin C, Worgan J (2005) Occupational and residential exposure assessment for pesticides. Wiley, Hoboken

20.

Rull RP, Ritz B (2003) Historical pesticide exposure in California using pesticide use reports and land-use surveys: an assessment of misclassification error and bias. Environ Health Perspect 111(13):1582–1589. doi:10.1289/ehp.6118

21.

Deziel NC, Friesen MC, Hoppin JA, Hines CJ, Thomas K, Freeman LE (2015) A review of nonoccupational pathways for pesticide exposure in women living in agricultural areas. Environ Health Perspect 123(6):515–524. doi:10.1289/ehp.1408273

22.

Dich J, Zahm SH, Hanberg A, Adami HO (1997) Pesticides and cancer. Cancer Causes Control 8 (3):420–443. doi:10.1023/A:1018413522959

23.

Gomaa AI, Khan SA, Toledano MB, Waked I, Taylor-Robinson SD (2008) Hepatocellular carcinoma: epidemiology, risk factors and pathogenesis. World J Gastroenterol 14(27):4300–4308. doi:10.3748/wjg.14.4300

24.

Jin X, Chen M, Song L, Li H, Li Z (2014) The evaluation of p, p'-DDT exposure on cell adhesion of hepatocellular carcinoma. Toxicology 322:99–108. doi:10.1016/j.tox.2014.05.002

25.

Jin XT, Song L, Zhao JY, Li ZY, Zhao MR, Liu WP (2014) Dichlorodiphenyltrichloroethane exposure induces the growth of hepatocellular carcinoma via Wnt/beta-catenin pathway. Toxicol Lett 225(1):158–166. doi:10.1016/j.toxlet.2013.12.006

26.

Rossi L, Barbieri O, Sanguineti M, Cabral JR, Bruzzi P, Santi L (1983) Carcinogenicity study with technical-grade dichlorodiphenyltrichloroethane and 1,1-dichloro-2,2-bis(p-chlorophenyl)ethylene in hamsters. Cancer Res 43(2):776–781

27.

Turusov VS, Day NE, Tomatis L, Gati E, Charles RT (1973) Tumors in CF-1 mice exposed for six consecutive generations to DDT. J Natl Cancer Inst 51(3):983–997. doi:10.1093/jnci/51.3.983

28.

Cohn BA, Wolff MS, Cirillo PM, Sholtz RI (2007) DDT and breast cancer in young women: new data on the significance of age at exposure. Environ Health Perspect 115(10):1406–1414. doi:10.1289/ehp.10260

29.

Cocco P, Blair A, Congia P, Saba G, Ecca AR, Palmas C (1997) Long-term health effects of the occupational exposure to DDT. A preliminary report. Ann NY Acad Sci 837:246–256. doi:10.1111/j.1749-6632.1997.tb56878.x

30.

Cocco P, Fadda D, Billai B, D'Atri M, Melis M, Blair A (2005) Cancer mortality among men occupationally exposed to dichlorodiphenyltrichloroethane. Cancer Res 65(20):9588–9594. doi:10.1158/0008-5472.CAN-05-1487

31.

Cocco P, Kazerouni N, Zahm SH (2000) Cancer mortality and environmental exposure to DDE in the United States. Environ Health Perspect 108(1):1–4. doi:10.1289/ehp.001081

32.

Evans AA, Chen G, Ross EA, Shen FM, Lin WY, London WT (2002) Eight-year follow-up of the 90,000-person Haimen City cohort: I. Hepatocellular carcinoma mortality, risk factors, and gender differences. Cancer Epidemiol Biomark Prev 11(4):369–376

33.

Hardell L, Bengtsson NO, Jonsson U, Eriksson S, Larsson LG (1984) Aetiological aspects on primary liver cancer with special regard to alcohol, organic solvents and acute intermittent porphyria–an epidemiological investigation. Br J Cancer 50(3):389–397. doi:10.1038/bjc.1984.188

34.

Kauppinen T, Riala R, Seitsamo J, Hernberg S (1992) Primary liver cancer and occupational exposure. Scand J Work Environ Health 18(1):18–25. doi:10.5271/sjweh0.1616

35.

London WT, Evans AA, McGlynn K, Buetow K, An P, Gao L, Lustbader E, Ross E, Chen G, Shen F (1995) Viral, host and environmental risk factors for hepatocellular carcinoma: a prospective study in Haimen City, China. Intervirology 38(3–4):155–161

36.

Stemhagen A, Slade J, Altman R, Bill J (1983) Occupational risk factors and liver cancer. A retrospective case–control study of primary liver cancer in New Jersey. Am J Epidemiol 117(4):443–454

37.

Suarez L, Weiss NS, Martin J (1989) Primary liver cancer death and occupation in Texas. Am J Ind Med 15(2):167–175. doi:10.1002/ajim.4700150205

38.

Moher D, Liberati A, Tetzlaff J, Altman DG (2009) Preferred reporting items for systematic reviews and meta-analyses: the PRISMA statement. PLoS Med 6(7):e1000097. doi:10.1371/journal.pmed.1000097

39.

Szklo M, Nieto FJ (2007) Epidemiology Beyond the Basics, 2nd edn. Jones and Bartlett, Sudbury

40.

Austin H, Delzell E, Grufferman S, Levine R, Morrison AS, Stolley PD, Cole P (1987) Case–control study of hepatocellular carcinoma, occupation, and chemical exposures. J Occup Med 29(8):665–669

41.

Badawi AF, Michael MS (1999) Risk factors for hepatocellular carcinoma in Egypt: the role of hepatitis-B viral infection and schistosomiasis. Anticancer research 19(5C):4565–4569

42.

Chang CK, Astrakianakis G, Thomas DB, Seixas NS, Ray RM, Gao DL, Wernli KJ, Fitzgibbons ED, Vaughan TL, Checkoway H (2006) Occupational exposures and risks of liver cancer among Shanghai female textile workers–a case-cohort study. Int J Epidemiol 35(2):361–369. doi:10.1093/ije/dyi282

43.

Cordier S, Le TB, Verger P, Bard D, Le CD, Larouze B, Dazza MC, Hoang TQ, Abenhaim L (1993) Viral infections and chemical exposures as risk factors for hepatocellular carcinoma in Vietnam. International journal of cancer Journal international du cancer 55(2):196–201. doi:10.1002/ijc.2910550205

44.

Dossing M, Petersen KT, Vyberg M, Olsen JH (1997) Liver cancer among employees in Denmark. Am J Ind Med 32(3):248–254. doi:10.1002/(SICI)1097-0274(199709)32:33.0.CO;2-V

45.

Ezzat S, Abdel-Hamid M, Eissa SA, Mokhtar N, Labib NA, El-Ghorory L, Mikhail NN, Abdel-Hamid A, Hifnawy T, Strickland GT, Loffredo CA (2005) Associations of pesticides, HCV, HBV, and hepatocellular carcinoma in Egypt. Int J Hyg Environ Health 208(5):329–339. doi:10.1016/j.ijheh.2005.04.003

46.

Ferrand JF, Cenee S, Laurent-Puig P, Loriot MA, Trinchet JC, Degos F, Bronovicky JP, Pelletier G, Stucker I (2008) Hepatocellular carcinoma and occupation in men: a case–control study. J Occup Environ Med 50(2):212–220. doi:10.1097/JOM.0b013e31815d88e2

47.

Heinemann K, Willich SN, Heinemann LA, DoMinh T, Mohner M, Heuchert GE (2000) Occupational exposure and liver cancer in women: results of the Multicentre International Liver Tumour Study (MILTS). Occup Med (Lond) 50(6):422–429. doi:10.1093/occmed/50.6.422

48.

McGlynn KA, Abnet CC, Zhang M, Sun XD, Fan JH, O'Brien TR, Wei WQ, Ortiz-Conde BA, Dawsey SM, Weber JP, Taylor PR, Katki H, Mark SD, Qiao YL (2006) Serum concentrations of 1,1,1-trichloro-2,2-bis(p-chlorophenyl)ethane (DDT) and 1,1-dichloro-2,2-bis(p-chlorophenyl)ethylene (DDE) and risk of primary liver cancer. J Natl Cancer Inst 98(14):1005–1010. doi:10.1093/jnci/djj266

49.

Persson EC, Graubard BI, Evans AA, London WT, Weber JP, Leblanc A, Chen G, Lin W, McGlynn KA (2012) Dichlorodiphenyltrichloroethane and risk of hepatocellular carcinoma. Int J Cancer J int du Cancer 131(9):2078–2084. doi:10.1002/ijc.27459

50.

Porru S, Placidi D, Carta A, Gelatti U, Ribero ML, Tagger A, Boffetta P, Donato F (2001) Primary liver cancer and occupation in men: a case–control study in a high-incidence area in Northern Italy. Int J Cancer J Int du Cancer 94(6):878–883. doi:10.1002/ijc.1538

51.

Schiefelbein E, Zekri A-R, Newton D, Soliman G, Banerjee M, Hung C-W, Seifeldin I, Lo A-C, Soliman A (2012) Hepatitis C virus and other risk factors in hepatocellular carcinoma. Acta Virol 56(3):235

52.

Soliman AS, Hung CW, Tsodikov A, Seifeldin IA, Ramadan M, Al-Gamal D, Schiefelbein EL, Thummalapally P, Dey S, Ismail K (2010) Epidemiologic risk factors of hepatocellular carcinoma in a rural region of Egypt. Hepatol Int 4(4):681–690. doi:10.1007/s12072-010-9187-1

53.

VoPham T, Brooks MM, Yuan JM, Talbott EO, Ruddell D, Hart JE, Chang CC, Weissfeld JL (2015) Pesticide exposure and hepatocellular carcinoma risk: a case–control study using a geographic information system (GIS) to link SEER-Medicare and California pesticide data. Environ Res 143(Pt A):68–82. doi:10.1016/j.envres.2015.09.027

54.

Zhao B, Shen H, Liu F, Liu S, Niu J, Guo F, Sun X (2012) Exposure to organochlorine pesticides is an independent risk factor of hepatocellular carcinoma: a case–control study. J Expo Sci Environ Epidemiol 22(6):541–548. doi:10.1038/jes.2011.29

55.

Fernandez-Cornejo J, Nehring R, Osteen C, Wechsler S, Martin A, Vialou A (2014) Pesticide use in US agriculture: 21 selected crops, 1960–2008, EIB-124. US Department of Agriculture, Economic Research Service

56.

Environmental Protection Agency (2011) Pesticides Industry Sales and Usage: 2006 and 2007 Market Estimates. http://www.epa.gov/sites/production/files/2015-10/documents/market_estimates2007.pdf. Accessed 12 Jan 15

57.

Tilman D, Cassman KG, Matson PA, Naylor R, Polasky S (2002) Agricultural sustainability and intensive production practices. Nature 418(6898):671–677. doi:10.1038/nature01014

58.

Li Y, Zhang C, Yin Y, Cui F, Cai J, Chen Z, Jin Y, Robson MG, Li M, Ren Y, Huang X, Hu R (2014) Neurological effects of pesticide use among farmers in China. Int J Environ Res Public Health 11(4):3995–4006. doi:10.3390/ijerph110403995

59.

Dasgupta S, Meisner C, Wheeler D, Xuyen K, Thi Lam N (2007) Pesticide poisoning of farm workers-implications of blood test results from Vietnam. Int J Hyg Environ Health 210(2):121–132. doi:10.1016/j.ijheh.2006.08.006

60.

Peyre L, Zucchini-Pascal N, de Sousa G, Rahmani R (2012) Effects of endosulfan on hepatoma cell adhesion: epithelial-mesenchymal transition and anoikis resistance. Toxicology 300(1–2):19–30. doi:10.1016/j.tox.2012.05.008

61.

Galloway T, Handy R (2003) Immunotoxicity of organophosphorous pesticides. Ecotoxicology 12(1–4):345–363. doi:10.1023/A:1022579416322

62.

Voccia I, Blakley B, Brousseau P, Fournier M (1999) Immunotoxicity of pesticides: a review. Toxicol Ind Health 15(1–2):119–132. doi:10.1177/074823379901500110

63.

Longnecker MP, Rogan WJ, Lucier G (1997) The human health effects of DDT (dichlorodiphenyltrichloroethane) and PCBS (polychlorinated biphenyls) and an overview of organochlorines in public health. Annu Rev Public Health 18:211–244. doi:10.1146/annurev.publhealth.18.1.211

64.

Zhang Y, Han S, Liang D, Shi X, Wang F, Liu W, Zhang L, Chen L, Gu Y, Tian Y (2014) Prenatal exposure to organophosphate pesticides and neurobehavioral development of neonates: a birth cohort study in Shenyang, China. PloS one 9(2):e88491. doi:10.1371/journal.pone.0088491

65.

Wells J (2011) Pesticide Use Trends in California Agriculture. Environmental Solutions Group

66.

Environmental Protection Agency (2015) Persistent Organic Pollutants: A Global Issue, A Global Response. http://www.epa.gov/international-cooperation/persistent-organic-pollutants-global-issue-global-response. Accessed 21 Dec 2015

67.

Faroon O, Harris MO, Llados F, Swarts S, Sage G, Citra M, Gefell D (2002) Toxicological profile for DDT, DDE, and DDD. ATSDR (Agency for Toxic Substances and Disease Registry)

68.

Befeler AS, Di Bisceglie AM (2002) Hepatocellular carcinoma: diagnosis and treatment. Gastroenterology 122(6):1609–1619

69.

Chevrier J, Dewailly E, Ayotte P, Mauriege P, Despres J, Tremblay A (2000) Body weight loss increases plasma and adipose tissue concentrations of potentially toxic pollutants in obese individuals. International journal of obesity 24(10):1272–1278

70.

Angerer J, Bird MG, Burke TA, Doerrer NG, Needham L, Robison SH, Sheldon L, Zenick H (2006) Strategic biomonitoring initiatives: moving the science forward. Toxicol Sci 93(1):3–10

71.

Nasca PC, Pastides H (2008) Fundamentals of cancer epidemiology, 2nd edn. Jones and Bartlett Publishers, Sudbury

72.

Koutros S, Silverman DT, Alavanja MC, Andreotti G, Lerro CC, Heltshe S, Lynch CF, Sandler DP, Blair A, Freeman LEB (2015) Occupational exposure to pesticides and bladder cancer risk. Int J Epidemiol:dyv195

73.

Wolff MS, Anderson HA, Britton JA, Rothman N (2007) Pharmacokinetic variability and modern epidemiology—the example of dichlorodiphenyltrichloroethane, body mass index, and birth cohort. Cancer Epidemiol Biomark Prev 16 (10):1925–1930

74.

Sobus J, Morgan M, Pleil J, Barr D (2010) Biomonitoring: uses and considerations for assessing non-occupational human exposure to pesticides. In: Krieger R (ed) Hayes' Handbook of Pesticide Toxicology. Oxford, pp 1021–1036

75.

NIH Research Portfolio Online Reporting Tools (2015) 5R01ES014662-03 Serum organochlorine levels and primary liver cancer: a nested case–control study. https://projectreporter.nih.gov/. Accessed 12 Jan 2015
Acknowledgments
The authors declare no conflicts of interest. Dr. VoPham is supported by the National Institutes of Health (NIH) National Cancer Institute (NCI) Training Program in Cancer Epidemiology (T32 CA009001). Dr. Hart is supported by the NIH National Institute of Environmental Health Sciences (NIEHS) P30 ES000002.
About this article
Cite this article
VoPham, T., Bertrand, K.A., Hart, J.E. et al. Pesticide exposure and liver cancer: a review. Cancer Causes Control 28, 177–190 (2017). https://doi.org/10.1007/s10552-017-0854-6
Received:

Accepted:

Published:

Issue Date:
Keywords
Liver cancer

Hepatocellular carcinoma

Pesticides

Epidemiology

Review