Abstract
Purpose
The malignant mesothelioma is a rare malignancy and mainly caused by occupational exposure to asbestos. German cancer registries are providing a national database to investigate temporal and regional patterns of mesothelioma incidence. These may be of interest for healthcare planning and for surveillance programs aiming at the formerly exposed workforce.
Methods
We analyzed population-based incidence data of malignant mesothelioma by site, type, sex, age, as well as district and state of patient's residence. Age-standardized incidence rates (AIRs40+) were calculated according to the European standard population truncated to the age of 40 years and older. We present rates at national, state, and district level and trends of incidence of northern states of Germany.
Results
In total, 7,547 malignant mesotheliomas were reported to German cancer registries diagnosed between 2009 and 2013—90% located to the pleura. On average, 1,198 men and 312 women were affected each year. We estimated AIR40+ of 4.77 in 100,000 German men and 0.98 in 100,000 German women. Regional clusters were predominantly located to the seaports of West Germany. The highest regional AIR40+ was 20 per 100,000 men. Corresponding rates in northeast Germany were between 2 and 4 per 100,000 men.
Conclusion
Regional clusters of high incidence indicate districts with former shipyards and steel industry, but predominantly in the western part of Germany. The West-to-East difference corresponds to patterns of mortality. Twenty years after banning asbestos in Germany, Bremen and Hamburg are presenting the highest mesothelioma incidence but show steadily decreasing trends.
Access options
Buy single article
Instant access to the full article PDF.
USD 39.95
Price includes VAT (USA)
Tax calculation will be finalised during checkout.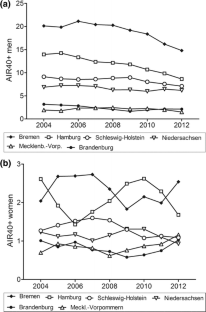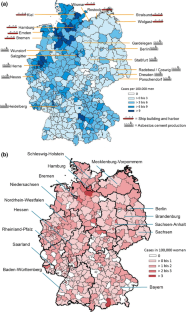 References
1.

Husain AN, Colby T, Ordonez N et al (2013) Guidelines for pathologic diagnosis of malignant mesothelioma: 2012 update of the consensus statement from the International Mesothelioma Interest Group. Arch Pathol Lab Med 137(5):647–667

2.

Scherpereel A, Astoul P, Baas P et al (2016) Guidelines of the European Respiratory Society and the European Society of Thoracic Surgeons for the management of malignant pleural mesothelioma. Eur Respir J 35(3):479–495

3.

Delgermaa V, Takahashi K, Park E-K et al (2011) Global mesothelioma deaths reported to the World Health Organization between 1994 and 2008. Bull World Health Organ 89(10):716

4.

Kotova S, Wong RM, Cameron RB (2015) New and emerging therapeutic options for malignant pleural mesothelioma: review of early clinical trials. Cancer Manag Res 7:51–63

5.

Calabro L, Ceresoli GL, Di Pietro A et al (2015) CTLA4 blockade in mesothelioma: finally a competing strategy over cytotoxic/target therapy? Cancer Immunol Immunother 64(1):105–112

6.

Francisci S, Minicozzi P, Pierannunzio D et al (2015) Survival patterns in lung and pleural cancer in Europe 1999–2007: results from the EUROCARE-5 study. Eur J Cancer 51:2242–2253

7.

Suzuki H, Asami K, Hirashima T et al (2014) Stratification of malignant pleural mesothelioma prognosis using recursive partitioning analysis. Lung 192(1):191–195

8.

Schonfeld SJ, McCormack V, Rutherford MJ et al (2014) Regional variations in German mesothelioma mortality rates: 2000–2010. Cancer Causes Control 25(5):615–624

9.

Soeberg MJ, Leigh J, Driscoll T et al (2016) Incidence and survival trends for malignant pleural and peritoneal mesothelioma, Australia, 1982–2009. Occup Environ Med 73:187–194

10.

Ji J, Sundquist J, Sundquist K (2016) Incidence and familial risk of pleural mesothelioma in Sweden: a national cohort study. Eur Respir J 48(3):873–879

11.

Pesch B, Taeger D, Johnen G et al (2010) Cancer mortality in a surveillance cohort of German males formerly exposed to asbestos. Int J Hyg Environ Health 213(1):44–51

12.

Bianchi C, Bianchi T (2007) Malignant mesothelioma: global incidence and relationship with asbestos. Ind Health 45(3):379–387

13.

Burdorf A, Dahhan M, Swuste P (2003) Occupational characteristics of cases with asbestos-related diseases in the Netherlands. Ann Occup Hyg 47(6):485–492

14.

Federal Institute for Occupational Safety and Health (BAuA) (2014) National Asbestos Profile for Germany, Dortmund Berlin Dresden

15.

van Kampen V, Merget R, Butz M et al (2008) Trends in suspected and recognized occupational respiratory diseases in Germany between 1970 and 2005. Am J Ind Med 51(7):492–502

16.

Hagemeyer O, Otten H, Kraus T (2006) Asbestos consumption, asbestos exposure and asbestos-related occupational diseases in Germany. Int Arch Occup Environ Health 79(8):613–620

17.

Robert Koch Institute (ed) and the Association of Population-based Cancer Registries (2015) Cancer in Germany 2011/2012, Berlin

18.

World Health Organization (2014) ICD-10: international statistical classification of diseases and related health problems, 10th edn. WHO Press, Geneva

19.

World Health Organization (2013) ICD-O: international classification of diseases for oncology, 3rd edn. WHO Press, Geneva

20.

Federal Statistical Office (2015) Population numbers. https://www-genesis.destatis.de/genesis/online

21.

Waterhouse JAH, Muir CS, Correa P et al (1976) Cancer incidence in five continents. IARC, Lyon

22.

Doll R, Payne P, Waterhouse J (eds) (1966) Cancer incidence in five continents: a technical report. IARC Publications, Berlin

23.

Schönfeld I, Kraywinkel K (2014) Krebsepidemiologische Daten im Internet: Eine Übersicht über Informationsangebote im nationalen und europäischen Rahmen (Epidemiological cancer data online: an overview of information service in Germany and Europe). Bundesgesundheitsblatt Gesundheitsforschung Gesundheitsschutz 57(1):22–26

24.

Gatto MP, Tanna Di, Di Tanna GL (2013) Distribution and trends in mesothelioma mortality in Italy from 1974 to 2006. Int Arch Occup Environ Health 86(4):489–496

25.

Fazzo L, de Santis M, Minelli G et al (2012) Pleural mesothelioma mortality and asbestos exposure mapping in Italy. Am J Ind Med 55(1):11–24

26.

López-Abente G, García-Gómez M, Menéndez-Navarro A et al (2013) Pleural cancer mortality in Spain: time-trends and updating of predictions up to 2020. BMC Cancer 13:528

27.

Nishikawa K, Takahashi K, Karjalainen A et al (2008) Recent mortality from pleural mesothelioma, historical patterns of asbestos use, and adoption of bans: a global assessment. Environ Health Perspect 116(12):1675–1680

28.

Girardi P, Bressan V, Merler E (2014) Past trends and future prediction of mesothelioma incidence in an industrialized area of Italy, the Veneto Region. Cancer Epidemiol 38(5):496–503

29.

Howlader N, Noone AM, Krapcho M, Miller D, Bishop K, Altekruse SF, Kosary CL, Yu M, Ruhl J, Tatalovich Z, Mariotto A, Lewis DR, Chen HS, Feuer EJ, Cronin KA (eds) (2016) SEER Cancer Statistics Review (CSR) 1975–2013. http://seer.cancer.gov/csr/1975_2013

30.

IARC (1973) Some inorganic and organometallic compounds. IARC Monographs, Lyon

31.

Netherlands Comprehensive Cancer Organisation (2016) http://www.cijfersoverkanker.nl

32.

Office of National Statistics (2016) Cancer Registration Statistics, England. http://www.ons.gov.uk/peoplepopulationandcommunity/healthandsocialcare/conditionsanddiseases/datasets/cancerregistrationstatisticscancerregistrationstatisticsengland

33.

Virta RL (2006) Worldwide asbestos supply and consumption trends from 1900 through 2003: U.S. Geological Survey Circular 1298, 03–083, Reston, Virginia, USA

34.

Federal Statistical Office (1980) Statistical yearbook 1980 for the Federal Republik of Germany, Wiesbaden

35.

Müglich W, Ziem H (1995) Asbest an den Arbeitsplätzen in der DDR. Sankt Augustin

36.

Lippmann M (2014) Toxicological and epidemiological studies on effects of airborne fibers: coherence and public [corrected] health implications. Crit Rev Toxicol 44(8):643–695

37.

Langhoff MD, Kragh-Thomsen MB, Stanislaus S et al (2014) Almost half of women with malignant mesothelioma were exposed to asbestos at home through their husbands or sons. Dan Med J 61(9):A4902

38.

Comin CE, Saieva C, Messerini L (2007) h-caldesmon, calretinin, estrogen receptor, and Ber-EP4: a useful combination of immunohistochemical markers for differentiating epithelioid peritoneal mesothelioma from serous papillary carcinoma of the ovary. Am J Surg Pathol 31(8):1139–1148

39.

Ahmad OB, Boschi-Pinto C, Lopez AD, Murray CJL, Lozano R, Inoue M (2001) Age standardization of rates: a new WHO standard. GPE Discussion Paper 31
Ethics declarations
Conflict of interest
The authors declare that they have no conflict of interest.
About this article
Cite this article
Lehnert, M., Kraywinkel, K., Heinze, E. et al. Incidence of malignant mesothelioma in Germany 2009–2013. Cancer Causes Control 28, 97–105 (2017). https://doi.org/10.1007/s10552-016-0838-y
Received:

Accepted:

Published:

Issue Date:
Keywords
Asbestos

Mesothelioma

Incidence

Germany