Abstract
Purpose
We sought to evaluate prevalence, age-adjusted distribution, and impact of single and multiple high- and low-risk human papillomavirus (HPV) subtypes and their associations with cervical lesions.
Methods
Data were extracted from 11,224 women who underwent routine screening of HPV genotyping and liquid-based cytology co-testing. Fifteen high-risk (HR) and six low-risk (LR) HPV types were genotyped.
Results
Overall HPV prevalence was 10.7 %, and young women (under 21 years old) harbored highest HPV infection rate (40.38 %). The rate declined in old women 9.49 % (age 30–49) and 6.89 % (age 50 and above). Normal cytology had lowest HPV (5.66 %) compared to low-grade (60.49 %), high-grade (71.96 %) squamous intraepithelial lesions (LSIL and HSIL) and squamous cell carcinoma SCC (86.9 %). LR HPV subtypes were absent in SCC and were consistently lower than HR HPV in LSIL (6.74 vs. 33.54 %) and HSIL (2.12 vs. 51.32 %). Multiple HPV infection was more frequent in young women under 30 years old (10 %) than older women (2 %) and in LSIL (20.2 %), HSIL (18.5 %) than SCC (4.4 %). HR HPV 52, 16, 18, and 58 were the most frequent subtypes in normal, LSIL, and HSIL. Greater or equal proportion of HPV 16, 18, 45, and 52 was found in SCC compared to normal cytology (SCC/normal ratios 4.8, 1.2, 1.6, and 1.7). While important in LSIL and HSIL, HPV58 was not detected in SCC.
Conclusion
Taken together, identification of these HPV types, especially HPV 16, 18, 45, and 52, and their associated cervical lesions may improve cervical cancer preventive strategies in Indonesia.
Access options
Buy single article
Instant access to the full article PDF.
USD 39.95
Price includes VAT (USA)
Tax calculation will be finalised during checkout.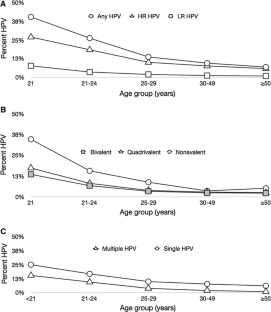 References
1.

Safaeian M, Rodriguez AC (2014) Invited commentary: multiple human papillomavirus infections and type replacement—anticipating the future after human papillomavirus vaccination. Am J Epidemiol 180:1076–1081. doi:10.1093/aje/kwu265

2.

Hausen zur h (2002) Papillomaviruses and cancer: from basic studies to clinical application. Nat Rev Cancer 2:342–350. doi:10.1038/nrc798

3.

Schiffman M, Wentzensen N (2013) Human papillomavirus infection and the multistage carcinogenesis of cervical cancer. Cancer Epidemiol Biomark Prev 22:553–560. doi:10.1158/1055-9965.EPI-12-1406

4.

Trottier H (2006) Human papillomavirus infections with multiple types and risk of cervical neoplasia. Cancer Epidemiol Biomark Prev 15:1274–1280. doi:10.1158/1055-9965.EPI-06-0129

5.

Dickson EL, Vogel RI, Geller MA, Downs LS Jr (2014) Cervical cytology and multiple type HPV infection: a study of 8182 women ages 31–65. Gynecol Oncol 133:405–408. doi:10.1016/j.ygyno.2014.03.552

6.

Chagas BS, Comar M, Gurgel APAD et al (2015) Association study between cervical lesions and single or multiple vaccine-target and non-vaccine target human papillomavirus (HPV) types in women from northeastern Brazil. PLoS One 10:e0132570. doi:10.1371/journal.pone.0132570

7.

Wentzensen N, Nason M, Schiffman M et al (2014) No evidence for synergy between human papillomavirus genotypes for the risk of high-grade squamous intraepithelial lesions in a large population-based study. J Infect Dis 209:855–864. doi:10.1093/infdis/jit577

8.

Liu SS, Leung R, Chan K (2010) Evaluation of a newly developed GenoArray human papillomavirus (HPV) genotyping assay and comparison with the Roche Linear Array HPV genotyping assay. J Clin 48:758–764. doi:10.1128/JCM.00989-09

9.

Yang Z, Cuzick J, Hunt WC, Wheeler CM (2014) Concurrence of multiple human papillomavirus infections in a large US population-based cohort. Am J Epidemiol 180:1066–1075. doi:10.1093/aje/kwu267

10.

Goodman A (2015) HPV testing as a screen for cervical cancer. BMJ 350:h2372. doi:10.1136/bmj.h2372

11.

Blatt AJ, Kennedy R, Luff RD et al (2015) Comparison of cervical cancer screening results among 256,648 women in multiple clinical practices. Cancer Cytopathol 123:282–288. doi:10.1002/cncy.21544

12.

Hosaka M, Fujita H, Hanley SJ et al (2012) Incidence risk of cervical intraepithelial neoplasia 3 or more severe lesions is a function of human papillomavirus genotypes and severity of cytological and histological abnormalities in adult Japanese women. Int J Cancer 132:327–334. doi:10.1002/ijc.27680

13.

Cuschieri KS (2005) Persistent high risk HPV infection associated with development of cervical neoplasia in a prospective population study. J Clin Pathol 58:946–950. doi:10.1136/jcp.2004.022863

14.

Chen H-C, Schiffman M, Lin C-Y et al (2011) Persistence of type-specific human papillomavirus infection and increased long-term risk of cervical cancer. J Natl Cancer Inst 103:1387–1396. doi:10.1093/jnci/djr283

15.

Bruni L, Barrionuevo-Rosas L, Albero G, Serrano B, Mena M, Gómez D, Muñoz J, Bosch FX, de Sanjosé S. ICO Information Centre on HPV and Cancer (HPV Information Centre). Human Papillomavirus and Related Diseases in Indonesia. Summary Report 7 October 2016. Accessed 12 Oct 2016

16.

Schellekens MC, Dijkman A, Aziz MF et al (2004) Prevalence of single and multiple HPV types in cervical carcinomas in Jakarta, Indonesia. Gynecol Oncol 93:49–53. doi:10.1016/j.ygyno.2003.12.015

17.

Panigoro R, Susanto H, Novel SS et al (2013) HPV genotyping linear assay test comparison in cervical cancer patients: implications for HPV prevalence and molecular epidemiology in a limited-resource area in Bandung, Indonesia. Asian Pac J Cancer Prev 14:5843–5847. doi:10.7314/APJCP.2013.14.10.5843

18.

Vet JNI, de Boer MA, van den Akker BEWM et al (2008) Prevalence of human papillomavirus in Indonesia: a population-based study in three regions. Br J Cancer 99:214–218. doi:10.1038/sj.bjc.6604417

19.

Wheeler CM, Hunt WC, Cuzick J et al (2012) A population-based study of human papillomavirus genotype prevalence in the United States: baseline measures prior to mass human papillomavirus vaccination. Int J Cancer 132:198–207. doi:10.1002/ijc.27608

20.

Clifford GM, Rana RK, Franceschi S et al (2005) Human papillomavirus genotype distribution in low-grade cervical lesions: comparison by geographic region and with cervical cancer. Cancer Epidemiol Biomark Prev 14:1157–1164. doi:10.1158/1055-9965.EPI-04-0812

21.

Clifford GM, Smith JS, Aguado T, Franceschi S (2003) Comparison of HPV type distribution in high-grade cervical lesions and cervical cancer: a meta-analysis. Br J Cancer 89:101–105. doi:10.1038/sj.bjc.6601024

22.

Guan P, Howell-Jones R, Li N et al (2012) Human papillomavirus types in 115,789 HPV-positive women: a meta-analysis from cervical infection to cancer. Int J Cancer 131:2349–2359. doi:10.1002/ijc.27485

23.

Smith JS, Lindsay L, Hoots B et al (2007) Human papillomavirus type distribution in invasive cervical cancer and high-grade cervical lesions: a meta-analysis update. Int J Cancer 121:621–632. doi:10.1002/ijc.22527

24.

Bao YP, Li N, Smith JS, Qiao YL (2008) Human papillomavirus type distribution in women from Asia: a meta-analysis. Int J Gynecol Cancer 18:71–79. doi:10.1111/j.1525-1438.2007.00959.x

25.

Liu X-X, Fan X-L, Yu Y-P et al (2014) Human papillomavirus prevalence and type-distribution among women in Zhejiang Province, Southeast China: a cross-sectional study. BMC Infect Dis 14:708. doi:10.1186/s12879-014-0708-8

26.

Wei H, Wang N, Zhang Y et al (2014) Distribution of various types of low-risk human papillomavirus according to cervical cytology and histology in northern Chinese women. Int J Gynaecol Obstet 126:28–32. doi:10.1016/j.ijgo.2014.01.020

27.

Bruni L, Diaz M, Castellsagué X et al (2010) Cervical human papillomavirus prevalence in 5 continents: meta-analysis of 1 million women with normal cytological findings. J Infect Dis 202:1789–1799. doi:10.1086/657321

28.

Li N, Franceschi S, Howell-Jones R et al (2010) Human papillomavirus type distribution in 30,848 invasive cervical cancers worldwide: variation by geographical region, histological type and year of publication. Int J Cancer 128:927–935. doi:10.1002/ijc.25396

29.

Katki HA, Schiffman M, Castle PE et al (2013) Benchmarking CIN3+ risk as the basis for incorporating HPV and Pap cotesting into cervical screening and management guidelines. J Lower Genit Tract Dis 17:S28–S35. doi:10.1097/LGT.0b013e318285423c
Acknowledgments
Funding was provided to Stem Cell and Cancer Institute by Kalbe Farma (Internal Research Grant). We thanked Sartika Sari, Gunawan, Apryanti Masniary, Lusiana Mutiara, Shirliey Foo, Audi Tri Harsono and Yudhi Nugraha S. Putra for their excellent technical assistance, also Dr. Yong Wee Wong (DNA Laboratories Sdn Bhd, Malaysia) for the technical collaborations.
About this article
Cite this article
Murdiyarso, L.S., Kartawinata, M., Jenie, I. et al. Single and multiple high-risk and low-risk Human Papillomavirus association with cervical lesions of 11,224 women in Jakarta. Cancer Causes Control 27, 1371–1379 (2016). https://doi.org/10.1007/s10552-016-0816-4
Received:

Accepted:

Published:

Issue Date:
Keywords
HPV

LBC

HSIL

LSIL

Cervical cancer

Genotyping

Indonesia

High-risk HPV

Low-risk HPV

Screening