Abstract
Purpose
Data relating to magnesium intake and colorectal cancer (CRC) risk in postmenopausal women are incomplete. We investigated the association between total magnesium intake and the risk of CRC in an ethnically diverse cohort of postmenopausal women enrolled in the Women's Health Initiative.
Methods
Self-reported dietary and supplemental magnesium were combined to form total magnesium intake. Invasive incident CRC was the primary outcome. Cox proportional hazard models were used to estimate hazard ratios (HRs) and 95 % confidence intervals (CI).
Results
During an average follow-up of 13 years (1,832,319 person-years), of the 140,601 women included for analysis, 2,381 women were diagnosed with CRC (1,982 colon cancer and 438 rectal cancer). After adjustment for potential confounding variables, an inverse association was observed in the highest quintile of total magnesium intake compared to the lowest quintile for risk of CRC (HR 0.79, 95 % CI 0.67, 0.94, p trend < 0.0001) and colon cancer (HR 0.80, 95 % CI 0.66, 0.97, p trend < 0.0001). A borderline significant inverse association was detected in the highest versus the lowest quintile of total magnesium intake for rectal cancer (HR 0.76, 95 % CI 0.51, 1.13, p trend < 0.001).
Conclusions
Findings from this study support the hypothesis that magnesium intake around 400 mg/day from both dietary and supplemental sources is associated with a lower incidence of CRC in postmenopausal women.
This is a preview of subscription content, log in to check access.
Access options
Buy single article
Instant access to the full article PDF.
US$ 39.95
Price includes VAT for USA
Subscribe to journal
Immediate online access to all issues from 2019. Subscription will auto renew annually.
US$ 199
This is the net price. Taxes to be calculated in checkout.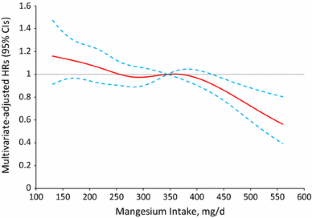 Abbreviations
BMI:

Body mass index

CI:

Confidence interval

CRC:

Colorectal cancer

CT:

Clinical trial

FFQ:

Food frequency questionnaire

HR:

Hazard ratio

OS:

Observational study
References
1.

Romani A (2007) Regulation of magnesium homeostasis and transport in mammalian cells. Arch Biochem Biophys 458:90–102

2.

Hartwig A (2001) Role of magnesium in genomic stability. Mutat Res, Fundam Mol Mech Mutagen 475:113–121

3.

Seelig MS (2001) Epidemiologic data on magnesium deficiency-associated cardiovascular disease and osteoporosis: consideration of risks of current recommendations for high calcium intakes. In: Rayssiguier Y, Mazur A, Durlach J (eds) Advances in magnesium research: nutrition and health, pp 177–190

4.

Mazur A, Maier JA, Rock E, Gueux E, Nowacki W, Rayssiguier Y (2007) Magnesium and the inflammatory response: potential physiopathological implications. Arch Biochem Biophys 458:48–56

5.

Wolf FI, Trapani V, Simonacci M, Ferré S, Maier JA (2008) Magnesium deficiency and endothelial dysfunction: is oxidative stress involved? Magnes Res 21:58–64

6.

Franses JW (2011) Regulatory roles of endothelial cells in cancer. Massachusetts Institute of Technology, Cambridge

7.

Coussens LM, Werb Z (2002) Inflammation and cancer. Nature 420:860–867

8.

Castiglioni S, Maier J (2011) Magnesium and cancer: a dangerous liason. Magnes Res 24:S92–S100

9.

Hans CP, Chaudhary DP, Bansal DD (2002) Magnesium deficiency increases oxidative stress in rats. Indian J Exp Biol 40:1275–1279

10.

Paolisso G, Sgambato S, Pizza G, Passariello N, Varricchio M, D'Onofrio F (1989) Improved insulin response and action by chronic magnesium administration in aged NIDDM subjects. Diabetes Care 12:265–269

11.

Ma B, Lawson AB, Liese AD, Bell RA, Mayer-Davis EJ (2006) Dairy, magnesium, and calcium intake in relation to insulin sensitivity: approaches to modeling a dose-dependent association. Am J Epidemiol 164:449–458

12.

Ishikado A, Sato T, Mitsuoka T (2007) Suppressive effects of lactulose and magnesium oxide supplementation on fecal putrefactive metabolites with shortening gastrointestinal transit time. Microbial Ecol Health Disease 19:184–190

13.

de Baaij JH, Hoenderop JG, Bindels RJ (2015) Magnesium in man: implications for health and disease. Physiol Rev 95:1–46

14.

Barbagallo M, Dominguez LJ, Galioto A et al (2003) Role of magnesium in insulin action, diabetes and cardio-metabolic syndrome X. Mol Asp Med 24:39–52

15.

Chen G, Pang Z, Liu Q (2012) Magnesium intake and risk of colorectal cancer: a meta-analysis of prospective studies. Eur J Clin Nutr 66:1182–1186

16.

Volpe SL (2012) Magnesium. Present Knowledge in Nutrition. Blackwell, New York, pp 459–474

17.

Barbagallo M, Belvedere M, Dominguez LJ (2009) Magnesium homeostasis and aging. Magnes Res 22:235–246

18.

Musso CG (2009) Magnesium metabolism in health and disease. Int Urol Nephrol 41:357–362

19.

Folsom AR, Hong C-P (2006) Magnesium intake and reduced risk of colon cancer in a prospective study of women. Am J Epidemiol 163:232–235

20.

Group USCSW (2013) United States cancer statistics: 1999–2010 incidence and mortality web-based report. Department of Health and Human Services, Center for Disease Control and Prevention, and National Cancer Institute, Atlanta

21.

Anderson G, Cummings S, Freedman L et al (1998) Design of the Women's Health Initiative clinical trial and observational study. Control Clin Trials 19:61–109

22.

Hays J, Hunt JR, Hubbell FA et al (2003) The Women's Health Initiative recruitment methods and results. Ann Epidemiol 13:S18–S77

23.

Patterson RE, Kristal AR, Tinker LF, Carter RA, Bolton MP, Agurs-Collins T (1999) Measurement characteristics of the Women's Health Initiative food frequency questionnaire. Ann Epidemiol 9:178–187

24.

Schakel S, Sievert Y, Buzzard I (1988) Sources of data for developing and maintaining a nutrient database. J Am Diet Assoc 88:1268

25.

Curb JD, Mctiernan A, Heckbert SR et al (2003) Outcomes ascertainment and adjudication methods in the Women's Health Initiative. Ann Epidemiol 13:S122–S128

26.

Institute of Medicine FaNB (1997) Dietary reference intakes for calcium, phosphorus, magnesium, vitamin D, and fluoride. The National Academies Press, Washington, DC

27.

Rothman KJ, Greenland S, Lash TL (2008) Modern epidemiology. Lippincott Williams & Wilkins, Philadelphia

28.

Heinzl H, Kaider A (1997) Gaining more flexibility in Cox proportional hazards regression models with cubic spline functions. Comput Methods Programs Biomed 54:201–208

29.

Larsson SC, Bergkvist L, Wolk A (2005) Magnesium intake in relation to risk of colorectal cancer in women. J Am Med Assoc 293:86–89

30.

Lin J, Cook NR, Lee I-M, Manson JE, Buring JE, Zhang SM (2006) Total magnesium intake and colorectal cancer incidence in women. Cancer Epidemiol Biomark Prev 15:2006–2009. doi:10.1158/1055-9965.EPI-06-0454

31.

Zhang X, Giovannucci EL, Wu K et al (2012) Magnesium intake, plasma C-peptide, and colorectal cancer incidence in US women: a 28-year follow-up study. Br J Cancer 106:1335–1341

32.

Blau S, Rubinstein A, Bass P, Singaram C, Kohen R (1999) Differences in the reducing power along the rat GI tract: lower antioxidant capacity of the colon. Mol Cell Biochem 194:185–191

33.

Rainis T, Maor I, Lanir A, Shnizer S, Lavy A (2007) Enhanced oxidative stress and leucocyte activation in neoplastic tissues of the colon. Dig Dis Sci 52:526–530

34.

Inokuma T, Haraguchi M, Fujita F, Tajima Y, Kanematsu T (2009) Oxidative stress and tumor progression in colorectal cancer. Hepatogastroenterology 56:343–347

35.

Nadler JL, Buchanan T, Natarajan R, Antonipillai I, Bergman R, Rude R (1993) Magnesium deficiency produces insulin resistance and increased thromboxane synthesis. Hypertension 21:1024–1029

36.

Wang J, Persuitte G, Olendzki BC et al (2013) Dietary magnesium intake improves insulin resistance among non-diabetic individuals with metabolic syndrome participating in a dietary trial. Nutrients 5:3910–3919

37.

Greenwald P, Anderson D, Nelson SA, Taylor PR (2007) Clinical trials of vitamin and mineral supplements for cancer prevention. Am J Clin Nutr 85:314S–317S

38.

Woodside JV, McCall D, McGartland C, Young IS (2005) Micronutrients: dietary intake v. supplement use. Proc Nutr Soc 64:543–553

39.

Dai Q, Shu X-O, Deng X, et al. (2013) Modifying effect of calcium/magnesium intake ratio and mortality: a population-based cohort study. BMJ Open 3:e002111. doi:10.1136/bmjopen-2012-002111

40.

Society AC (2011) Colorectal cancer facts & figures 2011–2013. American Cancer Society, Atlanta
Acknowledgments
The WHI program is funded by the National Heart, Lung, and Blood Institute, National Institutes of Health, US Department of Health and Human Services through contracts, HHSN268201100046C, HHSN268201100001C, HHSN268201100002C, HHSN268201100003C, HHSN268201100004C. Program Office (National Heart, Lung, and Blood Institute, Bethesda, Maryland) Jacques Rossouw, Shari Ludlam, Dale Burwen, Joan McGowan, Leslie Ford, Nancy Geller. Clinical Coordinating Center: (Fred Hutchinson Cancer Research Center, Seattle, WA) Garnet Anderson, Ross Prentice, Andrea LaCroix, Charles Kooperberg, Barbara Cochrane, Julie Hunt, Marian Neuhouser, Lesley Tinker, Susan Heckbert, Alex Reiner. Regional Centers: (Brigham and Women's Hospital, Harvard Medical School, Boston, MA) JoAnn E. Manson, Kathryn M. Rexrode, Brian Walsh, J. Michael Gaziano, Maria Bueche; (MedStar Health Research Institute/Howard University, Washington, DC) Barbara V. Howard, Lucile Adams-Campbell, Lawrence Lessin, Cheryl Iglesia, Brian Walitt, Amy Park; (The Ohio State University, Columbus, OH) Rebecca Jackson, Randall Harris, Electra Paskett, W. Jerry Mysiw, Michael Blumenfeld; (Stanford Prevention Research Center, Stanford, CA) Marcia L. Stefanick, Mark A. Hlatky, Manisha Desai, Jean Tang, Stacy T. Sims; (University of Arizona, Tucson/Phoenix, AZ) Cynthia A. Thomson, Tamsen Bassford, Cheryl Ritenbaugh, Zhao Chen, Marcia Ko; (University at Buffalo, Buffalo, NY) Jean Wactawski-Wende, Maurizio Trevisan, Ellen Smit, Amy Millen, Michael LaMonte; (University of Florida, Gainesville/Jacksonville, FL) Marian Limacher, Michael Perri, Andrew Kaunitz, R. Stan Williams, Yvonne Brinson; (University of Iowa, Iowa City/Davenport, IA) Robert Wallace, James Torner, Susan Johnson, Linda Snetselaar, Jennifer Robinson; (University of Pittsburgh, Pittsburgh, PA) Lewis Kuller, Jane Cauley, N. Carole Milas; (University of Tennessee Health Science Center, Memphis, TN) Karen C. Johnson, Suzanne Satterfield, Rongling Li, Stephanie Connelly, Fran Tylavsky; (Wake Forest University School of Medicine, Winston-Salem, NC) Sally Shumaker, Stephen Rapp, Claudine Legault, Mark Espeland, Laura Coker, Michelle Naughton. Women's Health Initiative Memory Study (Wake Forest University School of Medicine, Winston-Salem, NC) Sally Shumaker, Stephen Rapp, Claudine Legault, Mark Espeland, Laura Coker, Michelle Naughton. Former Principal Investigators and Project Officers (Albert Einstein College of Medicine, Bronx, NY) Sylvia Wassertheil-Smoller (Baylor College of Medicine, Houston, TX) Haleh Sangi-Haghpeykar, Aleksandar Rajkovic, Jennifer Hays, John Foreyt; (Brown University, Providence, RI) Charles B. Eaton, Annlouise R. Assaf; (Emory University, Atlanta, GA) Lawrence S. Phillips, Nelson Watts, Sally McNagny, Dallas Hall,; (Fred Hutchinson Cancer Research Center, Seattle, WA) Shirley A.A. Beresford, Maureen Henderson; (George Washington University, Washington, DC) Lisa Martin, Judith Hsia, Valery Miller; (HarborUCLA Research and Education Institute, Torrance, CA) Rowan Chlebowski (Kaiser Permanente Center for Health Research, Portland, OR) Erin LeBlanc, Yvonne Michael, Evelyn Whitlock, Cheryl Ritenbaugh, Barbara Valanis; (Kaiser Permanente Division of Research, Oakland, CA) Bette Caan, Robert Hiatt; (National Cancer Institute, Bethesda, MD) Carolyn Clifford (deceased); (Medical College of Wisconsin, Milwaukee, WI) Jane Morley Kotchen (National Heart, Lung, and Blood Institute, Bethesda, Maryland) Linda Pottern; (Northwestern University, Chicago/Evanston, IL) Linda Van Horn, Philip Greenland; (Rush University Medical Center, Chicago, IL) Lynda Powell, William Elliott, Henry Black; (State University of New York at Stony Brook, Stony Brook, NY) Dorothy Lane, Iris Granek; (University at Buffalo, Buffalo, NY) Maurizio Trevisan; (University of Alabama at Birmingham, Birmingham, AL) Cora E. Lewis, Albert Oberman; (University of Arizona, Tucson/Phoenix, AZ) Tamsen Bassford, Cheryl Ritenbaugh, Tom Moon; (University of California at Davis, Sacramento, CA) John Robbins; (University of California at Irvine, CA) F. Allan Hubbell, Frank Meyskens, Jr.; (University of California at Los Angeles, CA) Lauren Nathan, Howard Judd (deceased); (University of California at San Diego, LaJolla/Chula Vista, CA) Robert D. Langer; (University of Cincinnati, Cincinnati, OH) Michael Thomas, Margery Gass, James Liu; (University of Hawaii, Honolulu, HI) J. David Curb (deceased); (University of Massachusetts/Fallon Clinic, Worcester, MA) Judith Ockene; (University of Medicine and Dentistry of New Jersey, Newark, NJ) Norman Lasser; (University of Miami, Miami, FL) Mary Jo O'Sullivan, Marianna Baum; (University of Minnesota, Minneapolis, MN) Karen L. Margolis, Richard Grimm; (University of Nevada, Reno, NV) Robert Brunner, Sandra Daugherty (deceased); (University of North Carolina, Chapel Hill, NC) Gerardo Heiss, Barbara Hulka, David Sheps; (University of Tennessee Health Science Center, Memphis, TN) Karen Johnson, William Applegate; (University of Texas Health Science Center, San Antonio, TX) Robert Brzyski, Robert Schenken; (University of Wisconsin, Madison, WI) Gloria E. Sarto, Catherine Allen (deceased); (Wake Forest University School of Medicine, Winston-Salem, NC) Mara Vitolins, Denise Bonds, Electra Paskett, Greg Burke; (Wayne State University School of Medicine/Karmanos Cancer Institute, Detroit, MI) Michael S. Simon, Susan Hendrix.
Ethics declarations
Conflict of interest
None of the authors have a personal or financial conflict of interest.
About this article
Cite this article
Gorczyca, A.M., He, K., Xun, P. et al. Association between magnesium intake and risk of colorectal cancer among postmenopausal women. Cancer Causes Control 26, 1761–1769 (2015). https://doi.org/10.1007/s10552-015-0669-2
Received:

Accepted:

Published:

Issue Date:
Keywords
Magnesium

Colorectal cancer

Colon cancer

Rectal cancer

Postmenopausal