Abstract
Purpose
Hot beverage consumption has been linked to oesophageal squamous cell cancer (EC), but its contribution to the poorly understood East African EC corridor is not known.
Methods
In a cross-sectional study of general-population residents in Kilimanjaro, North Tanzania, tea drinking temperatures and times were measured. Using linear regression models, we compared drinking temperatures to those in previous studies, by socio-demographic factors and tea type ("milky tea" which can be 50 % or more milk and water boiled together vs "black tea" which has no milk).
Results
Participants started drinking at a mean of 70.6 °C (standard deviation 3.9, n = 188), which exceeds that in all previous studies (p ≤ 0.01 for each). Tea type, gender and age were associated with drinking temperatures. After mutual adjustment for each other, milky tea drinkers drank their tea 1.9 °C (95 % confidence interval: 0.9, 2.9) hotter than drinkers of black tea, largely because black tea cooled twice as fast as milky tea. Men commenced drinking tea 0.9 °C (−0.2, 2.1) hotter than women did and finished their cups 30 (−9, 69) seconds faster. 70 % and 39 % of milky and black tea drinkers, respectively, reported a history of tongue burning.
Conclusions
Hot tea consumption, especially milky tea, may be an important and modifiable risk factor for EC in Tanzania. The contribution of this habit to EC risk needs to be evaluated in this setting, jointly with that of the many risk factors acting synergistically in this multi-factorial disease.
This is a preview of subscription content, log in to check access.
Access options
Buy single article
Instant access to the full article PDF.
US$ 39.95
Price includes VAT for USA
Subscribe to journal
Immediate online access to all issues from 2019. Subscription will auto renew annually.
US$ 199
This is the net price. Taxes to be calculated in checkout.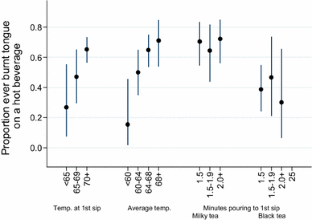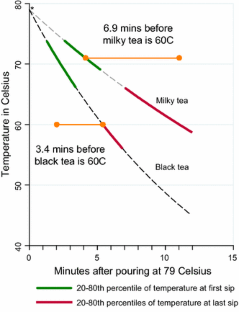 References
1.

Gavin AT, Francisci S, Foschi R et al (2012) Oesophageal cancer survival in Europe: a EUROCARE-4 study. Cancer Epidemiol 36:505–512

2.

Chen ML, Huang JZ, Zhu ZL, Zhang J, Li K (2013) Systematic review and meta-analysis of tumor biomarkers in predicting prognosis in esophageal cancer. BMC Cancer 13:539–552

3.

Ferlay J, Soerjomataram I, Ervik M et al (2013) GLOBOCAN 2012 v1.0, Cancer Incidence and Mortality Worldwide: IARC CancerBase No. 11. http://www.globocan.iarc.fr/

4.

Arnold M, Soerjomataram I, Ferlay J, Forman D (2014) Global incidence of oesophageal cancer by histological subtype in 2012. Gut 64(3):381–387

5.

Parkin DM, Bray F, Ferlay J, Jemal A (2014) Cancer in Africa 2012. Cancer Epidemiol Biomark Prev 23:953–966

6.

McGlashan ND (1969) Oesophageal cancer and alcoholic spirits in central Africa. Gut 10:643–650

7.

Pacella-Norman R, Urban MI, Sitas F et al (2002) Risk factors for oesophageal, lung, oral and laryngeal cancers in black South Africans. Br J Cancer 86:1751–1756

8.

Kamangar F, Chow WH, Abnet CC, Dawsey SM (2009) Environmental causes of esophageal cancer. Gastroenterol Clin North Am 38:27–57

9.

Ferlay J, Soerjomataram I, Dikshit R et al (2015) Cancer incidence and mortality worldwide: sources, methods and major patterns in GLOBOCAN 2012. Int J Cancer 136:E359–E386

10.

Hiza PR (1976) Malignant disease in Tanzania. East Afr Med J 53:82–95

11.

Islami F, Pourshams A, Nasrollahzadeh D et al (2009) Tea drinking habits and oesophageal cancer in a high risk area in northern Iran: population based case–control study. BMJ 338:b929

12.

Anonymous (1991) Coffee, tea, mate, methylxanthines and methylglyoxal. IARC Working Group on the Evaluation of Carcinogenic Risks to Humans. Lyon, 27 February to 6 March 1990, IARC Monogr Eval Carcinog Risks Hum 51: 1–513

13.

Islami F, Boffetta P, Ren JS, Pedoeim L, Khatib D, Kamangar F (2009) High-temperature beverages and foods and esophageal cancer risk–a systematic review. Int J Cancer 125:491–524

14.

Lubin JH, De SE, Abnet CC et al (2014) Mate drinking and esophageal squamous cell carcinoma in South America: pooled results from two large multicenter case–control studies. Cancer Epidemiol Biomark Prev 23:107–116

15.

Otiso KM (2013) Cuisine and Dress. ABC-CLIO Greenwood, Culture and Customs of Tanzania

16.

2014 Copyright Tanzania Meteorological Agency (2015) Tanzania Meteorological Agency. http://www.meteo.go.tz/

17.

Edwards FC, Edwards JH (1956) Tea-drinking and gastritis. Lancet 271:543–545

18.

Lee HS, O'Mahony M (2002) At what temperatures do consumers like to drink coffee?: mixing methods. J Food Sci 67:2774–2777

19.

Victora CG, Munoz N, Horta BL, Ramos EO (1990) Patterns of mate drinking in a Brazilian city. Cancer Res 50:7112–7115

20.

Castellsague X, Munoz N, De Stefani E, Victora CG, Castelletto R, Rolon PA (2000) Influence of mate drinking, hot beverages and diet on esophageal cancer risk in South America. Int J Cancer 88:658–664

21.

Roug A, Perez A, Mazet JAK et al (2014) Comparison of intervention methods for reducing human exposure to Mycobacterium bovis through milk in pastoralist households of Tanzania. Prev Vet Med 115:157–165

22.

Whiteman DC (2009) Hot tea and increased risk of oesophageal cancer. BMJ 338:b610

23.

Anonymous (2012) Tanzania 2010: results from the demographic and health survey. Stud Fam Plann 43:69–74

24.

Omore A, Arimi S, Kangethe E et al. (2001) Assessing and Managing Milk-borne Health Risks for the Benefit of Consumers in Kenya

25.

Rees WG, Viney C (1988) On cooling tea and coffee. Am J Phys 56:434–437

26.

Aliosmanoglu I, Aliosmanoglu C, Gul M et al (2013) The comparison of the effects of hot milk and hot water scald burns and factors effective for morbidity and mortality in preschool children. Eur J Trauma Emerg Surg 39:173–176

27.

Tarim A, Nursal TZ, Basaran O et al (2006) Scalding in Turkish children: comparison of burns caused by hot water and hot milk. Burns 32:473–476

28.

Li ZG, Shimada Y, Sato F et al (2003) Promotion effects of hot water on N-nitrosomethylbenzylamine-induced esophageal tumorigenesis in F344 rats. Oncol Rep 10:421–426

29.

Shayo SD, Lugomela C, Machiwa JF (2011) Influence of land use patterns on some limnological characteristics in the south-eastern part of Lake Victoria, Tanzania. Aquat Ecosyst Health Manage 14:246–251

30.

Mckenzie JM, Mark BG, Thompson LG, Schotterer U, Lin PN (2010) A hydrogeochemical survey of Kilimanjaro (Tanzania): implications for water sources and ages. Hydrogeol J 18:985–995

31.

Kamangar F, Schantz MM, Abnet CC, Fagundes RB, Dawsey SM (2008) High levels of carcinogenic polycyclic aromatic hydrocarbons in mate drinks. Cancer Epidemiol Biomark Prev 17:1262–1268

32.

Hot Disk (2015) Thermal Conductivity measurements on milk with various fat contents with the Hot Disk Thermal Constants Analyser. http://www.hotdiskinstruments.com/images/stories/pdf/Nr%202%20Applikation%20note%20-%20MILK%20A4.PDF

33.

Kurwijila LR (2002) Smallholder dairy production and marketing- Opportunities and constraints. Chapter 17: An overview of dairy development in Tanzania. In: D.Rangnekar and W.Thorpe, (eds) NDDB (National Dairy Development Board), Anand, India; ILRI (International Livestock Research Institute), Nairobi, Kenya

34.

Shewayrga H, Sopade PA (2011) Ethnobotany, diverse food uses, claimed health benefits and implications on conservation of barley landraces in North Eastern Ethiopia highlands. J Ethnobiol Ethnomed 7:19

35.

Bwibo NO, Neumann CG (2003) The need for animal source foods by Kenyan children. J Nutr 133:3936S–3940S

36.

Kulwa KBM, Kinabo JLD, Modest B (2006) Constraints on good child-care practices and nutritional status in urban Dar-es-Salaam, Tanzania. Food and Nutrition Bulletin 27:236–244

37.

Poggensee G, Schulze K, Moneta I, Mbezi P, Baryomunsi C, Harms G (2004) Infant feeding practices in western Tanzania and Uganda: implications for infant feeding recommendations for HIV-infected mothers. Tropical Med Int Health 9:477–485

38.

Dawsey SP, Tonui S, Parker RK et al (2010) Esophageal cancer in young people: a case series of 109 cases and review of the literature. PLoS One 5:e14080
Acknowledgments
We would like to thank the village elders and members of the Machame community for their participation in this study and to the fieldworkers Mr Timothy Ngowi and Mr Leons. We thank the KCRI data management and data entry team for their assistance in this work. This study was funded by the International Agency for Research on Cancer (IARC) and was jointly conducted with the Kilimanjaro Clinical Research Institute (KCRI), an Institute of Kilimanjaro Christian Medical Centre (KCMC). Dr Oresto Munishi's work on oesophageal cancer was supported by the 2012 UICC-IARC Development Fellowship; he is also partially supported by a HIV Associated Malignancies Training Program (HAMTRP) GRANT No. D43CA153722. During fieldwork, an MD4 medical student funded by the Medical Education Partnership Initiative HRSA grant T84-HA21123—Mentored Research Training Program (MEPI MRTP) of KCMC was mentored.
Ethics declarations
Conflict of interests
The authors declare no conflict of interest.
Electronic supplementary material
Below is the link to the electronic supplementary material.
About this article
Cite this article
Munishi, M.O., Hanisch, R., Mapunda, O. et al. Africa's oesophageal cancer corridor: Do hot beverages contribute?. Cancer Causes Control 26, 1477–1486 (2015). https://doi.org/10.1007/s10552-015-0646-9
Received:

Accepted:

Published:

Issue Date:
Keywords
Oesophageal cancer

Tanzania

Hot beverages

Tea