Abstract
Purpose
Diet is a potentially modifiable risk factor for Barrett's esophagus (BE). We investigated the associations between intakes of fruits and vegetables and risk of BE.
Methods
We identified study subjects from 1,859 participants who underwent the endoscopy in a single VA Medical Center in the US between 2008 and 2011. Dietary intake in the previous year was elicited using a self-administered Block food frequency questionnaire (FFQ). Logistic regression model was used to estimate odds ratio (OR) and its 95 % confidence interval (CI) for BE.
Results
A total of 151 cases with definite BE and 777 controls completed the FFQ. When highest tertile of intake was compared with the lowest, the OR (95 % CI) was 0.46 (0.26–0.81) for dark green vegetables, 0.52 (0.30–0.90) for legumes, 0.50 (0.28–0.90) for total fiber, 0.45 (0.25–0.81) for isoflavones, 0.52 (0.30–0.67) for total folate, and 0.45 (0.26–0.79) for lutein, adjusting for multiple confounding factors including use of aspirin or proton pump inhibitor, gastro-esophageal reflux symptoms, and physical activity. The association for dark green vegetables was attenuated after adjustment for lutein, total fiber, and total folate (OR = 0.82; 95 % CI 0.30–2.22).
Conclusion
Higher intake of dark green vegetables was associated with a decreased risk of BE in a veteran population. Such an inverse association may be partially mediated by lutein, fiber, and folate. The novel findings on the association between intake of lutein, total folate, or isoflavones and risk of BE need further confirmation.
Access options
Buy single article
Instant access to the full article PDF.
USD 39.95
Price excludes VAT (USA)
Tax calculation will be finalised during checkout.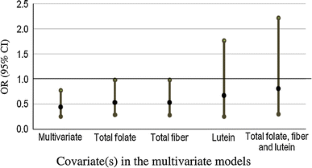 Abbreviations
BE:

Barrett's esophagus

BMI:

Body mass index

CI:

Confidence interval

EAC:

Esophageal adenocarcinoma

FFQ:

Food frequency questionnaire

GER:

Gastro-esophageal reflux

MEDVAMC:

Michael E. DeBakey Veterans Affairs Medical Center

MET:

Metabolic equivalent of task

MPED:

MyPyramid equivalents database

OR:

Odds ratio

PPI:

Proton pump inhibitors

SD:

Standard deviation

WHR:

Waist-to-hip ratio
References
Kubo A, Levin TR, Block G et al (2008) Dietary antioxidants, fruits, and vegetables and the risk of Barrett's esophagus. Am J Gastroenterol 103:1614–1623

Thompson OM, Beresford SA, Kirk EA, Vaughan TL (2009) Vegetable and fruit intakes and risk of Barrett's esophagus in men and women. Am J Clin Nutr 89:890–896

Anderson LA, Watson RG, Murphy SJ et al (2007) Risk factors for Barrett's esophagus and esophageal adenocarcinoma: results from the FINBAR study. World J Gastroenterol 13:1585–1594

Murphy SJ, Anderson LA, Ferguson HR et al (2010) Dietary antioxidant and mineral intake in humans is associated with reduced risk of esophageal adenocarcinoma but not reflux esophagitis or Barrett esophagus. J Nutr 140:1757–1763

Mulholland HG, Cantwell MM, Anderson LA et al (2009) Glycemic index, carbohydrate and fiber intakes and risk of reflux esophagitis, Barrett's esophagus, and esophageal adenocarcinoma. Cancer Causes Control 20:279–288

Kubo A, Block G, Quesenberry CP, Buffler P, Corley DA (2009) Effects of dietary fiber, fats, and meat intakes on the risk of Barrett's esophagus. Nutr Cancer 61:607–616

Ibiebele TI, Hughes MC, Pandeya N et al (2011) High intake of folate from food sources is associated with reduced risk of esophageal cancer in an Australian population. J Nutr 141:274–283

Willett WC (1998) Nutritional epidemiology, 2nd edn. Oxford University Press, New York

Subar AF, Thompson FE, Kipnis V et al (2001) Comparative validation of the Block, Willett, and National Cancer Institute food frequency questionnaires: the Eating at America's Table Study. Am J Epidemiol 154:1089–1099

Friday JE, Bowman SA (2006) MyPyramid equivalents database for USDA survey food codes, 1994–2002 version 1.0. USDA, Agricultural Research Service, Beltsville Human Nutrition Research Center, Community Nutrition Research Group: Beltsville, MD

Willett WC, Howe GR, Kushi LH (1997) Adjustment for total energy intake in epidemiologic studies. Am J Clin Nutr 65:1220S–1228S

Maldonado G, Greenland S (1993) Simulation study of confounder-selection strategies. Am J Epidemiol 138:923–936

Kubo A, Corley DA, Jensen CD, Kaur R (2010) Dietary factors and the risks of oesophageal adenocarcinoma and Barrett's oesophagus. Nutr Res Rev 23:230–246

Kristal AR, Blount PL, Schenk JM et al (2005) Low-fat, high fruit and vegetable diets and weight loss do not affect biomarkers of cellular proliferation in Barrett esophagus. Cancer Epidemiol Biomarkers Prev 14:2377–2383

Larsson SC, Giovannucci E, Wolk A (2006) Folate intake, MTHFR polymorphisms, and risk of esophageal, gastric, and pancreatic cancer: a meta-analysis. Gastroenterology 131:1271–1283

Sihvo EI, Salminen JT, Rantanen TK et al (2002) Oxidative stress has a role in malignant transformation in Barrett's oesophagus. Int J Cancer 102:551–555

Clements DM, Oleesky DA, Smith SC et al (2005) A study to determine plasma antioxidant concentrations in patients with Barrett's oesophagus. J Clin Pathol 58:490–492

van het Hof KH, Brouwer IA, West CE et al (1999) Bioavailability of lutein from vegetables is 5 times higher than that of beta-carotene. Am J Clin Nutr 70:261–268

Franceschi S, Bidoli E, Negri E et al (2000) Role of macronutrients, vitamins and minerals in the aetiology of squamous-cell carcinoma of the oesophagus. Int J Cancer 86:626–631

Abnet CC, Qiao YL, Dawsey SM et al (2003) Prospective study of serum retinol, beta-carotene, beta-cryptoxanthin, and lutein/zeaxanthin and esophageal and gastric cancers in China. Cancer Causes Control 14:645–655

Craig CL, Marshall AL, Sjostrom M et al (2003) International physical activity questionnaire: 12-country reliability and validity. Med Sci Sports Exerc 35:1381–1395

IPAQ Research Committee (2005) Guidelines for data processing and analysis of the international physical activity questionnaire (IPAQ). Huddinge, Sweden
Acknowledgments
Thanks to Liang Chen for her assistance in preparing the manuscript. This work was supported by grant R01-116845 (to El-Serag, HB) from the National Cancer Institute, National Institutes of Health. Hashem B. El-Serag is supported by grant K24-04-107 from National Institute of Diabetes and Digestive and Kidney Diseases. This work is supported in part by the Department of Veterans Affairs, Veterans Health Administration, Office of Research and Development, and the Houston VA Health Services Research and Development Center of Excellence (HFP90-020), and by the Texas Digestive Disease Center NIH DK58338. The funding agencies did not influence the study design, data collection and analysis, decision to publish, or preparation of the manuscript.
Conflict of interest
The authors declare that they have no conflict of interest.
About this article
Cite this article
Jiao, L., Kramer, J.R., Rugge, M. et al. Dietary intake of vegetables, folate, and antioxidants and the risk of Barrett's esophagus. Cancer Causes Control 24, 1005–1014 (2013). https://doi.org/10.1007/s10552-013-0175-3
Received:

Accepted:

Published:

Issue Date:

DOI: https://doi.org/10.1007/s10552-013-0175-3
Keywords
Diet

Barrett's esophagus

Risk

Case–control