Abstract
Objective
Some but not all epidemiological studies have reported that high intakes of red and processed meat are associated with an increased risk of colorectal cancer. In the UK Dietary Cohort Consortium, we examined associations of meat, poultry and fish intakes with colorectal cancer risk using standardised individual dietary data pooled from seven UK prospective studies.
Methods
Four- to seven-day food diaries were analysed, disaggregating the weights of meat, poultry and fish from composite foods to investigate dose–response relationships. We identified 579 cases of colorectal cancer and matched with 1,996 controls on age, sex and recruitment date. Conditional logistic regression models were used to estimate odds ratios for colorectal cancer associated with meat, poultry and fish intakes, adjusting for relevant covariables.
Results
Disaggregated intakes were moderately low, e.g. mean red meat intakes were 38.2 g/day among male and 28.7 g/day among female controls. There was little evidence of association between the food groups examined and risk for colorectal cancer: Odds ratios (95% confidence intervals) for a 50 g/day increase were 1.01 (0.84–1.22) for red meat, 0.88 (0.68–1.15) for processed meat, 0.97 (0.84–1.12) for red and processed meat combined, 0.80 (0.65–1.00) for poultry, 0.92 (0.70–1.21) for white fish and 0.89 (0.70–1.13) for fatty fish.
Conclusions
This study using pooled data from prospective food diaries, among cohorts with low to moderate meat intakes, shows little evidence of association between consumption of red and processed meat and colorectal cancer risk.
Access options
Buy single article
Instant access to the full article PDF.
USD 39.95
Price excludes VAT (USA)
Tax calculation will be finalised during checkout.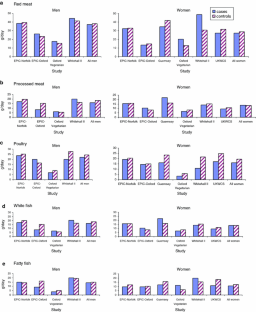 References
Larsson SC, Wolk A (2006) Meat consumption and risk of colorectal cancer: a meta-analysis of prospective studies. Int J Cancer 119(11):2657–2664

World Cancer Research Fund/American Institute for Cancer Research (2007) Food, nutrition, physical activity and the prevention of cancer: a global perspective. AICR, Washington DC

Geelen A, Schouten JM, Kamphuis C et al (2007) Fish consumption, n-3 fatty acids, and colorectal cancer: a meta-analysis of prospective cohort studies. Am J Epidemiol 166(10):1116–1125

Dahm CD, Keogh RH, Spencer EA et al (2010) Protective association of dietary fiber with colorectal cancer risk: results from the UK dietary cohort consortium using food diary data. J Natl Cancer Inst. doi:10.1093/jnci/djq151

Bingham SA, Gill C, Welch A et al (1994) Comparison of dietary assessment methods in nutritional epidemiology: weighed records v. 24 h recalls, food-frequency questionnaires and estimated-diet records. Br J Nutr 72(4):619–643

Bingham SA, Gill C, Welch A et al (1997) Validation of dietary assessment methods in the UK arm of EPIC using weighed records, and 24-hour urinary nitrogen and potassium and serum vitamin C and carotenoids as biomarkers. Int J Epidemiol 26(1):S137–S151

Bingham SA, Cassidy A, Cole TJ et al (1995) Validation of weighed records and other methods of dietary assessment using the 24 h urine nitrogen technique and other biological markers. Br J Nutr 73(4):531–550

Prynne CJ, Wagemakers JJ, Stephen AM, Wadsworth ME (2009) Meat consumption after disaggregation of meat dishes in a cohort of British adults in 1989 and 1999 in relation to diet quality. Eur J Clin Nutr 63(5):660–666

Day N, Oakes S, Luben R, Khaw KT, Bingham S, Welch A, Wareham N (1999) EPIC-Norfolk: study design and characteristics of the cohort European prospective investigation of cancer. Br J Cancer 80(1):95–103

Davey GK, Appleby PN, Spencer EA, Key TJ (2003) EPIC-Oxford: lifestyle characteristics and nutrient intakes in a cohort of 33883 meat-eaters and 31546 non meat-eaters in the UK. Public Health Nutr 6(3):259–268

Thomas HV, Key TJ, Allen DS et al (1997) A prospective study of endogenous serum hormone concentrations and breast cancer risk in post-menopausal women on the island of Guernsey. Br J Cancer 76(3):401–405

Wadsworth M, Kuh D, Richards M, Hardy R (2006) Cohort profile: the 1946 National Birth Cohort (MRC national survey of health and development). Int J Epidemiol 35(1):49–54

Appleby PN, Thorogood M, Mann JI, Key TJ (1999) The Oxford vegetarian study: an overview. Am J Clin Nutr 70:525S–531S

Marmot MG, Smith GD, Stansfeld S et al (1991) Health inequalities among British civil servants: the Whitehall II study. Lancet 337(8754):1387–1393

Cade JE, Burley VJ, Greenwood DC, UK Women's Cohort Study Steering Group (2004) The UK women's cohort study: comparison of vegetarians, fish-eaters and meat-eaters. Public Health Nutr 7(7):871–878

Michels KB, Welch AA, Luben R, Bingham SA, Day NE (2005) Measurement of fruit and vegetable consumption with diet questionnaires and implications for analyses and interpretation. Am J Epidemiol 161(10):987–994

Holland B, Welch AA, Unwin ID, Buss DH, Paul AA, Southgate AT (1991) McCance and Widdowson's the composition of foods, 5th edn. Royal Society of Chemistry, Cambridge

Welch AA, McTaggart A, Mulligan AA et al (2001) DINER (Data Into Nutrients for Epidemiological Research)–a new data-entry program for nutritional analysis in the EPIC-Norfolk cohort and the 7-day diary method. Public Health Nutr 4:1253–1265

Cade JE, Frear L, Greenwood DC (2006) Assessment of diet in young children with an emphasis on fruit and vegetable intake: using CADET—child and diet evaluation tool. Public Health Nutr 9(4):501–508

Price GM, Paul AA, Key FB et al (1995) Measurement of diet in a large national survey: comparison of computerized and manual coding of records in household measures. J Hum Nutr Dietetics 8:417–428

StataCorp (2007) Stata statistical software: release 10. StataCorp LP, College Station, TX

Day N, McKeown N, Wong M, Welch A, Bingham S (2001) Epidemiological assessment of diet: a comparison of a 7-day diary with a food frequency questionnaire using urinary markers of nitrogen, potassium and sodium. Int J Epidemiol 30(2):309–317

Welch AA, Bingham SA, Ive J et al (2006) Dietary fish intake and plasma phospholipid n-3 polyunsaturated fatty acid concentrations in men and women in the European prospective investigation into cancer-norfolk United Kingdom cohort. Am J Clin Nutr 84(6):1330–1339

Huxley RR, Ansary-Moghaddam A, Clifton P, Czernichow S, Parr CL, Woodward M (2009) The impact of dietary and lifestyle risk factors on risk of colorectal cancer: a quantitative overview of the epidemiological evidence. Int J Cancer 125(1):171–180

Cross AJ, Leitzmann MF, Gail MH, Hollenbeck AR, Schatzkin A, Sinha R (2007) A prospective study of red and processed meat intake in relation to cancer risk. PLoS Med 4(12):e325

Chao A, Thun MJ, Connell CJ et al (2005) Meat consumption and risk of colorectal cancer. JAMA 293(2):172–182

Norat T, Bingham S, Ferrari P et al (2005) Meat, fish, and colorectal cancer risk: the European prospective investigation into cancer and nutrition. J Natl Cancer Inst 97(12):906–916

Cho E, Smith-Warner SA (2004) For the pooling project of prospect studies of diet and cancer investigators. Meat and fat intake and colorectal cancer risk: a pooled analysis of 14 prospective studies [abstract] In: Proceedings of the Annual Meeting of the American Association for Cancer Research. Vol 45: Abstract nr 491
Acknowledgments
We thank the participants in these cohort studies for their contribution to this research.
Funding
The UK Dietary Cohort Consortium at the MRC Centre for Nutritional Epidemiology in Cancer Prevention and Survival is funded by the Medical Research Council. The cohort studies included in this consortium received funding from: British Heart Foundation; Cancer Research UK; Department of Health, UK; Food Standards Agency, UK; Lloyds TSB Foundation for the Channel Islands; Medical Research Council, UK; the Stroke Association, UK, and the World Cancer Research Fund.
Conflict of interest statement
TJK is a member of the Vegan Society, UK.
About this article
Cite this article
Spencer, E.A., Key, T.J., Appleby, P.N. et al. Meat, poultry and fish and risk of colorectal cancer: pooled analysis of data from the UK dietary cohort consortium. Cancer Causes Control 21, 1417–1425 (2010). https://doi.org/10.1007/s10552-010-9569-7
Received:

Accepted:

Published:

Issue Date:

DOI: https://doi.org/10.1007/s10552-010-9569-7
Keywords