Abstract
Arsenic-metabolism-related genes can regulate the arsenic methylation process and may influence susceptibility to cancer. We evaluated the roles of arsenic metabolism genes on urinary arsenic profiles of repeated measurement with 15-year follow-up (1988–2004) through general linear model (GLM) and assessed the effect of the changed extent of urinary arsenic profiles on cancer risk. Questionnaire information and blood samples and two urines (1988 and 2004) were collected from 208 subjects in an arseniasis hyperendemic area in Taiwan. Profiles for concentrations of urinary arsenic were determined using HPLC-HG-AAS. The relative proportion of each arsenic species was calculated by dividing the concentration of each arsenic species by the total arsenic concentration. Genotyping was done using the 5′ nuclease allelic discrimination (Taqman) assay. The incidence of cancer was identified through linking to the National Cancer Registry Systems. The Cox proportional hazards model and survival curves were used in the analyses. After a 15-year follow-up, baseline monomethylarsonic acid percentage (MMA%) and change in MMA% exhibited a significant dose–response relationship with cancer risk. Individuals with a higher baseline MMA% and a lower change in MMA% had the earliest cancer incidence (statistically significant). Through GLM, significant gene effects of arsenic (+3 oxidation state)-methyltransferase (AS3MT) on MMA%, dimethylarsinic acid percentage (DMA%) and DMA/MMA, purine nucleoside phosphorylase (PNP) on DMA% and glutathione S-transferase omega 2 (GSTO2) on inorganic arsenics (InAs%) were found. Our results show that MMA% might be a potential predictor of cancer risk. The change in MMA% was linked to individual cancer susceptibility related to AS3MT rs3740393.
Access options
Buy single article
Instant access to the full article PDF.
USD 39.95
Price excludes VAT (USA)
Tax calculation will be finalised during checkout.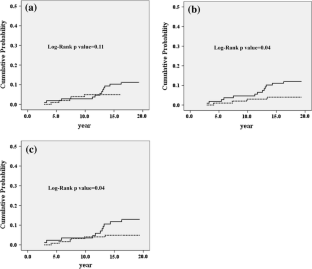 References
Chen CJ, Chen CW, Wu MM, Kuo TL (1992) Cancer potential in liver, lung, bladder and kidney due to ingested inorganic arsenic in drinking water. Br J Cancer 66:888–892

Chen CL, Hsu LI, Chiou HY et al (2004) Ingested arsenic, cigarette smoking, and lung cancer risk: a follow-up study in arseniasis-endemic areas in Taiwan. JAMA 292:2984–2990

Chiou HY, Hsueh YM, Liaw KF et al (1995) Incidence of internal cancers and ingested inorganic arsenic: a seven-year follow-up study in Taiwan. Cancer Res 55:1296–1300

Hsueh YM, Chiou HY, Huang YL et al (1997) Serum beta-carotene level, arsenic methylation capability, and incidence of skin cancer. Cancer Epidemiol Biomarkers Prev 6:589–596

Huang YK, Huang YL, Hsueh YM et al (2008) Arsenic exposure, urinary arsenic speciation, and the incidence of urothelial carcinoma: a twelve-year follow-up study. Cancer Causes Control 19:829–839

Lin S, Shi Q, Nix FB et al (2002) A novel S-adenosyl-L-methionine: arsenic (III) methyltransferase from rat liver cytosol. J Biol Chem 277:10795–10803

Thomas DJ, Li J, Waters SB et al (2007) Arsenic (+3 oxidation state) methyltransferase and the methylation of arsenicals. Exp Biol Med (Maywood) 232:3–13

Drobna Z, Waters SB, Devesa V, Harmon AW, Thomas DJ, Styblo M (2005) Metabolism and toxicity of arsenic in human urothelial cells expressing rat arsenic (+3 oxidation state)-methyltransferase. Toxicol Appl Pharmacol 207:147–159

Drobna Z, Waters SB, Walton FS, LeCluyse EL, Thomas DJ, Styblo M (2004) Interindividual variation in the metabolism of arsenic in cultured primary human hepatocytes. Toxicol Appl Pharmacol 201:166–177

Drobna Z, Xing W, Thomas DJ, Styblo M (2006) shRNA silencing of AS3MT expression minimizes arsenic methylation capacity of HepG2 cells. Chem Res Toxicol 19:894–898

Wood TC, Salavagionne OE, Mukherjee B et al (2006) Human arsenic methyltransferase (AS3MT) pharmacogenetics: gene resequencing and functional genomics studies. J Biol Chem 281:7364–7373

Mukherjee B, Salavaggione OE, Pelleymounter LL et al (2006) Glutathione S-transferase omega 1 and omega 2 pharmacogenomics. Drug Metab Dispos 34:1237–1246

Yu L, Kalla K, Guthrie E, Vidrine A, Klimecki WT (2003) Genetic variation in genes associated with arsenic metabolism: glutathione S-transferase omega 1–1 and purine nucleoside phosphorylase polymorphisms in European and indigenous Americans. Environ Health Perspect 111:1421–1427

Chowdhury UK, Zakharyan RA, Hernandez A, Avram MD, Kopplin MJ, Aposhian HV (2006) Glutathione-S-transferase-omega [MMA(V) reductase] knockout mice: Enzyme and arsenic species concentrations in tissues after arsenate administration. Toxicol Appl Pharmacol 216:446–457

Hernandez A, Xamena N, Surralles J et al (2008) Role of the Met(287)Thr polymorphism in the AS3MT gene on the metabolic arsenic profile. Mutat Res 637:80–92

Schlawicke EK, Nermell B, Concha G, Stromberg U, Vahter M, Broberg K (2008) Arsenic metabolism is influenced by polymorphisms in genes involved in one-carbon metabolism and reduction reactions. Mutat Res (Article in Press)

Engstrom KS, Broberg K, Concha G, Nermell B, Warholm M, Vahter M (2007) Genetic polymorphisms influencing arsenic metabolism: evidence from Argentina. Environ Health Perspect 115:599–605

Meza M, Gandolfi AJ, Klimecki WT (2007) Developmental and genetic modulation of arsenic biotransformation: a gene by environment interaction? Toxicol Appl Pharmacol 222:381–387

Fujihara J, Kunito T, Agusa T et al (2007) Population differences in the human arsenic (+3 oxidation state) methyltransferase (AS3MT) gene polymorphism detected by using genotyping method. Toxicol Appl Pharmacol 225:251–254

Fujihara J, Soejima M, Koda Y, Agusa T, Kunito T, Takeshita H (2008) Asian specific low mutation frequencies of the M287T polymorphism in the human arsenic (+3 oxidation state) methyltransferase (AS3MT) gene. Mutat Res 654:158–161

Tapio S, Grosche B (2006) Arsenic in the aetiology of cancer. Mutat Res -Rev Mutat Res 612:215–246

Chen CJ, Hsueh YM, Lai MS et al (1995) Increased prevalence of hypertension and long-term arsenic exposure. Hypertension 25:53–60

Hsueh YM, Huang YL, Huang CC et al (1998) Urinary levels of inorganic and organic arsenic metabolites among residents in an arseniasis-hyperendemic area in Taiwan. J Toxicol Environ Health 54:431–444

Chen YC, Amarasiriwardena CJ, Hsueh YM, Christiani DC (2002) Stability of arsenic species and insoluble arsenic in human urine. Cancer Epidemiol Biomarkers Prev 11:1427–1433

Steinmaus C, Bates MN, Yuan Y et al (2006) Arsenic methylation and bladder cancer risk in case–control studies in Argentina and the United States. J Occup Environ Med 48:478–488

Yu RC, Hsu KH, Chen CJ, Froines JR (2000) Arsenic methylation capacity and skin cancer. Cancer Epidemiol Biomarkers Prev 9:1259–1262

Radabaugh TR, Sampayo-Reyes A, Zakharyan RA, Aposhian HV (2002) Arsenate reductase II. Purine nucleoside phosphorylase in the presence of dihydrolipoic acid is a route for reduction of arsenate to arsenite in mammalian systems. Chem Res Toxicol 15:692–698

De CS, Ghosh P, Sarma N et al (2008) Genetic variants associated with arsenic susceptibility: study of purine nucleoside phosphorylase, arsenic (+3) methyltransferase, and glutathione s-transferase omega genes. Environ Health Perspect 116:501–505

Marahatta SB, Punyarit P, Bhudisawasdi V, Paupairoj A, Wongkham S, Petmitr S (2006) Polymorphism of glutathione S-transferase omega gene and risk of cancer. Cancer Lett 236:276–281

Whitbread AK, Tetlow N, Eyre HJ, Sutherland GR, Board PG (2003) Characterization of the human Omega class glutathione transferase genes and associated polymorphisms. Pharmacogenetics 13:131–144

Arning L, Jagiello P, Wieczorek S, Saft C, Andrich J, Epplen JT (2004) Glutathione S-Transferase Omega 1 variation does not influence age at onset of Huntington's disease. BMC Med Genet 5:7–10

Morari EC, Lima AB, Bufalo NE, Leite JL, Granja F, Ward LS (2006) Role of glutathione-S-transferase and codon 72 of P53 genotypes in epithelial ovarian cancer patients. J Cancer Res Clin Oncol 132:521–528

Ahsan H, Chen Y, Kibriya MG et al (2007) Arsenic metabolism, genetic susceptibility, and risk of premalignant skin lesions in Bangladesh. Cancer Epidemiol Biomarkers Prev 16:1270–1278

Lindberg AL, Kumar R, Goessler W et al (2007) Metabolism of low-dose inorganic arsenic in a central European population: influence of sex and genetic polymorphisms. Environ Health Perspect 115:1081–1086

Leite JL, Morari EC, Granja F, Campos GM, Guilhen AC, Ward LS (2007) Influence of the glutathione s-transferase gene polymorphisms on the susceptibility to basal cell skin carcinoma. Rev Med Chil 135:301–306
Acknowledgments
The study was supported by grants from the National Science Council of the ROC (NSC 86-2314-B-038-038, NSC 87-2314-B-038-029, NSC-88-2314-B-038-112, NSC-89-2314-B038-049, SC-89-2320-B038-013, NSC-90-2320-B-038-021, NSC91-3112-B-038-0019, NSC92-3112-B-038-001, NSC93-3112-B-038-001, NSC94-2314-B-038-023, NSC-95-2314-B-038-007, NSC- 96-2314-B038-003 and NSC 97-2314-B-038-015-MY3).
About this article
Cite this article
Chung, CJ., Hsueh, YM., Bai, CH. et al. Polymorphisms in arsenic metabolism genes, urinary arsenic methylation profile and cancer. Cancer Causes Control 20, 1653–1661 (2009). https://doi.org/10.1007/s10552-009-9413-0
Received:

Accepted:

Published:

Issue Date:

DOI: https://doi.org/10.1007/s10552-009-9413-0
Keywords