Abstract
Objective
To investigate the prospective relationships between television viewing time and weight gain in the 3 years following colorectal cancer diagnosis for 1,867 colorectal cancer survivors (body mass index (BMI) ≥ 18.5 kg/m2).
Methods
BMI, television viewing time, physical activity, and socio-demographic and clinical covariates were assessed at baseline (5 months), 24 months and 36 months post-diagnosis. Multiple linear regression was used to study independent associations between baseline television viewing time and BMI at 24 and 36 months post-diagnosis.
Results
At both follow-up time points, there was a significant increase in mean BMI for participants reporting ≥5 h/day of television viewing compared to those watching <3 h/day at baseline (24 months: 0.72 kg/m2 (0.31, 1.12), p < 0.001; 36 months: 0.61 kg/m2 (0.14, 1.07), p = 0.01), independent of baseline BMI, gender, age, education, marital status, smoking, cancer site, cancer disease stage, treatment mode and co-morbidities. Additional adjustment for baseline physical activity did not change results.
Conclusions
These findings suggest that a greater emphasis on decreasing television viewing time could help reduce weight gain among colorectal cancer survivors. This, in turn, could contribute to a risk reduction for co-morbid conditions such as type 2 diabetes and cardiovascular disease.
Access options
Buy single article
Instant access to the full article PDF.
US$ 39.95
Tax calculation will be finalised during checkout.
Subscribe to journal
Immediate online access to all issues from 2019. Subscription will auto renew annually.
US$ 119
Tax calculation will be finalised during checkout.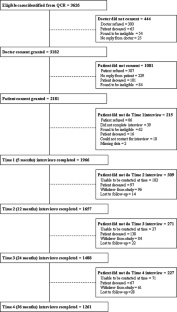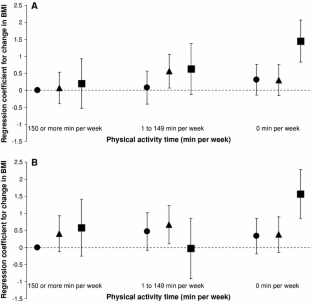 References
1.

Jones LW, Demark-Wahnefried W (2006) Diet, exercise, and complementary therapies after primary treatment for cancer. Lancet Oncol 7(12):1017–1026. doi:10.1016/S1470-2045(06)70976-7

2.

Dunstan DW, Salmon J, Owen N et al (2004) Physical activity and television viewing in relation to risk of undiagnosed abnormal glucose metabolism in adults. Diabetes Care 27(11):2603–2609. doi:10.2337/diacare.27.11.2603

3.

Patel AV, Rodriguez C, Pavluck AL, Thun MJ, Calle EE (2006) Recreational physical activity and sedentary behavior in relation to ovarian cancer risk in a large cohort of US women. Am J Epidemiol 163(8):709–716. doi:10.1093/aje/kwj098

4.

Blanchard C, Stein K, Baker F et al (2004) Association between current lifestyle behaviors and health-related quality of life in breast, colorectal and prostate cancer survivors. Psychology and Health 19(1):1–13. doi:10.1080/08870440310001606507

5.

Irwin ML, McTiernan A, Baumgartner RN et al (2005) Changes in body fat and weight after a breast cancer diagnosis: influence of demographic, prognostic, and lifestyle factors. J Clin Oncol 23(4):774–782. doi:10.1200/JCO.2005.04.036

6.

Ferlay J, Bray F, Pisani P, Parkin D (eds) (2004) GLOBOCAN 2002: cancer incidence, mortality and prevalence worldwide. IARC Press, Lyon

7.

Jemal A, Murray T, Ward E et al (2005) Cancer statistics, 2005. CA-A Cancer J Clin 55(1):10–30. doi:10.3322/canjclin.55.1.10

8.

Calle EE, Rodriguez C, Walker-Thurmond K, Thun MJ (2003) Overweight, obesity, and mortality from cancer in a prospectively studied cohort of US adults. N Engl J Med 348(17):1625–1638. doi:10.1056/NEJMoa021423

9.

Haydon AMM, MacInnis RJ, English DR, Giles GG (2006) Effect of physical activity and body size on survival after diagnosis with colorectal cancer. Gut 55(1):62–67. doi:10.1136/gut.2005.068189

10.

Meyerhardt JA, Heseltine D, Niedzwiecki D et al (2006) Impact of physical activity on cancer recurrence and survival in patients with stage III colon cancer: findings from CALGB 89803. J Clin Oncol 24(22):3535–3541. doi:10.1200/JCO.2006.06.0863

11.

Meyerhardt JA, Giovannucci EL, Holmes MD et al (2006) Physical activity and survival after colorectal cancer diagnosis. J Clin Oncol 24(22):3527–3534. doi:10.1200/JCO.2006.06.0855

12.

Dunstan D, Salmon J, Owen N et al (2005) Associations of TV viewing and physical activity with the metabolic syndrome in Australian adults. Diabetologia 48(11):2254–2261. doi:10.1007/s00125-005-1963-4

13.

Blanck HM, McCullough ML, Patel AV et al (2007) Sedentary behavior, recreational physical activity, and 7-year weight gain among postmenopausal US women. Obesity 15(6):1578–1588. doi:10.1038/oby.2007.187

14.

Hu FB, Li TY, Colditz GA, Willett WC, Manson JE (2003) Television watching and other sedentary behaviors in relation to risk of obesity and type 2 diabetes mellitus in women. JAMA 289(14):1785–1791. doi:10.1001/jama.289.14.1785

15.

Hamilton MT, Hamilton DG, Zderic TW (2007) Role of low energy expenditure and sitting in obesity, metabolic syndrome, type 2 diabetes, and cardiovascular disease. Diabetes 56(11):2655–2667. doi:10.2337/db07-0882

16.

Owen N, Leslie E, Salmon J, Fotheringham MJ (2000) Environmental determinants of physical activity and sedentary behavior. Exerc Sport Sci Rev 28(4):153–158

17.

Salmon J, Owen N, Crawford D, Bauman A, Sallis JF (2003) Physical activity and sedentary behavior: a population-based study of barriers, enjoyment, and preference. Health Psychol 22(2):178–188. doi:10.1037/0278-6133.22.2.178

18.

Healy GN, Dunstan DW, Salmon J, Shaw JE, Zimmet PZ, Owen N (2008) Television time and continuous metabolic risk in physically active adults. Med Sci Sports Exerc 40(4):639–645. doi:10.1249/MSS.0b013e3181607421

19.

Lynch BM, Baade P, Fritschi L et al (2007) Modes of presentation and pathways to diagnosis of colorectal cancer in Queensland. Med J Aust 186(6):288–291

20.

Australian Institute of Health and Welfare (2003) The active Australia survey. A guide and manual for implementation, analysis and reporting. AIHW, Canberra

21.

Bauman A, Armstrong T, Davies J et al (2003) Trends in physical activity participation and the impact of integrated campaigns among Australian adults, 1997–99. Aust N Z J Public Health 27(1):76–79. doi:10.1111/j.1467-842X.2003.tb00384.x

22.

Department of Health and Aged Care (1999) National physical activity guidelines for Australians. Australian Government, Canberra

23.

Ragland DR (1992) Dichotomizing continuous outcome variables—dependence of the magnitude of association and statistical power on the cutpoint. Epidemiology 3(5):434–440. doi:10.1097/00001648-199209000-00009

24.

International Agency for Research on Cancer (2001) Weight control and physical activity. IARC Press, Lyon

25.

Barnett AG, van der Pols JC, Dobson AJ (2005) Regression to the mean: what it is and how to deal with it. Int J Epidemiol 34(1):215–220. doi:10.1093/ije/dyh299

26.

Foster JA, Gore SA, West DS (2006) Altering TV viewing habits: an unexplored strategy for adult obesity intervention? Am J Health Behav 30(1):3–14

27.

Healy GN, Wijndaele K, Dunstan DW et al (2008) Objectively measured sedentary time, physical activity, and metabolic risk: the Australian diabetes, obesity and lifestyle study (AusDiab). Diabetes Care 31(2):369–371. doi:10.2337/dc07-1795

28.

Dunstan DW, Salmon J, Healy GN et al (2007) Association of television viewing with fasting and 2-h postchallenge plasma glucose levels in adults without diagnosed diabetes. Diabetes Care 30(3):516–522. doi:10.2337/dc06-1996

29.

Larsen JK, Ouwens M, Engels R, Eisinga R, van Strien T (2008) Validity of self-reported weight and height and predictors of weight bias in female college students. Appetite 50:386–389

30.

Healy GN, Dunstan DW, Salmon J et al (2008) Breaks in sedentary time: beneficial associations with metabolic risk. Diabetes Care 34(4):661–666. doi:10.2337/dc07-2046
Acknowledgments
This project was funded by the Cancer Council Queensland. Owen is supported by a Queensland Health Core Research Infrastructure grant and by NHMRC Program Grant funding (#301200). Dunstan is supported by a Victorian Health Promotion Foundation Public Health Research Fellowship.
About this article
Cite this article
Wijndaele, K., Lynch, B.M., Owen, N. et al. Television viewing time and weight gain in colorectal cancer survivors: a prospective population-based study. Cancer Causes Control 20, 1355–1362 (2009). https://doi.org/10.1007/s10552-009-9356-5
Received:

Accepted:

Published:

Issue Date:
Keywords
Colorectal neoplasms

Body mass index

Health behavior

Longitudinal studies