Abstract
Objective
To examine the relationship between obesity and mammography use in a large population of black and white women.
Methods
Baseline data from 18,756 black and 6,304 white women enrolled in the Southern Community Cohort Study were used to examine the association between body mass index categories (healthy weight: 18.5–24.9 kg/m2, overweight: 25–29.9 kg/m2, and obesity classes I: 30–34.9 kg/m2, II: 35–39.9 kg/m2, and III: 40+ kg/m2) and mammogram use in the past two years. Cross-sectional analyses were conducted using logistic regression controlling for socioeconomic measures, medical conditions, insurance coverage, and lifestyle factors.
Results
Among white women, obesity class III was associated with a reduced likelihood of recent mammography compared to healthy weight women (OR = 0.70, 95% CI 0.56–0.87) that appeared unrelated to income and insurance coverage. A deterring effect of obesity was not evident among black women; instead, overweight and obesity were associated with small elevations in mammography use compared to healthy weight.
Conclusions
In light of rising obesity rates and known associations between obesity and breast cancer risk and prognosis, a deterring effect of extreme obesity on mammography screening for white women is a concern that should be addressed by screening programs and by further directed research into the factors underlying this association.
This is a preview of subscription content, log in to check access.
Access options
Buy single article
Instant access to the full article PDF.
US$ 39.95
Price includes VAT for USA
Subscribe to journal
Immediate online access to all issues from 2019. Subscription will auto renew annually.
US$ 199
This is the net price. Taxes to be calculated in checkout.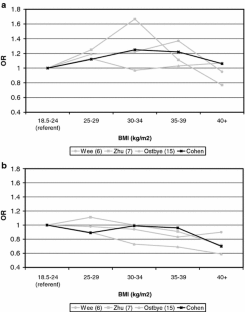 References
1.

American Cancer Society (2006) Cancer Facts & Figures 2006. American Cancer Society, Atlanta

2.

Humphrey LL, Helfand M, Chan BKS, Woolf SH (2002) Breast cancer screening: a summary of the evidence for the U.S. Preventive services task force. Ann Intern Med 137:347–360

3.

Olsen O, Gøtzsche PC (2001) Screening for breast cancer with mammography. Cochrane Database Syst Rev 4:CD001877

4.

U.S. Preventive Services Task Force (2002) Screening for breast cancer: recommendations and rationale. Agency for Healthcare Research and Quality, Rockville, MD http://www.ahrq.gov/clinic/3rduspstf/breastcancer/brcanrr.htm

5.

Wee CC, McCarthy EP, Davis RB, Phillips RS (2000) Screening for cervical and breast cancer: is obesity an unrecognized barrier to preventive care? Ann Intern Med 132:697–704

6.

Wee CC, McCarthy EP, Davis RB, Phillips RS (2004) Obesity and breast cancer screening, the influence of race, illness burden, and other factors. J Gen Intern Med 19:324–331

7.

Zhu K, Wu H, Jatoi I, Potter J, Shriver C (2006) Body mass index and use of mammography screening in the United States. Prev Med 42:381–385

8.

Fontaine KR, Heo M, Allison DB (2001) Body weight and Cancer Screening among Women. J Womens Health Gend Based Med 10:463–470

9.

Flegal KM, Carroll MD, Ogden CL, Johnson CL (2002) Prevalence and trends in obesity among US adults, 1999–2000. JAMA 288:1723–1727

10.

Signorello LB, Hargreaves MK, Steinwandel MD et al (2005) The Southern Community Cohort Study: establishing a cohort to investigate health disparities. J Natl Med Assoc 97:972–979

11.

Hargreaves M, Arnold C, Blot WJ (2006) Community health centers: their role in the treatment of minorities and in health disparities research. In: Satcher D, Pamies R (eds) Multicultural medicine and health disparities. McGraw-Hill, New York, NY, pp 485–494

12.

Executive summary of the clinical guidelines on the identification, evaluation, and treatment of overweight and obesity in adults (1998) Arch Int Med 158:1855–1867

13.

Hosmer DW, Lemeshow S (1989) Applied logistic regression. John Wiley & Sons, Inc., New York, NY

14.

Andresen EM, Maligner JA, Carter WB, Patrick DL (1994) Screening for depression in well older adults: evaluation of a short form of the CES-D (Center for Epidemiologic Studies Depression Scale). Am J Prev Med 10:77–84

15.

Ostbye T, Taylor DH Jr, Yancy WS Jr, Krause KM (2005) Associations between obesity and receipt of screening mammography, Papanicolaou tests, and influenza vaccination: results from the health and retirement study (HRS) and the asset and health dynamics among the oldest old (AHEAD) study. Am J Public Health 95:1623–1630

16.

Carmichael AR, Bates T (2004) Obesity and breast cancer: a review of the literature. Breast 13:85–92

17.

Key TJ, Verkasalo PK, Banks E (2001) Epidemiology of breast cancer. Lancet Oncol 2:133–140

18.

Stephenson GD, Rose DP (2003) Breast cancer and obesity: an update. Nutr Cancer 45:1–16

19.

McTiernan A, Gilligan MA, Redmond C (1997) Assessing individual risk for breast cancer: risky business. J Clin Epidemiol 50:547–556

20.

Abrahamson PE, Gammon MD, Lund MJ et al (2006) General and abdominal obesity and survival among young women with breast cancer. Cancer Epidemiol Biomarkers Prev 15:1871–1877

21.

Anderson LA, Eyler AA, Galuska DA, Brown DR, Brownson RC (2002) Relationship of satisfaction with body size and trying to lose weight in a national survey of overweight and obese women aged 40 and older. Prev Med 35:390–396

22.

Fitzgibbon ML, Blackman LR, Avellone ME (2000) The relationship between body image discrepancy and body mass index across ethnic groups. Obes Res 8:582–589

23.

Centers for Disease Control and Prevention (CDC) (2004) Behavioral risk factor surveillance system survey data. U.S. Department of Health and Human Services, Centers for Disease Control and Prevention, Atlanta, Georgia, 5 September 2006. http://apps.nccd.cdc.gov/brfss/display.asp?yr=2004&cat=WH&qkey=4421&state=US

24.

Coughlin SC, Uhler RJ, Bobo JK, Caplan L (2004) Breast cancer screening practices among women in the United States, 2000. Cancer Causes Control 15:159–170

25.

Rowland ML (1990). Self-reported weight and height. Am J Clin Nutr 52:1125–1133
Acknowledgments
We thank Michael T. Mumma for geo-coding the Community Health Centers and providing a link to the corresponding US Census data. We would also like to thank Heather M. Munro for her statistical review during the preparation of this manuscript. Financial Support: The Southern Community Cohort Study is supported by grant R01 CA92447 from the National Cancer Institute.
About this article
Cite this article
Cohen, S.S., Signorello, L.B., Gammon, M.D. et al. Obesity and recent mammography use among black and white women in the Southern Community Cohort Study (United States). Cancer Causes Control 18, 765–773 (2007). https://doi.org/10.1007/s10552-007-9019-3
Received:

Accepted:

Published:

Issue Date:
Keywords
Mammogram

Obesity

Body mass index

Race

Epidemiology