Abstract
Background
Kidney cancers account for almost 2% of all cancers worldwide, with 150,000 new cases and 78,000 deaths from the disease occurring annually. An increase in the incidence of kidney neoplasm in western countries was noticed in the past few years. Between 1988 and 1992, the incidence of renal cancer per 100,000 person-year among males in USA, Norway, and France was 34.1, 9.00, and 16.10, respectively. Among females in the same countries, it was 5.70, 5.00, and 7.30, respectively. Although several individual case–control studies examined the association of meat intake and renal cancer risk, the results were inconsistent because of the insufficient statistical power of the individual studies. Therefore, the following meta-analysis was designed to help in clarifying the association.
Methods
Electronic search of MEDLINE, OVID, and PUBMED databases which have articles published between (1966 and 2006) was conducted to select studies for this meta-analysis.
Statistical analysis
Fixed and random-effects meta-analytical techniques were used to estimate the overall association between meat consumption and kidney cancer.
Results
Thirteen case–control studies were found. This meta-analysis supported a positive relationship between meat consumption and risk of renal cancer. Summary results indicated that there was from 20% to 22% higher risk of renal cancer among those in the highest relative to the lowest category of poultry and processed meat consumption. Consumption of all meat and red meat was associated with 27% and 30% higher risk, respectively. The increased risks were statistically significant.
Conclusions
Increased consumption of all meat, red meat, poultry, and processed meat is associated with an increase risk of kidney cancer. Reduction of meat consumption is an important approach to decreasing the incidence of kidney cancer in the general population.
Access options
Buy single article
Instant access to the full article PDF.
USD 39.95
Price excludes VAT (USA)
Tax calculation will be finalised during checkout.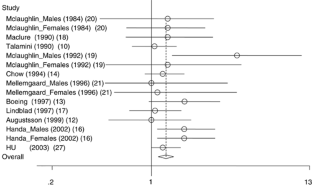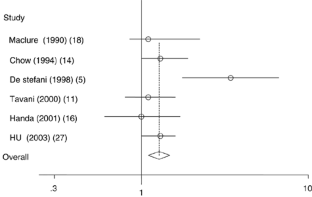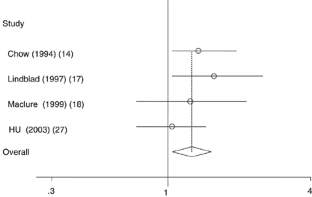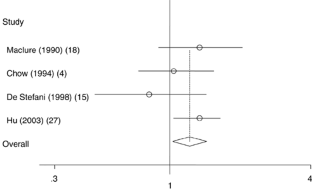 References
Parkin DM, Pisani P, Ferlay J (1999) Global cancer statistics. CA Cancer J Clin 49:33–64 31

Liu S, Semenciw R, Morrison H, Schanzer D, Mao Y (1997) Kidney cancer in Canada: the rapidly increasing incidence of adenocarcinoma in adults and seniors. Cancer J Public Health 88:99–104

Wunderlich H, Schumann S, Jantitzky V, Moravek P, Podhola M, Kosmehl H, et al. (1998) Increase of renal cell carcinoma incidence in central Europe. Eur Urol 33:538–541

Chow WH, Devesa SS, Warren JL, Fraumeni JF Jr (1999) Rising incidence of renal cell cancer in the United States. JAMA 281:1628–1631

Ries LA EM, Kosary CL (2000) SEER Cancer Statistics Review, 1973–1997. National Cancer Institute, Bethesda, MD

Mathew A, Devesa SS, Fraumeni JF Jr, Chow WH (2002) Global increases in kidney cancer incidence, 1973–1992. Eur J Cancer Prev 11:171–178

Tong W, Lai H, Yang C, Ren S, Dai S, Lai S (2005) Age, gender and metabolic syndrome-related coronary heart disease in U.S. adults. Int J Cardiol 104:288–291

Dhote R, Pellicer-Coeuret M, Thiounn N, Debre B, Vidal-Trecan G (2000) Risk factors for adult renal cell carcinoma: a systematic review and implications for prevention. BJU Int 86:20–27

Kume H, Takahashi S, Teramoto S, Isurugi K (2001) Risk factors for adult renal cell carcinoma: a systematic review and implications for prevention. BJU Int 88:804

Talamini R, Baron AE, Barra S, Bidoli E, La Vecchia C, Negri E, et al. (1990) A case–control study of risk factor for renal cell cancer in northern Italy. Cancer Causes Control 1:125–131

Tavani A, La Vecchia C, Gallus S, Lagiou P, Trichopoulos D, Levi F, et al. (2000) Red meat intake and cancer risk: a study in Italy. Int J Cancer 86:425–428

Augustsson K, Skog K, Jagerstad M, Dickman PW, Steineck G (1999) Dietary heterocyclic amines and cancer of the colon, rectum, bladder, and kidney: a population-based study. Lancet 353:703–707

Boeing H, Schlehofer B, Wahrendorf J (1997) Diet, obesity and risk for renal cell carcinoma: results from a case control-study in Germany. Z Ernahrungswiss 36:3–11

Chow WH, Gridley G, McLaughlin JK, Mandel JS, Wacholder S, Blot WJ, et al. (1994) Protein intake and risk of renal cell cancer. J Natl Cancer Inst 86:1131–1139

De Stefani E, Fierro L, Mendilaharsu M, Ronco A, Larrinaga MT, Balbi JC, et al. (1998) Meat intake, 'mate' drinking and renal cell cancer in Uruguay: a case–control study. Br J Cancer 78:1239–1243

Handa K, Kreiger N (2002) Diet patterns and the risk of renal cell carcinoma. Public Health Nutr 5:757–767

Lindblad P, Wolk A, Bergstrom R, Adami HO (1997) Diet and risk of renal cell cancer: a population-based case–control study. Cancer Epidemiol Biomarkers Prev 6:215–223

Maclure M, Willett W (1990) A case–control study of diet and risk of renal adenocarcinoma. Epidemiology 1:430–440

McLaughlin JK, Gao YT, Gao RN, Zheng W, Ji BT, Blot WJ, et al. (1992) Risk factors for renal-cell cancer in Shanghai, China. Int J Cancer 52:562–565

McLaughlin JK, Mandel JS, Blot WJ, Schuman LM, Mehl ES, Fraumeni JF Jr (1984) A population–based case–control study of renal cell carcinoma. J Natl Cancer Inst 72:275–284

Mellemgaard A, McLaughlin JK, Overvad K, Olsen JH (1996) Dietary risk factors for renal cell carcinoma in Denmark. Eur J Cancer 32A:673–682

Talamini R, Franceschi S, La Vecchia C, Serraino D, Barra S, Negri E (1992) Diet and prostatic cancer: a case–control study in northern Italy. Nutr Cancer 18:277–286

Yu MC, Mack TM, Hanisch R, Cicioni C, Henderson BE (1986) Cigarette smoking, obesity, diuretic use, and coffee consumption as risk factors for renal cell carcinoma. J Natl Cancer Inst 77:351–356

Knekt P, Steineck G, Jarvinen R, Hakulinen T, Aromaa A (1994) Intake of fried meat and risk of cancer: a follow-up study in Finland. Int J Cancer 59:756–760

Steineck G, Norell SE, Feychting M (1988) Diet, tobacco and urothelial cancer. A 14-year follow-up of 16,477 subjects. Acta Oncol 27:323–327

Kreiger N, Marrett LD, Dodds L, Hilditch S, Darlington GA (1993) Risk factors for renal cell carcinoma: results of a population-based case–control study. Cancer Causes Control 4:101–110

Hu J, Mao Y, White K (2003) Diet and vitamin or mineral supplements and risk of renal cell carcinoma in Canada. Cancer Causes Control 14:705–714

Rashidkhani B, Akesson A, Lindblad P, Wolk A (2005) Major dietary patterns and risk of renal cell carcinoma in a prospective cohort of Swedish women. J Nutr 135:1757–1762

Wolk A, Gridley G, Niwa S, Lindblad P, McCredie M, Mellemgaard A, et al. (1996) International renal cell cancer study. VII. Role of diet. Int J Cancer 65:67–73

DerSimonian R, Laird N (1986) Meta-analysis in clinical trials. Control Clin Trials 7:177–188

Cancer Facts and Figures-1994 (1994) American Cancer society, Atlanta, ACS

Boyd NF, Stone J, Vogt KN, Connelly BS, Martin LJ, Minkin S (2003) Dietary fat and breast cancer risk revisited: a meta-analysis of the published literature. Br J Cancer 89:1672–1685

Okuda S, Motomura K, Sanai T, Hirakata H, Nanishi F, Onoyama K, et al. (1987) Effect of different levels of protein intake on renal deterioration and nutritional state in experimental renal disease. Clin Sci (Lond) 73:33–39

Hostetter TH (1986) Human renal response to meat meal. Am J Physiol 250:F613–618

Johnson ES, Dalmas D, Noss J, Matanoski GM (1995) Cancer mortality among workers in abattoirs and meatpacking plants: an update. Am J Ind Med 27:389–403

Netto GF, Johnson ES (2003) Mortality in workers in poultry slaughtering/processing plants: the Missouri poultry cohort study. Occup Environ Med 60:784–788

Ellen G, Schuller PL (1983) Nitrate, origin of continuous anxiety. In: Das RP (ed) Nitrosamine Problem, pp 97–134

Furukawa F, Nishikawa A, Ishiwata H, Takahashi M, Hayashi Y, Hirose M (2000) Renal carcinogenicity of concurrently administered fish meal and sodium nitrite in F344 rats. Jpn J Cancer Res 91:139–147

Shephard SE, Schlatter C, Lutz WK (1987) Assessment of the risk of formation of carcinogenic N-nitroso compounds from dietary precursors in the stomach. Food Chem Toxicol 25:91–108

Mirvish SS (1977) N-nitroso compounds: their chemical and in vivo formation and possible importance as environmental carcinogens. J Toxicol Environ Health 2:1267–1277

Willett WC, Sampson L, Stampfer MJ, Rosner B, Bain C, Witschi J, et al (1985) Reproducibility and validity of a semiquantitative food frequency questionnaire. Am J Epidemiol 122:51–65

Prentice RL (2003) Dietary assessment and the reliability of nutritional epidemiology reports. Lancet 362:182–183

Sandhu MS, White IR, McPherson K (2001) Systematic review of the prospective cohort studies on meat consumption and colorectal cancer risk: a meta-analytical approach. Cancer Epidemiol Biomarkers Prev 10:439–446

Hock LM, Lynch J, Balaji KC (2002) Increasing incidence of all stages of kidney cancer in the last 2 decades in the United States: an analysis of surveillance, epidemiology and end results program data. J Urol 167:57–60

Greenlee RT, Hill-Harmon MB, Murray T, Thun M (2001) Cancer statistics, 2001. CA Cancer J Clin 51:15–36
About this article
Cite this article
Faramawi, M.F., Johnson, E., Fry, M.W. et al. Consumption of different types of meat and the risk of renal cancer: meta-analysis of case–control studies. Cancer Causes Control 18, 125–133 (2007). https://doi.org/10.1007/s10552-006-0104-9
Received:

Accepted:

Published:

Issue Date:

DOI: https://doi.org/10.1007/s10552-006-0104-9
Keywords
Meta-analysis

Meat

Renal neoplasm

Case–control studies