Abstract
Objective
We showed previously that Caucasian mortality rates from prostate cancer for 1970–1979 are significantly inversely correlated with ultraviolet (UV) radiation. We now present the analysis of prostate cancer mortality data over a 45-year period (1950–1994) in order to examine the persistence of this pattern. Furthermore, because vitamin D synthesis does not occur during winter months at latitudes higher than 40° N, we examined this relationship above and below 40° N latitude.
Methods
We used trend surface and linear regression analyses to characterize the relationship between prostate cancer mortality and UV radiation for U.S. counties at northern and southern latitudes.
Results
For U.S. Caucasians, prostate cancer mortality rates at the county and SEA levels followed a significant north–south spatial trend that is the inverse of UV radiation. We found significant inverse correlations between UV radiation and prostate cancer mortality at all time points over this 45-year period. These correlations were significantly more pronounced at locations north of 40° N latitude.
Conclusions
Our analyses confirm and extend our findings that the geographic distribution of prostate cancer mortality is the inverse of that of UV radiation. This effect is strongest in counties north of 40° N latitude, where vitamin D synthesis is limited to non-winter months. These findings add additional support for the hypothesis that vitamin D insufficiency increases risk for prostate cancer.
Access options
Buy single article
Instant access to the full article PDF.
US$ 39.95
Tax calculation will be finalised during checkout.
Subscribe to journal
Immediate online access to all issues from 2019. Subscription will auto renew annually.
US$ 119
Tax calculation will be finalised during checkout.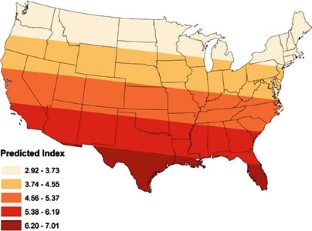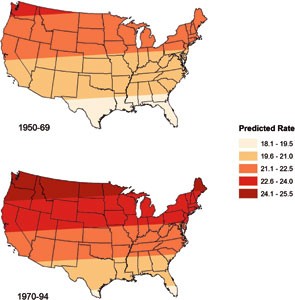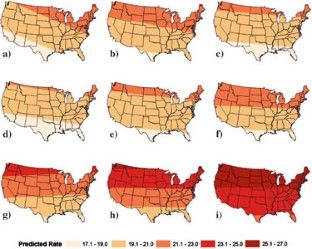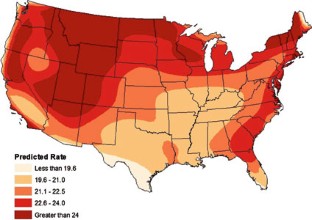 References
1.

YK Yee SR. J Chintalacharuvu Lu S Nagpal (2005) ArticleTitleVitamin D receptor modulators for inflammation and cancer Mini Rev Med Chem 5 761–768 Occurrence Handle16101412 Occurrence Handle1:CAS:528:DC%2BD2MXmvV2hsbk%3D Occurrence Handle10.2174/1389557054553785

2.

CF Garland FC Garland ED Gorham et al. (2006) ArticleTitleThe role of vitamin D in cancer prevention Am J Publ Health 96 252–261 Occurrence Handle10.2105/AJPH.2004.045260

3.

Lim H-S, Roychoudhuri R, Peto J, Schwartz G, Baade P, Moller H (2006) Cancer survival depends on season of diagnosis and sunlight exposure. Int J Cancer (in press)

4.

E Giovannucci Y Liu EB Rimm et al. (2006) ArticleTitleA prospective study of predictors of vitamin D status and cancer incidence and mortality in men J Natl Cancer Inst 98 451–459 Occurrence Handle16595781 Occurrence Handle1:CAS:528:DC%2BD28Xjtlamt7k%3D Occurrence Handle10.1093/jnci/djj101

5.

JG Haddad SuffixJr (1973) ArticleTitleNatural and synthetic sources of circulating 25-hydroxyvitamin D in man Nature 244 515–517 Occurrence Handle4621128 Occurrence Handle1:CAS:528:DyaE3sXlt1Cqt7c%3D Occurrence Handle10.1038/244515a0

6.

MJ Barger-Lux RP Heaney S Dowell TC Chen MF Holick (1998) ArticleTitleVitamin D and its major metabolites: serum levels after graded oral dosing un healthy men Osteoporos Int 8 222–230 Occurrence Handle9797906 Occurrence Handle1:CAS:528:DyaK1cXnsFGrsr4%3D Occurrence Handle10.1007/s001980050058

7.

MF Holick (1997) Photobiology of vitamin D D Feldman FH Gloriexux JW Pike (Eds) Vitamin D EditionNumber1 Academic Press San Diego, CA 33–39

8.

D Zehnder R Bland MC Williams McNinch et al. (2001) ArticleTitleExpression of 25-hydroxyvitamin D3-alpha-hydroxylase J Clin Endocrinol Metab 86 888–894 Occurrence Handle11158062 Occurrence Handle1:CAS:528:DC%2BD3MXht1Knurw%3D Occurrence Handle10.1210/jc.86.2.888

9.

GG Schwartz LW Whitlach TC Chen B Lokeshwar MF Holick (1998) ArticleTitleHuman prostate cells synthesize 1,25-dihydroxyvitamin D3 from 25-hydroxyvitamin D3 Cancer Epidemiol Biomarkers Prev 7 391–395 Occurrence Handle9610788 Occurrence Handle1:CAS:528:DyaK1cXjsV2ltrc%3D

10.

A Barreto GG Schwartz R Woodruff SD Cramer (2000) ArticleTitle25-Hydroxyvitamin D3, the prohormonal form of 1,25-Dihydroxyvitamin D3, inhibits the proliferation of primary prostatic epithelial cells Cancer Epidemiol Biomarkers Prev 9 265–270 Occurrence Handle10750664 Occurrence Handle1:CAS:528:DC%2BD3cXisVKntb8%3D

11.

K Townsend KN Evans MJ Campbell KW Colston JS Adams M Hewison (2005) ArticleTitleBiological actions of extra-renal 25-hydroxyvitamin d-1-alpha-hydroxylase and implications for chemoprevention and treatment J Steroid Biochem Mol Biol 97 103–109 Occurrence Handle16081283 Occurrence Handle1:CAS:528:DC%2BD2MXhtFyks7rL Occurrence Handle10.1016/j.jsbmb.2005.06.004

12.

MV Young GG Schwartz L Wang et al. (2004) ArticleTitleThe prostate 25-hydroxyvitamin d-1α-hydroxylase is not influenced by parathyroid hormone and calcium: implications for prostate cancer chemoprevention by vitamin D Carcinogenesis 25 967–971 Occurrence Handle14729578 Occurrence Handle1:CAS:528:DC%2BD2cXksVahtrc%3D Occurrence Handle10.1093/carcin/bgh082

13.

CL Hanchette GG Schwartz (1992) ArticleTitleGeographic patterns of prostate cancer mortality: evidence for a protective effect of ultraviolet radiation Cancer 70 2861–2869 Occurrence Handle1451068 Occurrence Handle1:STN:280:DyaK3s%2Fot1Khtw%3D%3D Occurrence Handle10.1002/1097-0142(19921215)70:12<2861::AID-CNCR2820701224>3.0.CO;2-G

14.

GG Schwartz (2005) ArticleTitleVitamin D and the epidemiology of prostate cancer Sem Dialysis 18 276–289 Occurrence Handle10.1111/j.1525-139X.2005.18403.x

15.

AR Webb L Kline MF Holick (1988) ArticleTitleInfluence of season and latitude on the cutaneous synthesis of vitamin D3. Exposure to winter sunlight in Boston and Edmonton will not promote vitamin D3 synthesis in human skin J Clin Endocrinol Metab 67 373–378 Occurrence Handle2839537 Occurrence Handle1:CAS:528:DyaL1cXkvFWltbs%3D Occurrence Handle10.1210/jcem-67-2-373

16.

LY Matsuoka J Wortsman JG Haddad BW Hollis (1989) ArticleTitleIn vivo threshold for the cutaneous synthesis of vitamin D3 J Lab Clin Med 114 301–305 Occurrence Handle2549141 Occurrence Handle1:CAS:528:DyaL1MXlsFWiurc%3D

17.

National Oceanic and Atmospheric Administration (2002) UV radiation and UV index information. Available at http://www.cpc.ncep.noaa.gov/products/stratosphere/uv_index/uv_information.html

18.

R McKenzie D Smale M Kotkamp (2004) ArticleTitleRelationship between UVB and erythemally weighted radiation Photochem Photobiol Sci 3 252–256 Occurrence Handle14993940 Occurrence Handle1:CAS:528:DC%2BD2cXhs12rsrs%3D Occurrence Handle10.1039/b312985c

19.

Devesa SS, Grauman DJ, Blot WJ, Pennello G, Hoover RN, Fraumeni JF Jr (1999)Atlas of cancer mortality in the United States, 1950–94. Washington, DC: US Govt Print Off; [NIH Publ No. (NIH) 99–4564]. Available at http://www3.cancer.gov/atlasplus/

20.

K Kafadar (1997) ArticleTitleGeographic trends in prostate cancer mortality: an application of spatial smoothers and the need for adjustment Ann Epidemiol 7 35–45 Occurrence Handle9034405 Occurrence Handle1:STN:280:DyaK2s7os12msw%3D%3D Occurrence Handle10.1016/S1047-2797(96)00101-9

21.

D O'Sullivan DJ Unwin (2003) Geographic information analysis John Wiley & Sons, Inc Hoboken, NJ 256–263

22.

GB Norcliffe (1969) ArticleTitleOn the use and limitations of trend surface models Can Geographer 8 IssueID4 338–348 Occurrence Handle10.1111/j.1541-0064.1969.tb01197.x

23.

GG Schwartz BS Hulka (1990) ArticleTitleIs vitamin D deficiency a risk factor for prostate cancer? (Hypothesis) Anticancer Res 10 1307–1311 Occurrence Handle2241107 Occurrence Handle1:CAS:528:DyaK3MXhvVCitrk%3D

24.

Scotto J, Fears TR, Gori GB (1974) Measurements from ultraviolet meters at ten locations in the United States during 1974 and comparisons with recent skin cancer data. DHEW Publ. No. (NIH) 76–1029. Bethesda, MD, National Cancer Institute, Division of Cancer Cause and Prevention

25.

TR Fears J Scotto MA Schneiderman (1977) ArticleTitleMathematical models of age and ultraviolet effects on the incidence of skin cancer among whites in the United States Am J Epidemiol 105 420–427 Occurrence Handle860705 Occurrence Handle1:STN:280:DyaE2s7nvFajtQ%3D%3D

26.

A Jemal M Kulldorff SS Devesa RB Hayes JF Fraumeni SuffixJr (2002) ArticleTitleA geographic analysis of prostate cancer mortality in the United States, 1970–89 Int J Cancer 101 168–174 Occurrence Handle12209994 Occurrence Handle1:CAS:528:DC%2BD38XmslCksrc%3D Occurrence Handle10.1002/ijc.10594

27.

FP Boscoe C McLaughlin MJ Schymura CL Kielb (2003) ArticleTitleVisualization of the spatial scan statistic using nested circles Health Place 9 273–277 Occurrence Handle12810334 Occurrence Handle10.1016/S1353-8292(02)00060-6

28.

B Rosner (1995) Fundamentals of biostatistics EditionNumber4 Duxbury Press Boston

29.

MS Calvo (2003) ArticleTitlePrevalence of vitamin D insufficiency in Canada and the United States: importance to health status and efficacy of current food fortification and dietary supplement use Nutr Rev 61 107–113 Occurrence Handle12723644 Occurrence Handle10.1301/nr.2003.marr.107-113

30.

EM John GG Schwartz J Koo D Berg ParticleVan Den SA Ingles (2005) ArticleTitleSun exposure, vitamin D gene polymorphisms and risk of advanced prostate cancer Cancer Res 65 5470–5479 Occurrence Handle15958597 Occurrence Handle1:CAS:528:DC%2BD2MXltFelsL4%3D Occurrence Handle10.1158/0008-5472.CAN-04-3134

31.

RK Cleek (1979) ArticleTitleCancers and the environment: the effect of scale Soc Sci Med 13D 241–247 Occurrence Handle1:STN:280:DyaL3c7gtlCmsA%3D%3D

32.

SM Edwards RA Eeles (2004) ArticleTitleUnraveling the genetics of prostate cancer Am J Med Genet 129C 65–73 Occurrence Handle10.1002/ajmg.c.30027 Occurrence Handle15264274

33.

A Jemal E Ward W Xiaocheng HJ Martin C McLaughlin MJ Thun (2005) ArticleTitleGeographic patterns of prostate cancer mortality and variations in access to medical care in the United States Cancer Epidemiol Biomarkers Prev 14 IssueID3 590–595 Occurrence Handle15767335 Occurrence Handle10.1158/1055-9965.EPI-04-0522

34.

S Lai H Lai A Krongrad BA Roos (2001) ArticleTitleOverall and disease-specific survival after radical prostatectomy: geographic uniformity Urology 57 504–509 Occurrence Handle11248629 Occurrence Handle1:STN:280:DC%2BD3M3islKhtA%3D%3D Occurrence Handle10.1016/S0090-4295(00)01035-9

35.

M Etminan JM Fitzgerald M Gleave K Chambers (2005) ArticleTitleIntake of selenium in the prevention of prostate cancer: a systematic review and meta-analysis Cancer Causes Control 16 1125–1131 Occurrence Handle16184479 Occurrence Handle10.1007/s10552-005-0334-2

36.

LC Clark KP Cantor WH Allaway (1991) ArticleTitleSelenium in forage crops and cancer mortality in U.S. counties Arch Environ Health 46 37–42 Occurrence Handle1992931 Occurrence Handle1:CAS:528:DyaK3MXmtlSqurw%3D Occurrence Handle10.1080/00039896.1991.9937427

37.

JM Chan PH Gann EL Giovannucci (2006) ArticleTitleRole of diet in prostate cancer development and progression J Clin Oncol 23 8152–8160 Occurrence Handle10.1200/JCO.2005.03.1492 Occurrence Handle1:CAS:528:DC%2BD2MXht1yntbnM

38.

JA Baron M Beach K Wallace et al. (2005) ArticleTitleRisk of prostate cancer in a randomized clinical trial of cancer supplementation Cancer Epidemiol Biomarkers Prev 14 586–589 Occurrence Handle15767334 Occurrence Handle1:CAS:528:DC%2BD2MXit1Kgtb4%3D Occurrence Handle10.1158/1055-9965.EPI-04-0319

39.

SJ Nileson BM Popkin (2004) ArticleTitleChanges in beverage intake between 1977 and 2001 Am J Prev Med 27 205–210 Occurrence Handle10.1016/j.amepre.2004.05.005

40.

CL Amling (2005) ArticleTitleRelationship between obesity and prostate cancer Curr Opin Urol 15 167–171 Occurrence Handle15815193 Occurrence Handle10.1097/01.mou.0000165550.94663.fb

41.

ML Baskin J Ard DB Allison (2005) ArticleTitlePrevalence of obesity in the United States Obesity Rev 6 5–7 Occurrence Handle1:STN:280:DC%2BD2M%2FivVOgtA%3D%3D Occurrence Handle10.1111/j.1467-789X.2005.00165.x

42.

M Reisinger (2003) ArticleTitleSectoral shifts and occupational migration in the United States Prof Geogr 55 383–395

43.

EM John DM Dreon J Koo GG Schwartz (2004) ArticleTitleResidential sunlight exposure is associated with a decreased risk of prostate cancer J Steroid Biochem Mol Biol 89–90 549–552 Occurrence Handle15225836 Occurrence Handle10.1016/j.jsbmb.2004.03.067 Occurrence Handle1:CAS:528:DC%2BD2cXlt1aht7Y%3D

44.

PA Rogerson G Sinha D Han (2006) ArticleTitleRecent changes in the spatial pattern of prostate cancer in the U.S Am J Prev Med 30 IssueID2 Suppl S50–9 Occurrence Handle16458790 Occurrence Handle10.1016/j.amepre.2005.09.006

45.

Boscoe F (2006) The protective effect of sunlight exposure against colorectal and prostate cancer mortality. Paper presented at the 102nd annual meeting of the Association of American Geographers. Chicago, IL, March 9, 2006. Published abstract available at: http://communicate.aag.org/eseries/aag_org/program/AbstractDetail.cfm?AbstractID=8931

46.

CJ Luscombe ME French S Siu MR Saxby PW Jones AA Fryer et al. (2001) ArticleTitleProstate cancer risk: associations with ultraviolet radiation, tyrosinase and melanocortin-1 receptor genotypes Br J Cancer 85 1504–1509 Occurrence Handle11720436 Occurrence Handle1:CAS:528:DC%2BD38XkslemsQ%3D%3D Occurrence Handle10.1054/bjoc.2001.2097

47.

PC Walsh JF Worthington (1995) The prostate: a guide for men Johns Hopkins Uninversity Press Baltimore, MD

48.

DM Freedman M Dosemeci K McGlynn (2002) ArticleTitleSunlight and mortality from breast, ovarian, colon, prostate, and non-melanoma skin cancer: a composite death certificate based case–control study Occup Environ Med 59 257–262 Occurrence Handle11934953 Occurrence Handle1:STN:280:DC%2BD383gt1alsQ%3D%3D Occurrence Handle10.1136/oem.59.4.257

49.

S Weinrich G Ellison M Weinrich K Ross C Reis-Starr (2001) ArticleTitleLow sun exposure and elevated serum prostate specific antigen in African American and Caucasian men Am J Health Stud 17 148–150

50.

P Tuohimaa L Tenkanen M Ahonen et al. (2004) ArticleTitleBoth high and low levels of blood vitamin D are associated with a higher prostate cancer risk: A longitudinal, nested case–control study in the Nordic countries Int J Cancer 108 104–108 Occurrence Handle14618623 Occurrence Handle1:CAS:528:DC%2BD3sXps1entbw%3D Occurrence Handle10.1002/ijc.11375
About this article
Cite this article
Schwartz, G.G., Hanchette, C.L. UV, latitude, and spatial trends in prostate cancer mortality: All sunlight is not the same (United States). Cancer Causes Control 17, 1091–1101 (2006). https://doi.org/10.1007/s10552-006-0050-6
Received:

Accepted:

Issue Date:
Keywords
Prostate cancer

Vitamin D

Sunlight

Epidemiology

Ultraviolet radiation