Abstract
The evidence that measures of obesity and stature are associated with prostate cancer is weak and inconsistent. We performed a systematic review and meta-analysis of the relationship between body mass index (BMI), height, weight, waist circumference and waist-to-hips ratio (WHR) and the risk of prostate cancer. Study-specific dose-response slopes were obtained, and random effects rate ratios (RRs) were computed from linear meta-regression models. We included 55,521 cases identified among 2,818,767 men from 31 cohort studies, and 13,232 cases and 16,317 controls from 25 case–control studies. The overall RR for BMI was 1.05 per 5 kg/m2 increment, 95% CI 1.01–1.08. For studies that reported results by stage of disease, the RRs were stronger for advanced disease (RR 1.12 per 5 kg/m2 increment, 95% CI 1.01–1.23) compared with localized disease (RR 0.96 per 5 kg/m2 increment, 95% CI 0.89–1.03), p = 0.02. Height was also positively associated with risk (RR 1.05 per 10 cm increment, 95% CI 1.02–1.09), but the evidence was weak for weight (RR 1.01 per 10 kg increment, 95% CI 0.97–1.04), waist circumference (RR 1.03 per 10 cm increment, 95% CI 0.99–1.07), and WHR (RR 1.11 per 0.1 unit increment, 95% CI 0.95–1.30). Stronger associations were observed among cohort studies compared with case–control studies for BMI (p = 0.006), height (p < 0.001) and weight (p = 0.02). This meta-analysis indicates that obesity is weakly associated with an increased risk of prostate cancer (particularly advanced stage tumors). While increased stature may also increase risk, there is little evidence for an association with central obesity.
Access options
Buy single article
Instant access to the full article PDF.
USD 39.95
Price excludes VAT (USA)
Tax calculation will be finalised during checkout.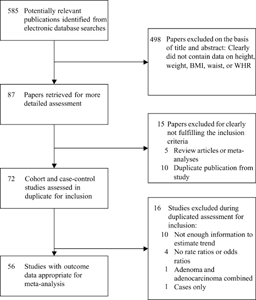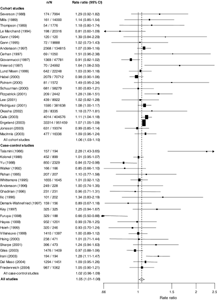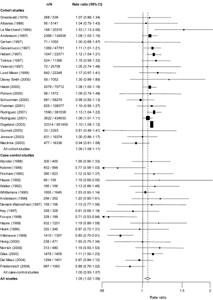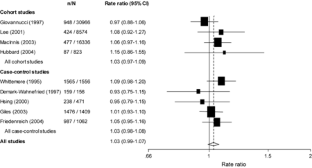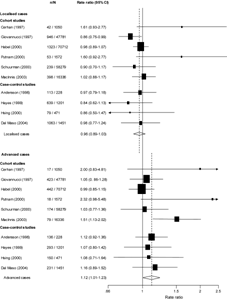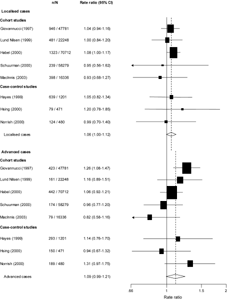 References
D Albanes PR Taylor (1990) ArticleTitleInternational differences in body height and weight and their relationship to cancer incidence Nutr Cancer 14 69–77 Occurrence Handle2367236 Occurrence Handle1:STN:280:DyaK3czhtVOhtQ%3D%3D Occurrence Handle10.1080/01635589009514078

PC Dagnelie AG Schuurman RA Goldbohm PA Brandt ParticleVan den (2004) ArticleTitleDiet, anthropometric measures and prostate cancer risk: a review of prospective cohort and intervention studies BJU Int 93 1139–1150 Occurrence Handle15142129 Occurrence Handle1:STN:280:DC%2BD2c3ktl2htA%3D%3D Occurrence Handle10.1111/j.1464-410X.2004.04795.x

AM Nomura (2001) ArticleTitleBody size and prostate cancer Epidemiol Rev 23 126–131 Occurrence Handle11588836 Occurrence Handle1:STN:280:DC%2BD3Mrkt1Sltg%3D%3D

Vainio H, Bianchini F (2002) IARC Handbooks of cancer prevention. Vol. 6: Weight control and physical activity. IARC Press, Lyon, pp 117–120

EE Calle (2000) ArticleTitleInvited commentary: do anthropometric measures predict risk of prostate cancer? Am J Epidemiol 151 550–553 Occurrence Handle10733036 Occurrence Handle1:STN:280:DC%2BD3c7psFWktg%3D%3D

A Bergstrom P Pisani V Tenet A Wolk HO Adami (2001) ArticleTitleOverweight as an avoidable cause of cancer in Europe Int J Cancer 91 421–430 Occurrence Handle11169969 Occurrence Handle1:STN:280:DC%2BD3M7jvFeisQ%3D%3D Occurrence Handle10.1002/1097-0215(200002)9999:9999<::AID-IJC1053>3.0.CO;2-T

World Cancer Research Fund and American Institute for Cancer Research (2003) Systematic literature review specification manual. In: Second expert report. Food, nutrition and the prevention of cancer: a global perspective. Washington

S Greenland MP Longnecker (1992) ArticleTitleMethods for trend estimation from summarized dose-response data, with applications to meta-analysis Am J Epidemiol 135 1301–1309 Occurrence Handle1626547 Occurrence Handle1:STN:280:DyaK38zivVShtA%3D%3D

G Chene SG Thompson (1996) ArticleTitleMethods for summarizing the risk associations of quantitative variables in epidemiologic studies in a consistent form Am J Epidemiol 144 610–621 Occurrence Handle8797521 Occurrence Handle1:STN:280:DyaK28zptVGgtw%3D%3D

CB Begg M Mazumdar (1994) ArticleTitleOperating characteristics of a rank correlation test for publication bias Biometrics 50 1088–1101 Occurrence Handle7786990 Occurrence Handle1:STN:280:DyaK2Mzgs1GrtQ%3D%3D Occurrence Handle10.2307/2533446

M Egger G Davey Smith M Schneider C Minder (1997) ArticleTitleBias in meta-analysis detected by a simple, graphical test BMJ 315 629–634 Occurrence Handle9310563 Occurrence Handle1:STN:280:DyaK2svls1KjtA%3D%3D

S Duval R Tweedie (2000) ArticleTitleA nonparametric "trim and fill" method of accounting for publication bias in meta-analysis J Am Stat Assoc 95 89–98 Occurrence Handle10.2307/2669529

JA Berlin MP Longnecker S Greenland (1993) ArticleTitleMeta-analysis of epidemiologic dose–response data Epidemiology 4 218–228 Occurrence Handle8512986 Occurrence Handle1:STN:280:DyaK3s3ptFaguw%3D%3D

R DerSimonian N Laird (1986) ArticleTitleMeta-analysis in clinical trials Control Clin Trials 7 177–188 Occurrence Handle3802833 Occurrence Handle1:STN:280:DyaL2s7gsVamtA%3D%3D Occurrence Handle10.1016/0197-2456(86)90046-2

S-O Andersson A Wolk R Bergstrom et al. (1997) ArticleTitleBody size and prostate cancer a 20 year follow up study among 135,006 Swedish Construction Workers J Natl Cancer Inst 89 385–389 Occurrence Handle9060961 Occurrence Handle1:STN:280:DyaK2s3hsVGrsw%3D%3D Occurrence Handle10.1093/jnci/89.5.385

L Le Marchand LN Kolonel LR Wilkens BC Myers T Hirohata (1994) ArticleTitleAnimal fat consumption and prostate cancer: a prospective study in Hawaii Epidemiology 5 276–282 Occurrence Handle8038241 Occurrence Handle1:STN:280:DyaK2czht1Cktg%3D%3D

E Giovannucci EB Rimm MJ Stampfer GA Colditz WC Willett (1997) ArticleTitleHeight, body weight and risk of prostate cancer Cancer Epidemiol Biomarkers Prev 6 557–563 Occurrence Handle9264267 Occurrence Handle1:STN:280:DyaK2svgslGiug%3D%3D

MB Veierod P Laake DS Thelle (1997) ArticleTitleDietary fat intake and risk of prostate cancer: a prospective study of 25,708 Norwegian men Int J Cancer 73 634–638 Occurrence Handle9398038 Occurrence Handle1:STN:280:DyaK1c%2FlvVKrsg%3D%3D Occurrence Handle10.1002/(SICI)1097-0215(19971127)73:5<634::AID-IJC4>3.0.CO;2-Y

T Lund Nilsen L Vatten (1999) ArticleTitleAnthropometry and prostate cancer risk: a prospective study of 22,248 Norwegian men Cancer Causes Control 10 269–275 Occurrence Handle10.1023/A:1008967330619

J Cerhan J Torner C Lynch et al. (1997) ArticleTitleAssociation of smoking, body mass, and physical activity with risk of prostate cancer in the Iowa 65+ rural health study (United States) Cancer Causes Control 8 229–238 Occurrence Handle9134247 Occurrence Handle1:STN:280:DyaK2s3nvFyksQ%3D%3D Occurrence Handle10.1023/A:1018428531619

P-H Chyou AMY Nomura GN Stemmerman (1994) ArticleTitleA prospective study of weight, body mass index and other anthropometric measurements in relation to site-specific cancers Int J Cancer 57 313–317 Occurrence Handle8168989 Occurrence Handle1:STN:280:DyaK2c3it1KjsQ%3D%3D

RK Severson JS Grove AMY Nomura GN Stemmermann (1988) ArticleTitleBody mass and prostatic cancer: a prospective study Br Med J 297 713–715 Occurrence Handle1:STN:280:DyaL1M7ltVKhtg%3D%3D Occurrence Handle10.1136/bmj.297.6650.713

PK Mills L Beeson RL Phillips GE Fraser (1989) ArticleTitleCohort study of diet, lifestyle, and prostate cancer in Adventist men Cancer 64 598–604 Occurrence Handle2743254 Occurrence Handle1:STN:280:DyaL1MzgtlOisA%3D%3D Occurrence Handle10.1002/1097-0142(19890801)64:3<598::AID-CNCR2820640306>3.0.CO;2-6

C Rodriguez AV Patel EE Calle EJ Jacobs A Chao MJ Thun (2001) ArticleTitleBody mass index, height, and prostate cancer mortality in two large cohorts of adult men in the United States Cancer Epidemiol Biomarkers Prev 10 345–353 Occurrence Handle11319175 Occurrence Handle1:STN:280:DC%2BD3M3jtV2gtg%3D%3D

LA Habel SK Eeden ParticleVan Den GD Friedman (2000) ArticleTitleBody size, age at shaving initiation, and prostate cancer in a large, multiracial cohort Prostate 43 136–143 Occurrence Handle10754529 Occurrence Handle1:STN:280:DC%2BD3c3hvFGnsg%3D%3D Occurrence Handle10.1002/(SICI)1097-0045(20000501)43:2<136::AID-PROS8>3.0.CO;2-L

PR Hebert U Ajani NR Cook IM Lee KS Chan CH Hennekens (1997) ArticleTitleAdult height and incidence of cancer in male physicians (United States) Cancer Causes Control 8 591–597 Occurrence Handle9242474 Occurrence Handle1:STN:280:DyaK2szosV2kuw%3D%3D Occurrence Handle10.1023/A:1018442329319

AG Schuurman RA Goldbohm E Dorant PA Brandt Particlevan den (2000) ArticleTitleAnthropometry in relation to prostate cancer risk in the Netherlands Cohort Study Am J Epidemiology 151 541–549 Occurrence Handle1:STN:280:DC%2BD3c7psFWksQ%3D%3D

VL Freeman Y Liao R Durazo-Arvizu RS Cooper (2001) ArticleTitleHeight and risk of fatal prostate cancer: findings from the National Health Interview Survey (1986 to 1994) Ann Epidemiol 11 22–27 Occurrence Handle11164116 Occurrence Handle1:STN:280:DC%2BD3M7ksF2jtg%3D%3D Occurrence Handle10.1016/S1047-2797(00)00172-1

IM Lee HD Sesso RS Paffenbarger SuffixJr (2001) ArticleTitleA prospective cohort study of physical activity and body size in relation to prostate cancer risk (United States) Cancer Causes Control 12 187–193 Occurrence Handle11246848 Occurrence Handle1:STN:280:DC%2BD3M3osFyktg%3D%3D Occurrence Handle10.1023/A:1008952528771

D Albanes DY Jones A Schatzkin MS Micozzi PR Taylor (1988) ArticleTitleAdult stature and risk of cancer Cancer Res 48 1658–1662 Occurrence Handle3345534 Occurrence Handle1:STN:280:DyaL1c7ltVyitw%3D%3D

EE Calle C Rodriguez K Walker-Thurmond MJ Thun (2003) ArticleTitleOverweight, obesity, and mortality from cancer in a prospectively studied cohort of U.S. adults N Engl J Med 348 1625–1638 Occurrence Handle12711737 Occurrence Handle10.1056/NEJMoa021423

PH Gann ML Daviglus AR Dyer J Stamler (1995) ArticleTitleHeart rate and prostate cancer mortality: results of a prospective analysis Cancer Epidemiol Biomark Prev 4 611–616 Occurrence Handle1:STN:280:DyaK28%2FntVWgsQ%3D%3D

AL Fitzpatrick JR Daling CD Furberg RA Kronmal JL Weissfeld (2001) ArticleTitleHypertension, heart rate, use of antihypertensives, and incident prostate cancer Ann Epidemiol 11 534–542 Occurrence Handle11709272 Occurrence Handle1:STN:280:DC%2BD3MnmtlCntQ%3D%3D Occurrence Handle10.1016/S1047-2797(01)00246-0

M Okasha P McCarron J McEwen GD Smith (2002) ArticleTitleBody mass index in young adulthood and cancer mortality: a retrospective cohort study J Epidemiol Community Health 56 780–784 Occurrence Handle12239205 Occurrence Handle1:STN:280:DC%2BD38ngslKitw%3D%3D Occurrence Handle10.1136/jech.56.10.780

F Jonsson A Wolk NL Pedersen et al. (2003) ArticleTitleObesity and hormone-dependent tumors: cohort and co-twin control studies based on the Swedish Twin Registry Int J Cancer 106 594–599 Occurrence Handle12845658 Occurrence Handle1:CAS:528:DC%2BD3sXmtl2js7k%3D Occurrence Handle10.1002/ijc.11266

H Tulinius N Sigfusson H Sigvaldason K Bjarnadottir L Tryggvadottir (1997) ArticleTitleRisk factors for malignant diseases: a cohort study on a population of 22,946 Icelanders Cancer Epidemiol Biomarkers Prev 6 863–873 Occurrence Handle9367058 Occurrence Handle1:STN:280:DyaK1c%2Fjtl2nsA%3D%3D

RJ MacInnis DR English DM Gertig JL Hopper GG Giles (2003) ArticleTitleBody size and composition and prostate cancer risk Cancer Epidemiol Biomarkers Prev 12 1417–1421 Occurrence Handle14693731

SD Putnam JR Cerhan AS Parker et al. (2000) ArticleTitleLifestyle and anthropometric risk factors for prostate cancer in a cohort of Iowa men Ann Epidemiol 10 361–369 Occurrence Handle10964002 Occurrence Handle1:STN:280:DC%2BD3cvntVWqsA%3D%3D Occurrence Handle10.1016/S1047-2797(00)00057-0

P Greenwald A Damon V Kirmss AK Polan (1974) ArticleTitlePhysical and demographic features of men before developing cancer of the prostate J Natl Cancer Inst 53 341–346 Occurrence Handle4843267 Occurrence Handle1:STN:280:DyaE2c3nslKmsw%3D%3D

A Engeland S Tretli T Bjorge (2003) ArticleTitleHeight, body mass index, and prostate cancer: a follow-up of 950,000 Norwegian men Br J Cancer 89 1237–1242 Occurrence Handle14520453 Occurrence Handle1:STN:280:DC%2BD3svlslOqug%3D%3D Occurrence Handle10.1038/sj.bjc.6601206

MM Thompson C Garland E Barrett-Connor K-T Khaw NJ Friedlander DL Wingard (1989) ArticleTitleHeart disease risk factors, diabetes, and prostatic cancer in an adult community Am J Epidemiol 129 511–517 Occurrence Handle2916544 Occurrence Handle1:STN:280:DyaL1M7jt1Ghuw%3D%3D

JS Hubbard S Rohrmann PK Landis et al. (2004) ArticleTitleAssociation of prostate cancer risk with insulin, glucose, and anthropometry in the Baltimore longitudinal study of aging Urology 63 253–258 Occurrence Handle14972466 Occurrence Handle10.1016/j.urology.2003.09.060

D Gunnell M May Y Ben-Shlomo J Yarnell GD Smith (2003) ArticleTitleHeight, leg length, and cancer: the Caerphilly Study Nutr Cancer 47 34–39 Occurrence Handle14769535 Occurrence Handle10.1207/s15327914nc4701_4

G Davey Smith C Hart M Upton et al. (2000) ArticleTitleHeight and risk of death among men and women: aetiological implications of associations with cardiorespiratory disease and cancer mortality J Epidemiol Community Health 54 97–103 Occurrence Handle10715741 Occurrence Handle1:STN:280:DC%2BD3c7otVKgsw%3D%3D Occurrence Handle10.1136/jech.54.2.97

PH Gann C Hennekens FM Sacks F Grodstein EL Giovannucci MJ Stampfer (1994) ArticleTitleProspective study of plasma fatty acids and risk of prostate cancer J Natl Cancer Inst 86 281–286 Occurrence Handle8158682 Occurrence Handle1:STN:280:DyaK2c3htVGgsg%3D%3D

AS Whittemore LN Kolonel AH Wu et al. (1995) ArticleTitleProstate cancer in relation to diet, physical activity, and body size in blacks, whites, and Asians in the United States and Canada J Natl Cancer Inst 87 652–661 Occurrence Handle7752270 Occurrence Handle1:STN:280:DyaK2M3ntFKqug%3D%3D

W Demark-Wahnefried MR Conaway CN Robertson BJ Mathias EE Anderson DF Paulson (1997) ArticleTitleAnthropometric risk factors for prostate cancer Nutr Cancer 28 302–307 Occurrence Handle9343840 Occurrence Handle1:STN:280:DyaK1c%2FgtlOlug%3D%3D

AW Hsing J Deng IA Sesterhenn et al. (2000) ArticleTitleBody size and prostate cancer: a population-based case–control study in China Cancer Epidemiol Biomarkers Prev 9 1335–1441 Occurrence Handle11142419 Occurrence Handle1:STN:280:DC%2BD3M7gsF2hsA%3D%3D

AE Norrish CU McRae IM Holdaway RT Jackson (2000) ArticleTitleHeight-related risk factors for prostate cancer Br J Cancer 82 241–245 Occurrence Handle10638996 Occurrence Handle1:STN:280:DC%2BD3c7gt1Ggtg%3D%3D Occurrence Handle10.1054/bjoc.1999.0906

CM Friedenreich SE McGregor KS Courneya SJ Angyalfi FG Elliott (2004) ArticleTitleCase–control study of anthropometric measures and prostate cancer risk Int J Cancer 110 278–283 Occurrence Handle15069694 Occurrence Handle1:CAS:528:DC%2BD2cXjvVeiurw%3D Occurrence Handle10.1002/ijc.20110

Y Furuya S Akimoto K Akakura H Ito (1998) ArticleTitleSmoking and obesity in relation to the etiology and disease progression of prostate cancer in Japan Int J Urol 5 134–137 Occurrence Handle9559838 Occurrence Handle1:STN:280:DyaK1c3hvVOltg%3D%3D

J Irani O Lefebvre F Murat L Dahmani B Dore (2003) ArticleTitleObesity in relation to prostate cancer risk: comparison with a population having benign prostatic hyperplasia BJU Int 91 482–484 Occurrence Handle12656898 Occurrence Handle1:STN:280:DC%2BD3s7ktFyluw%3D%3D Occurrence Handle10.1046/j.1464-410X.2003.04133.x

CR Sharpe J Siemiatycki (2001) ArticleTitleJoint effects of smoking and body mass index on prostate cancer risk Epidemiol 12 546–551 Occurrence Handle1:STN:280:DC%2BD3MvlvVyrsQ%3D%3D Occurrence Handle10.1097/00001648-200109000-00014

C Hsieh A Thanos D Mitropoulos C Deliveliotis CS Mantzoros D Tricohopoulos (1999) ArticleTitleRisk factors for prostate cancer: a case–control study in Greece Int J Cancer 80 699–703 Occurrence Handle10048970 Occurrence Handle1:STN:280:DyaK1M7ktVequw%3D%3D Occurrence Handle10.1002/(SICI)1097-0215(19990301)80:5<699::AID-IJC12>3.0.CO;2-7

HE Yu RE Harris EL Wynder (1988) ArticleTitleCase–control study of prostate cancer and socioeconomic factors Prostate 13 317–325 Occurrence Handle3217278 Occurrence Handle1:STN:280:DyaL1M7htlSqug%3D%3D

SM Fincham GB Hill J Hanson C Wijayasinghe (1990) ArticleTitleEpidemiology of prostatic cancer: a case–control study Prostate 17 189–206 Occurrence Handle2235728 Occurrence Handle1:STN:280:DyaK3M%2FksFChtQ%3D%3D

RB Hayes FH Jong Particlede J Raatgever et al. (1992) ArticleTitlePhysical characteristics and factors related to sexual development and behaviour and the risk for prostatic cancer Eur J Cancer Prev 1 239–245 Occurrence Handle1467769 Occurrence Handle1:STN:280:DyaK3s7gsVynsQ%3D%3D

TJA Key PB Silcocks GK Davey PN Appleby DT Bishop (1997) ArticleTitleA case–control study of diet and prostate cancer Br J Cancer 76 678–687 Occurrence Handle9303371 Occurrence Handle1:STN:280:DyaK2svkslKgsw%3D%3D

Villeneuve P, Johnson K, Kreiger N, Mao Y, The Canadian Cancer Registries Epidemiology Research Group (1999) Risk factors for prostate cancer: results from the Canadian National Enhanced Cancer Surveillance System. Cancer Causes Control 10:355–367

R Talamini C La Vecchia A Decarli E Negri S Franceschi (1986) ArticleTitleNutrition, social factors and prostatic cancer in a Northern Italian population Br J Cancer 53 817–821 Occurrence Handle3718835 Occurrence Handle1:STN:280:DyaL283ktlSnsw%3D%3D

P Ghadirian A Lacroix P Maisonneuve et al. (1996) ArticleTitleNutritional factors and prostate cancer: a case–control study of French Canadians in Montreal, Canada Cancer Causes Control 7 428–436 Occurrence Handle8813431 Occurrence Handle1:STN:280:DyaK28vgvVCiuw%3D%3D Occurrence Handle10.1007/BF00052669

TE Rohan GR Howe JD Burch M Jain (1995) ArticleTitleDietary factors and risk of prostate cancer: a case–control study in Ontario, Canada Cancer Causes Control 6 145–154 Occurrence Handle7749054 Occurrence Handle1:STN:280:DyaK2M3msl2ktQ%3D%3D Occurrence Handle10.1007/BF00052775

LN Kolonel CN Yoshizawa JH Hankin (1988) ArticleTitleDiet and prostatic cancer: a case–control study in Hawaii Am J Epidemiol 127 999–1012 Occurrence Handle3358418 Occurrence Handle1:STN:280:DyaL1c7ptFyrsA%3D%3D

GG Giles G Severi DR English et al. (2003) ArticleTitleEarly growth, adult body size and prostate cancer risk Int J Cancer 103 241–245 Occurrence Handle12455039 Occurrence Handle1:CAS:528:DC%2BD38XpslWmu7k%3D Occurrence Handle10.1002/ijc.10810

SO Andersson J Baron R Bergstrom C Lindgren A Wolk HO Adami (1996) ArticleTitleLifestyle factors and prostate cancer risk: a case–control study in Sweden Cancer Epidemiol Biomarkers Prev 5 509–513 Occurrence Handle8827354 Occurrence Handle1:STN:280:DyaK28visV2jsQ%3D%3D

RB Hayes RG Ziegler G Gridley et al. (1999) ArticleTitleDietary factors and risks for prostate cancer among blacks and whites in the United States Cancer Epidemiol Biomarkers Prev 8 25–34 Occurrence Handle9950236 Occurrence Handle1:STN:280:DyaK1M7jtlOgtw%3D%3D

L Dal Maso A Zucchetto C La Vecchia et al. (2004) ArticleTitleProstate cancer and body size at different ages: an Italian multicentre case–control study Br J Cancer 90 2176–2180 Occurrence Handle15150581 Occurrence Handle1:STN:280:DC%2BD2c3msVOrtQ%3D%3D

ARP Walker BF Walker NG Tsotesti C Sebitso D Siwedi AJ Walker (1992) ArticleTitleCase–control study of prostate cancer in black patients in Soweto, South Africa Br J Cancer 65 438–441 Occurrence Handle1558801 Occurrence Handle1:STN:280:DyaK383hsFOjug%3D%3D

EL Wynder K Mabuchi WF Whitmore SuffixJr (1971) ArticleTitleEpidemiology of cancer of the prostate Cancer 28 344–350 Occurrence Handle5109447 Occurrence Handle1:STN:280:DyaE3M3nvVaqsw%3D%3D Occurrence Handle10.1002/1097-0142(197108)28:2<344::AID-CNCR2820280214>3.0.CO;2-#

M Ilic H Vlajinac J Marinkovic (1996) ArticleTitleCase–control study of risk factors for prostate cancer Br J Cancer 74 1682–1686 Occurrence Handle8932356 Occurrence Handle1:STN:280:DyaK2s%2Fos1KltQ%3D%3D

L Garfinkel (1986) ArticleTitleOverweight and mortality Cancer 58 1826–1829 Occurrence Handle3756807 Occurrence Handle1:STN:280:DyaL2s%2FgtF2nug%3D%3D Occurrence Handle10.1002/1097-0142(19861015)58:8+<1826::AID-CNCR2820581407>3.0.CO;2-6

H Gronberg L Damber J-E Damber (1996) ArticleTitleTotal food consumption and body mass index in relation to prostate cancer risk: a case–control study in Sweden with prospectively collected exposure data J Urol 155 969–974 Occurrence Handle8583620 Occurrence Handle1:STN:280:DyaK287msVKnsQ%3D%3D Occurrence Handle10.1016/S0022-5347(01)66360-2

EA Lew L Garfinkel (1979) ArticleTitleVariations in mortality by weight among 750,000 men and women J Chron Dis 32 563–576 Occurrence Handle468958 Occurrence Handle1:STN:280:DyaE1M3jvFKmtw%3D%3D Occurrence Handle10.1016/0021-9681(79)90119-X

Snowdon DA, Phillips RL, Choi W (1984) Diet, obesity, and risk of fatal prostate cancer. Am J Epidemiol 120:244–250

Thune I, Lund E (1994) Physical activity and the risk of prostate and testicular cancer: a cohort study of 53,000 Norwegian men. Cancer Causes Control 5:549–556

Giovannucci E, Rimm EB, Liu Y, et al (2003) Body mass index and risk of prostate cancer in U.S. health professionals. J Natl Cancer Inst 95:1240–1244

Giovannucci E, Rimm EB, Liu Y, Willett WC (2004) Height, predictors of C-peptide and cancer risk in men. Int J Epidemiol 33:217–225

Hsing AW, Gao YT, Chua S Jr, Deng J, Stanczyk FZ (2003) Insulin resistance and prostate cancer risk. J Natl Cancer Inst 95:67–71

Pan SY, Johnson KC, Ugnat AM, Wen SW, Mao Y (2004) Association of obesity and cancer risk in Canada. Am J Epidemiol 159:259–268

Platz EA, Leitzmann MF, Michaud DS, Willett WC, Giovannucci E (2003) Interrelation of energy intake, body size, and physical activity with prostate cancer in a large prospective cohort study. Cancer Res 63:8542–8548

Moller H, Mellemgaard A, Lindvig K, Olsen JH (1994) Obesity and cancer risk: a Danish record-linkage study. Eur J Cancer 30A:344–350

Samanic C, Gridley G, Chow WH, Lubin J, Hoover RN, Fraumeni JF Jr (2004) Obesity and cancer risk among white and black United States veterans. Cancer Causes Control 15:35–43

Wolk A, Gridley G, Svensson M, et al (2001) A prospective study of obesity and cancer risk (Sweden). Cancer Causes Control 12:13–21

Graham S, Haughey B, Marshall J (1983) Diet in the epidemiology of carcinoma of the prostate gland. J Natl Cancer Inst 70:687–692

Hiatt RA, Armstrong MA, Klatsky AL, Sidney S (1994) Alcohol consumption, smoking, and other risk factors and prostate cancer in a large health plan cohort in California (United States). Cancer Causes Control 5:66–72

Pawlega J, Rachtan J, Dyba T (1996) Dietary factors and risk of prostate cancer in Poland. Results of case–control study. Neoplasma 43:61–63

Whittemore AS, Paffenbarger RS Jr, Anderson K, Lee JE (1985) Early precursors of site-specific cancers in college men and women. J Natl Cancer Inst 74:43–51

Clarke G, Whittemore AS (2000) Prostate cancer risk in relation to anthropometry and physical activity: the National Health and Nutrition Examination Survey. I. Epidemiological Follow-Up Study. Cancer Epidemiol Biomarkers Prev 9:875–881

Ross RK, Shimizu H, Paganini-Hill A, Honda G, Henderson BE (1987) Case–control studies of prostate cancer in blacks and whites in southern California. J Natl Cancer Inst 78:869–874

Mettlin C, Selenskas S, Natarajan N, Huben R (1989) Beta-carotene and animal fats and their relationship to prostate cancer risk. A case–control study. Cancer 64:605–612

Sung JF, Lin RS, Pu YS, Chen YC, Chang HC, Lai MK (1999) Risk factors for prostate carcinoma in Taiwan: a case–control study in a Chinese population. Cancer 86:484–491

Bravo MP, Castellanos E, del Rey Calero J (1991) Dietary factors and prostatic cancer. Urol Int 46:163–166

Du SF, Shi LY, He SP (1996) [A case–control study of prostate cancer]. Zhonghua Liu Xing Bing Xue Za Zhi 17:343–345

West DW, Slattery ML, Robison LM, French TK, Mahoney AW (1991) Adult dietary intake and prostate cancer risk in Utah: a case–control study with special emphasis on aggressive tumors. Cancer Causes Control 2:85–94

Spitz MR, Strom SS, Yamamura Y, et al (2000) Epidemiologic determinants of clinically relevant prostate cancer. Int J Cancer 89:259–264

Mbakop A, Angwafo FF, Tsingain K (1995) [Prostatic tumors (adenoma, adenocarcinoma) and obesity in Cameroon]. Bull Cancer 82:384–385

Bowman RL, DeLucia JL (1992) Accuracy of self-reported intake: a meta-analysis. Behav Ther 23:6637–6658

Cameron R, Evers SE (1990) Self-reported issues in obesity and weight management: state-of-the-art and future directions. Behav Assess 12:91–106

Neugebauer R, Ng S (1990) Differential recall as a source of bias in epidemiologic research. J Clin Epidemiol 43:1337–1341

Freedland SJ, Giovannucci E, Platz EA (2006) Are findings from studies of obesity and prostate cancer really in conflict? Cancer Causes Control 17:5–9

Millender LE, Aubin M, Pouliot J, Shinohara K, Roach M 3rd (2004) Daily electronic portal imaging for morbidly obese men undergoing radiotherapy for localized prostate cancer. Int J Radiat Oncol Biol Phys 59:6–10

Freedland SJ, Krupski TL, Moul JW (2006) Update on outcomes research databases in prostate cancer 2006. Curr Opin Urol 16:168–172

Chan JM, Stampfer MJ, Giovannucci EL (1998) What causes prostate cancer? A brief summary of the epidemiology. Cancer Biology 8:263–273

Willett W (1990) Anthropometric measures and body composition. In: Nutritional epidemiology. Oxford University Press, NY, pp 217–244
About this article
Cite this article
MacInnis, R.J., English, D.R. Body size and composition and prostate cancer risk: systematic review and meta-regression analysis. Cancer Causes Control 17, 989–1003 (2006). https://doi.org/10.1007/s10552-006-0049-z
Received:

Accepted:

Issue Date:

DOI: https://doi.org/10.1007/s10552-006-0049-z
Keywords