Abstract
The impact of Islam upon women's entrepreneurship in conflict zones is woefully absent from the entrepreneurship literature. This is due to the absence of published scholarship about this context rather than the absence of Muslim women's entrepreneurship there. To address the gap in the literature, we offer a contextualized analysis and contribution by adopting an Islamic feminism lens and explore how Islamic feminism empowers women entrepreneurs and their entrepreneurial activities and behaviours in conflict zones. We argue that Islamic feminism is a process of 'ijtihad' shaping the business ethics of Muslim women entrepreneurs operating in conflict zones and removing the traditional, patriarchal, colonial and other cultural layers with which Islam has been veiled. The findings from the 16 Muslim women entrepreneurs operating in Afghanistan, Iraq and Palestine and participating in our study reveal that Islamic religiousness plays a critical role in shaping the Muslim women's entrepreneurial behaviour and their ability to endure the hardships of living in a conflict zone. Within all three research contexts, the participants interpreted and practiced their Islamic religiousness in ways consistent with Islamic Feminism principles and that deviated from patriarchal Islam dominating their conflict zones. This paper contributes to the growing research areas on Islamic feminist foundations for business ethics and women's entrepreneurship in conflict zones by exploring how Islamic feminism empowers women entrepreneurs in Muslim conflict zones.
This is a preview of subscription content,
to check access.
Access this article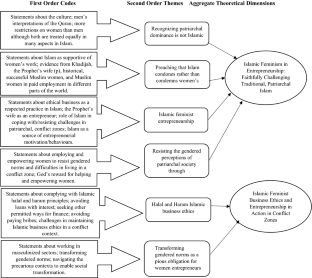 References
Abu-Lughod, L. (2013). Do Muslim women need saving? Harvard University Press.

Acker, J., Barry, K., & Esseveld, J. (1983). Objectivity and truth: Problems in doing feminist research. Women's Studies International Forum, 6(4), 423–435.

Adisa, T., Abdulraheem, I., & Isiaka, S. (2019). Patriarchal hegemony: Investigating the impact of patriarchy on women's work-life balance. Gender in Management: An International Journal, 34(1), 19–33.

Ahmed, L. (1991). Women and gender and Islam. Princeton University Press.

Ahmed-Ghosh, H. (2013). A history of women in Afghanistan: Lessons learnt for the future or yesterdays and tomorrow: Women in Afghanistan. Journal of International Women's Studies, 4(3), 1–14.

Al-Dajani, H., & Marlow, S. (2013). Empowerment and entrepreneurship: A theoretical framework. International Journal of Entrepreneurial Behaviour & Research, 19(5), 503–524.

Al-Dajani, H., Carter, S., Shaw, E., & Marlow, S. (2015). Entrepreneurship among the displaced and dispossessed: Exploring the limits of emancipatory entrepreneuring. British Journal of Management, 26(4), 713–730.

Al-Dajani, H., Akbar, H., Carter, S., & Shaw, E. (2019). Defying contextual embeddedness: Evidence from displaced women entrepreneurs in Jordan. Entrepreneurship & Regional Development, 31(3–4), 198–212.

Alexander, A., & Welzel, Ch. (2011). Islam and patriarchy: How robust is Muslim support for patriarchal values? International Review of Sociology, 21(2), 249–276.

Al-Hibri, A. (1997). Islam, law and custom: Redefining Muslim women's rights. American University Journal of International Law and Policy, 12(1), 1–44.

Ali, A., & Al-Owaihan, A. (2008). Islamic work ethic: A critical review. Cross Cultural Management: An International Journal, 15(1), 5–19.

Alkhaled, S., & Berglund, K. (2018). 'And now I'm free': Women's empowerment and emancipation through entrepreneurship in Saudi Arabia and Sweden. Entrepreneurship & Regional Development, 30(7–8), 877–900.

Al-Sharmani, M. (2014). Islamic Feminism: Transnational and national reflections. Approaching Religion, 4(2), 83–94.

Althalathini, D., Al-Dajani, H., & Apostolopoulos, N. (2020). Navigating Gaza's conflict through women's entrepreneurship. International Journal of Gender and Entrepreneurship, 12(4), 297–316.

Audretsch, D., Bönte, W., & Tamvada, J. (2013). Religion, social class, and entrepreneurial choice. Journal of Business Venturing, 28(6), 774–789.

Badran, M. (1986). Islam, patriarchy, and feminism in the Middle East. Trends in History, 4(1), 49–71

Badran, M. (2009). Feminism in Islam: Secular and religious convergences. Oneworld.

Balog, A., Baker, L., & Walker, A. (2014). Religiosity and spirituality in entrepreneurship: A review and research agenda. Journal of Management, Spirituality and Religion, 11(2), 159–186.

Bandiera, L., Chandra, V., Fosque, J., & von der Goltz, J. (2019). Jobs in Iraq: A primer on job creation in the short-term. World Bank.

Barlas, A. (2002). Believing women in Islam: Unreading patriarchal interpretations of the Quran. University of Texas Press.

Barlas, A. (2008). Engaging Islamic feminism: Provincializing feminism as a master narrative. In A. Kynsilehto (Ed.), Islamic feminism: Current perspectives (pp. 15–24). Tampere Peace Research Institute.

Bastian, B., Sidani, Y., & El-Amine, Y. (2018). Women entrepreneurship in the Middle East and North Africa: A review of knowledge areas and research gaps. Gender in Management: An International Journal, 33(1), 14–29.

Beekun, R., & Badawi, J. (2005). Balancing ethical responsibility among multiple organization stakeholders: The Islamic perspective. Journal of Business Ethics, 60, 131–145.

Bentzen, J. (2020). In crisis, we pray: Religiosity and the COVID-19 pandemic. CEPR Discussion Paper No. DP14824.

Boros, R. (2008). Afghan women entrepreneurs: At the crossroads between globalisation and local traditions. International Journal of Business and Globalisation, 2(4), 373.

Braun, V., & Clarke, V. (2006). Using thematic analysis in psychology. Qualitative Research in Psychology, 3, 77–101.

Bullough, A., & Renko, M. (2017). A different frame of reference: Entrepreneurship and gender differences in the perception of danger. Academy of Management Discoveries, 3(1), 21–41

Bush, S. (2011). International politics and the spread of quotas for women in legislatures. International Organization, 65, 103–137.

Central Intelligence Agency. (2020). The World Factbook https://www.cia.gov/library/publications/the-world-factbook/fields/401.html. Accessed 7 October 2020.

Central Statistics Organization. (2018). Afghanistan living conditions survey 2016–17. Kabul.

Chant, S. (2014). Exploring the "feminisation of poverty" in relation to women's work and home-based enterprise in slums of the Global South. International Journal of Gender and Entrepreneurship, 6(3), 296–316.

Clark, C., Everson-Rose, S., Suglia, S., & Hajyahia, M. (2010). Association between exposure to political violence and intimate partner violence in the occupied Palestinian territory: A cross-sectional study. The Lancet, 375, 310–316.

Dana, L. (2010). Entrepreneurship and religion. Edward Elgar.

Daou, A., Joseph, J., Yousif, D., Fathallah, R., & Reyes, G. (2019). Intellectual capital and resilience in torn societies. Journal of Intellectual Capital, 20(4), 598–618.

Davis, M. (2013). Entrepreneurship: An Islamic perspective. International Journal Entrepreneurship and Small Business, 20(1), 63–69.

De Vita, L., Mari, M., & Poggesi, S. (2014). Women entrepreneurs in and from developing countries: Evidences from the literature. European Management Journal, 32(3), 451–460.

Deakin, H., & Wakefield, K. (2014). Skype interviewing: Reflections of two PhD researchers. Qualitative Research, 14(5), 603–616.

Dinç, A. (2012). Immediate economic history of Iraq: Effects of the recent global crisis on the oil sector of Northern Iraq. Management, 7(2), 155–171.

Dodd, S., & Gotsis, G. (2007). The interrelationships between entrepreneurship and religion. The International Journal of Entrepreneurship and Innovation, 8(2), 93–104.

Du, H., & Chi, P. (2016). War, worries, and religiousness. Social Psychological and Personality Science, 7(5), 1–8.

Dy, A., Marlow, S., & Martin, L. (2017). A Web of opportunity or the same old story? Women digital entrepreneurs and intersectionality theory. Human Relations, 70(3), 286–311.

Esposito, J. L. (1975). Women's rights in Islam. Islamic Studies, 14(2), 99–114.

Essers, C., & Benschop, Y. (2009). Muslim businesswomen doing boundary work: The negotiation of Islam, gender and ethnicity within entrepreneurial contexts. Human Relations, 62(3), 403–423.

Fish, M. S. (2002). Islam and authoritarianism. World Politics, 55, 4–37.

Giménez, D., & Calabrò, A. (2017). The salient role of institutions in Women's entrepreneurship: A critical review and agenda for future research. International Entrepreneurship and Management Journal, 14(4), 857–882.

Gioia, D., Corley, K., & Hamilton, A. (2013). Seeking qualitative rigor in inductive research: Notes on the Gioia methodology. Organizational Research Methods, 16(1), 15–31.

Glas, S., Spierings, N., & Scheepers, P. (2018). Re-Understanding Religion and Support for Gender Equality in Arab Countries. Gender & Society, 32(5), 686–712.

Gleditsch, N., & Rudolfsen, I. (2016). Are Muslim countries more prone to violence? Research & Politics, 3(2), 1–9.

Grau, B. (2016). Supporting women's movements in Afghanistan: Challenges of activism in a fragile context. Gender & Development, 24(3), 409–426.

Gümüsay, A. (2014). Entrepreneurship from an Islamic perspective. Journal of Business Ethics, 130(1), 199–208.

Gursoy, D., Altinay, L., & Kenebayeva, A. (2017). Religiosity and entrepreneurship behaviours. International Journal of Hospitality Management, 67, 87–94.

Hafez, S. (2019). The Tour-de-Force scholarship of Saba Mahmood. Journal of the American Academy of Religion, 87(4), 982–989.

Halstead, J. (2007). Islamic values: A distinctive framework for moral education? Journal of Moral Education, 36(3), 283–286.

Helmke, G., & Levitsky, S. (2004). Informal institutions and comparative politics: A research agenda. Perspectives on Politics, 2(04), 725–740.

Henry, C., Foss, L., & Ahl, H. (2016). Gender and entrepreneurship research: A review of methodological approaches. International Small Business Journal, 34(3), 217–241.

Hiltermann, J. (2019). The MENA region's intersecting crises: What next? Global Policy, 10(2), 29–35.

Holmén, M., Min, T., & Saarelainen, E. (2011). Female entrepreneurship in Afghanistan. Journal of Developmental Entrepreneurship, 16(3), 307–331.

Ibarra-Colado, E. (2006). Organization studies and epistemic coloniality in Latin America: Thinking otherness from the margins. Organization, 13, 463–488.

ILO. (2018). Constraints and good practice in women's entrepreneurship in MENA. International Labour Office, Impact Report Series, Issue 10. Geneva.

Inglehart, R., & Norris, P. (2003). The true clash of civilizations. Foreign Policy Magazine, 34(2), 67–74

International Labour Organization. (2019). ILOSTAT database. https://data.worldbank.org/indicator/SL.TLF.CACT.FE.ZS?locations=1A-PS. Accessed 21 June 2020.

Ismaeel, M., & Blaim, K. (2012). Toward applied Islamic business ethics: Responsible halal business. Journal of Management Development, 31(10), 1090–1100.

Johnson, T., & Vriens, L. (2013). Islam: Governing under Sharia. Council on Foreign Relations. www.cfr.org/religion/islam-governing-undersharia/p8034. Accessed 7 October 2020.

Kalemci, R., & Kalemci Tuzun, I. (2017). Understanding Protestant and Islamic work ethic studies: A content analysis of articles. Journal of Business Ethics, 158, 999–1008.

Kausar, Z. (2014). Battle of books! Diverse trends in Muslim thought on women's issues: Need bias cleansing. Journal of International Women Studies, 15(2), 165–181.

Kayed, R., & Hassan, M. (2010). Islamic entrepreneurship: A case study of Saudi Arabia. Journal of Developmental Entrepreneurship, 15(4), 379–413.

Koburtay, T., Syed, J., & Haloub, R. (2018). Implications of religion, culture, and legislation for gender equality at work: Qualitative insights from Jordan. Journal of Business Ethics, 164(3), 421–436.

Kock, U., Sumlinski, M., & Qassis, H. (2012). West Bank and Gaza: Labor market trends, growth and unemployment. International Monetary Fund.

Kuckartz, U. (2014). Basic concepts and the process of qualitative text analysis. In U. Kuckartz (Ed.), Qualitative text analysis. A guide to methods, practice and using software (pp. 37–64). SAGE Publications.

Le Miere, J. (2017). Countries at War Right Now: US, Russia Lead List Of Nations Involved in Conflicts, International Business Times. Available Online https://www.ibtimes.com/countries-war-right-now-us-russia-lead-list-nations-involved-conflicts-2495501. Accessed 18 October 2020.

Lorde, A. (1984). The master's tools will never dismantle the master's house. In S. Mann & A. Paterson (Eds.) (2016), Reading Feminist theory from modernity to postmodernity. Oxford University Press.

Marlow, S., & Swail, J. (2014). Gender, risk and finance: Why can't a woman be more like a man? Entrepreneurship & Regional Development, 26(1–2), 80–96.

Menon, N., & Rodgers, Y. (2015). War and women's work: Evidence from the conflict in Nepal. Journal of Conflict Resolution, 59(1), 51–73.

Mernissi, F. (1987). Beyond the veil: Male–female dynamics in a modern Muslim Society. Indiana University Press.

Metcalfe, B. (2008). Women, management and globalization in the Middle East. Journal of Business Ethics, 83(1), 85–100.

Miles, M., & Huberman, A. (1994). Qualitative data analysis. (2nd ed.). Sage Publications.

Mimouni, F. (2010). Implications of Islam on management theory and practice: A case study of two organizations in the Middle East. Lambert Academic Publishing.

Mir-Hosseini, Z. (2006). Muslim women's quest for equality: Between Islamic law and feminism. Critical Inquiry, 32(4), 629–645.

Moghadam, V. (2003). Modernizing women: Gender and social change in the Middle East. Lynne Rienner Publishers.

Muhanna, A. (2013). Agency and gender in Gaza masculinity, femininity and family during the second intifada. Routledge.

Nielsen, J. (2019). Feminist research methods: Exemplary readings in the social sciences. Routledge.

Pew Research Center. (2017). Christians remain world's largest religious group, but they are declining in Europe. https://www.pewresearch.org/fact-tank/2017/04/05/christians-remain-worlds-largest-religious-group-but-they-are-declining-in-europe/. Accessed 15 January 2020.

Possumah, B., Ismali, A., & Shahimi, S. (2013). Bringing work back in Islamic ethics. Journal of Business Ethics, 112(2), 257–270.

Pratt, M. (2009). From the editors: For the lack of a boilerplate: Tips on writing up (and reviewing) qualitative research. Academy of Management Journal, 52(5), 856–862.

Ritchie, H. (2016). Unwrapping institutional change in fragile settings: Women entrepreneurs driving institutional pathways in Afghanistan. World Development, 83, 39–53.

Sabella, A., & El-Far, M. (2019). Entrepreneuring as an everyday form of resistance: An exploration of the experiences of Palestinian women street vendors in the occupied Old City of Jerusalem. International Journal of Entrepreneurial Behavior & Research, 25(6), 1212–1235.

Sa'di, A., & Abu-Lughod, L. (2007). Nakba: Palestine, 1948, and the Claims of Memory. Columbia University Press.

Samaroo, D. (2018). The political participation of Palestinian women in official and non-official organizations in limited horizon. ICSR Publications.

Saroglou, V. (2002). Religion and the five factors of personality: A meta-analytic review. Personality and Individual Differences, 32(1), 15–25.

Seedat, F. (2013). Islam, feminism, and Islamic feminism: Between inadequacy and inevitability. Journal of Feminist Studies in Religion, 29(2), 25–45.

Sharan, T., & Wimpelmann, T. (2014). Women's rights and political representation: Past achievements and future challenges. PRIO Paper. Oslo: PRIO.

Syed, J., & Metcalfe, B. (2015). Guest Editors' Introduction: In Pursuit of Islamic akhlaq of business and development. Journal of Business Ethics, 129(4), 763–767.

Syed, J., & Van Buren, H. (2014). Global business norms and Islamic views of women's employment. Business Ethics Quarterly, 24(2), 251–276.

Temple, B., & Young, A. (2004). Qualitative research and translation dilemmas. Qualitative Research, 4(2), 161–178.

Ter Haar, G. (2011). Religion and development. C. Hurst and Co.

Tlaiss, H. (2015). How Islamic business ethics impact women entrepreneurs: Insights from four Arab Middle Eastern countries. Journal of Business Ethics, 129(4), 859–877.

Tlaiss, H., & McAdam, M. (2020). Unexpected lives: The intersection of Islam and Arab women's entrepreneurship. Journal of Business Ethics.

Tracey, P. (2012). Religion and organization: A critical review of current trends and future directions. The Academy of Management Annals, 6(1), 87–134.

Transparency International. (2020). Corruption Perceptions Index 2019. https://images.transparencycdn.org/images/2019_CPI_Report_EN_200331_141425.pdf. Accessed 7 October 2020.

Treanor, L., & Marlow, S. (2019). Paws for thought? Analysing how prevailing masculinities constrain career progression for UK women veterinary surgeons. Human Relations, 74(1), 105–130.

Uygur, S. (2009). The Islamic work ethic and the emergence of Turkish SME owner-managers. Journal of Business Ethics, 88(1), 211–225.

Van Nes, F., Abma, T., Jonsson, H., & Deeg, D. (2010). Language differences in qualitative research: Is meaning lost in translation? European Journal of Ageing, 7(4), 313–316.

Vilardo, V., & Bittar, S. (2018). Country gender profile—Iraq: A situation analysis on gender equality and women's empowerment in Iraq. Research report, Oxfam and UN Women Iraq.

Wadud, A. (2006). Inside the gender Jihad: Women's reform in Islam. One World.

Wellalage, N. H., Locke, S., & Samujh, H. (2019). Corruption, gender and credit constraints: Evidence from South Asian SMEs. Journal of Business Ethics, 159(1), 267–280.

Welter, F. (2020). Contexts and gender—Looking back and thinking forward. International Journal of Gender and Entrepreneurship, 12(1), 27–38.

Wildeman, J., & Tartir, A. (2014). Unwilling to change, determined to fail: Donor aid in occupied Palestine in the aftermath of the Arab uprisings. Mediterranean Politics, 19(3), 431–449

World Bank. (2011). World Development report 2011: Conflict, security and development. World Bank.

Zelekha, Y., Avnimelech, G., & Sharabi, E. (2014). Religious institutions and entrepreneurship. Small Business Economics, 42(4), 747–767.
Ethics declarations
Conflict of interest
The authors declare that they have no conflict of interest.
Additional information
Publisher's Note
Springer Nature remains neutral with regard to jurisdictional claims in published maps and institutional affiliations.
About this article
Cite this article
Althalathini, D., Al-Dajani, H. & Apostolopoulos, N. The Impact of Islamic Feminism in Empowering Women's Entrepreneurship in Conflict Zones: Evidence from Afghanistan, Iraq and Palestine. J Bus Ethics 178, 39–55 (2022). https://doi.org/10.1007/s10551-021-04818-z
Received:

Accepted:

Published:

Issue Date:

DOI: https://doi.org/10.1007/s10551-021-04818-z
Keywords