Abstract
This study provides a 'pyramid of hate' perspective on issues and challenges facing minority religious communities in social and political climates that bestow permission to hate. Previous research shows that adverse social stereotypes and biases, together with non-inclusive policies and practices at the level of the state, create an enabling environment that signals the legitimacy of public hostility towards a minority community. This paper argues that such climates of hate within and outside the workplace may be better understood by paying attention to the multiple levels of hate, i.e., biased attitudes, biased actions, discrimination and violence. In its extreme form, such climate may lead to indiscriminate massacres and genocide. This contextual study draws on interviews with 76 Shia Muslim professionals and employees in Pakistan to provide a 'pyramid of hate' perspective on issues of bias, discrimination and violence facing them. The study unveils a range of experiences, from subtle bias and stereotyping to blatant harassment, discrimination and hostilities facing Shia professionals and employees in Pakistan. The study is unique as it integrates the notion of pyramid of hate into management and organization studies and advances this theory by examining issues of sect-based bias, discrimination and violence within one religion.
Access options
Buy single article
Instant access to the full article PDF.
US$ 39.95
Tax calculation will be finalised during checkout.
Subscribe to journal
Immediate online access to all issues from 2019. Subscription will auto renew annually.
US$ 119
Tax calculation will be finalised during checkout.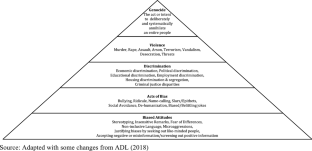 Notes
1.

A Takfiri is an extremist Muslim who accuses other Muslim individuals, groups or entire societies of kufr (infidelity, heresy, blasphemy) due to political, ideological or sectarian differences, and resorts to violence against non-Muslims and other non-Takfiri Muslims to enforce a Takfiri agenda (Syed and Pio 2018). The Khawarij (or Kharijites) were the first Takfiri group in the early history of Islam who resorted to violence and wars against fellow Muslims.
References
Abbas, H. (2010). Shiism and sectarian conflict in Pakistan: identity politics, Iranian influence, and tit-for-tat violence. Combating Terrorism Center at West Point.

Acas. (n.d.). Advice leaflet: Bullying and harassment at work: Guidance for employees. https://www.acas.org.uk/index.aspx?articleid=797.

ADL. (2018). Pyramids of hate. https://www.adl.org/sites/default/files/documents/pyramid-of-hate.pdf.

Amnesty International. (2002). Pakistan: No protection against targeted killings. Index number: ASA 33/030/2002. October 15. https://www.amnesty.org/en/documents/asa33/030/2002/en/.

Amnesty International. (2011). Failure to protect Shi'a Muslims in Pakistan leaves many at risk. September 21. https://www.amnesty.org/en/latest/news/2011/09/failure-protect-shia-muslims-pakistan-leaves-many-risk/.

BBC. (2001). Gunmen kill Pakistan oil chief. https://news.bbc.co.uk/1/hi/world/south_asia/1457911.stm.

Biernacki, P., & Waldorf, D. (1981). Snowball sampling: Problems and techniques of chain referral sampling. Sociological Methods & Research,10(2), 141–163.

Daily Times. (2008). 17 Jan 2008. https://www.dailytimes.com.pk/default.asp?page=2008\01\17\story_17-1-2008_pg1_1F

Garton, L., Haythornthwaite, C., & Wellman, B. (1999). Studying on-line social networks. In S. Jones (Ed.), Doing internet research: Critical issues and methods for examining the net (pp. 75–105). Thousand Oaks, CA: Sage.

Geocities. (2003). 7 Shia Suparco employees shot dead in Karachi. https://www.geocities.ws/sipahisahaba/2003/03102003.htm.

Holstein, J. A., & Miller, G. (1990). Rethinking victimization: An interactional approach to victimology. Symbolic Interaction,13(1), 103–122.

Hoyt, E. P. (1975). Arab science: Discoveries and csontributions. Nashville: Thomas Nelson Inc.

HRCP. (2012). State of Human Rights in Pakistan. Human Rights Commission of Pakistan. Available at: http://hrcp-web.org/hrcpweb/wpcontent/pdf/AR2012.pdf.

HRW. (2014). We are the Walking Dead": Killings of Shia Hazara in Balochistan, Pakistan. Human Rights Watch, June 29. https://www.hrw.org/report/2014/06/29/we-are-walking-dead/killings-shia-hazara-balochistan-pakistan.

ILO (n.d.). Workplace discrimination. https://www.ilo.org/global/topics/equality-and-discrimination/workplace-discrimination/lang--en/index.htm.

IRBC. (2008). Immigration and Refugee Board of Canada, Pakistan: The treatment of Shias, specifically in Multan and Lahore; government response to violence against Shias (2006-November 2008), 3 December 2008, PAK102973.E. https://www.unhcr.org/refworld/docid/49913b5e59.html.

Jenness, V., & Grattet, R. (2001). Making hate a crime: From social movement to law enforcement. New York: Russell Sage Foundation.

Khalili, E. (2016). Sects in Islam: Sunnis and Shias. International Academic Journal of Humanities,3(4), 41–47.

Mateen, A. (2012). Born Pakistani, he died a Hazara. The News, May 31. https://www.thenews.com.pk/Todays-News-2-111522-Born-Pakistani-he-died-a-Hazara.

McHugh, M. L. (2012). Interrater reliability: The kappa statistic. Biochemia Medica,22(3), 276–282.

Mir, R., & Naquvi, M. A. (2016). Fighting the Takfiris: Building an inclusive American Muslim community by countering anti-Shia rhetoric in the USA. In J. Syed, E. Pio, T. Kamran, & A. Zaidi (Eds.), Faith-based violence and Deobandi militancy in Pakistan (pp. 399–421). London: Palgrave Macmillan.

Nasr, V. S. (2007). The Shia revival: How conflicts within Islam will shape the future. New York: W. W. Norton & Company.

Oetzel, J., Westermann-Behaylo, M., Koerber, C., Fort, T. L., & Rivera, J. (2009). Business and peace: Sketching the terrain. Journal of Business Ethics,89(4), 351–373.

Othman, N. (1999). Grounding human rights arguments in non-western culture: Shari'a and the citizenship rights of women in a modern Islamic state. In J. R. Bauer & D. A. Bell (Eds.), The East Asian challenge for human rights (pp. 169–192). Cambridge: Cambridge University Press.

Pearce, J., II, Kuhn, D., & DiLillo, S. (2005). U.S. employers' legal responsibilities for preventing religious discrimination. Managerial Law,47(1/2), 208–224.

Pearson, C. M., Andersson, L. M., & Wegner, J. W. (2001). When workers flout convention: A study of workplace incivility. Human Relations,54(11), 1387–1419.

Perry, B., & Scrivens, R. (2018). A climate for hate? An exploration of the right-wing extremist landscape in Canada. Critical Criminology,26, 169–187.

Pew Forum. (2009). Mapping the global Muslim population. https://www.pewforum.org/Muslim/Mapping-the-Global-Muslim-Population(6).aspx.

Poynting, S., & Perry, B. (2007). Climates of hate: Media and state inspired victimisation of Muslims in Canada and Australia since 9/11. Current Issues in Criminal Justice,19(2), 151–171.

Rajan, V. J. (2015). Al Qaeda's Global crisis: The Islamic State. Routledge: Takfir and the Genocide of Muslims.

Trust, R. (1997). Islamophobia: A challenge for us all. London: Runnymede Trust.

Schweppe, J., & Walters, M. A. (Eds.). (2016). The globalization of hate: internationalizing hate crime?. Oxford: Oxford University Press.

Stemler, S. (2001). An overview of content analysis. Practical Assessment, Research & Evaluation,7(17), 137–146.

Syed, J., & Pio, E. (2018). Unsophisticated and naive? Fragmenting monolithic understandings of Islam. Journal of Management & Organization,24(5), 599–611.

Syed, J., Pio, E., Kamran, T., & Zaidi, A. (Eds.). (2016). Faith-based violence and Deobandi militancy in Pakistan. Basingstoke: Palgrave Macmillan.

Syed, J. (2016). Barelvi militancy in Pakistan and Salmaan Taseer's murder. In J. Syed, E. Pio, T. Kamran, & A. Zaidi (Eds.), Faith-based violence and deobandi militancy in Pakistan (pp. 231–271). London: Palgrave Macmillan.

The White House. (2012). Remarks by the President to the UN General Assembly, September 25. The Obama White House. https://obamawhitehouse.archives.gov/the-press-office/2012/09/25/remarks-president-un-general-assembly.

Turner, B. S. (2002). Sovereignty and emergency: Political theology, Islam and American conservatism. Theory Culture Society,19(4), 103–119.

UN News. (2015). Ban condemns 'despicable' terrorist act in Pakistan on Shia Muslim community, May 13. https://news.un.org/en/story/2015/05/498642-ban-condemns-despicable-terrorist-act-pakistan-shia-muslim-community.

Van Buren, H. J., Syed, J., & Mir, R. (2019). Religion as a macro social force affecting business: Concepts, questions, and future research. Business & Society. https://doi.org/10.1177/0007650319845097.

Van Fleet, D. D., & Van Fleet, E. W. (2006). Internal terrorists: The terrorists inside organizations. Journal of Managerial Psychology,21(8), 763–774.

Wellman, B. (1997). An electronic group is virtually a social network. In S. Kiesler (Ed.), Culture of the Internet (pp. 179–205). Mahwah, NJ: Lawrence Erlbaum.

Zahab, M. A. (2002). The regional dimension of sectarian conflicts in Pakistan. In C. Jaferlot (Ed.), Pakistan: Nationalism without a nation (pp. 115–131). New Delhi: Manohar.
Funding
No funding was received to conduct this study nor is there a conflict of interest.
Ethics declarations
Conflict of interest
The authors have no conflicts of interest in writing or publication of this paper.
Ethical Approval
The paper complied with ethical standards of the Journal of Business Ethics and Lahore University of Management Sciences.
Additional information
Publisher's Note
Springer Nature remains neutral with regard to jurisdictional claims in published maps and institutional affiliations.
About this article
Cite this article
Syed, J., Ali, F. A Pyramid of Hate Perspective on Religious Bias, Discrimination and Violence. J Bus Ethics (2020). https://doi.org/10.1007/s10551-020-04505-5
Received:

Accepted:

Published:
Keywords
Pyramid of hate

Religious discrimination

Shia muslims of pakistan

Shiaphobia

Takfiri islamist militancy