Abstract
Consumer (in)vulnerability is studied via a quasi-ethnographic longitudinal study of adolescents aged 11–15. The study focuses on how adolescents define their vulnerabilities within their adolescent consumption subcultures, the factors enhancing this vulnerability, and the social actors involved in their experience of vulnerability. The findings contribute to consumer vulnerability literature in three ways. First, by adopting an adolescent-centric approach based on an emic perspective, we go beyond the monolithic approach of studying one source of vulnerability at a time seen in present marketing literature. Instead, we introduce a polyadic or multiple simultaneous approaches that can consider risk sources. Second, the findings show that adolescents' perceptions of consumer vulnerability are anchored within their consumption subcultures. This study introduces the concept that young consumers experience vulnerability in multiple ways, including imposed by adults or by adolescents deliberately engaging in risky behaviors. Third, this research provides ethics policy-makers and scholars with the conceptual framework of adolescent-centric vulnerability, which can help them to develop actions based on both imposed and deliberate sources of vulnerability from the perception of the adolescent.
Access options
Buy single article
Instant access to the full article PDF.
USD 39.95
Price excludes VAT (USA)
Tax calculation will be finalised during checkout.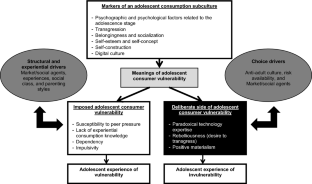 References
Baker, S. M. (2009). Vulnerability and resilience in natural disasters: A marketing and public policy perspective. Journal of Public Policy & Marketing, 28, 114–123.

Baker, S. M., Gentry, J. W., & Rittenburg, T. L. (2005). Building understanding of the domain of consumer vulnerability. Journal of Macromarketing, 25, 128–139.

Bandura, A. (1989). Social cognitive theory. In R. Vasta (Ed.), Annals of child development. Vol. 6. Six theories of child development (Vol. 6, pp. 1–60). Greenwich, CT: JAI Press.

Batat, W. (2008). Exploring adolescent development skills through Internet usage: A study of French 11–15 year olds. International Journal of Consumer Studies, 32, 379–381.

Batat, W. (2014). How do adolescents define their own competencies in the consumption field? A portrait approach. Research and Applications in Marketing, 29, 25–54.

Batat, W. (2015). An adolescent-centric approach to consumer vulnerability: New implications for public policy. In Vulnerable consumers. Routledge, London, pp 103–117.

Berry, L. L. (1993). Playing fair in retailing. Arthur Anderson Retailing Issues Newsletter, 5(2), 5–6.

Boulianne, S. (2015). Social media use and participation: A meta-analysis of current research. Information, Communication, and Society, 18, 524–538.

Bourdieu, P. (1984). Distinction: A social critique of the judgment of taste. Cambridge, MA: Harvard University Press.

Bryan, C. J., Yeager, D. S., Hinojosa, C. P., Chabot, A., Bergen, H., Kawamura, M., et al. (2016). Harnessing adolescent values to motivate healthier eating. Proceedings of the National academy of Sciences of the United States of America. https://doi.org/10.1073/pnas.1604586113.

Canhoto, A. I., & Dibb, S. (2016). Unpacking the interplay between organizational factors and the economic environment in the creation of consumer vulnerability. Journal of Marketing Management, 32, 335–356.

Carpenter, C. S., & Pechmann, C. (2011). Exposure to the above the influence antidrug advertisements and adolescent marijuana use in the United States, 2006–2008. American Journal of Public Health, 101, 948–954.

Clark, T. (2010). On 'being researched': Why do people engage with qualitative research? Qualitative Research, 10, 399–419.

Clarke, J., Hall, S., Jefferson, T., & Roberts, B. (1976). Subcultures, cultures, and class: A theoretical overview. In S. Hall & T. Jefferson (Eds.), Resistance through rituals: Youth subcultures in post-war Britain (pp. 9–74). London: Hutchison.

Cohen, P. (1997). Rethinking the youth question: Education, labor, and cultural studies. London: Macmillan.

Cook, D. T. (2005). The dichotomous child in and of commercial culture. Childhood, 12, 155–159.

Davis, B., & Grier, S. (2015). A tale of two urbanicities: Adolescent alcohol and cigarette consumption in high and low-poverty urban neighborhoods. Journal of Business Research, 68, 2109–2116.

Eckert, P. (1988). Sound change and adolescent social structure. Language in Society, 17, 183–207.

Elliott, R., & Jankel-Elliott, N. (2003). Using ethnography in strategic consumer research. Qualitative Market Research: An International Journal, 6, 215–223.

Farber, K., & Bishop, P. (2018). Service learning in the middle grades: Learning by doing and caring. RMLE Online, 4(12), 1–15.

Fullerton, S., Kerch, K. B., & Dodge, H. R. (1996). Consumer ethics: An assessment of individual behavior in the market place. Journal of Business Ethics, 15(7), 805–814.

Garrett, D. E., & Toumanoff, P. G. (2010). Are consumers disadvantaged or vulnerable? An examination of consumer complaints to the Better Business Bureau. The Journal of Consumer Affairs, 44, 3–23.

Gentina, E., Rose, G. M., & Vittel, S. (2015). Ethics during adolescence: A social networks perspective. Journal of Business Ethics, 20(1), 87–93.

Gentina, E., Shrum, L. J., Lowrey, T. M., Vitell, S., & Rose, G. M. (2018). An integrative model of the influence of parental and peer support on consumer ethical beliefs: The mediating role of self-esteem. Power, and Materialism, Journal of Business Ethics, 150(4), 1173–1186.

Grier, S. A., & Davis, B. (2013). Are all proximity effects created equal? Fast food near schools and body weight among diverse adolescents. Journal of Public Policy & Marketing, 32, 116–128.

Kang'ethe, S. M., & Makuyan, A. (2014). Orphans and vulnerable children (OVC) care institutions: Exploring their possible damage to children in a few countries of the developing world. Journal of Social Sciences, 38(2), 117–124.

Keles, B., McCrae, N., & Grealish, A. (2019). A systematic review: The influence of social media on depression, anxiety and psychological distress in adolescents. International Journal of Adolescence and Youth (In press).

Kuss, D. J., & Griffiths, M. D. (2012). Online gaming addiction in adolescence: A literature review of empirical research. Journal of Behavioral Addiction, 1, 3–22.

Kutsche, P. (1998). Field ethnography: A manual for doing cultural anthropology. Upper Saddle River, NJ: Prentice Hall.

Larson, R. W., & Richards, M. H. (1994). Divergent realities: The emotional lives of mothers, fathers, and adolescents. New York: Basic Books.

Law, S. F. (2016). Unknowing researcher's vulnerability: Re-searching inequality on an uneven playing field. Journal of Social and Political Psychology, 4, 521–536.

Lin, W., & Pantano, J. (2015). The unintended: Negative outcomes over the life cycle. Journal Population Economics, 28, 479–508.

Luczak, C., & Younkin, N. (2012). Net generation: A conceptual framework of the consumer socialization process. Academy of Marketing Studies Journal, 16, 47–51.

Maira, S. (1999). The paradoxes of an Indian American youth subculture (New York Mix). Cultural Anthropology, 14, 29–60.

Martin, M. C., Gentry, J. W., & Hill, R. P. (1999). The beauty myth and the persuasiveness of advertising: A look at adolescent girls and boys. In C. M. Macklin & L. Carlson (Eds.), Advertising to children: Concepts and controversies (pp. 165–187). Thousand Oaks, CA: Sage Publications.

Mason, M. J., Tanner, J. F., Piacentini, M., Freeman, D., Anastasia, T., Batat, W., et al. (2013). Advancing a participatory approach for youth risk behavior: Foundations, distinctions, and research. Journal of Business Research, 66, 1235–1241.

McCoy, S. S., Dimler, L. M., Samuels, D. V., et al. (2017). Adolescent susceptibility to deviant peer pressure: Does gender matter? Adolescent Research Review, 4, 59–71.

Mick, D. G., & Fournier, S. (1998). Paradoxes of technology: Consumer cognizance, emotions, and coping strategies. Journal of Consumer Research, 25, 123–143.

Moore, J., Raymond, N. A., Mittelstaedt, J. D., & Tanner, J. F. (2002). Age and consumer socialization agent influences on adolescents' sexual knowledge, attitudes, and behavior: Implications for social marketing initiatives and public policy. Journal of Public Policy & Marketing, 21, 37–52.

Moschis, G., & Churchill, G. A. (1978). Consumer socialization: A theoretical and empirical analysis. Journal of Marketing Research, 15, 599–609.

Ozanne, J. L., & Saatcioglu, B. (2008). Participatory action research. Journal of Consumer Research, 35, 423–439.

Pechmann, C., Levine, L., Loughlin, S., & Leslie, F. (2005). Impulsive and self-conscious: Adolescents vulnerability to advertising and promotion. Journal of Public Policy & Marketing, 24, 202–221.

Pechmann, C., & Reibling, E. (2000). Planning for an effective anti-smoking mass media campaign targeting adolescents. Journal of Public Health Management and Practice, 6, 80–94.

Perales-Blum, L., Juárez-Treviño, M., & Escobedo-Belloc, D. (2014). Severe growing-up phobia, a condition explained in a 14-year-old boy. Case Reports in Psychiatry. https://doi.org/10.1155/2014/706439.

Pine, D. S., Cohen, P., & Brook, J. S. (2001). Emotional reactivity and risk for psychopathology among adolescents. CNS Spectrum, 6, 27–35.

Roberts, J., Manolis, C., & Tanner, J. F. (2003). Family structure, materialism, and compulsive buying: A re-inquiry of Rindfleisch, Burroughs, and Denton (1997). Journal of the Academy of Marketing Science, 31, 300–311.

Roedder-John, D. (1999). Consumer socialization of children: A retrospective look at twenty-five years of research. Journal of Consumer Research, 26, 183–213.

Rogers, R. W., & Prentice-Dunn, S. (1997). Protection Motivation Theory. In D. S. Gochman (Ed.), Handbook of health behavior research 1: Personal and social determinants (pp. 113–122). New York: Plenum Press.

Shapiro, L. A., & Margolin, G. (2014). Growing up wired: Social networking sites and adolescent psychosocial development. Clinical Child and Family Psychology Review, 17(1), 1–18.

Shultz, C. J., & Holbrook, M. B. (2009). The paradoxical relationships between marketing and vulnerability. Journal of Public Policy & Marketing, 28, 124–127.

Solberg, E. G., Diener, E., & Robinson, M. D. (2004). Why are materialists less satisfied? In T. Kasser & A. D. Kanner (Eds.), Psychology and consumer culture (pp. 29–48). Washington, DC: American Psychological Association.

Soster, R. L., & Drenten, J. M. (2011). Flirting with technology: Understanding the motivations for and consequences of adolescent sexting. In Marketing and public policy conference, Washington, DC.

Spotswood, F., & Nairn, A. (2016). Children as vulnerable consumers: A first conceptualization. Journal of Marketing Management, 32, 211–229.

Strauss, A., & Corbin, J. (1990). Basics of qualitative research: Grounded theory procedures and techniques. Newbury Park, CA: Sage Publications.

Tang, T., & Chen, Y. (2008). Intelligence vs. wisdom: The love of money, machiavellianism, and unethical behavior across college major and gender. Journal of Business Ethics, 82(1), 1–26.

Tang, T. L. P., Luna-Arocas, R., Quintanilla Pardo, I., & Tang, T. L. N. (2014). Materialism and the bright and dark sides of the financial dream in Spain: The positive role of money attitudes—The Matthew effect. Applied Psychology, 63(3), 480–508.

Tanner, J. F., Jr., Hunt, J. B., & Eppright, D. R. (1991). The ordered protection motivation model: A normative approach to fear appeals. Journal of Marketing, 55, 36–45.

Tarrant, M. (2002). Adolescent peer groups and social identity. Social Development, 11, 110–123.

Thompson, C. (1997). Interpreting consumer: A hermeneutical framework for deriving marketing insights from the texts of consumers' consumption stories. Journal of Marketing Research, 34, 438–455.

Thornton, S. (1997). The social logic of subcultural capital. In K. Gelder & S. Thornton (Eds.), The Subcultures reader (pp. 200–209). London: Routledge.

Tomé, G., Matos, M., Simões, C., Diniz, J. A., & Camacho, I. (2012). How can peer group influence the behavior of adolescents: explanatory model. Global Journal of Health Science, 4(2), 26–35.

Tsang, K. M., Hui, K. P., & Law, C. M. (2012). Positive identity as a positive youth development construct: A conceptual review. The Scientific World Journal. https://doi.org/10.1100/2012/529691.

Twenge, J. M., Martin, G. N., & Campbell, W. K. (2018). Decreases in psychological well-being among American adolescents after 2012 and links to screen time during the rise of smartphone technology. Emotion, 18, 765–780.

Unicef. (2013). Ethical research involving children. Retrieved from https://www.unicef-irc.org/publications/pdf/eric-compendium-approved-digital-web.pdf.

Wolcott, H. F. (1994). Transforming qualitative data: Description, analysis and interpretation. Thousand Oaks, CA: Sage Publications.

Zhao, G., & Pechmann, C. (2007). The impact of regulatory focus on adolescents' response to antismoking advertising campaigns. Journal of Marketing Research, 44, 671–687.
Funding
Travel between the faculty's institutions was funded by a Grant from Baylor University.
Ethics declarations
Conflict of interest
The authors declares that they have no conflict of interest.
Ethical Approval
Humans were involved, and all procedures performed in studies involving human participants were completed in accordance with the ethical standards of the institutional and/or national research committee and with the 1964 Helsinki declaration and its later amendments or comparable ethical standards. Regarding our field and the characteristics of the minor participants involved in this research, we followed the ERIC (Ethical Research Involving Children) guidance developed by UNICEF in 2013 and adapted it to our field activities.
Research Involved in Human or Animal Rights
This article does not contain any studies involving animals, performed by any of the authors.
Informed Consent
Informed consent was obtained from all of the individual participants included in the study.
Additional information
Publisher's Note
Springer Nature remains neutral with regard to jurisdictional claims in published maps and institutional affiliations.
About this article
Cite this article
Batat, W., Tanner, J.F. Unveiling (In)Vulnerability in an Adolescent's Consumption Subculture: A Framework to Understand Adolescents' Experienced (In)Vulnerability and Ethical Implications. J Bus Ethics 169, 713–730 (2021). https://doi.org/10.1007/s10551-019-04309-2
Received:

Accepted:

Published:

Issue Date:

DOI: https://doi.org/10.1007/s10551-019-04309-2
Keywords