Abstract
The evidence of culture's impact on corruption and its consequences is still inconclusive despite several investigations: (1) Sometimes, theory is lacking and causes and consequences seem exchangeable. Based on psychological research on the distribution and use of power, we predicted that a steeper distribution of power induces more corruption and elaborated its negative consequences in a complex causal model. (2) For measuring power distribution, pervading national culture, we augmented Hofstede's 'Power Distance' with three additional indicators into a reversed, more reliable and valid culture composite called "Power Balanced Freedom" (PBF). (3) Instead of the usual regression and instrument approaches, which cannot estimate multiple causal chains including causal feedback, a non-recursive path analysis was employed with data from 85 nations. PBF predicted less national Corruption (62%), with positive effects on Gross Domestic Product (GDP, 72%) and Inequality Adjusted Human Development (IHDI, 66%, including Life Expectancy, Income, and Education). The often expected reverse effect of GDP on Corruption was not significant. Contrary to influential authors from economics, culture variables are the most important predictors of corruption and its consequences. Nonetheless, our extended model supports the main thrust of their ideas and adds more precision. Our conceptual distinction of the uses of power and our empirical measure PBF reflect Kant's ethical imperative: freedom and autonomy for everyone. Widely shared life chances as measured by IHDI reflect utilitarian, consequentialist ideas. These different ethical approaches are connected in the confirmed causal model, in line with Rawls' first and second principle of justice.
Access options
Buy single article
Instant access to the full article PDF.
US$ 39.95
Tax calculation will be finalised during checkout.
Subscribe to journal
Immediate online access to all issues from 2019. Subscription will auto renew annually.
US$ 119
Tax calculation will be finalised during checkout.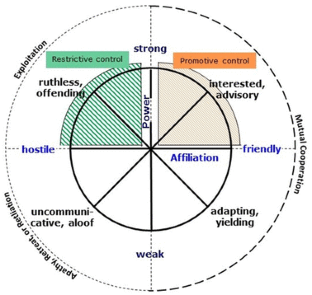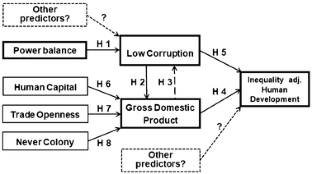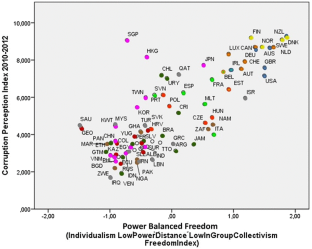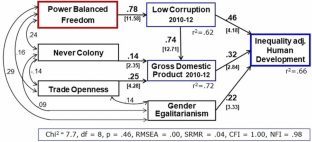 Notes
1.

Transparency International distinguishes grand, petty and political corruption which all take place in the public sphere. Grand corruption is done by high-level officials diverting large sums of money, petty corruption by mid- and low-level officials exploiting normal citizens, and political corruption again by high-level officials who change political rules in order to increase their power, status, and wealth.

2.

Note that instead of "affiliation" and "power," terms used by Leary (1957), the originator of this circumplex, these dimensions are sometimes termed "friendly-hostile" and "dominant-submissive" as behavioral dimensions or "communion" and "agency," e.g., Abele and Wojciszke (2013). In fact, these two dimensions are universal dimensions resulting from the feeling dimensions of valence and control, being expressed in non-verbal and verbal communication, and showing up in behavior and personality (Scholl 2013).

3.

Some of these authors use other terms for a similar distinction to promotive and restrictive control.

4.

English translation cited from Wikipedia's site 'Categorical imperative.'

5.

6.

In terms of multi-level analysis, this would be a top-down cross-level effect. Since only the national level data are available from the used culture surveys, this effect cannot be tested with our data.

7.

Different from Hoyle (2012), these authors use the term "path analysis" only for structural approaches with manifest variables.

8.

In the discussion, Husted (1999) avoids causal terminology and speaks of correlates of corruption which does not correct the regression estimates.

9.

Collinearity complicates this description because correlated effects of exogenous variables have to be added for the decomposition of correlations. Thus, the lower collinearity is, the more precise the estimation of the model will be.

10.

Two later-developed dimensions by Hofstede were omitted in the current study, because less country data were available.

11.

We are grateful to Evert Van de Vliert for this personal recommendation.

12.

In case of missing values, averages represent the remaining dimensions.

13.

14.

15.

If only Power Distance and Individualism (Hofstede) and In-Group collectivism (GLOBE) would be retained in that index, then Press Freedom would be the only additional predictor of Corruption. This points to the important role of an independent press for the fight against corruption; it is also contained in PBF's Freedom Index.

16.

This analysis is available from the first author.

17.

Regrettably, the authors don't describe fully their Global Economic Freedom Index and the reference is missing.

18.

Cited from Pieper (2017, p. 231), own translation.

19.
References
Abele, A. E., & Wojciszke, B. (Eds.). (2013). Special issue: The big two in social judgment and behavior. Social Psychology, 44, 61–176.

Acemoglu, D., & Robinson, J. A. (2012). Why nations fail. The origins of power, prosperity, and poverty. Crown – Random House, New York. ISBN: 978-0-307-71921-8.

Aidt, T., Dutta, J., & Sena, V. (2008). Governance regimes, corruption and growth: Theory and evidence. Journal of Comparative Economics, 36, 195–220. https://doi.org/10.1016/j.jce.2007.11.004.

Aidt, T. S. (2011). Corruption and sustainable development. In S. Rose-Ackerman & T. Søreide (Eds.), International handbook on the economics of corruption, Vol (2, pp. 3–51). Cheltenham: Elgar.

Akbar, Y. H., & Vujić, V. (2014). Explaining corruption. The role of national culture and its implications for international management. Cross Cultural Management, 21, 191–218. https://doi.org/10.1108/CCM-03-2013-0050.

Alesina, A., & Giuliano, P. (2015). Culture and institutions. Journal of Economic Literature, 53, 898–944. https://doi.org/10.1257/jel.53.4.898.

Bagozzi, R. P., & Yi, Y. (2012). Specification, evaluation, and interpretation of structural equation models. Journal of the Academy of. Marketing Science, 40, 8–34. https://doi.org/10.1007/s11747-011-0278-x.

Baldwin, J. N., Borrelli, S. A., & New, M. J. (2011). State educational investments and economic growth in the United States: A path analysis. Social Science Quarterly, 92, 226–245.

Berger, P. L., & Luckmann, T. (1966). The social construction of reality. Garden City: Doubleday.

H. M. Blalock Jr. (Ed.). (1971). Causal models in the social sciences. Chicago: Aldine-Atherton.

Buschmeier, U. (1995). Macht und Einfluss in Organisationen [Restrictive and promotive control in organizations]. Göttingen: Cuvillier.

Chen, S., Lee-Chai, A. Y., & Bargh, J. A. (2001). Relationship orientation as a moderator of the effects of social power. Journal of Personality and Social Psychology, 80, 173–187. https://doi.org/10.1037//0022-3514.S0.2.173.

Cheung, H. Y., & Chan, A. W. H. (2008). Corruption across countries: Impacts from education and cultural dimensions. The Social Science Journal, 45, 223–239. https://doi.org/10.1016/j.soscij.2008.03.002.

Cialdini, R. B. (1993). Influence: Science and practice (3rd edn.). New York: HarperCollins.

Dalberg-Acton, J. E. E. (1907). In J. N. Figgis & R. V. Laurence (Eds.), Historical essays and studies. London: Macmillan. Retrieved September 11, 2016, from https://de.wikipedia.org/wiki/John_Emerich_Edward_Dalberg-Acton,_1._Baron_Acton.

Duncan, O. D. (1966). Path analysis: Sociological examples. American Journal of Sociology, 72, 1–16.

Duncan, O. D., Haller, A. O., & Portes, A. (1971). Peer influences on aspirations: A reinterpretation. In H. M. Jr & Blalock (Eds.), Causal models in the social sciences (pp. 219–244). Chicago: Aldine-Atherton.

Etzioni, A. (1968). The active society. A theory of societal and political processes. New York: The Free Press.

Everett, J., Neu, D., & Rahaman, A. S. (2007). Accounting and the global fight against corruption. Accounting, Organizations and Society, 32, 513–542. https://doi.org/10.1016/j.aos.2006.07. 002.

Georgesen, J. C., & Harris, M. J. (1998). Why's my boss always holding me down? A meta-analysis of power effects on performance evaluations. Personality and Social Psychology Review, 2, 184–195. https://doi.org/10.1207/s15327957pspr0203_3.

Guiso, L., Sapienza, P., & Zingales, L. (2016). Long-term persistence. Journal of the European Economic Association, 14, 1401–1436. https://doi.org/10.1111/jeea.12177.

Hanushek, E. A., & Woessmann, L. (2012). Do better schools lead to more growth? Cognitive skills, economic outcomes, and causation. Journal of Economic Growth, 17, 267–321. https://doi.org/10.1007/s10887-012-9081-x.

Heine, S. J. (2012). Cultural psychology (2nd edn.). New York: Norton.

Hofstede, G. (2001). Cultures's consequences. Comparing values, behaviors, institutions, and organizations across nations (2nd edn.). Thousand Oaks: Sage.

House, R. J., Hanges, P. J., Javidan, M., Dorfman, P. W., & Gupta, V. (Eds.). (2004). Culture, leadership, and organizations: The globe study of 62 societies. Thousand Oaks: Sage.

Hoyle, R. H. (2012). Path analysis and structural equation modeling with latent variables. In American Psychological Association (Ed.), APA handbook of research methods in psychology, Vol. 2: Research designs: Quantitative, qualitative, neuropsychological, and biological (pp. 333–367). Washington, DC: American Psychological Association.

Husted, B. W. (1999). Wealth, culture, and corruption. Journal of International Business Studies, 30, 339–360.

Inglehart, R., & Baker, W. E. (2000). Modernization, cultural change, and the persistence of traditional values. American Sociological Review, 65, 19–51. https://doi.org/10.2307/2657288.

International Monetary Fund. (2013). Gross domestic product 2010–2012. World Economic Outlook Database, April 2013. Retrieved September 11, 2016.

Jing, R., & Graham, J. L. (2008). Values versus regulations: How culture plays its role. Journal of Business Ethics, 80, 791–806. https://doi.org/10.1007/s10551-007-9469-2.

Johnston, M. (2014). Corruption, contention and reform: The power of deep democratization. Cambridge: Cambridge University Press.

Judge, W. Q., McNatt, D. B., & Xu, W. (2011). The antecedents and effects of national corruption: A meta-analysis. Journal of World Business, 46, 93–103. https://doi.org/10.1016/j.jwb.2010.05.021.

Kant, I. (1993). [1785] Grounding for the metaphysics of morals. Translated by J. W. Ellington (3rd ed.). Cambridge, MA: Hackett.

Keltner, D., Gruenfeld, D. H., & Anderson, C. (2003). Power, approach, and inhibition. Psychological Review, 110, 265–284. https://doi.org/10.1037/0033-295X.110.2.265.

Kipnis, D. (1976). The powerholders. Chicago: University of Chicago Press.

Lambsdorff, J. G. (2006). Consequences and causes of corruption – what do we know from a cross-section of countries?". In S. Rose-Ackerman (Ed.), International handbook on the economics of corruption (pp. 3–51). Northampton: Elgar.

Lambsdorff, J. G., & Schulze, G. G. (2015). What can we know about corruption? A very short history of corruption research and a list of what we should aim for. Jahrbücher für Nationalökonomie und Statistik, 235, 100–114.

Leary, T. (1957). Interpersonal diagnosis of personality. New York: Ronald.

Lee-Chai, A. Y., & Bargh, J. A. (2001). The use and abuse of power. Multiple perspectives on the causes of corruption. Philadelphia: Psychology Press.

López, J. A. P., & Santos, J. M. S. (2014). Does corruption have social roots? The role of culture and social capital. Journal of Business Ethics, 122, 697–708. https://doi.org/10.1007/s10551-013-1789-9.

Ly, A. (2013). A critical discussion of Hofstede's concept of Power Distance. SYNAPS, 28, 51–66.

MacCallum, R. C., & Austin, J. T. (2000). Application of structural equation modeling in psychological research. Annual Review of Psychology, 51, 201–226.

MacKinnon, N. J., & Heise, D. (2010). Self, identity and social institutions. New York: Palgrave and Macmillan.

March, J. D., & Simon, H. A. (1958). Organizations. New York: Wiley.

Matsumoto, D., & Hwang, H. S. (2013). Culture. In K. D. Keith (Ed.), The encyclopedia of cross-cultural psychology (Vol. 1). Chichester: Wiley Blackwell.

Mauro, P. (1998). Corruption and the composition of government expenditure. Journal of Public Economics, 69, 263–279. https://doi.org/10.1016/S0047-2727(98)00025-5.

McSweeney, B. (2002). Hofstede's model of national cultural differences and their consequences: A triumph of faith—a failure of analysis". Human Relations, 55, 89–118. https://doi.org/10.1177/0018726702551004.

Mensah, Y. M. (2014). An analysis of the effect of culture and religion on perceived corruption in a global context. Journal of Business Ethics, 121, 255–282. https://doi.org/10.1007/s10551-013-1696-0.

Mitchell, T. R., Hopper, H., Daniels, D., Falvy, J. G., & Ferris, G. R. (1998). Power, accountability, and inappropriate actions. Applied Psychology, 47, 497–517. https://doi.org/10.1111/j.1464-0597.1998.tb00040.x.

Mulder, M. (1977). The daily power game. Leiden: Stenfert Kroeze.

Pemstein, D., Meserve, S. A., & Melton, J. (2010). Democratic compromise: A latent variable analysis of ten measures of regime type. Political Analysis, 18, 426–449. https://doi.org/10.1093/pan/mpq020.

Pieper, A. (2005). Die Ambivalenz der Macht. Ethik-Symposium des Psychiatriezentrums Münsingen, CH. Retrieved March 11, 2018, from http://www.gef.be.ch/site/gef_pzm_es_pzm_pieper_philosophie_def.pdf (The ambivalence of power).

Pieper, A. (2017). Einführung in die Ethik (7. aktual. Aufl.). Tübingen: Narr Francke Attempto. (Introduction to ethics, 7th ed.).

Popper, K. R. (1945). The open society and its enemies (Vol. 2). London: Routledge.

Rawls, J. (2001). Justice as Fairness. A Restatement (E. Kelly (Ed.)). Cambridge: Harvard University Press.

Rose-Ackerman, S., & Palifka, B. J. (2016). Corruption and government: Causes, consequences, and reform (2nd edn.). New York: Cambridge University Press.

Rothstein, B., & Teorell, J. (2008). What is quality of government: A theory of impartial political institutions. Governance—An International Journal of Policy, Administration and Institutions, 21, 165–190.

Rothstein, B., & Uslaner, E. M. (2005). All for all: Equality, corruption, and social trust. World Politics, 58, 41–72. https://doi.org/10.1353/wp.2006.0022.

Scholl, W. (1999). Restrictive control and information pathologies in organizations. Journal of Social Issues, 55, 101–118. https://doi.org/10.1111/0022-4537.00107.

Scholl, W. (2013). The socio-emotional basis of human interaction and communication. How we construct our social world. Social Science Information, 52, 3–33. https://doi.org/10.1177/0539018412466607.

Scholl, W. (2014). Innovationskultur, Innovationsprozesse und Innovationserfolge [Innovation culture, innovation process, and innovation success]. In W. Scholl, F. Schmelzer, S. Kunert, S. Bedenk, J. Hüttner, J. Pullen & S. Tirre (Eds.), Mut zu Innovationen – Impulse aus Forschung, Beratung und Ausbildung (S. 77–99). Wiesbaden: Springer Gabler.

Scholl, W., & Riedel, E. (2010). Using high or low power as promotive or restrictive control—Differential effects on learning and performance. Social Influence, 5, 40–58. https://doi.org/10.1080/15534510903160522.

Schwartz, S. H. (1992). Universals in the content and structure of values: Theoretical advances and empirical tests in 20 countries. In L. Berkowitz (Ed.), Advances in Experimental Social Psychology (Vol (25, pp. 1–65). New York: Academic Press.

Singh-Sengupta, S. (1997). The senior managers: Challenges and coping strategies. New Delhi: APH.

Stiglitz, J. (2012). The price of inequality: How today's divided society endangers our future. New York: Norton.

Stiglitz, J., Sen, A., & Fitoussi, J. P. (2010). Mismeasuring our lives. New York: The New Press.

Thomas, W. I., & Thomas, D. S. (1928). The child in America: Behavior problems and programs. New York: Knopf.

Transparency International (2016). Retrieved September 11, 2016, from http://www.transparency.org/glossary/term/corruption..

Treisman, D. (2007). What have we learned about the causes of corruption from ten years of cross-national empirical research? Annual Review of Political Science, 10, 211–244.

United Nations (1948). The universal declaration of human rights. Retrieved March 11, 2018, from http://www.un.org/en/universal-declaration-human-rights/index.html.

United Nations (2016). Sustainable development goals. Retrieved February 5, 2017, from http://www.un.org/sustainabledevelopment/peace-justice/.

United Nations Development Program. (2014). Human development report 2014. New York: UNDP. http://hdr.undp.org/en/content/human-development-report-2014. 2016).

Van de Vliert, E. (2011). Climato-economic origins of variation in ingroup favoritism. Journal of Cross-Cultural Psychology, 42, 494–515. https://doi.org/10.1177/0022022110381120.

Van de Vliert, E. (2013). Climato-economic habitats support patterns of human needs, stresses, and freedoms. Behavioral and Brain Sciences, 36, 465–521. https://doi.org/10.1017/S0140525X12002828.

Weber, M. (1972). Wirtschaft und Gesellschaft [Economy and Society] (5th edn.) (first publ. 1921). Tübingen: Mohr-Siebeck.

World Bank (2016). Trade openness, 2010–2012. Retrieved September 11, 2016, from http://databank.worldbank.org/data/reports.

World Values Survey wave 4 (2004). Retrieved September 11, 2016, from http://www.worldvaluessurvey.org/WVSDocumenta tionWV4.jsp.

Wortman, C. B., & Brehm, J. W. (1975). Responses to uncontrollable outcomes: an integration of reactance theory and the learned helplessness model. In L. Berkowitz (Ed.), Advances in experimental social psychology (Vol. 8). New York: Academic Press.
Acknowledgements
Many thanks to Peter Graeff, Michael Johnston, Nils Köbis, Johann Graf Lambsdorff, Stefan Melnik and Evert van de Vliert for helpful commentaries and to all authors and institutions who made their multi-nations data available. We especially thank the section editor, Dr. Suhaib Riaz, and the anonymous reviewers for their valuable suggestions for improving the paper.
Funding
This research did not receive any specific grant from funding agencies in the public, commercial, or not-for-profit sectors.
Ethics declarations
Conflict of interest
There are no conflicts of interests.
Electronic supplementary material
Below is the link to the electronic supplementary material.
About this article
Cite this article
Scholl, W., Schermuly, C.C. The Impact of Culture on Corruption, Gross Domestic Product, and Human Development. J Bus Ethics 162, 171–189 (2020). https://doi.org/10.1007/s10551-018-3977-0
Received:

Accepted:

Published:

Issue Date:
Keywords
Corruption

Cross cultural differences

Economics

Human development

Power distribution

Psychology