Abstract
India is the emerging country with the world's greatest social banking program, so Indian banks are required to finance the weaker sectors of society that are excluded from the traditional financial system (priority sectors), while also providing mainstream banking services to non-priority sectors. For social banks to promote the ethical–social management of their dual mission and to be successful in today's business environment, they must be as efficient as possible in both dimensions of their banking activity. Whereas the efficiency of Indian banks in the financial dimension is well understood, to date there has been no research evaluating their double bottom-line of achieving social and financial goals. Our study applies an innovative Network Slack-Based DEA model to evaluate how efficient Indian public banks are when providing credit to priority and non-priority sectors. We also explore the main factors influencing bank efficiency. Results suggest that Indian public banks have performed relatively well in both activities, although social efficiency has been slightly greater than financial efficiency. Moreover, their commitment to priority sector lending has not come into conflict with the profit-seeking objectives of mainstream banking services. As regards determinants of social and financial efficiency, there are countervailing forces played by regional wealth, bank size, branch networks, and rural location. Our findings are therefore useful for stakeholders of Indian public banks as they indicate if these entities have adequately managed their double bottom-line, and hence if they are critical for poverty alleviation and development in India.
This is a preview of subscription content, log in to check access.
Access options
Buy single article
Instant access to the full article PDF.
US$ 39.95
Price includes VAT for USA
Subscribe to journal
Immediate online access to all issues from 2019. Subscription will auto renew annually.
US$ 199
This is the net price. Taxes to be calculated in checkout.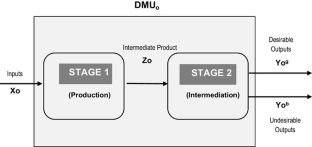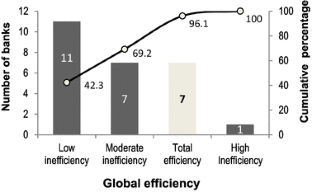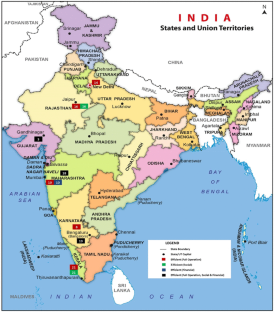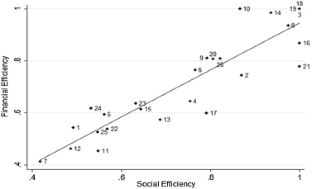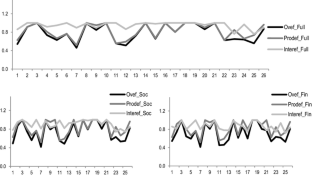 Notes
1.

The study by Huang et al. (2014) proposes a new NSBM model with undesirable outputs and super efficiency (US-NSBM) to measure bank efficiency. We only consider the NSBM with undesirable outputs (U-NSBM) because super efficiency is outside of the goals of our research.

2.

Several previous studies have shown that non-performing loans (or NPLs) need to be considered as the main undesirable output of banks (Fukuyama and Weber 2010; Fujii et al. 2014; Lozano 2016; Fukuyama and Matousek 2017). An NPL is a loan that is in default or close to being in default. In India, the RBI states that an asset is considered as "non-performing" when interest and/or installment of principal has remained "past due" or unpaid for more than 90 days.

3.

We use Spearman´s Rho correlation coefficients rather than Pearson correlation coefficients because the latter are subject to biases if all variables are not normally distributed, which is the case in our study.
References
Bagnoli, L., & Megali, C. (2009). Measuring performance in social enterprises. Nonprofit and Voluntary Sector Quarterly, 20(10), 1–17.

Banker, R. D., Charnes, A., & Cooper, W. W. (1984). Some models for estimating technical and scale inefficiencies in data envelopment analysis. Management Science, 30(9), 1078–1092.

Berger, A. N., & Humphrey, D. B. (1997). Efficiency of financial institutions: International survey and directions for future research. European Journal of Operational Research, 98(2), 175–212.

Bhattacharyya, A., Lovell, C. K., & Sahay, P. (1997). The impact of liberalization on the productive efficiency of Indian commercial banks. European Journal of Operational Research, 98(2), 332–345.

Bhattacharyya, A., & Pal, S. (2013). Financial reforms and technical efficiency in Indian commercial banking: A generalized stochastic frontier analysis. Review of Financial Economics, 22(3), 109–117.

Burgess, R., & Pande, R. (2005). Do rural banks matter? Evidence from the Indian social banking experiment. The American Economic Review, 95(3), 780–795.

Charnes, A., Cooper, W. W., & Rhodes, E. (1978). Measuring the efficiency of decision making units. European Journal of Operational Research, 2(6), 429–444.

Cooper, W. W., Seiford, L. M., & Tone, K. (2007). Data envelopment analysis. New York: Springer.

Cornée, S., & Szafarz, A. (2014). Vive la différence: Social banks and reciprocity in the credit marked. Journal of Business Ethics, 125(3), 361–380.

Crowther, D., & Lauesen, L. M. (2016). Accountability and social responsibility: International perspectives. Bingley: Emerald Group Publishing Limited.

Das, A., & Ghosh, S. (2006). Financial deregulation and efficiency: An empirical analysis of Indian banks during the post reform period. Review of Financial Economics, 15(3), 193–221.

Das, A., & Kumbhakar, S. C. (2012). Productivity and efficiency dynamics in Indian banking: An input distance function approach incorporating quality of inputs and outputs. Journal of Applied Econometrics, 27(2), 205–234.

Datanet India (2017). Indiastat: Socio-Economic Statistical Information about India (Banks and Financial Institutions/Public Sector Banks). New Delhi: Datanet India. Retrieved from: https://www.indiastat.com/banksandfinancialinstitutions/3/publicsectorbanks/234/stats.aspx.

Ebrahim, A., Battilana, J., & Mair, J. (2014). The governance of social enterprises: Mission drift and accountability challenges in hybrid organizations. Research in Organizational Behavior, 34, 81–100.

Färe, R., & Grosskopf, S. (1996). Intertemporal production frontiers: With dynamic DEA. Boston: Kluwer Academic Publishers.

Färe, R., & Grosskopf, S. (2000). Network DEA. Socio-Economic Planning Sciences, 34(1), 35–49.

Farrell, M. J. (1957). The measurement of productive efficiency. Journal of the Royal Statistical Society, 120(3), 253–290.

Ferrari, S. L., & Cribari-Neto, F. (2004). Beta regression for modeling rates and proportions. Journal of Applied Statistics, 31(7), 799–815.

Freeman, R. E. (1984). Strategic management: A stakeholder approach. Boston: Pitman.

Freeman, R. E., Harrison, J. S., Wicks, A. C., Parmar, B. L., & Colle, S. (2010). Stakeholder theory: The state of the art. New York: Cambridge University Press.

Fujii, H., Managi, S., & Matousek, R. (2014). Indian bank efficiency and productivity changes with undesirable outputs: A disaggregated approach. Journal of Banking & Finance, 38(1), 41–50.

Fukuyama, H., & Matousek, R. (2017). Innovative applications of O.R. Modelling bank performance: A network DEA approach. European Journal of Operational Research, 259(1), 721–732.

Fukuyama, H., & Weber, W. L. (2010). A slacks-based inefficiency measure for a two-stage system with bad outputs. Omega, 38(5), 239–410.

Holod, D., & Lewis, H. F. (2011). Resolving the deposit dilemma: A new DEA bank efficiency model. Journal of Banking & Finance, 35(11), 2801–2810.

Huang, J., Chen, J., & Yin, Z. (2014). A network DEA model with super efficiency and undesirable outputs: An application to bank efficiency in China. Mathematical Problems in Engineering, 9, 1–14.

Krause, K., & Battenfeld, D. (2017). Coming out of the niche? Social banking in Germany. Journal of Business Ethics. https://doi.org/10.1007/s10551-017-3491-9.

Lozano, S. (2016). Slacks-based inefficiency approach for general networks with bad outputs: An application to the banking sector. Omega, 60, 73–84.

Martínez-Campillo, A., Fernández-Santos, Y. & Sierra-Fernández, M. P. (2016). How well have Social Economy financial institutions performed during the crisis period? Exploring financial and social efficiency in Spanish credit unions. Journal of Business Ethics. https://doi.org/10.1007/s10551-016-3192-9.

Mia, A., & Chandran, V. G. R. (2016). Measuring financial and social outreach productivity of microfinance institutions in Bangladesh. Social Indicators Research, 127(2), 505–527.

Mohan, R., & Ray, P. (2017): Indian financial sector: Structure, trends and turns. IMF Working Paper, WP/17/7, International Monetary Fund.

Ramus, T., & Vaccaro, A. (2017). Stakeholders matter: How social enterprises address mission drift. Journal of Business Ethics, 143(2), 307–322.

RBI (2012–2015). Annual Report of the RBI from 2011 to 12 to 2014–2015. Mumbai: Reserve Bank of India (RBI). Retrieved from: https://www.rbi.org.in/Scripts/AnnualReportPublications.aspx.

Sahoo, B., & Tone, K. (2009). Decomposing capacity utilization in Data envelopment analysis: An application to banks in India. European Journal of Operational Research, 195(2), 575–594.

Smith, J. (2018). Efficiency and ethically responsible management. Journal of Business Ethics, 150(3), 603–618.

Srinivasan, A., & Thampy, T. (2017). The effect of relationships with government-owned banks on cash flow constraints: Evidence from India. Journal of Corporate Finance, 46, 361–373.

Thorat, A., Vanneman, R., Desai, S., & Dubey, A. (2017). Escaping and falling into poverty in India today. World Development, 93, 413–426.

Tone, K., & Tsutsui, M. (2009). Network DEA: A slacks-based measure approach. European Journal of Operational Research, 197(1), 243–252.

Tzeremes, N. G. (2015). Efficiency dynamics in Indian banking: A conditional directional distance approach. European Journal of Operational Research, 240(3), 807–818.

Wijesiri, M., Viganò, L. &  Meoli, M. (2015). Efficiency of microfinance institutions in Sri Lanka: A two-stage double bootstrap DEA approach. Economic Modelling,47, 74–83.

Zha, Y., Liang, N., Wu, M., & Bian, Y. (2016). Efficiency evaluation of banks in China: A dynamic two-stage slacks-based measure approach. Omega, 60, 60–72.

Zhang, P., & Qiu, Z. (2014). Regression analysis of proportional data using simplex distribution. Science China Mathematics, 44(1), 89–104.
Acknowledgements
A part of the research for this paper was completed while Mahinda Wijesiri was a visiting scholar at the Indira Gandhi Institute of Development Research (IGIDR), India. He gratefully acknowledges the funding and support from the International Development Research Center (IDRC), Canada. The authors would like to thank the Section Editor and the anonymous referees for their useful comments. Any remaining errors are solely the responsibility of the authors.
Funding
This research was funded by the International Development Research Center (IDRC) of Canada (Grant No.: IDRC 107125; Recipient: Mahinda Wijesiri).
Ethics declarations
Conflict of interest
Almudena Martínez-Campillo declares that she has no conflict of interest. Mahinda Wijesiri has received a research grant from the "International Development Research Center (IDRC)," Canada. Peter Wanke declares that he has no conflict of interest.
Research Involving Human Participants or Animals
This article does not contain any studies with human participants or animals performed by any of the authors.
About this article
Cite this article
Martínez-Campillo, A., Wijesiri, M. & Wanke, P. Evaluating the Double Bottom-Line of Social Banking in an Emerging Country: How Efficient are Public Banks in Supporting Priority and Non-priority Sectors in India?. J Bus Ethics 162, 399–420 (2020). https://doi.org/10.1007/s10551-018-3974-3
Received:

Accepted:

Published:

Issue Date:
Keywords
Double bottom-line

Efficiency

Indian social banks

Priority and non-priority sectors

Ethical–social management

Network slack-based DEA model