Abstract
Process models are valuable conceptual tools to help in understanding the approaches to value creation in social enterprises. This teaching case illustrates the application of a process model about creating, building, and sustaining a social enterprise with a mission to provide clean water to communities in need. The social enterprise generates revenue in support of community water projects and works with community stakeholders in different locations throughout the world to provide sustainable clean water solutions. The case study uses primary data from semi-structured interviews, direct observations of a community project, and archival sources to demonstrate application of the process model. The study shows how the social enterprise developed as a promising idea; was implemented through an operating model with resources to support social impact; and continues to build and evolve while guided by the social mission. The paper concludes with a discussion and teaching note on ways to use the case for educational purposes to enhance learning about the social value creation process.
Access options
Buy single article
Instant access to the full article PDF.
USD 39.95
Price includes VAT (USA)
Tax calculation will be finalised during checkout.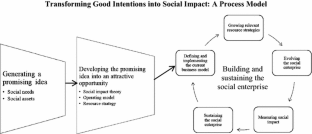 Notes
1.

Wine To Water capitalizes the word "To" in the name of the social enterprise as shown.
References
Ashoka. (2016). What is a social entrepreneur. Accessed on 04/08/2016 at https://www.ashoka.org/social_entrepreneur.

Banks, K. (Ed.). (2016). Social entrepreneurship and innovation: International case studies and practice. London: Kogan Page.

Bloom, P. N., & Chatterji, A. K. (2009). Scaling social entrepreneurial impact. California Management Review, 51(3), 114–133.

Bornstein, D. (1998). Changing the world on a shoestring. Atlantic Monthly, 281(1), 34–39.

Bradach, J. L., Tierney, T. J., & Stone, N. (2008). Delivering on the promise of nonprofits. Harvard Business Review, 86(12), 88–97.

Brooks, A. (2009). Social entrepreneurship: A modern approach to social value creation. Upper Saddle River, NJ: Pearson Prentice Hall.

Chell, E., Spence, L. J., Perrini, F., & Harris, J. D. (2016). Social entrepreneurship and business ethics: Does social equal ethical? Journal of Business Ethics, 133(4), 619–625.

CNN. (2013). Former bartender turns wine into water. Accessed on 04/06/2016 at http://www.cnn.com/2013/03/21/world/cnnheroes-hendley-water.

CNN Heroes. (2009). Doc Hendley, community crusader. Accessed on 04/08/2016 at http://www.cnn.com/SPECIALS/cnn.heroes/archive09/doc.hendley.html.

Colby, S., Stone, N., & Carttar, P. (2004). Zeroing in on impact. Stanford Social Innovation Review, 2(2), 24–33.

Creswell, J. W. (2013). Qualitative inquiry and research design (3rd ed.). Thousand Oaks, CA: Sage.

Dacin, P. A., Dacin, M. T., & Matear, M. (2010). Social entrepreneurship: Why we don't need a new theory and how we move forward from here. Academy of Management Perspectives, 24(3), 37–57.

Dees, J. G. (1998). The meaning of "social entrepreneurship." Center for the Advancement of Social Entrepreneurship, Fuqua School of Business, Duke University, Durham, NC. Accessed on 04/08/2016 at http://www.caseatduke.org/documents/dees_sedef.pdf.

Dees, J. G. (2012). A tale of two cultures: Charity, problem solving, and the future of social entrepreneurship. Journal of Business Ethics, 111(3), 321–334.

Defourny, J., Hulgård, L., & Pestoff, V. (Eds.). (2014). Social enterprise and the third sector: Changing European landscapes in a comparative perspective. London: Routledge.

Defourny, J., & Nyssens, M. (2017). Fundamentals for an international typology of social enterprise models. VOLUNTAS: International Journal of Voluntary and Nonprofit Organizations. https://doi.org/10.1007/s11266-017-9884-7.

Desa, G. (2012). Resource mobilization in international social entrepreneurship: Bricolage as a mechanism of institutional transformation. Entrepreneurship Theory and Practice, 36(4), 727–751.

Desa, G., & Basu, S. (2013). Optimization or bricolage? Overcoming resource constraints in global social entrepreneurship. Strategic Entrepreneurship Journal, 7(1), 26–49.

Drayton, W. (2002). The citizen sector: Becoming as entrepreneurial and competitive as business. California Management Review, 44(3), 120–132.

Eason, J. (2016). Blowing Rock Rotary donates $8,000 to Wine To Water. Boone, NC: Watauga Democrat. Accessed on 04/08/2016 at http://www.wataugademocrat.com/news/blowing-rock-rotary-donates-to-wine-to-water.

Eisenhardt, K. M. (1989). Building theories from case study research. Academy of Management Review, 14(4), 532–550.

Freeman, R. E. (1994). The politics of stakeholder theory. Business Ethics Quarterly, 4(4), 409–421.

Guclu, A., Dees, J. G., & Anderson, B. B. (2002). The process of social entrepreneurship: Creating opportunities worthy of serious pursuit. Durham: Center for the Advancement of Social Entrepreneurship, Duke-Fuqua School of Business.

Hendley, D. (2012). Wine To Water: A bartender's quest to bring clean water to the world. New York: Avery.

Jiao, H. (2011). A conceptual model for social entrepreneurship directed toward social impact on society. Social Enterprise Journal, 7(2), 130–149.

Kay, A., Roy, M., & Donaldson, C. (2016). Re-imagining social enterprise. Social Enterprise Journal, 12(2), 217–234.

Kickul, J., & Lyons, T. S. (2012). Understanding social entrepreneurship: The relentless pursuit of mission in an ever changing world. New York, NY: Routledge.

Lee, T. W. (1999). Using qualitative methods in organizational research. Thousand Oaks, CA: Sage.

Mair, J., & Marti, I. (2006). Social entrepreneurship research: A source of explanation, prediction, and delight. Journal of World Business, 41(1), 36–44.

Merriam, S. B., & Tisdell, E. J. (2016). Qualitative research: A guide to design and implementation (4th ed.). San Francisco: Jossey-Bass.

Miles, M. B., Huberman, A. M., & Saldãna, J. (2014). Qualitative data analysis: A methods sourcebook. Thousand Oaks, CA: Sage.

Newman's Own. (2017). Accessed on 10/11/2017 at http://www.newmansown.com/charity.

Papi-Thornton, D. (2016). Tackling heropreneurship: Why we need to move from "the social entrepreneur" to social impact. Stanford Social Innovation Review Online, February 23. Accessed on 10/09/2017 at https://ssir.org/articles/entry/tackling_heropreneurship.

Ramus, T., & Vaccaro, A. (2017). Stakeholders matter: How social enterprises address mission drift. Journal of Business Ethics, 143(2), 307–322.

Ridley-Duff, R., & Bull, M. (2015). Understanding social enterprise: Theory and practice (2nd ed.). London: Sage.

Short, J. C., Moss, T. W., & Lumpkin, G. T. (2009). Research in social entrepreneurship: Past contributions and future opportunities. Strategic Entrepreneurship Journal, 3(2), 161–194.

Simanowitz, A., & Knotts, K. E. (2015). The business of doing good: Insights from one social enterprise's journey to deliver on good intentions. Rugby: Practical Action Publishing.

Smith, W. K., Gonin, M., & Besharov, M. L. (2013). Managing social-business tensions: A review and research agenda for social enterprise. Business Ethics Quarterly, 23(3), 407–442.

Strauss, A., & Corbin, J. (1998). Basics of qualitative research: Techniques and procedures for developing grounded theory (2nd ed.). Thousand Oaks, CA: Sage.

Thompson, J., Alvy, G., & Less, A. (2000). Social entrepreneurship: A new look at the people and potential. Management Decision, 38(5), 328–338.

United Nations. (2016). Sustainable development goals: Seventeen goals to transform our world. Accessed on 04/04/2016 at http://www.un.org/sustainabledevelopment/water-and-sanitation.

Wei-Skillern, J., Austin, J. E., Leonard, H., & Stevenson, H. (2007). Entrepreneurship in the social sector. Los Angeles, CA: Sage.

Wilson, F., & Post, J. E. (2013). Business models for people, planet (& profits): Exploring the phenomena of social business, a market-based approach to social value creation. Small Business Economics, 40(3), 715–737.

Wine To Water. (2016). Wine To Water projects. Accessed on 04/15/2016 at www.winetowater.org.

World Bank. (2016). World development indicators. Washington, DC: World Bank. Accessed on 04/02/2016 at http://data.worldbank.org/data-catalog/.

Yin, R. K. (2014). Case study research: Design and methods (5th ed.). Thousand Oaks, CA: Sage.

Zahra, S. A., Rawhouser, H. N., Bhawe, N., Neubaum, D. O., & Hayton, J. C. (2008). Globalization of social entrepreneurship opportunities. Strategic Entrepreneurship Journal, 2(2), 117–131.
Acknowledgements
We thank Julia Roloff, Section Editor, for the valuable guidance throughout the revision and the anonymous reviewers for their constructive comments. We also thank Michael Cummings, Robin Byerly, and Jesse Pipes for their helpful feedback.
Funding
This study received no funding for conducting the research.
Ethics declarations
Conflict of interest
The authors declare that they have no conflict of interest.
Research Involving Human Participants
All procedures performed in studies involving human participants were in accordance with the ethical standards of the institutional and/or national research committee and with the 1964 Helsinki Declaration and its later amendments or comparable ethical standards.
Informed Consent
Informed consent was obtained from all individual participants included in the study. Additional informed consent was obtained from all individual participants for whom identifying information is included in this article.
Additional information
All authors contributed equally to the manuscript.
Appendices
Appendix 1: Sample Interview Questions with the Founder and Organizational Stakeholders
Examples of Questions for the Founder
Describe motivations that inspired you to become engaged in the social cause of water.
How did your personal experiences influence your engagement in this social need?
Did your experiences and knowledge in other fields help in recognizing the cause?
Elaborate on why you created this social enterprise. Were there trigger points that you recall in arriving at the decision that you personally could make a difference?
Were there alternative promising ideas that you considered? Explain.
Tell me more about your initial vision for this social enterprise and how ideas have evolved.
Did you have conversations with others in the process of generating promising ideas? If so, could you describe how that shaped your development of the opportunity?
Does innovation play a role in your decisions? In the social enterprise? If so, how?
Do you have suggestions for others contemplating an idea to support a social cause?
Once you decided to create this enterprise, would you describe the basic start-up process.
How has your role evolved since the inception? Are there succession plans?
Examples of Questions for Organizational Stakeholders
Describe how you became aware of the social needs of water and this social enterprise?
Tell me more about the mission, vision, and values.
How do you assess the external operating environment? Explain.
In what geographic locations does the enterprise operate? What are criteria for selection?
Could we discuss in more detail the communities? How are community partners identified?
What mechanisms and approaches are helpful to build relationships in communities? What requisite expertise do you seek in local partners?
What is the enterprise's business model? What are some advantages and disadvantages?
Elaborate on the operating model. What are key resource strategies? Discuss the costs, risks and constraints. What is the financial funding model?
What are some effective ways to spread awareness of the social cause and enterprise's work?
What are typical funding sources? How do you identify and reach potential donors?
Describe strategic partnerships, how they are identified, and expectations between partners.
What are the criteria or metrics that are used to measure social impact and reach?
How has the organization evolved/grown since its inception? Are there succession plans?
What changes, if any, are anticipated in the near-term and longer-term to sustain and grow the current operations?
What changes or improvements, if any, would you suggest to strengthen impact in the communities being served?
Is there anything else you would like to add that we have not already discussed?
Appendix 2: Teaching Note
This descriptive case study on the value creation process in the social enterprise, Wine To Water, was developed from interviews, archival data, and direct observation of a water project. The case provides an opportunity to apply a three-phase process model, Transforming Good Intentions into Social Impact. Together the phases illustrate envisioning a promising idea; carrying out the idea through an operating model; and building and sustaining the social enterprise. In using the case for educational purposes, learning objectives include understanding phases in the social value creation process, applying a process model to a social enterprise, recognizing the importance of stakeholder engagement, and contrasting approaches to social enterprises. This note offers general discussion points and suggestions for educational use.
General Discussion Points
Referring to the process model, Transforming Good Intentions into Social Impact, depicted in Fig. 1, discussion of the case can be introduced by looking at the three phases of the process model. Students can discuss and summarize the application to Wine To Water. After applying the process model to Wine To Water, students can identify other social enterprises to illustrate the process model. Extending the discussion, students can compare this and other process models (such as those described in Kickul and Lyons 2012).
For instance, in the phase on generating a promising idea, instructors could guide students away from focusing exclusively on the individual social entrepreneur and toward understanding the individual's role in the process for "how" new ideas are generated and "how" to develop the promising idea into an attractive opportunity. If interested in exploring the role of the "heroic" social entrepreneur (Papi-Thornton 2016) as compared to the social entrepreneur's role among many stakeholders in the process, an instructor could facilitate a discussion to compare and contrast the viewpoints. Also, students can apply other theoretical concepts and frameworks from the social enterprise literature to understanding this phase in the process.
Another useful conversation involves identifying stakeholders important for the organization and implementation of the social mission. For Wine To Water, the engagement and involvement of community partners, organizational members, volunteers, and various donors are significant for executing the mission to develop water projects within communities. Students can consider why the engagement of community partners is vitally important to Wine To Water and how that is accomplished.
Related to this process model and others, it is valuable to apprise students about the importance of understanding social enterprises within different contexts. Students can compare and contrast different approaches in their own communities as well as consult the extensive literature about social enterprises from the US or European approaches (e.g., Banks 2016; Defourny et al. 2014; Kay et al. 2016; Simanowitz and Knotts 2015). Students should contemplate the contextual and institutional differences faced by various social enterprises. As emphasized by researchers (Chell et al. 2016), much of the literature has studied organizations in Europe and North America. Thus, students might consider these and other locations internationally that would give a broader perspective on conditions that influence the development and implementation of a social enterprise.
Several instructional methods can be used to cover the case and highlight the story of the social enterprise and process model. The case is suitable as the basis for individual or group assignment for discussion. Instructors can provide specific questions as a basis for analysis. Instructors can complement the case with asking students to discuss their individual experiences with social enterprises. After covering the case, students may envision other ways to address the problem of access to clean water or generate a promising idea to address another social issue. Students can view Wine To Water's website to evaluate the most recent social impact and financial reports. Further, students can inquire about local chapter involvement, such as how to sponsor a Wine To Water chapter at their university or in their community.
Educational Settings and Intended Uses
To assess potential use of this case study as a teaching tool in different educational settings, we asked instructors who regularly teach introductory entrepreneurship, social entrepreneurship, and business ethics courses at universities to reflect on possible applications in these courses. Also, we asked a social entrepreneur to read the case. Feedback indicated the case study is valuable for students, prospective social entrepreneurs, and practitioners to appreciate the value creating process of a social enterprise and to better understand "how" the process occurs. Studying the case helps students and practitioners more readily grasp the conceptual descriptions of the process model. In that sense, applying a real-world case makes it easier to understand the complex process.
Use in an Introductory Entrepreneurship Course or Social Entrepreneurship Course
In an introductory entrepreneurship course with an emphasis on social entrepreneurship or in a social entrepreneurship course, the instructor can position the case in a module that considers the value creation process. The case can be assigned to stimulate discussion and thinking about the process of developing a social enterprise or suggest other ideas for novel approaches to address a social cause. In particular, students with little experience in understanding social enterprises may brainstorm the idea of pursuing a novel idea to address a social issue within a community that they know. If students have participated in local chapters of Wine To Water or volunteered with other social enterprises, they can relate their experiences to stakeholder engagement. The case is also the basis for dialogue on distinguishing social enterprises in different contexts.
Students can discuss and compare social entrepreneurial processes in different organizational types such as charitable organizations, nonprofits, and other entrepreneurial ventures. Instructors can challenge students to think counterfactually, such as, what would be different or the same if the founder had been a for-profit entrepreneur and recognized a business opportunity in providing clean water solutions? Going further, students can consider if there are social problems that only a social enterprise, government institution, or profit-seeking firm can address, and if this would change by context.
Since the social entrepreneur in Wine To Water played a vital role in generating the promising idea, it is possible in an entrepreneurship course to consider succession planning as the social enterprise evolves. Students can discuss if Wine To Water is preparing adequately for the exit of the CEO or for Mr. Hendley's eventual exit (such as retirement or leaving to pursue other opportunities). If not, what should the leadership team do to ensure the future of Wine To Water and prepare for succession planning?
It is valuable to engage students in discussion about the resource strategies required to build and sustain the social enterprise. Students can consult the literature on resource mobilization and the concept of bricolage (Desa 2012; Desa and Basu 2013). In somewhat related discussion, students could investigate the budget and funding reports of the social enterprise. Are there cost and revenue elements that are surprising? How does Water To Wine's financial report compare to other nonprofits and other social enterprises? Instructors can identify examples or ask students to select an organization for comparison.
Marketing of the social enterprise is another central issue in this case. Wine To Water has been reliant on in-person interactions, speaking engagements, partnerships, planned events, online website, volunteer programs, and social media outreach. An assignment could ask students to develop a social media or e-mail campaign, with the objective to determine target donors and create a message that resonates with specific groups and individuals.
Use in Business Ethics or Social Responsibility Courses
For use in a business ethics or corporate social responsibility course, the case has potential applications to elaborate on different types and sizes of organizations. Students can examine Wine To Water or other social enterprises created as a 501(c)3, since the approach is common in the USA. For comparison, students can evaluate advantages of other organizational forms in locations around the world.
The case shows that Wine To Water started with a mission and values that has been clearly established, communicated, and understood by stakeholders. Students are able to apply Freeman's (1994) stakeholder theory for understanding the social enterprise and its relevant constituents. With another learning objective to overlay corporate social responsibility principles, students can examine different facets of corporate social responsibility using the case and the process model. Students are able to understand that social enterprises exist and grow within a particular context. In addition, students can offer other ways for networking, collaborating, and sponsoring the social enterprise.
Other Uses in Social Entrepreneurship and Business Ethics Courses
Instructors in both social entrepreneurship and business ethics courses highlighted the use of the case study to illustrate strategic partnerships. Wine To Water's decision to focus on water projects and license the wine business is potentially interesting. Students can be asked to generate additional examples (and discuss tradeoff implications) of a decision to outsource the profit potential that gives control of wine operations to another entity. One example for comparison (i.e., producing goods and giving profits to a social cause) is Newman's Own food company (Newman's Own 2017). The organization gives after-tax profits from the sale of food products to a foundation for allocation of funds to various educational and charitable organizations.
In covering a process model applicable to a social enterprise, it is useful to understand the social impact measurement. Wine To Water calculates social impact as the number of people that have been provided clean water. The case mentions that full impact may not be fully measured. It is helpful for students and perspective entrepreneurs to think not only about water, but additional indirect or second-order impacts. How might Wine To Water more fully measure and communicate the differences in people's lives resulting from greater availability of clean water? Consideration of impact that is not directly measured helps broaden student's thinking about the potential social impact of social enterprises, for-profit ventures, and other businesses.
About this article
Cite this article
Fowler, E.A.R., Coffey, B.S. & Dixon-Fowler, H.R. Transforming Good Intentions into Social Impact: A Case on the Creation and Evolution of a Social Enterprise. J Bus Ethics 159, 665–678 (2019). https://doi.org/10.1007/s10551-017-3754-5
Received:

Accepted:

Published:

Issue Date:
Keywords
Social enterprise

Social entrepreneurship process model

Teaching case study