Abstract
We empirically test the hypothesis that a major in economics, management, business administration or accounting (for simplicity referred to as Business/Economics) leads to more-conservative (right-wing) political views. We use a panel dataset of individuals (repeated observations for the same individuals over time) living in the Netherlands, drawing data from the Longitudinal Internet Studies for the Social Sciences from 2008 through 2013. Our results show that when using a simple fixed effects model, which fully controls for individuals' time-invariant traits, any statistically and quantitatively significant effect of a major in Business/Economics on the Political Ideology of these individuals disappears. We posit that, at least in our sample, there is no evidence for a causal effect of a major in Business/Economics on individuals' Political Ideology.
Access options
Buy single article
Instant access to the full article PDF.
US$ 39.95
Tax calculation will be finalised during checkout.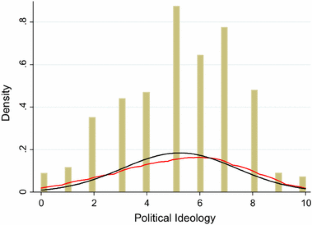 Notes
1.

Similar debates and contradicting findings exist in related studies on the effect of education on political participation, with the most recent literature, based on modern statistical methods, raising doubts on whether there is indeed a causal effect (Persson 2015).

2.

Instead, we are unaware of any empirical studies directly linking business studies to Political Ideology.

3.

However, this comes at a cost, as different degrees will produce differential levels of exposure to the principles of rationality, efficiency, performativity, and ultimately profit maximization and managerialism.

4.

Other relevant questions in the LISS panel that can be used to measure the economic and social dimensions of Political Ideology are preferences on (1) whether the government imposes more tax on the higher incomes or that it provides the poor with more abundant provisions, (2) euthanasia, (3) immigrants retaining their own culture, etc. As these preferences are more indirectly related to Political Ideology, especially as regards the effect of business/economic education, we decided to restrict our analysis to Political Ideology and inequality preferences.

5.

Other individual-specific characteristics like gender, origin, etc., drop out when using individual fixed effects.

6.

Because we use the log of this variable, we exclude individuals with debt or zero reported wealth. This exclusion decreases the number of observations but does not significantly change our main findings on the coefficient of Business/Economics.

7.

Other similar sources of individual survey data (e.g., the European Union Statistics on Income and Living Conditions, the Panel Study of Income Dynamics, the British Household Panel Survey, and the German Socioeconomic Panel) either do not track the same individuals over time or (mostly being the case) do not include information on the specific field of university education.

8.

In alternative specifications, we include the lagged Political Ideology variable in Eq. (1) to capture persistence in Political Ideology and also potentially mean-reverting dynamics (i.e., the tendency of the Political Ideology score to return to some equilibrium value for the same individual). In doing this, we can exclude the possibility that a change in Political Ideology causes a contemporaneous change in the decision to study business. We estimate these specifications with the generalized method of moments for dynamic panels (see Baltagi 2013). Our results resemble those reported in the empirical analysis section, and to avoid analytical complexity, we report only the results from the simpler OLS estimation method (without a dynamic setting) with and without individual fixed effects.

9.

Note that based on our bias correlation matrix and our theoretical considerations, selection of pursuing a major in business or economics should be positively correlated with both Business/Economics and Political Ideology. Thus, if anything, the bias should be upward.

10.

We use column 2 for inference because it covers the middle ground in terms of observations' availability between column 1 and column 3.

11.

We calculate this finding by taking the first derivative of the regression and solving with respect to age—for example, 0.062/(2 × 0.001).

12.

Note that the number of observations is lower as we move from the first three columns to columns (4)–(6), owing to observations that uniquely identify individuals dropping out from the sample.

13.

The nonlinear effects could originate in the fact that business students initially adopt conservative views (as they learn conservative principles), but subsequently move away from these views as they realize the importance of other (left-wing) views.
References
Adler, N., & Harzing, A. (2009). When knowledge wins: Transcending the sense and nonsense of academic rankings. Academy of Management Learning & Education, 8, 72–95.

Alford, J. R., Funk, C. L., & Hibbing, J. R. (2005). Are political orientations genetically transmitted? American Political Science Review, 99, 153–167.

Altbach, P. G. (1967). Student politics and higher education in the United States. In S. M. Lipset (Ed.), Student politics. New York: Basic.

Altemeyer, B. (1988). Enemies of freedom: Understanding right-wing authoritarianism. San Francisco: Jossey-Bass.

Altemeyer, B. (1996). The authoritarian specter. London: Harvard University Press.

Baetschmann, G., Staub, K. E., & Winkelmann, R. (2015). Consistent estimation of the fixed effects ordered logit model. Journal of the Royal Statistical Society: Series A (Statistics in Society), 178, 685–703.

Baltagi, B. H. (2013). Econometric analysis of panel data. New York: Wiley.

Bobo, L., & Licari, F. C. (1989). Education and political tolerance: Testing the effects of cognitive sophistication and target group affect. Public Opinion Quarterly, 53, 285–308.

Bowman, N. A. (2013). How much diversity is enough? The curvilinear relationship between college diversity interactions and first-year student outcomes. Research in Higher Education, 54, 874–894.

Campbell, A., Converse, P. E., Miller, W. E., & Stokes, D. E. (1960). The American voter. New York: Wiley.

Campbell, C., & Horowitz, J. (2016). Does college influence sociopolitical attitudes? Sociology of Education, 89, 40–58.

Cornelis, I., Van Hiel, A., Roets, A., & Kossowska, M. (2008). Age differences in conservatism: Evidence on the mediating effects of personality and cognitive style. Journal of Personality, 77, 51–88.

Coughlin, R. M., & Lockhart, C. (1998). Grid-group theory and political ideology: A consideration of their relative strengths and weaknesses for explaining the structure of mass belief systems. Journal of Theoretical Politics, 10, 33–58.

Crouch, C. (2006). Modelling the firm in its market and organizational environment: Methodologies for studying corporate social responsibility. Organization Studies, 27, 1533–1551.

Dey, E. L. (1996). Undergraduate political attitudes: An examination of peer, faculty, and social influences. Research in Higher Education, 37, 535–554.

Dickerson, A., Hole, A. R., & Munford, L. (2011). A review of estimators for the fixed effects ordered logit model. http://repec.org/usug2011/UK11_Hole.pdf.

Emiliani, M. L. (2004). Is management education beneficial to society? Management Decision, 42, 481–498.

Feldman, S., & Johnston, C. (2014). Understanding the determinants of political ideology: Implications of structural complexity. Political Psychology, 35, 337–358.

Fotaki, M., & Prasad, A. (2015). Questioning neoliberal capitalism and economic inequality in business schools. Academy of Management Learning & Education, 14, 556–575.

Frank, R. H., Gilovich, T., & Regan D. T. (1993). Does Studying Economics Inhibit Cooperation? Journal of Economic Perspectives, 7(2), 159–171.

Ghoshal, S. (2005). Bad management theories are destroying good management practices. Academy of Management Learning & Education, 4, 75–91.

Godos-Díez, J.-L., Fernández-Gago, R., & Cabeza-García, L. (2015). Business/economics and idealism as determinants of stakeholder orientation. Journal of Business Ethics, 131, 439–452.

Green, D. P., Aronow, P. M., Bergan, D. E., Greene, P., Paris, C., & Weinberger, B. I. (2011). Does knowledge of constitutional principles increase support for civil liberties? Results from a randomized field experiment. Journal of Politics, 73, 463–476.

Gross, N., & Fosse, E. (2012). Why are professors liberal? Theory and Society, 41, 127–168.

Hyman, H. H. (1959). Political socialization. Glencoe: The Free Press.

Jackstadt, S. L., Brennan, J., & Thompson, S. (1985). The effect of introductory economics courses on college students' conservatism. Journal of Economic Education, 16, 37–51.

Jacob, P. (1957). Changing values in college: An exploratory study of the impact of college teaching. New York: Harper.

Jensen, M. (2002). Value maximization, stakeholder theory, and the corporate objective function. Business Ethics Quarterly, 12, 235–256.

Jost, J. T., Federico, C. M., & Napier, J. L. (2009). Political ideology: Its structure, functions, and elective affinities. Annual Review of Psychology, 60, 307–337.

Kinder, D. R., & Sears, D. O. (1985). Public opinion and political action. In G. Lindzey & E. Aronson (Eds.), The handbook of social psychology (vol. 11, 3rd ed.). New York: Random House.

Kingston, P. W., Hubbard, R., Lapp, B., Schroeder, P., & Wilson, J. (2003). Why education matters. Sociology of Education, 76, 53–70.

Lipset, S. M., Lazarsfeld, P. F., Barton, A. H., & Linz, J. (1954). The psychology of voting: An analysis of political behavior. In G. Lindzey (Ed.), Handbook of social psychology. Cambridge: Cambridge University Press.

Luker, W. A. (1972). The relationship between economic knowledge and certain elements of the affective domain. In A. L. Welsh (Ed.), Research papers in economic education. New York: Joint Council on Economic Education.

Luker, W. A., & Proctor, W. (1981). The effect of an introductory course in microeconomics on the political orientation of students. Journal of Economic Education, 12, 54–57.

Lupfer, M. B., & Rosenberg, J. P. (1983). Differences in adults' political orientations as a function of age. Journal of Social Psychology, 119, 125–133.

Marens, R. (2010). Speaking platitudes to power: Observing American business ethics in an age of declining hegemony. Journal of Business Ethics, 94, 239–253.

Markus, H. R., Ryff, C. D., Conner, A. L., Pudberry, E. K., & Barnett, K. L. (2001). Themes and variations in American understandings of responsibility. In A. S. Rossi (Ed.), Caring and doing for others: Social responsibility in the domains of family, work, and community (pp. 349–399). Chicago: University of Chicago Press.

Meighan, R., & Harber, C. (2007). A sociology of educating. London: Continuum International Publishing Group.

Napier, J. L., & Jost, J. T. (2008). Why are conservatives happier than liberals? Psychological Science, 19, 565–572.

Neubaum, D. O., Pagell, M., Drexler, J. A., Jr., Mckee-Ryan, F. M., & Larson, E. (2009). Business/economics and its relationship to student personal moral philosophies and attitudes toward profits: An empirical response to critics. Academy of Management Learning & Education, 8, 9–24.

Newcomb, T. M. (1943). Personality and social change: Attitude formation in a student community. New York: Holt, Rinehart & Winston.

OECD. (2015). Education at a glance 2015: OECD indicators. OECD Publishing. doi:10.1787/eag-2015-en.

Persson, M. (2015). Education and political participation. British Journal of Political Science, 45, 689–703.

Peterson, B. E., & Lane, M. D. (2001). Implications of authoritarianism for young adulthood: Longitudinal analysis of college experiences and future goals. Personality and Social Psychology Bulletin, 27, 678–690.

Pew Research Center. 2014. Beyond red vs. blue: The political typology.

Riddle, T. (1978). Student opinions on economic issues: The effects of an introductory economics course. Journal of Economic Education, 9, 111–114.

Schnittker, J., & Behrman, J. R. (2012). Learning to do well or learning to do good? Estimating the effects of schooling on civic engagement, social cohesion, and labor market outcomes in the presence of endowments. Social Science Research, 41, 306–320.

Scott, J. H., & Rothman, M. P. (1975). The effect of an introductory economics course on student political attitudes. Journal of Economic Education, 4, 107–112.

Sears, D. O., & Funk, C. L. (1998). Evidence of the long-term persistence of adults' political predispositions. Journal of Politics, 61, 1–28.

Sieben, I., & de Graaf, P. M. (2004). Schooling or social origin? The bias in the effect of educational attainment on social orientations. European Sociological Review, 20, 107–122.

Sosin, K., & McConnell, C. R. (1979). The impact of introductory economics on students' perceptions of income distribution. Journal of Economic Education, 11, 13–19.

Steckenrider, J. S., & Cutler, N. E. (1989). Aging and adult political socialization. In R. S. Sigel (Ed.), Political learning in adulthood. Chicago: University of Chicago Press.

Stigler, G. (1959). The politics of political economists. Quarterly Journal of Economics, 73, 522–532.

van der Wende, M. (2010). The emergence of liberal arts and sciences education in Europe: A comparative perspective. Higher Education Policy, 24, 233–253.

Walstad, W. B., & Soper, J. C. 1981. Measuring economic attitudes in high school. Unpublished paper presented at a College and University Faculty (CUFA) session of the National Council for the Social Studies Annual Meeting, Detroit, Michigan.

Wang, L., Malhotra, D., & Murnighan, J. K. (2011). Economics education and greed. Academy of Management Learning & Education, 10, 643–660.

Weissberg, R. (1974). Political learning, political choice, and democratic citizenship. Englewood Cliffs: Prentice-Hall.

Wooldridge, J. M. (2012). Introductory econometrics: A modern approach. Mason: South-Western Cengage Learning.

Yezer, A. M., Goldfarb, R. S., & Poppen, P. J. (1996). Does studying economics discourage cooperation? Watch what we do, not what we say of how we play. Journal of Economic Perspectives, 10, 177–186.
Acknowledgements
We are indebted to the editor and the two anonymous reviewers. Usual caveats apply.
About this article
Cite this article
Delis, M.D., Hasan, I. & Iosifidi, M. On the Effect of Business and Economic University Education on Political Ideology: An Empirical Note. J Bus Ethics 155, 809–822 (2019). https://doi.org/10.1007/s10551-017-3483-9
Received:

Accepted:

Published:

Issue Date:
Keywords
University education

Political Ideology

Business and economics studies