Abstract
In a corporate apology, the apologizer can be either a male or a female. How does the gender of the apologizer influence consumer forgiveness? We suggest that the relative effectiveness of corporate apologies made by males versus females depends on the nature of the corporate wrongdoing, namely whether the wrongdoing is related to performance or to value. Three experiments demonstrate that a male apologizer elicits more consumer forgiveness than a female apologizer for performance-related wrongdoings, while a female apologizer garners more forgiveness than a male apologizer for values-related wrongdoings. These effects are driven by consumers' social perceptions of the different genders. Specifically, a female apologizer is perceived as warmer which offsets the perceived lack of warmth resulting from values-related corporate transgressions, while a male apologizer is perceived as more competent which compensates for the perceived lack of competence resulting from performance-related corporate transgressions. However, this effect is attenuated when consumers are the same gender (vs. the opposite gender) as the apologizer, and can be reversed when the apologizer is personally responsible for the wrongdoing. These findings offer novel insights on corporate apologies, gender-trait associations, and gender and forgiveness, while suggesting that companies must carefully consider the gender of the spokesperson in the wake of transgressions.
Access options
Buy single article
Instant access to the full article PDF.
US$ 39.95
Tax calculation will be finalised during checkout.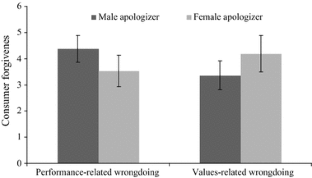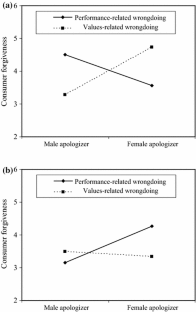 References
Abele, A. E. (2003). The dynamics of masculine-agentic and feminine-communal traits: Findings from a prospective study. Journal of Personality and Social Psychology, 85(4), 768–776.

Ahluwalia, R., Burnkrant, R. E., & Unnava, H. R. (2000). Consumer response to negative publicity: The moderating role of commitment. Journal of Marketing Research, 37(2), 203–214.

Baron-Cohen, S. (2002). The extreme male brain theory of autism. Trends in Cognitive Sciences, 6(6), 248–254.

Baumann, N., Ahmed, A. S., Schulberg, J., & Blumenthal, P. (2016, March 30). Unaoil's huge new corporate bribery scandal, explained. http://www.huffingtonpost.com/entry/unaoil-scandal-explained_us_56fbd2f0e4b0daf53aee0cff

Chernev, A., & Blair, S. (2015). Doing well by doing good: The benevolent halo of corporate social responsibility. Journal of Consumer Research, 41(6), 1412–1425.

Cheung, H. (2016, April 7). China hotel 'assault video' sparks anger and debate. BBC News. http://www.bbc.com/news/world-asia-china-35984855

Coombs, W. T., & Holladay, S. J. (2008). Comparing apology to equivalent crisis response strategies: Clarifying apology's role and value in crisis communication. Public Relations Review, 34(3), 252–257.

Cuddy, A. J., Fiske, S. T., & Glick, P. (2007). The BIAS map: Behaviors from intergroup affect and stereotypes. Journal of Personality and Social Psychology, 92(4), 631–648.

Dutta, S., & Pullig, C. (2011). Effectiveness of corporate responses to brand crises: The role of crisis type and response strategies. Journal of Business Research, 64(12), 1281–1287.

Eagly, A. H., Wood, W., & Diekman, A. B. (2000). Social role theory of sex differences and similarities: A current appraisal. In T. Eckes & H. M. Trautner (Eds.), The developmental social psychology of gender (pp. 123–174). Mahwah, NJ: Erlbaum.

Enright, R. D., & The Human Development Study Group. (1991). The moral development of forgiveness. In W. Kurtines & J. Gewirtz (Eds.), Handbook of moral behavior and development: Vol. 1. Theory (pp. 123–152). Hillsdale, NJ: Erlbaum.

Faul, F., Erdfelder, E., Buchner, A., & Lang, A. G. (2009). Statistical power analyses using G* Power 3.1: Tests for correlation and regression analyses. Behavior Research Methods, 41(4), 1149–1160.

Finkel, E. J., Rusbult, C. E., Kumashiro, M., & Hannon, P. A. (2002). Dealing with betrayal in close relationships: Does commitment promote forgiveness? Journal of Personality and Social Psychology, 82(6), 956–974.

Fiske, S. T., Cuddy, A. J., & Glick, P. (2007). Universal dimensions of social cognition: Warmth and competence. Trends in Cognitive Sciences, 11(2), 77–83.

Fiske, S. T., Cuddy, A. J., Glick, P., & Xu, J. (2002). A model of (often mixed) stereotype content: Competence and warmth respectively follow from perceived status and competition. Journal of Personality and Social Psychology, 82(6), 878–902.

Frantz, C. M., & Bennigson, C. (2005). Better late than early: The influence of timing on apology effectiveness. Journal of Experimental Social Psychology, 41(2), 201–207.

Gersick, C. J., Dutton, J. E., & Bartunek, J. M. (2000). Learning from academia: The importance of relationships in professional life. Academy of Management Journal, 43(6), 1026–1044.

Gonzales, M. H., Manning, D. J., & Haugen, J. A. (1992). Explaining our sins: Factors influencing offender accounts and anticipated victim responses. Journal of Personality and Social Psychology, 62(6), 958–971.

Gonzales, M. H., Pederson, J. H., Manning, D. J., & Wetter, D. W. (1990). Pardon my gaffe: Effects of sex, status, and consequence severity on accounts. Journal of Personality and Social Psychology, 58(4), 610–621.

Gorn, G. J., Jiang, Y., & Johar, G. V. (2008). Babyfaces, trait inferences, and company evaluations in a public relations crisis. Journal of Consumer Research, 35(1), 36–49.

Heflick, N. A., Goldenberg, J. L., Cooper, D. P., & Puvia, E. (2011). From women to objects: Appearance focus, target gender, and perceptions of warmth, morality and competence. Journal of Experimental Social Psychology, 47(3), 572–581.

Hehman, E., Carpinella, C. M., Johnson, K. L., Leitner, J. B., & Freeman, J. B. (2014). Early processing of gendered facial cues predicts the electoral success of female politicians. Social Psychological and Personality Science, 5(7), 815–824.

Hill, K., & Boyd, D. (2015). Who should apologize when an employee transgresses? Source effects on apology effectiveness. Journal of Business Ethics, 130(1), 163–170.

Holmes, J. (1989). Sex differences and apologies: One aspect of communicative competence. Applied Linguistics, 10(2), 194–213.

Kervyn, N., Fiske, S. T., & Malone, C. (2012). Brands as intentional agents framework: How perceived intentions and ability can map brand perception. Journal of Consumer Psychology, 22(16), 166–176.

Kim, P. H., Dirks, K. T., Cooper, C. D., & Ferrin, D. L. (2006). When more blame is better than less: The implications of internal vs. external attributions for the repair of trust after a competence-vs. integrity-based trust violation. Organizational Behavior and Human Decision Processes, 99(1), 49–65.

Kim, J., Kim, H. J., & Cameron, G. T. (2009). Making nice may not matter: The interplay of crisis type, response type and crisis issue on perceived organizational responsibility. Public Relations Review, 35(1), 86–88.

La Macchia, S. T., Louis, W. R., Hornsey, M. J., Thai, M., & Barlow, F. K. (2016). The whitewashing effect: Using racial contact to signal trustworthiness and competence. Personality and Social Psychology Bulletin, 42(1), 118–129.

Lee, S., & Chung, S. (2012). Corporate apology and crisis communication: The effect of responsibility admittance and sympathetic expression on public's anger relief. Public Relations Review, 38(5), 932–934.

Liao, H. (2007). Do it right this time: The role of employee service recovery performance in customer-perceived justice and customer loyalty after service failures. Journal of Applied Psychology, 92(2), 475–489.

Little, A. C. (2014). Facial appearance and leader choice in different contexts: Evidence for task contingent selection based on implicit and learned face-behaviour/face-ability associations. The Leadership Quarterly, 5(25), 865–874.

Majeed, A., & Janjua, F. (2014). Apology strategies and gender: A pragmatic study of apology speech acts in Urdu language. Merit Research Journal of Education and Review, 2(3), 54–60.

Martinuzzi, B. (2013, March 18). Best way to apologize? Starbucks, business experts on the art of saying sorry. https://www.americanexpress.com/us/small-business/openforum/articles/draft-apology-post/

McCullough, M. E., Rachal, K. C., Sandage, S. J., Worthington, E. L., Jr., Brown, S. W., & Hight, T. L. (1998). Interpersonal forgiving in close relationships: II. Theoretical elaboration and measurement. Journal of Personality and Social Psychology, 75(6), 1586–1603.

Mehta, R., & Zhu, R. J. (2009). Blue or red? Exploring the effect of color on cognitive task performances. Science, 323(5918), 1226–1229.

Miller, A. J., Worthington, E. L., Jr., & McDaniel, M. A. (2008). Gender and forgiveness: A meta-analytic review and research agenda. Journal of Social and Clinical Psychology, 27(8), 843–876.

Muller, D., Judd, C. M., & Yzerbyt, V. Y. (2005). When moderation is mediated and mediation is moderated. Journal of Personality and Social Psychology, 89(6), 852–863.

Nikolova, H., & Lamberton, C. (2016). Men and the middle: Gender differences in dyadic compromise effects. Journal of Consumer Research, 43(3), 355–371.

Peeters, G. (2002). From good and bad to can and must: Subjective necessity of acts associated with positively and negatively valued stimuli. European Journal of Social Psychology, 32(1), 125–136.

Pfeffer, J. (2015, October 26). Corporate apologies: Beware the pitfalls of saying sorry. Fortune. http://fortune.com/2015/10/26/corporate-apologies-crisis-management/

Philpot, C. R., & Hornsey, M. J. (2008). What happens when groups say sorry: The effect of intergroup apologies on their recipients. Personality and Social Psychology Bulletin, 34(4), 474–487.

Pillemer, J., Graham, E. R., & Burke, D. M. (2014). The face says it all: CEOs, gender, and predicting corporate performance. The Leadership Quarterly, 25(5), 855–864.

Potter, N. (2011, September 21). Netflix CEO apologizes for price increase, announces Qwikster service to mail DVDs. http://abcnews.go.com/blogs/technology/2011/09/netflix-ceo-apologizes-for-price-increase-announces-qwikster-to-mail-dvds/

Preacher, K. J., & Hayes, A. F. (2004). SPSS and SAS procedures for estimating indirect effects in simple mediation models. Behavior Research Methods, Instruments, & Computers, 36(4), 717–731.

Pullig, C., Netemeyer, R. G., & Biswas, A. (2006). Attitude basis, certainty, and challenge alignment: A case of negative brand publicity. Journal of the Academy of Marketing Science, 34(4), 528–542.

Puzakova, M., Kwak, H., Ramanathan, S., & Rocereto, J. F. (2016). Painting your point: The role of color in firms' strategic responses to product failures via advertising and marketing communications. Advance online publication. Journal of Advertising. doi:10.1080/00913367.2016.1172384.

Root, B. L., & Exline, J. J. (2011). Gender differences in response to experimental forgiveness prompts: Do men show stronger responses than women? Basic and Applied Social Psychology, 33(2), 182–193.

Roschk, H., & Kaiser, S. (2013). The nature of an apology: An experimental study on how to apologize after a service failure. Marketing Letters, 24(3), 293–309.

Schumann, K., & Ross, M. (2010). Why women apologize more than man: Gender differences in thresholds for perceiving offensive behavior. Psychological Science, 21(11), 1649–1655.

Schweitzer, M. E., Brooks, A. W., & Galinsky, A. D. (2015). The organizational apology. Harvard Business Review (September), pp. 44–52.

Sell, R. L. (1997). Defining and measuring sexual orientation: A review. Archives of Sexual Behavior, 26(6), 643–658.

Sidelinger, R. J., Frisby, B. N., & McMullen, A. L. (2009). The decision to forgive: Sex, gender, and the likelihood to forgive partner transgressions. Communication Studies, 60(2), 164–179.

Sohn, Y. J., & Lariscy, R. W. (2014). Understanding reputational crisis: Definition, properties, and consequences. Journal of Public Relations Research, 26(1), 23–43.

Suar, D., & Gochhayat, J. (2016). Influence of biological sex and gender roles on ethicality. Journal of Business Ethics, 134(2), 199–208.

Sutton, G. W., Washburn, D. M., Comtois, L. L., & Moeckel, A. R. (2006). Professional ethics violations gender, forgiveness, and the attitudes of social work students. Journal of College and Character, 7(1), 1–7.

ten Brinke, L., & Adams, G. S. (2015). Saving face? When emotion displays during public apologies mitigate damage to organizational performance. Organizational Behavior and Human Decision Processes, 130(Sep), 1–12.

Vanhamme, J., & Grobben, B. (2009). "Too good to be true!" The effectiveness of CSR history in countering negative publicity. Journal of Business Ethics, 85(2), 273–283.

Verhoeven, J. W., Van Hoof, J. J., Ter Keurs, H., & Van Vuuren, M. (2012). Effects of apologies and crisis responsibility on corporate and spokesperson reputation. Public Relations Review, 38(3), 501–504.

Walfisch, T., Van Dijk, D., & Kark, R. (2013). Do you really expect me to apologize? The impact of status and gender on the effectiveness of an apology in the workplace. Journal of Applied Social Psychology, 43(7), 1446–1458.

Wan, L. C., & Wyer, R. S. (2015). Consumer reactions to attractive service providers: Approach or avoid? Journal of Consumer Research, 42(4), 578–595.

Wohl, M. J., Hornsey, M. J., & Philpot, C. R. (2011). A critical review of official public apologies: Aims, pitfalls, and a staircase model of effectiveness. Social Issues and Policy Review, 5(1), 70–100.

Zuckerberg, M. (2006, September 8). An open letter from Mark Zuckerberg: [Facebook post]. https://www.facebook.com/notes/facebook/an-open-letter-from-mark-zuckerberg/2208562130/
Acknowledgements
Both authors contributed equally to this research. The authors gratefully acknowledge financial support from the National Natural Science Foundation of China (NSFC) (No. 71372169), Natural Science Foundation of Guangdong Province in China (No. 2014A030311022) and the Fundamental Research Funds for the Central Universities (No. 15JNLH005). The authors acknowledge that this work greatly benefited from the associate editor and the two anonymous reviewers, whose comments and keen insights were fundamental in improving this research throughout the review process.
Ethics declarations
Ethical Approval
All procedures performed in studies involving human participants were in accordance with the ethical standards of the institutional and/or national research committee and with the 1964 Helsinki Declaration and its later amendments or comparable ethical standards.
Additional information
Yaxuan Ran: Co-first author.
Appendices
Appendix
See Table 1.
Photos of apologizers used in Experiments 1 and 3

About this article
Cite this article
Wei, H., Ran, Y. Male Versus Female: How the Gender of Apologizers Influences Consumer Forgiveness. J Bus Ethics 154, 371–387 (2019). https://doi.org/10.1007/s10551-017-3440-7
Received:

Accepted:

Published:

Issue Date:
Keywords
Apology

Wrongdoing

Gender

Forgiveness

Social perception