Abstract
Recent research indicates that compensation structure can be used by firms to discourage their employees from whistleblowing. We extend the ethics literature by examining how compensation structures and financial rewards work together to influence managers' decisions to blow the whistle. Results from an experiment indicate that compensation with restricted stock, relative to stock payments that lack restrictions, can enhance the likelihood that managers will blow the whistle when large rewards are available. However, restricted stock can also threaten the effectiveness of whistleblowing systems without the presence of large financial rewards for whistleblowing. Thus, the large potential rewards for whistleblowing enacted by the Dodd–Frank Act appear timely as firms are moving toward compensation agreements that include greater proportions of restricted stock.
Access options
Buy single article
Instant access to the full article PDF.
USD 39.95
Price includes VAT (USA)
Tax calculation will be finalised during checkout.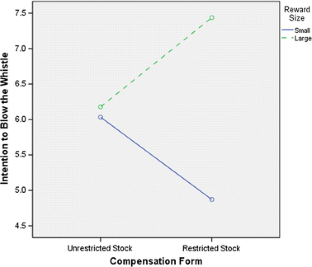 Notes
1.

2.

We investigated the sizes of previous whistleblowing rewards in order to determine our upper and lower limits to guarantee that our whistleblowing rewards were within the range of expected rewards. The lower reward was selected based upon the lower limit of a potential reward under the Dodd–Frank Act and also represents an amount less than the value of the stock currently held by the participant. The larger reward was selected to clearly exceed the value of stock held by the participant and represents an amount that is well within the range of potential payouts under the Act.

3.

The scale in the experimental instrument ranged from −5 to 5, and we convert this scale to 0 to 10 for ease of interpretation of the results.

4.

These questions are similar to those used in prior whistleblowing research (e.g., Kaplan et al. 2010).
References
Awner, J., & Dickins, D. (2011). Will there be whistleblowers? Regulation, 34, 36–40.

Bebchuk, L., & Fried, J. (2010). Paying for long-term performance. University of Pennsylvania Law Review, 158, 1915–1960.

Bebchuk, L., & Sparmann, H. (2009). Regulating bankers' pay. Georgetown Law Journal, 98(2), 247–287.

Bhagat, S., & Romano, R. (2009). Reforming executive compensation: Focusing and committing to the long-term. Yale Journal on Regulation, 26(2), 359–372.

Bowen, R., Call, A., & Rajgopal, S. (2010). Whistle-blowing: Target firm characteristics and economic consequences. The Accounting Review, 85(4), 1239–1271.

Brumberg, B. (2012). Restricted stock, performance shares, and trends in equity compensation. Retrieved July 9, 2012, from http://www.mystockoptions.com/pdfs/RS&Trends.pdf.

Call, A., Kedia, S., & Rajgopal, S. (2015). Rank and file employees and the discovery of misreporting: The role of stock options. Working paper. Columbia Business School.

Chapman, G. (1996). Temporal discounting and utility for health and money. Journal of Experimental Psychology-Learning Memory and Cognition, 22(3), 771–791.

Choe, C., & Yin, X. (2006). Should executive stock options be abandoned? Australian Journal of Management, 31(2), 163–179.

Dasgupta, S., & Kesharwani, A. (2010). Whistleblowing: A survey of literature. The IUP Journal of Corporate Governance, 9(4), 57–70.

Dworkin, T. (2007). SOX and whistleblowing. Michigan Law Review, 105, 1757–1780.

Dworkin, T., & Near, J. (1997). A better statutory approach to whistle-blowing. Business Ethics Quarterly, 7(1), 1–16.

Dyck, A., Morse, A., & Zingales, L. (2007). Who blows the whistle on corporate fraud? The Journal of Finance, 65(6), 2213–2253.

Elliott, W., Hodge, F., Kennedy, J., & Pronk, M. (2007). Are MBA students a good proxy for nonprofessional investors? The Accounting Review, 82(1), 139–168.

Ethics Resource Center. (2012). 2011 National Business Ethics Survey: Workplace ethics in transition. Arlington, VA: Ethics Resource Center.

Ethics Resource Center. (2014). 2013 National Business Ethics Survey of the U.S. workforce. Arlington, VA: Ethics Resource Center.

Frederick, S., Loewenstein, G., & O'Donoghue, T. (2002). Time discounting and time preference: A critical review. Journal of Economic Literature, 40(2), 351–401.

Frey, B., & Jegen, R. (2001). Motivation crowding theory. Journal of Economic Surveys, 15(5), 589–611.

Hall, B. (2004). Transferable stock options (TSOs) and the coming revolutions in equity-based pay. Journal of Applied Corporate Finance, 16(1), 8–17.

Jensen, M., & Meckling, W. (1976). Theory of the firm: Managerial behavior, agency costs and ownership structure. Journal of Financial Economics, 3, 305–360.

Kaplan, S., Pope, K., & Samuels, J. (2010). The effect of social confrontation on individuals' intentions to internally report fraud. Behavioral Research in Accounting, 22(2), 51–67.

Kirby, K., & Marakovic, N. (1996). Modeling myopic decisions: Evidence for hyperbolic delay-discounting within subjects and amounts. Organizational Behavior and Human Decision Processes, 64(1), 22–30.

Knoll, M. (2006). The Section 83(b) election for restricted stock: A joint tax perspective. SMU Law Review, 59(2), 721–750.

Laibson, D. (1997). Golden eggs and hyperbolic discounting. Quarterly Journal of Economics, 112(2), 443–477.

Laibson, D., Repetto, A., & Tobacma, J. (1998). Self-control and saving for retirement. Brookings Papers on Economic Activity, 1, 91–196.

Libby, R., Bloomfield, R., & Nelson, M. (2002). Experimental research in financial accounting. Accounting, Organizations and Society, 27(8), 775–810.

Martin, B., & Rifkin, W. (2004). The dynamics of employee dissent: Whistleblowers and organizational jiu-jitsu. Public Organization Review: A Global Journal, 4, 221–238.

Mesmer-Magnus, J., & Viswesvaran, C. (2005). Whistleblowing in organizations: An examination of correlates of whistleblowing intentions, actions and retaliation. Journal of Business Ethics, 62, 277–297.

Miceli, M., & Near, J. (1984). The relationship among beliefs, organizational position, and whistle-blowing status: A discriminant analysis. Academy of Management Journal, 27, 687–701.

Miceli, M., & Near, J. (1992). Blowing the whistle: The organizational & legal implications for companies and employees. New York: MacMillan

Miceli, M., Near, J., & Dworkin, T. (2008). Whistle-blowing in organizations. New York: Lea's Organization and Management Series, Routledge; Taylor & Francis Group.

Mischel, W. (1974). Processes in delay of gratification. In L. Berkowitz (Ed.), Advances in experimental social psychology (Vol. 7, pp. 249–292). New York: Academic Press.

Mischel, W., Ebbesen, E., & Raskoff Zeiss, A. (1972). Cognitive and attentional mechanisms in delay of gratification. Journal of Personality and Social Psychology, 21, 204–218.

Mischel, W., Shoda, Y., & Rodriguez, M. (1989). Delay of gratification in children. Science, 244, 933–938.

O'Donoghue, T., & Rabin, M. (1999). Doing it now or later. American Economic Review, 89(1), 103–124.

Oyer, P., & Schaefer, S. (2006). Costs of broad-based stock option plans. Journal of Financial Intermediation, 15, 511–534.

Petra, S., & Dorata, N. (2012). Restricted stock awards and taxes. Journal of Accountancy, 213(2), 44–48.

Robinson, S. N., Robertson, J. C., & Curtis, M. B. (2012). The effects of contextual and wrongdoing attributes on organizational employees' whistleblowing intentions following fraud. Journal of Business Ethics, 106, 213–227.

Rocha, W., & Kleiner, B. (2005). To blow or not to blow the whistle? That is the question. Management Research News, 28(11/12), 80–87.

Schubert, W., & Barenbaum, L. (2008). Equity-based executive compensation. Journal of Leadership, Accountability and Ethics, Fall, 28–40.

Taylor, E., Bierstaker, J., & Brazel, J. (2010). Correspondence from the Auditing Standards Committee of the American Accounting Association and Elizabeth M. Murphy of the SEC regarding: Proposed rules for implementing the whistleblowing provisions of Section 21F of the Securities Exchange Act of 1934 (December 17).

U.S. House of Representatives. (1986). False Claims Amendments Act of 1986. Public Law 99–562, 100 [S. 1562]. Washington, DC: Government Printing Office.

U.S. House of Representatives. (2002). The Sarbanes-Oxley Act of 2002. Public Law 107–204 [H. R. 3763]. Washington, DC: Government Printing Office.

U.S. House of Representatives. (2008). Emergency Economic Stabilization Act of 2008. Public Law 110–343 [H. R. 1424]. Washington, DC: Government Printing Office.

U.S. House of Representatives. (2010). Dodd–Frank Wall Street Reform and Consumer Protection Act. Public Law 111–203 [H. R. 4173]. Washington, DC: Government Printing Office.

Verschoor, C. (2010). Increased motivation for whistleblowing. Strategic Finance, 92(5), 16–19.

Verschoor, C. (2011). New whistleblower rules broaden opportunities. Strategic Finance, 93(3), 13–15.

Wainberg, J., & Perreault, S. (2015). Whistleblowing in audit firms: Do explicit protections from retaliation activate implicit threats of reprisal? Behavioral Research in Accounting (in press).

Zauberman, G., Kim, K., Malkoc, S., & Bettman, J. (2009). Discounting time and time discounting: Subjective time perception and intertemporal preferences. Journal of Marketing Research, 46(August), 543–556.
Acknowledgments
The authors would like to acknowledge the helpful comments of Reza Barkhi, C. Bryan Cloyd, Mark Dibben, Eric Gooden, Thomas B. Hansen, Larry N. Killough, Anne Magro, Anna Rose, and participants at research workshops at George Mason University, University of Tasmania, Virginia Commonwealth University, and Virginia Polytechnic Institute.
About this article
Cite this article
Rose, J.M., Brink, A.G. & Norman, C.S. The Effects of Compensation Structures and Monetary Rewards on Managers' Decisions to Blow the Whistle. J Bus Ethics 150, 853–862 (2018). https://doi.org/10.1007/s10551-016-3222-7
Received:

Accepted:

Published:

Issue Date:
Keywords
Stock compensation

Restricted stock

Rewards

Whistleblowing